Spicy Ramen! An experience not to be forgotten in Los Angeles, CA. I love ramen noodle soup & I love spicy foods. Put them together & it's the best of both world's for me. You can only get something as authentic Japanese and in quality in L.A. and it is one of the reasons I love to visit there. So taking food photos and eating well just go hand in hand in Southern California.
(click image to enlarge)
Ramen is something I like to try in different cities in different Japanese restaurants or Ramen houses. Now by ramen, I don't mean the package of dried noodles & powdered soup base you buy at grocery stores 10 for $1. No way! Do not even confuse or go there. If you have never had an authentic ramen dish from a true Japanese or Ramen noodle house then you are definitely missing out! There's so much to ramen & it's quality of ingredients, the noodles itself, and cooking methods. However, I'll save that for another blog post and present a description on traditional Japanese Ramen & it's contemporary counterparts. But today let's break the stereo typical assumption of what ramen is & dive into a more unique type of ramen.
So my last trip to L.A. was after an 8 hour drive from San Francisco down the Pacific Coast Highway 1 taking our time and enjoying the sites. The long tiring drive left us starving and I could only think of one place to go for a great meal to show my first time L.A. visitor: Chin Ma Ya of Tokyo near downtown Los Angeles.
(click image to enlarge)
Chin Ma Ya of Tokyo is located in the Little Tokyo district near downtown Los Angeles. Its located upstairs in a plaza with other Japanese stores, restaurants, markets, a bookstore and in general a fun plaza to visit. We sat down in the restaurant and looked over the menu that offered spicy dishes of ramen and tofu, along with other ramen noodle soup types, fried chicken and appetizers. We ordered the the spicy ramen dish, Tan Tan Men and requested it as "medium" spice, the "Original" is their spicy heat level. This ramen dish is composed of ramen noodles in a spicy broth, topped with a mixture of ground beef and pork, with some spinach. Its delicious to look at as it is to eat! The bowls came out and just the smell alone made our mouths salivate with excitement. We tasted the broth and it just sang with great flavor and had a good kick of spiciness for medium heat.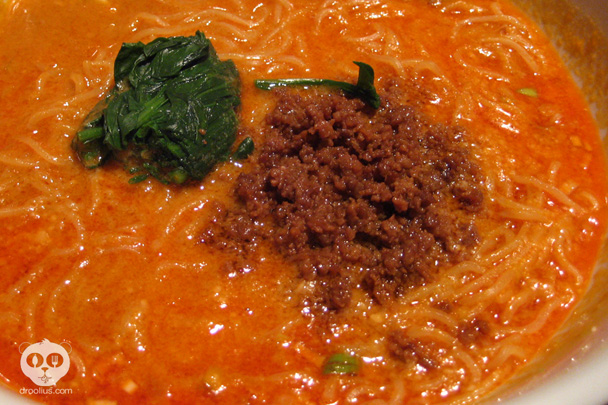 (click image to enlarge)
This broth is a little thicker than regular ramen soups, but its texture complimented well with the ground meat and spinach, all flavors worked well together. The noodles were good, not too firm or too soft, and just added to the overall experience. The whole dish itself just worked well together and was very enjoyable. I liked the thicker broth and the way it held together the meat and noodles. I'm not familiar with other ramen houses that may have spicier broths with other ingredients, but this one was a perfect match for my tastes. The dish was so good that we both finished all the noodles and broth, left with empty bowls and happy stomachs.
Chin Ma Ya is a restaurant that I definitely plan to go back to and eat again. The food was great and flavorful, a good experience overall.
Chin Ma Ya
123 Astronaut Ellison S
Los Angeles, CA 90012
(213) 625-3400
www.chinmayaoftokyo.com
Located in the Little Tokyo District, Los Angeles, CA
Words and photos by Julius Mayo Jr.