Greek food is something I crave at times, but it can be a challenge to find in Central, FL. Whenever I have a craving I will do a search on google, yelp, and other food blogs to find out where's a good spot in the area. This is usually when I'm already out and about so I'm out searching depending what area I'm in and its always a rush to get there because I'm hungry and craving falafel, hummus, gyros, etc.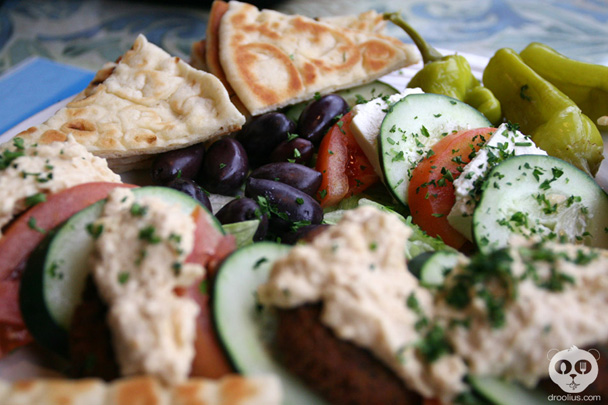 (click image to enlarge)
After a quick search on my phone, I found a Greek restaurant close to the area I'm in. I arrived at Cypriana Restaurant and was greeted with a comfortable home style atmosphere. Very nice and quaint with decorations I assume are from the native country. Craving the food and starving we quickly order the Appetizer combo and chose the 3 items of Hummus, Falafel, Feta with Olives and Peppers. The plate was full of delicious and fresh flavors. The hummus was smooth and tasty and falafel was fried perfectly and had a good crunch on the outside and nice texture in the middle. The salad of olives and peppers was a delight beside the feta and dressing.
(click image to enlarge)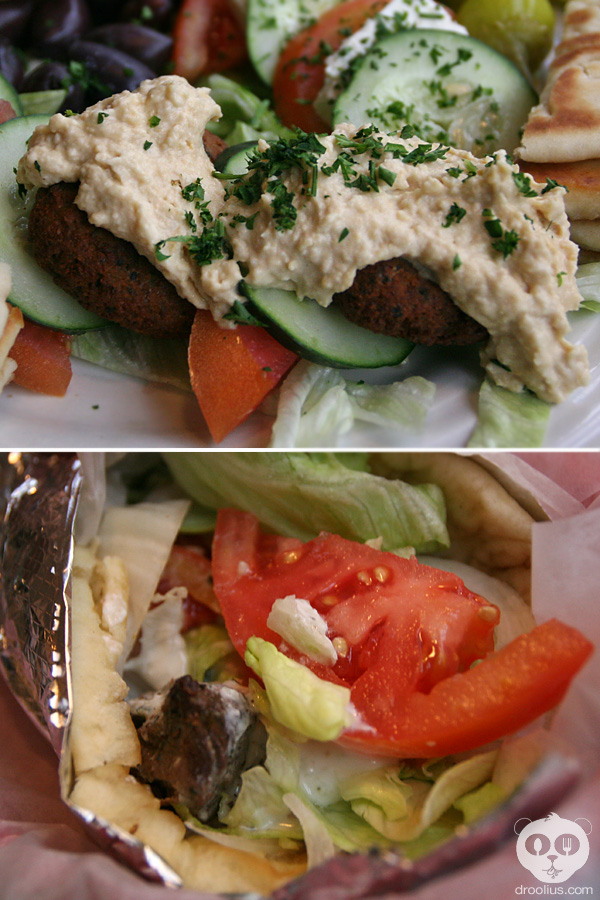 For the entree we chose a beef kabob Pita Sandwich and the Cypriana Melt, almost a Greek pizza if you will. The kabob had nice juicy marinated pieces of meat and was flavorful. The challenging part is to take pictures of pita sandwiches. You can only capture just the tip of the pita with ingredients exploding out. Its better just to eat it and enjoy, unless you have a food stylist on hand who can build it into a good looking masterpiece.
The Cypriana Melt, aka Greek pizza was an interesting choice. I'm not sure if its a normal type of Greek melt but it was definitely unique in concept to me. It was made with roasted chicken on top of pita bread with cheeses and sauce. It worked together to mend good flavors together into what was in the texture of "pizza" but only in a Greek format.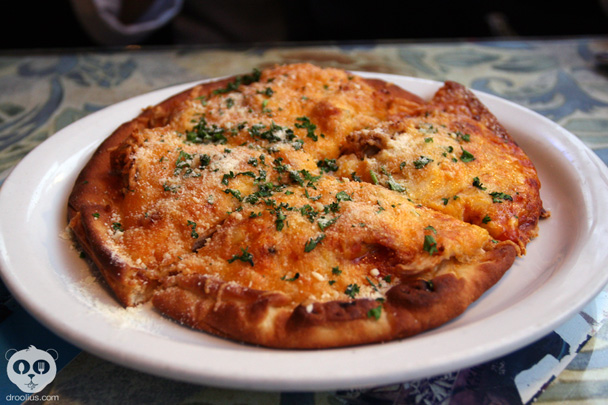 (click image to enlarge)
The meal closed with Baklava and Greek coffee. The Baklava was surprisingly good, better than others I've had in the area. Not overly sweet, a nice balance of honey to other ingredients and nuts with a nice flaky texture of phyllo dough. The Greek coffee was a nice kicker and closer to the meal. Bold in flavor, what Greek coffee should be.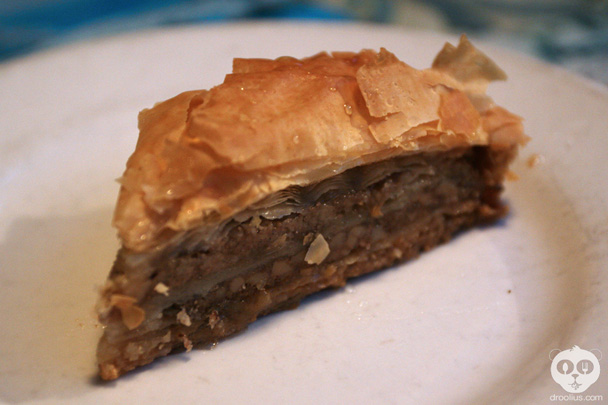 (click image to enlarge)
The experience at Cypriana Restaurant was a good one and definitely satisfied my craving for Greek food. I'm no expert in Greek culture or food, but I have had enough to know what a good meal and this was definitely that.
Cypriana Restaurant
505 State Road 436
Casselberry, FL 32707
(407) 834-8088
www.cyprianausa.com
Located in Central Florida, in the greater Orlando area