For the Foodspotting Eat-Up in June, I wanted to co-host this fun eating event at a restaurant that is easy to share food and at a place I have been wanting to try for a while now. The suggestion came up about the Nile Ethiopian Restaurant for its easily shareable food as well as accommodating to large groups. This was a restaurant I have been wanting to go to for a while and since Foodspotting is all about discovering food, this was the perfect opportunity to get a group together to try some Ethiopian cuisine. Thanks to @Megayummo for suggesting!
(click image to enlarge)
We had a group of 14 people prepared to explore the cuisine and take some food photos. Some of the group had previously eaten Ethiopian food before, but it was a new experience for most of us. We were a group of foodspotters, food bloggers and friends ready to get exotic in this Eat-Up. Thanks to Chris from @EatLocalOrlando for inviting friends and shout outs to fellow food bloggers @MegaYummo and @mismamari for joining in for the second #FSEatUp in a row.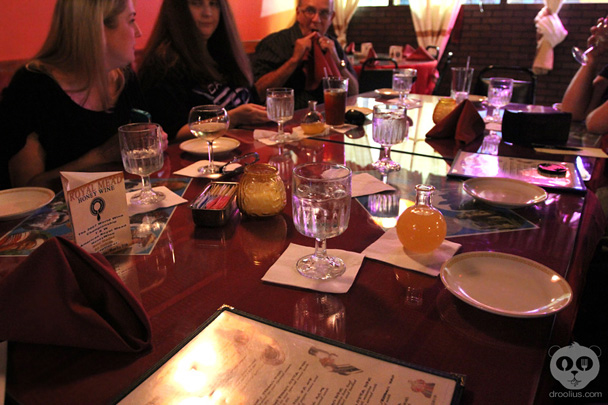 (click image to enlarge)
Ordering some drinks before the meal, the menu offered Ethiopian honey wine and beer.
(click image to enlarge)
Royal Mead Honey Wine and Hakim Stout
The Royal Mead Honey Wine was fairly sweet, but not as sweet or acidic as some honey mead wines I have had. The Hakim Stout, to me, tasted like a light Guinness. One of the guys said it is similar to a Newcastle Brown Ale, but since I haven't had a Newcastle in years, I'll stick to my "light Guinness" description.
(click image to enlarge)
Sambusa – Pastry crust filled with lentils, green pepper, and onions. Substitute lentils with beef
Not sure what this tasted like, but Mr. @EatLocalOrlando seemed to enjoy it.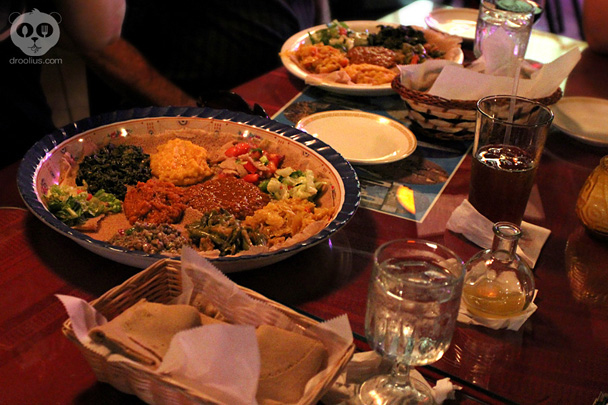 (click image to enlarge)
The first meals to come out, a vegetarian combo. These were ordered as a single person serving. The dish is served on top of Injera, a slightly spongy flatbread that is used to eat all of the dishes.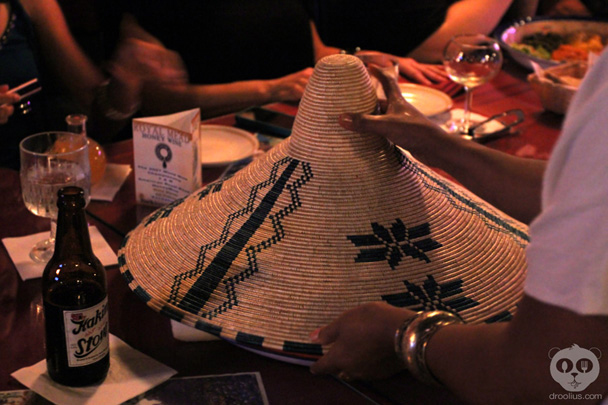 (click image to enlarge)
The hat-like lid is placed on top of the food as it is coming out of the kitchen. All dishes are served this way and is an Ethiopian tradition.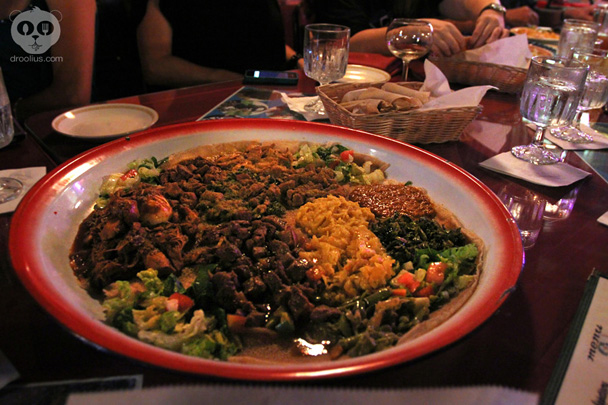 (click image to enlarge)
4 dishes on one plate:
Chicken/Doro Wat – Tender chicken stewed in red pepper sauce flavored with house spices and served with a hard-boild egg
Nile Meat Combination – Combination of Doro Alicha, Beef Key Wat, Beef Alicha and Zilbo (Beef cubes with Collard Greens)
Lamb dish
Nile Vegetarian Combination – Combination portions of vegetarian entees: Split Peas (Kik Alicha), Red Lentil (Misir Wat), Collard Green (Gomen), Cabbage (Tikel Gomen)
This was our meal for a group of 6 people to share and it was plenty for ALL of us. Groups are encouraged to order and share the food family style where all the food comes out on one plate and shared with Injera.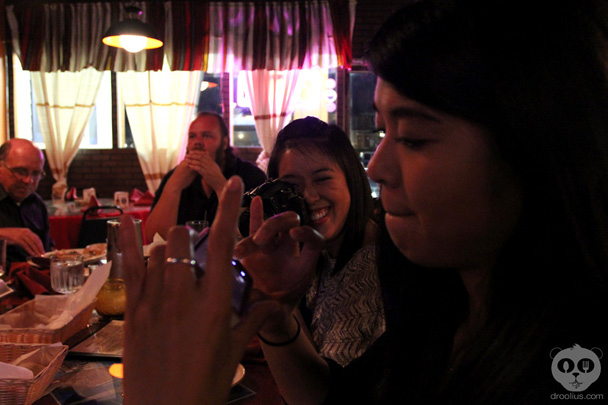 (click image to enlarge)
Foodspotters Megga Yummo and CoolieJulie taking their photos before digging in the food.
(click image to enlarge)
I rarely ever use flash in taking food photos, especially an on camera flash (this is the first one for the blog) but I felt this one was appropriate due to the low light in the restaurant. The colors of the food were too pretty to pass up. I will come back to this restaurant during the day and take some better photos with natural light.
(click image to enlarge)
Injera – a large sourdough flatbread that is slightly spongy, with a tangy lemony flavor. This was what you picked up the food with.
(click image to enlarge)
Just tear the Injera with your hand and pick up some food. No utensils, all hands are used here. This made the sharing of the food very unique.
The experience of sharing the food, tasting, and talking about the flavors was very enjoyable. The food itself tasted good and was familiar to me. Flavors of curry in some of the vegetables, stewed meats with spices, some unique flavors while others I've had very similar before. The Injera was the main difference in the flavor profile because of the lemony note of the spongy flatbread, but it did pair well with all of the food. The Injera also fills you up because I was the last one still eating and then all of the sudden, the fullness of all of the food hits you as the Injera swells up in your stomach.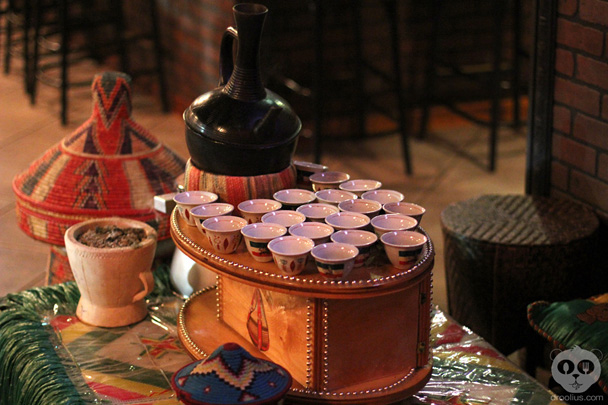 (click image to enlarge)
At the end of the meal, they offered a coffee ceremony for us to watch and try the coffee. An invitation to attend a coffee ceremony is considered a mark of friendship or respect and is an example of Ethiopian hospitality.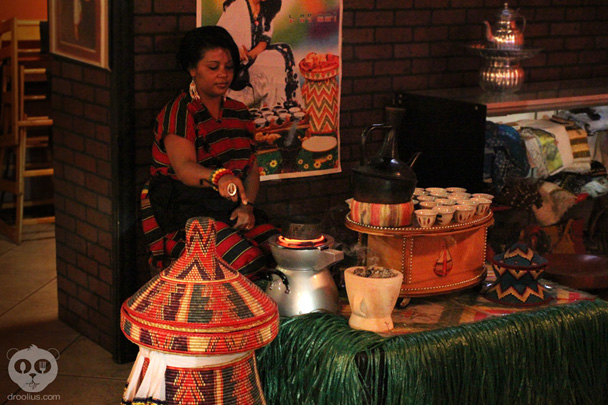 (click image to enlarge)
The ceremony starts with roasting the coffee beans. It gives off an intense aroma and the smell to me was pleasant, as I am a daily coffee drinker and like the smell of coffee beans.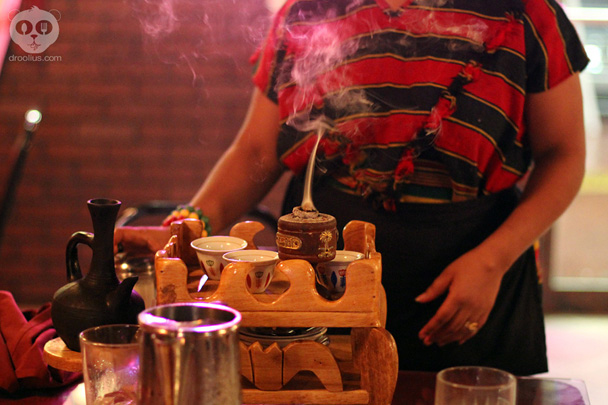 (click image to enlarge)
An aromatic smoke filled the air from incense burning, which is part of the traditional coffee ceremony.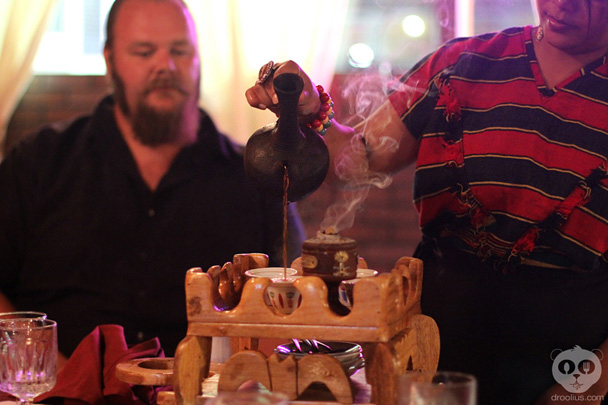 (click image to enlarge)
Coffee is served into small cups on top of a wood tray. They were teacup-like and delicate.
(click image to enlarge)
I expected the coffee to be very bold in flavor, but it was actually very smooth and enjoyable without sugar, which they offered. I had 2 cups of coffee and could have had more.
The evening was a great time with everyone and it was another successful Foodspotting Eat-up. For the most part I think everyone is adventurous and willing to try new food. I plan to co-host these monthly so be on the look out for the event invites on the Droolius Facebook page and on @Droolius Twitter with #FSEatUp hashtag. Look for spotted photos on Foodspotting.com of this Ethiopian meal.
Nile Ethiopian Restaurant
7040 International Dr

Orlando, FL 32819
(407) 354-0026
www.nile07.com

Foodspotting
www.foodspotting.com
Follow @Foodspotting www.twitter.com/foodspotting
Words and photos by Julius Mayo Jr.
Content and photos © Droolius.com 2011