In 2014 I spent a lot of time traveling and discovering food around the U.S. and internationally to the Philippines and Japan. This culinary travel has led me to find new food around the globe and in keeping with tradition, I'm sharing my best food memories in 2014. My two previous lists, Top 25 Most Memorable Food in 2012 and Top 25 Food & Most Memorable Meals in 2013, were focused on East coast U.S. destinations, with some West coast and a few international trips in North America. For my Top 25 of 2014, it was challenging to decide the top food because there were so many exceptional things that I ate while traveling for six weeks in Asia, with more West coast trips this year and traveling around the Southeast of United States. There were many close seconds, but I finally narrowed down my favorites for 2014.
Note: Photos are in the order of when the food was eaten, not by rank.
(click image to enlarge)
• Pork Belly with CornBread, Pickled Apple, Peppercorn Honey at Rooster & The Till, Tampa, FL.
This is one of the best pork belly dishes I've had. Sweet, savory, and balanced. Rooster & The Till is a must stop in Tampa.
---
(click image to enlarge)
• Gnocchi Ai Fungi Porcini E Vitello con Tarttufo Nero – House made gnocchi, porcini mushrooms cream sauce with sautéed veal and fresh shaved Italian black winter truffles at La Vecchia, SantaMonica, CA.
I visited Southern California back in January and met up with friends for a dineLA Restaurant Week dinner at La Vecchia in SantaMonica. This dish was pretty amazing and I loved every bite with the Italian black winter truffles.
---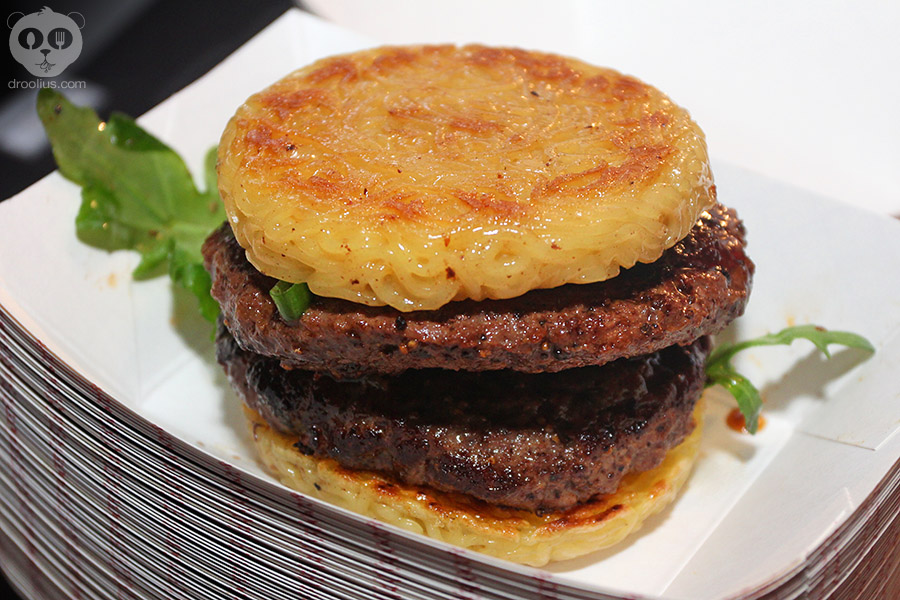 (click image to enlarge)
• Ramen Burger – double Wagyu patty smothered in Keizo's secret Shoyu Glaze, between two craftily formed buns handmade from fresh ramen noodles at Amstel Light #SoBeWFF Burger Bash 2014, South Beach Wine & Food Festival, Miami, FL.
I was lucky enough to get into Burger Bash for the first time and it was to shoot photos for my good pal, Burger Beast. While he was curating his event "Medianoches & Mixology", I was eating as many burgers as I could. This was my very first chance of trying the original Ramen Burger and it had amazing flavor! The Ramen Burger combines two of my favorite foods into one. If you want to try the original, check out Ramen Burger location in New York and Los Angeles.
---
(click image to enlarge)
• Pork chop on stick with pork belly at Bantayan Market, Bantayan Island, Cebu, Philippines.
I spent four weeks in the Philippines and street food was everywhere. Pork dominated the food vendors and this Pork chop on stick with a little pork belly action was at an outdoor market in Bantayan Island. Words can't describe great flavors and textures coming from this marinated piece of meat.
---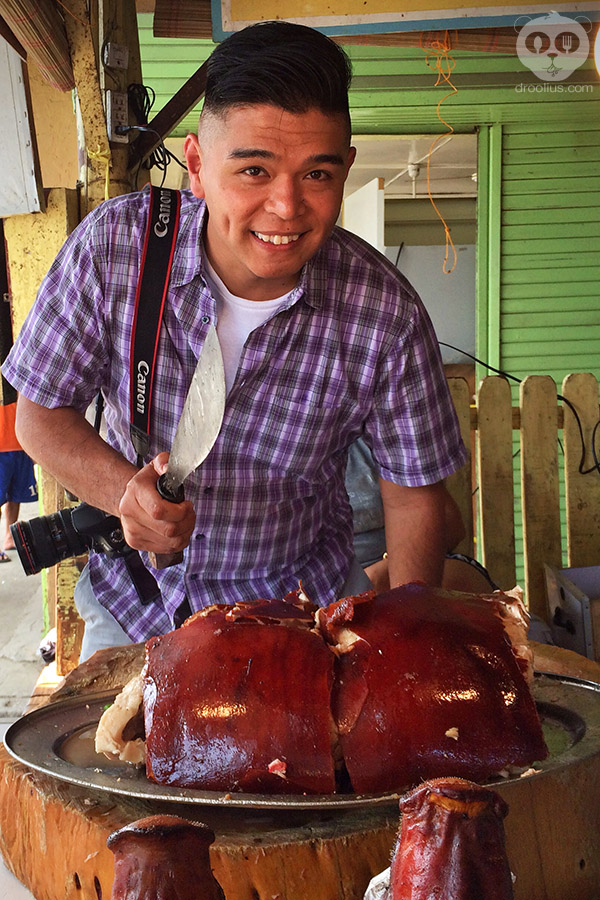 (click image to enlarge)
• Lechon at Carcar City Public Market, Carcar, Cebu, Philippines.
This was Lechon heaven at Carcar Market! A local chef and friend took me on a food adventure, an hour drive south of Cebu City. At the Carcar Market we sampled from various Lechon stalls where they encourage you to try their lechon meat and crispy pig skin, for free! Based on what you tasted and like is where you buy from. We sampled some of the Best. Lechon. Ever. Look for a future post about this place.
---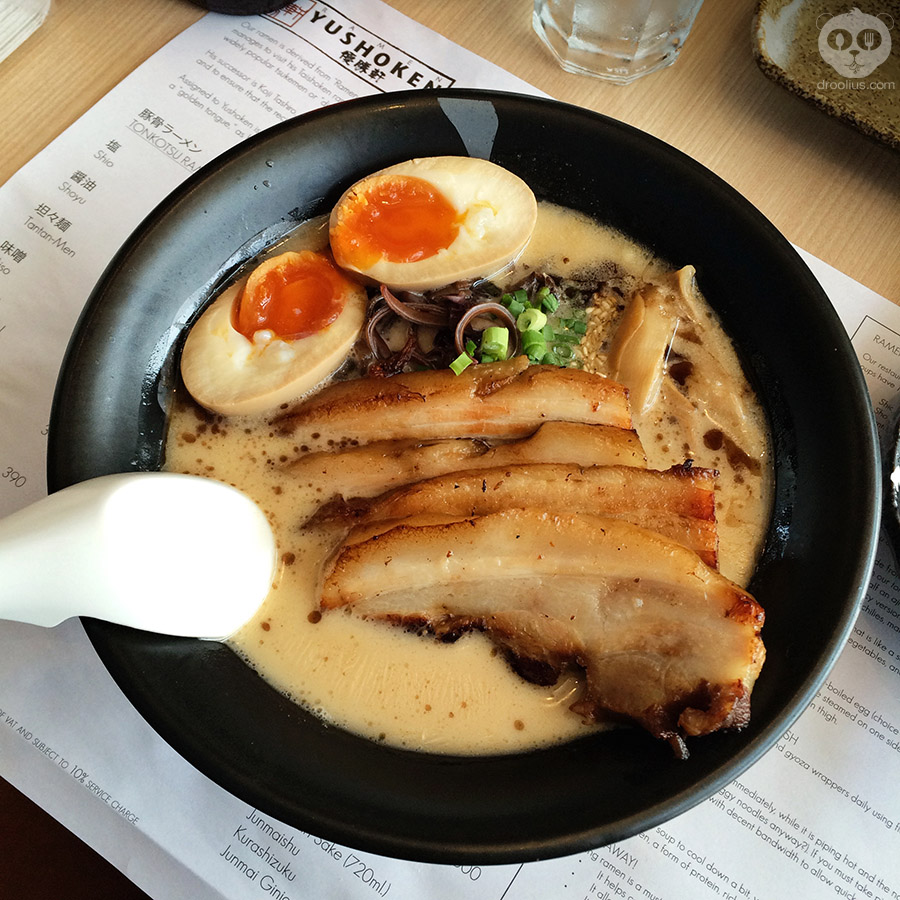 (click image to enlarge)
• Shoyu Tonkotsu Ramen + extra Chasu (pork), Aji Tamago (egg) at Ramen Yushoken, Manila, Philippines
I noticed there were Ramen restaurants popping around the Manila area and this started my ramen exploration from the Philippines to Japan. I talk about it HERE and where I explored. In the Philpiines, my best bowl of Tonkotsu Ramen I had was this one at Ramen Yushoken.
---
(click image to enlarge)
• Mocha Latte with Latte Art at Commune, Makati City, Manila, Philippines
One of my favorite places to hang out when visiting the Philippines was Commune in Makati. They made great quality coffee using a Commune Blend (special blend of two Philippine coffee varieties) and created drinks with awesome latte art. Their master barista, Jay, even made the Droolius logo into latte! They had a good food menu too that offered Filipino dishes and some vegetable plates sourcing from an organic farm.
---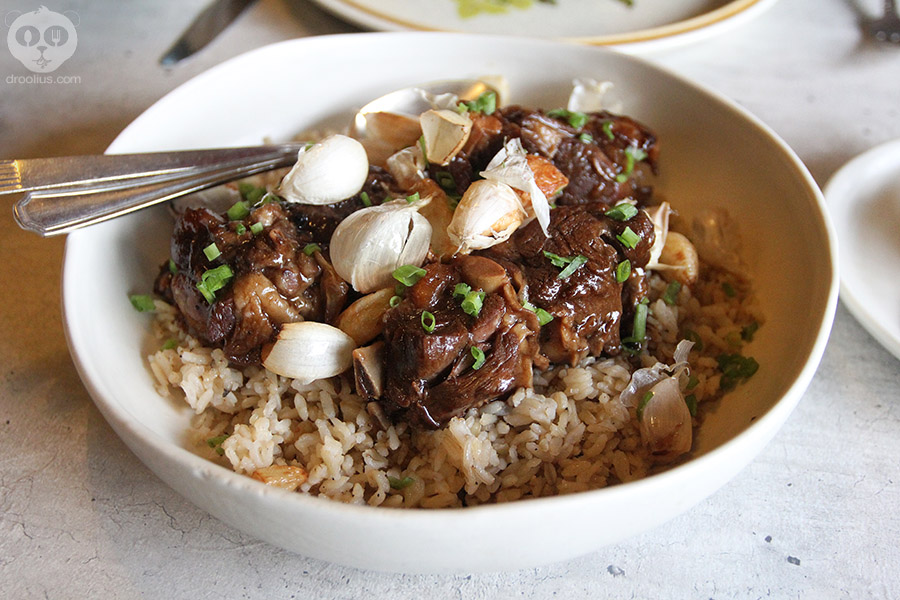 (click image to enlarge)
• Lamb Adobo with Garlic Brown Rice at Grace Park in Rockwell, Manila, Philippines
One of the best dishes I ate on my trip to the Philippines. I grew up eating chicken or pork Adobo, but lamb Adobo elevates this classic Filipino dish.
---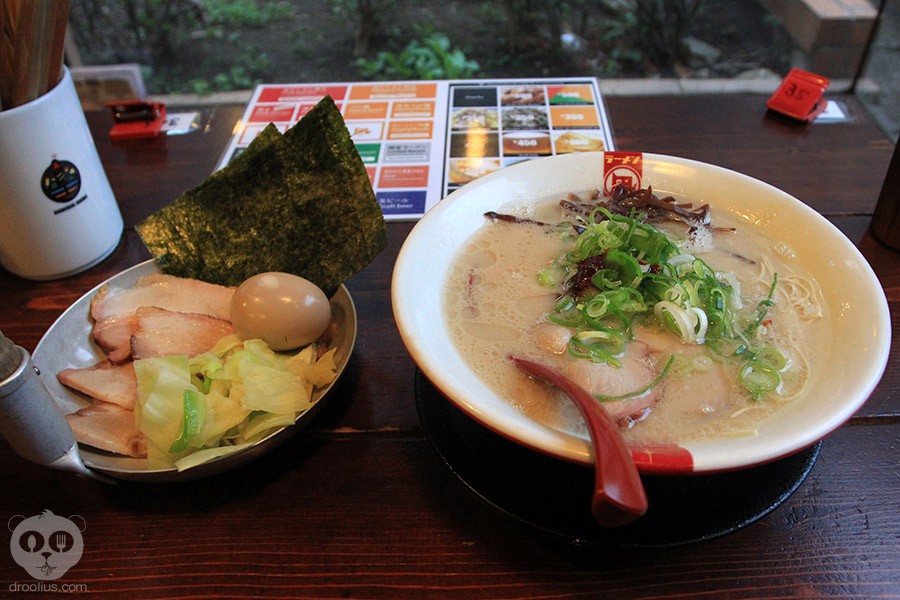 (click image to enlarge)
• Special Topping Tonkotsu Ramen at Butao Nagi, Tokyo, Japan
This was my favorite bowl of Ramen during my Japan trip. I was on a mission to find my favorite bowl of ramen (mainly Tonkotsu ramen) and after 13 bowls in 8 days while in Tokyo, this was my favorite ramen. See the ramen adventure HERE
---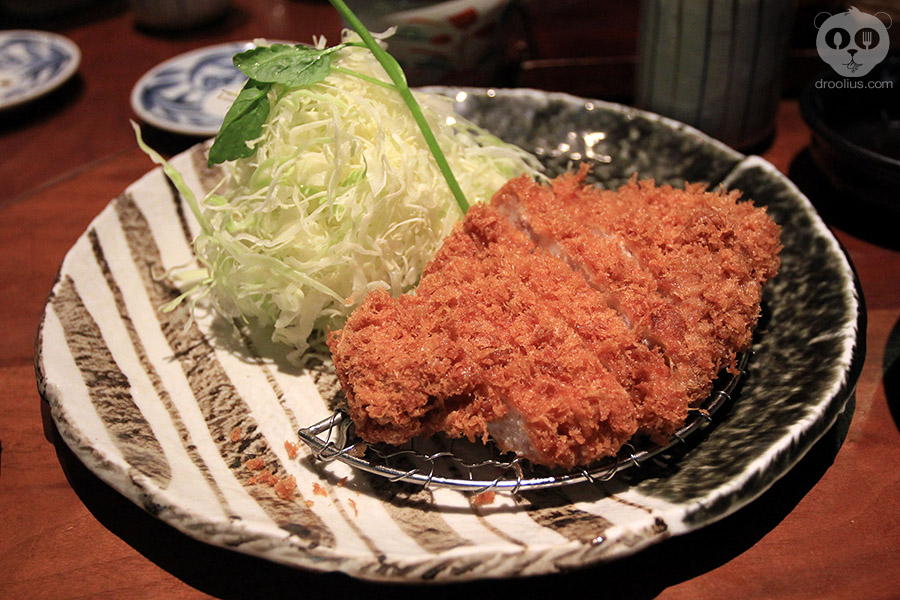 (click image to enlarge)
• Pork Tonkatsu at Katsukura, Tokyo, Japan
My favorite Pork Tonkatsu of my Japan trip. The pork is super juicy and I always went for the Kurobuta Pork option when available.
---
(click image to enlarge)
• Yakiniku Japanese BBQ with horse meat at "Ketobashi" Kick ya champion Sangenjaya shop, Tokyo, Japan
My long time friend from Orlando, FL has been living in Japan and took me to this special restaurant that serves fine quality horse meat that is grilled at the table. Yakiniku is Japanese BBQ grilling table side and the horse meat was some of the most tender and flavorful quality cuts I've had. This was truly a great experience and the most unique food I ate in 2014. It tasted like quality prime beef and better than any Korean BBQ or Japanese BBQ restaurant I've been to.
---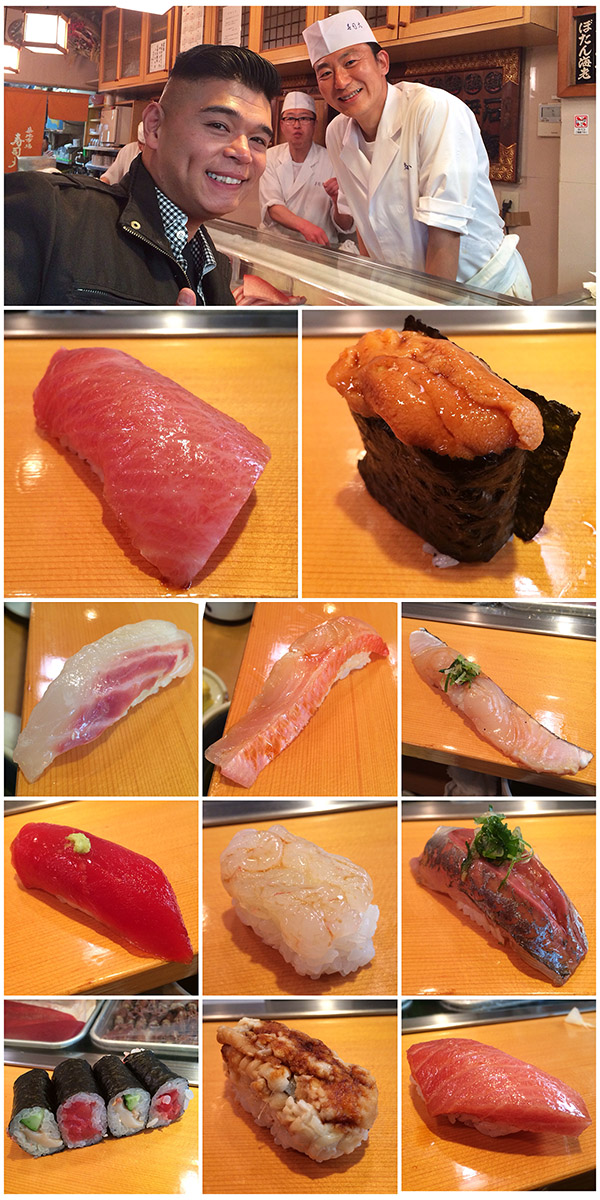 (click image to enlarge)
• Sushi Breakfast Omakase at Sushi Dai at Tsukiji Fish Market, Tokyo, Japan
Traveling by train to Tsukiji Fish Market on the outskirts of Tokyo was an adventure on its own. After searching for this location and waiting 4 hours and 20 minutes, I finally ate the infamous "sushi breakfast" for the first time at Sushi Dai. A long wait because they only have 12 seats and make everything to order in the Omakase (chef's choice) menu for 4000 yen (approximate $39 USD). It's one of the best sushi experiences I've had and worth the wait.
---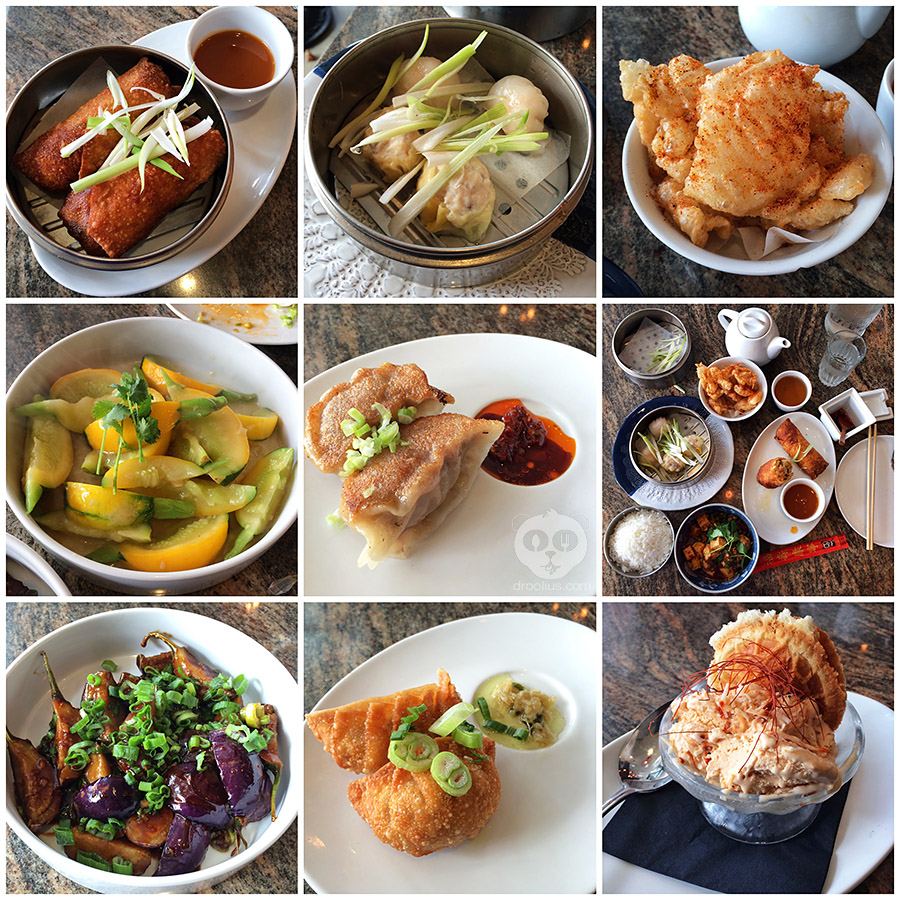 (click image to enlarge)
• Dim Sum Set + small plates at at Blackbrick Chinese Miami, FL
Something really special is going on in the Midtown district of Miami. Regional Chinese cuisine from various parts of mainland China are being introduced by Chef Richard Hales and the team at Blackbrick Chinese. I stopped by for a lunch and experienced Chinese food that I have never tasted before and something that you will only find if you travel around China. It's not the typical Hong Kong Chinese American hybrid that people are used to. The culinary team here is taking authentic flavor profiles and doing the best they can to recreate them using local South Florida ingredients, sourcing produce from local farms. The dim sum set for lunch was a great introduction and the vegetables dishes were very enjoyable. Peanut butter Sriracha Ice Cream topped with coconut & chili threads + Wife Hales' Fortune cookie blew my mind. A must stop meal for a city with limited choices in Asian cuisine. I will be going back for more of the menu.
---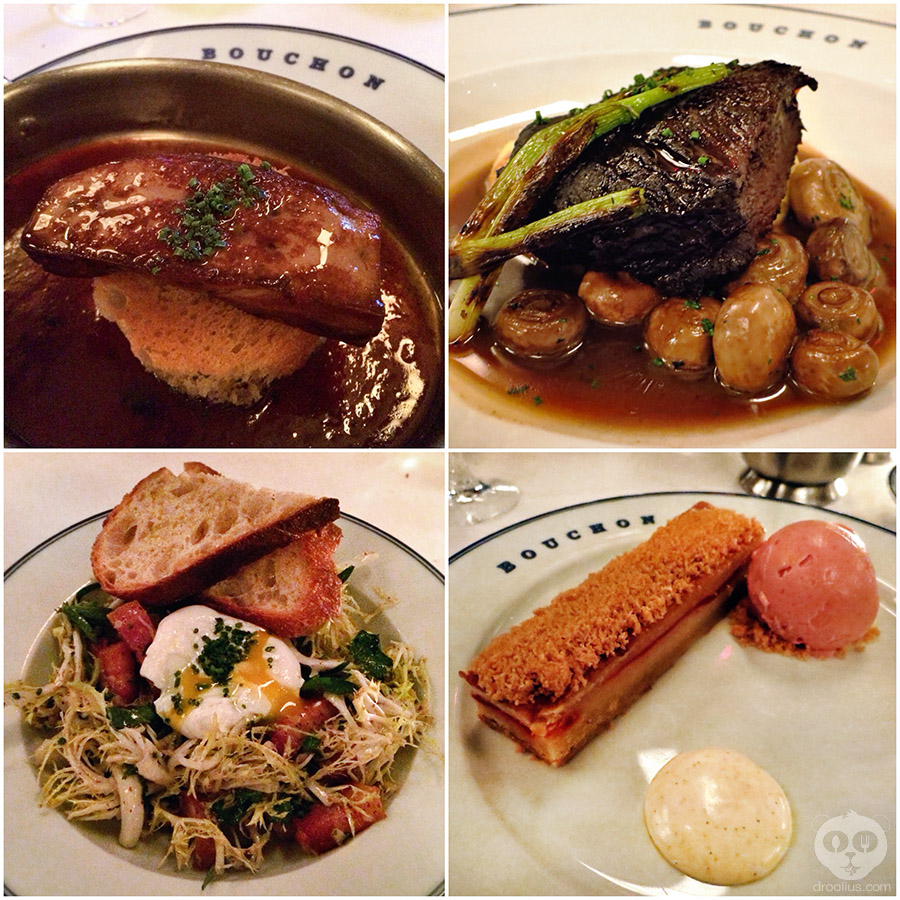 (click image to enlarge)
• Foie Gras Sauté, Salade Frisée aux Lardons et Oeuf Poché (poached egg + #bacon lardons), Braised Beef Cheek over mash & mushrooms, Rhubarb torte with strawberry ice cream at Bouchon Bistro Las Vegas, NV
An amazing meal at Bouchon Bistro, one of fine restaurants from Chef Thomas Keller. Service was highly on point, server paired glasses of wine very well according to each course, and the food was rich and indulgent. I highly recommend dining here for French cuisine and a quality service experience. I only wish there was more light for taking better photos, but nice ambiance regardless.
---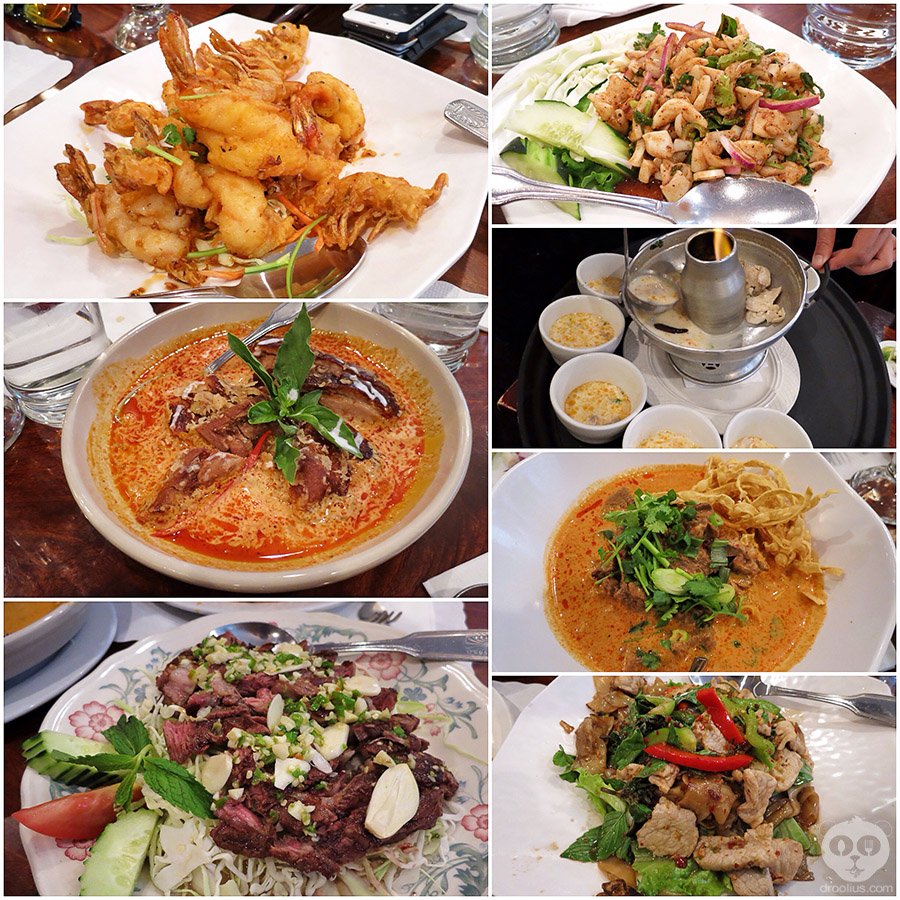 (click image to enlarge)
• Garlic Prawn, Braised Short Rib w/ Panang, Nua Sao Renu (beef), Squid Larb, Tom Kah Kai soup, Khao Soi, Drunken Noodles with pork at Lotus of Siam, Las Vegas, NV
More epic dinners at Lotus of Siam this year, this made my list for a second year in a row. I ordered some of my favorites with a focus of Northern Thai dishes for a large group of friends. They said that this was their favorite meal in Vegas and it was the best Thai food they have ever had. I hear that a lot from this place and I agree. I actually had two great meals at Lotus of Siam this year.
---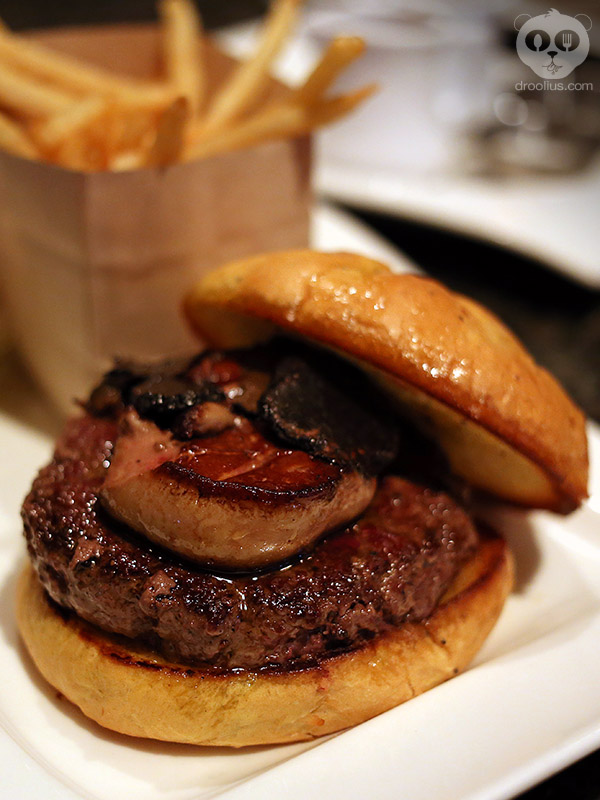 (click image to enlarge)
• Rossini Burger – Kobe style Wagyu beef (Australian), sautéed Foie Gras, shaved truffles on an onion bun at Burger Bar inside Mandalay Bay resort Las Vegas, NV.
The Rossini is my favorite burger and I actually got to eat this twice in 2014. Once in May for a friend's birthday and another time in November during the World Food Championships. I just can't get enough of the super rich and savory flavor of this burger with Wagyu beef patty, sautéed Foie Gras, and shaved truffles. Definitely an indulgence not to be missed.
---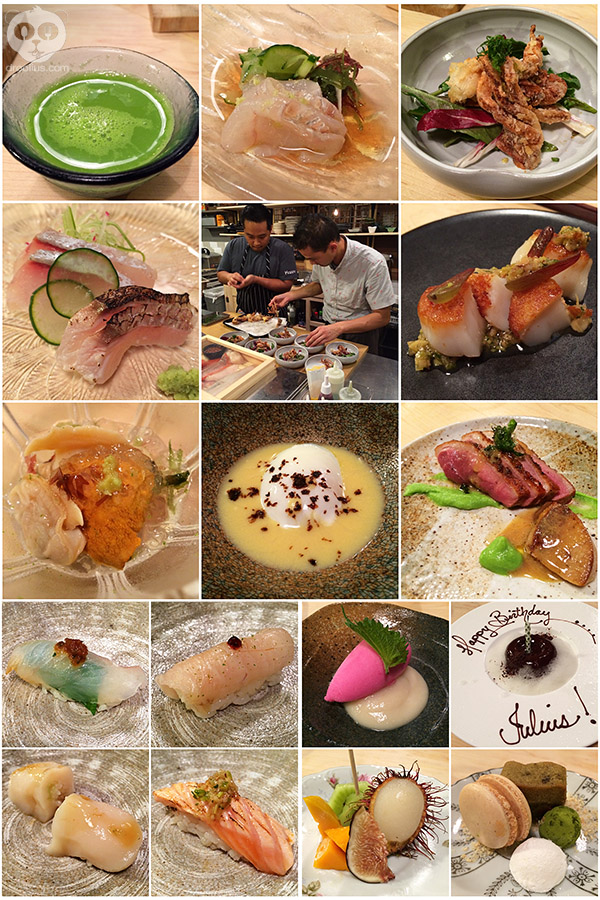 (click image to enlarge)
• Omakase dinner at Kappo @ East End Market, Orlando, FL.
So many great things to say about the food and experience at Kappo at East End Market. The trio of experienced chefs are attempting to bring the Kaiseki style of Japanese cuisine to Orlando, FL. I've eaten a few Omakase lunch tasting menus, which led to my birthday Omakase dinner (seen above) in August, to my food partner OD's birthday in October, and I already have plans to attend another birthday dinner in 2015. Each time is a learning experience as I watch Chef Mark and Lo prepare the food and tasting Chef Jen's desserts is always a treat. On the daily, try their Chirashi Bowl, I'm addicted to that too.
---
(click image to enlarge)
• Tacos de Lengua, The Ensenada (fried fish), Asada, Cochinita + Mulita de Asada, Mini Torta, and Horchata at Chando's Tacos, Sacramento, CA.
I spent almost four weeks traveling from Northern California to Southern Cali, eating tacos and Mexican food along the way. Thinking back, I always seem to come back to these tacos at Chando's Tacos that had great flavor and their paired salsas specific for each taco.
---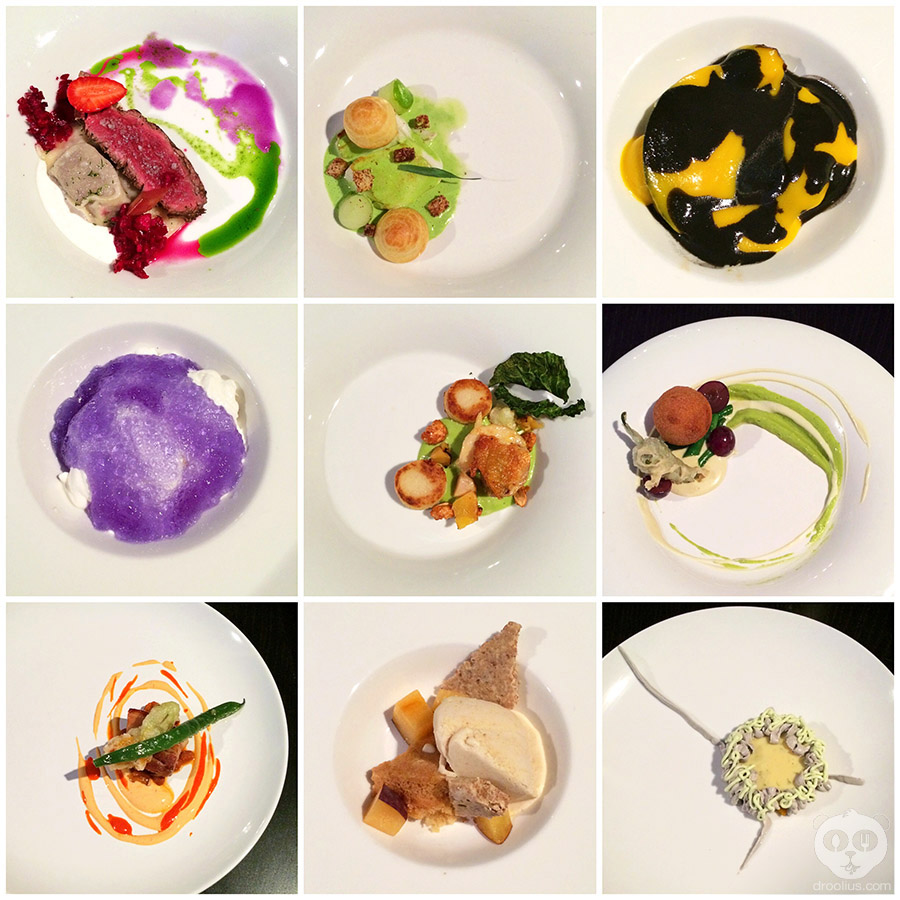 (click image to enlarge)
• Wolvesmouth Underground Dinner at secret location, Los Angeles, CA.
The Wolvesmouth Underground Dinner is a mysterious dining experience that flies under the radar and is one of the most coveted seats in the Los Angeles dining scene. You can only attend with an invitation sent to you. First you join their mailing list, make a request from their newsletter, then if you're selected, you are sent an invite. Luckily the odds were in my favor and I got the invitation (that's the short version of the story). The effort was worth it to experience the beautiful plating of each dish and the thoughtful flavor combinations in this nine course meal. Flavors, textures, and plating were all on point. I attended the meal with my L.A. food pal @Limer35 who made the dining experience, with strangers and BYOB, a great time. The photo above speaks for the food itself.
---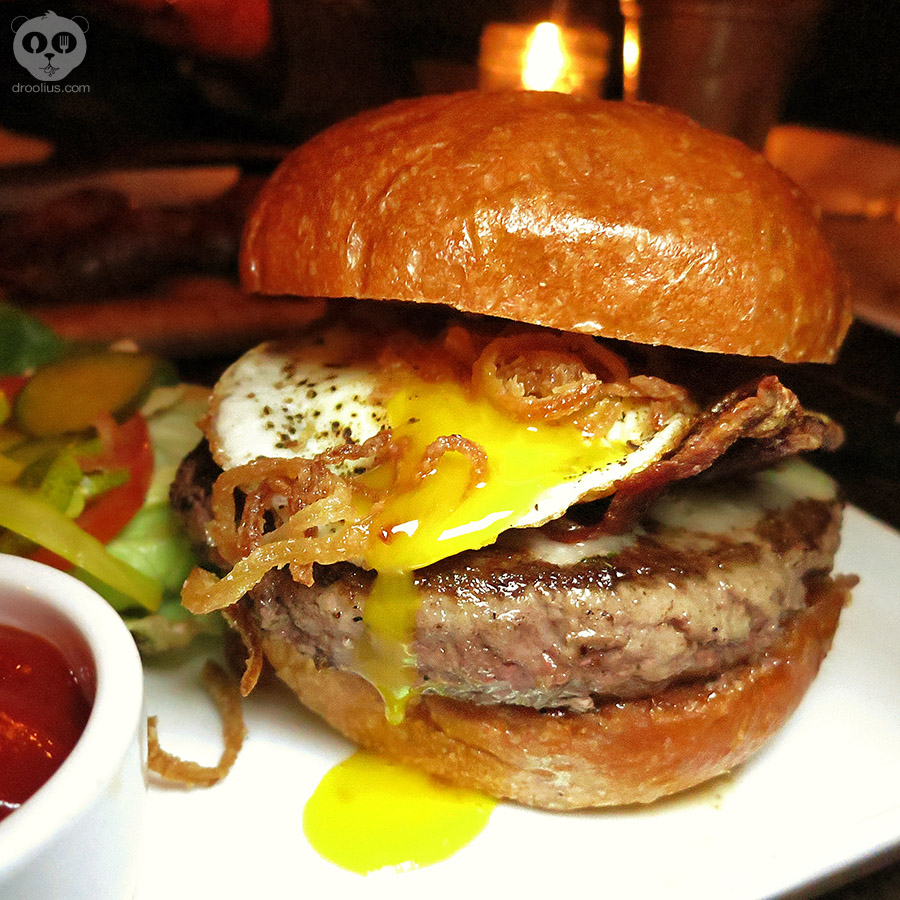 (click image to enlarge)
• Wild Style Burger – Grass Fed Beef, Boar Bacon, Fried Farm Egg, Aged White Cheddar, served with truffle fries at The Lion's Share, San Diego, CA.
This burger was was awesome. Pair it a craft cocktail or beer, plus add a few chef selections, you will be satisfied, leave impressed with food and wanting to return for more.
---
(click image to enlarge)
• Pork Belly with frisée salad & sweet soy glaze at Carnitas Snack Shack, San Diego, CA.
Another amazing pork belly dish for 2014, this time with an asian flavor profile with its sweet soy glaze. It can fill you up by itself, but it's worth ordering some tacos at Carnitas Snack Shack.
---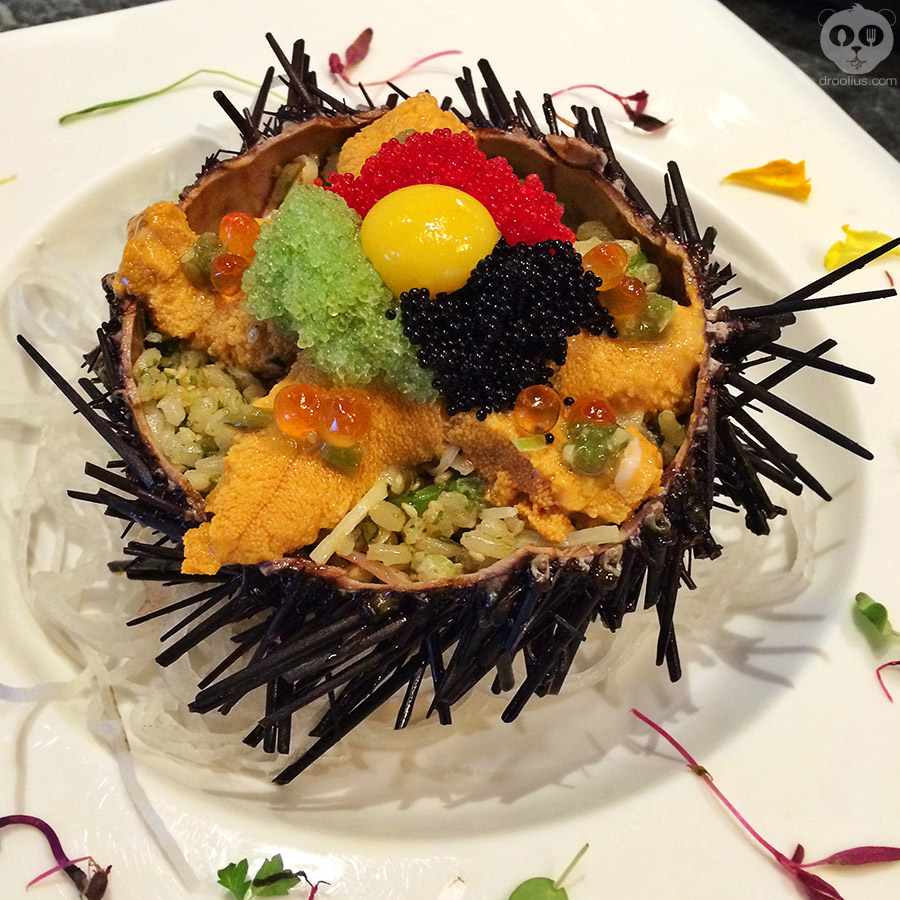 (click image to enlarge)
• Live Uni with quail egg, tobiko, ikura, chili oil.. over fried brown rice at Yummy Grill & Sushi, Las Vegas, NV.
I drove 20 plus minutes Northwest off the Las Vegas strip specifically for this dish Uni dish and what I discovered is that this place is a local hidden gem. Yummy Grill & Sushi not only serves this unique live Uni dish, but they are sourcing some serious quality sushi grade fish for their sushi menu and have a chef in the kitchen who has the high end culinary chops to create daily specials on the fly. Its worth the drive off the strip.
---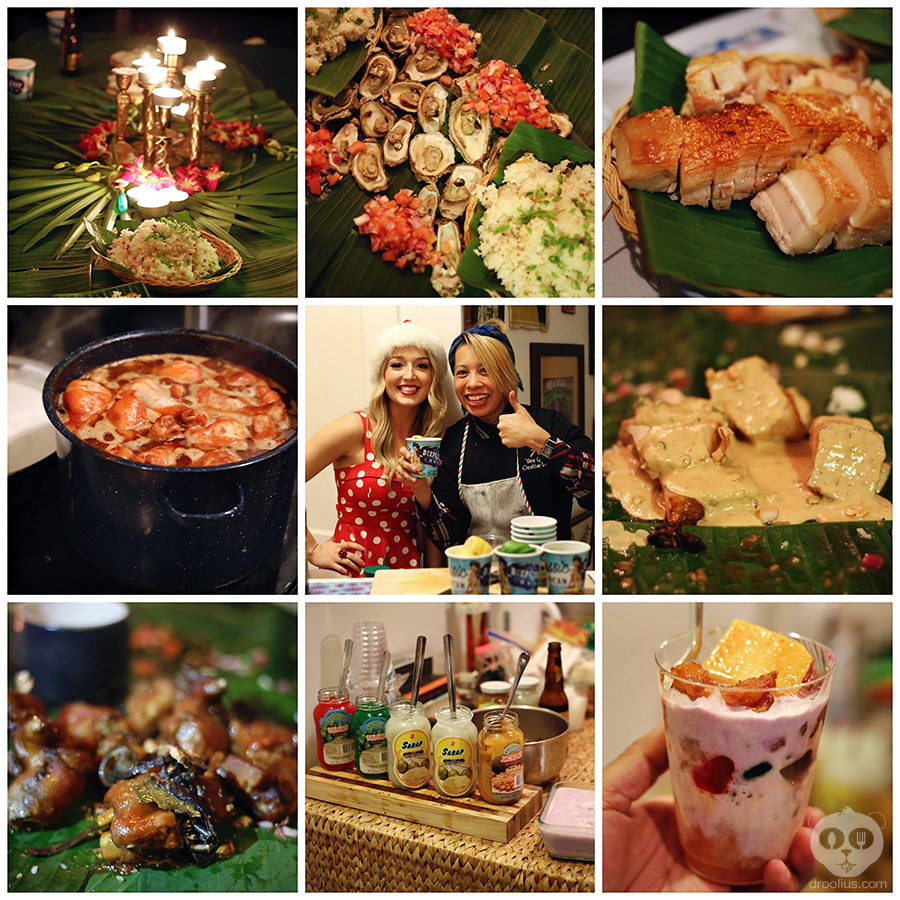 (click image to enlarge)
• Filipino Pop-up Kamayan dinner at SALO Series Atlanta, Atlanta, GA
Courses:
1st: inihaw na talaba ( grilled oysters)
2nd: chicken cola
3rd: patatim (pork hocks in soysauce, sugar, served with plantains, and banana blossoms)
4th: bicol express
5th: halo-halo for dessert
The SALO Project is a series of Underground Pop-up Dinners featuring regional Filipino Cuisine which will travel to all 50 States in the United States. Produced by Chef Yana, she travels and cooks from state to state, sharing Filipino cuisine and the tradition of Kamayan, eating with your bare hands. Her cooking recently introduced me to a few new dishes that I've never eaten growing up in a Filipino household and everything was so good. Eating with your hands is always a good time. Look for a future post about this special Filipino pop-up dinner.
---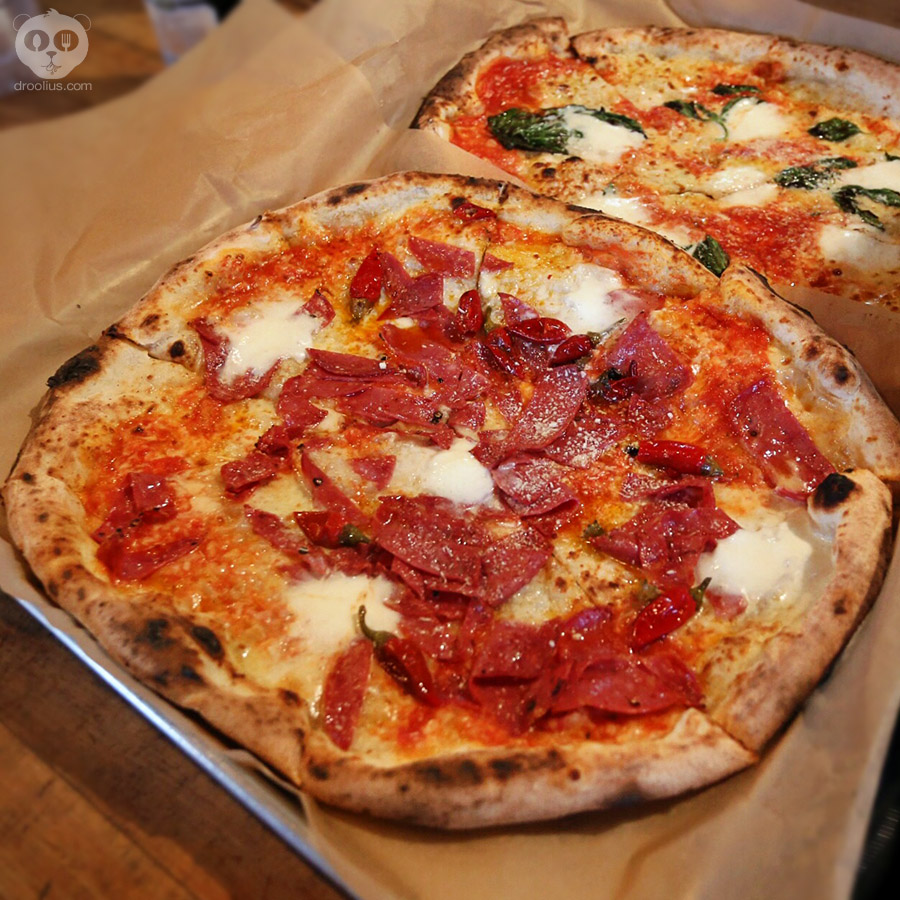 (click image to enlarge)
• Neapolitan style pizzas at Antico-Pizza Napoletana, Atlanta, GA.
This is some of the best pizza I've ever eaten. The Neapolitan style pizza is unique, but the flavor of the dough with the ingredients for the pizza wins me over. The Diavola spicy sopressata, pepperonata, bufala is meaty, spicy, and packs a big flavor. The other pizza in the background is actually made with a non-dairy cheese, for those who cannot eat dairy. I ate a slice and it was good. Antico is the spot for great pizzas, no matter the dietary restriction.
---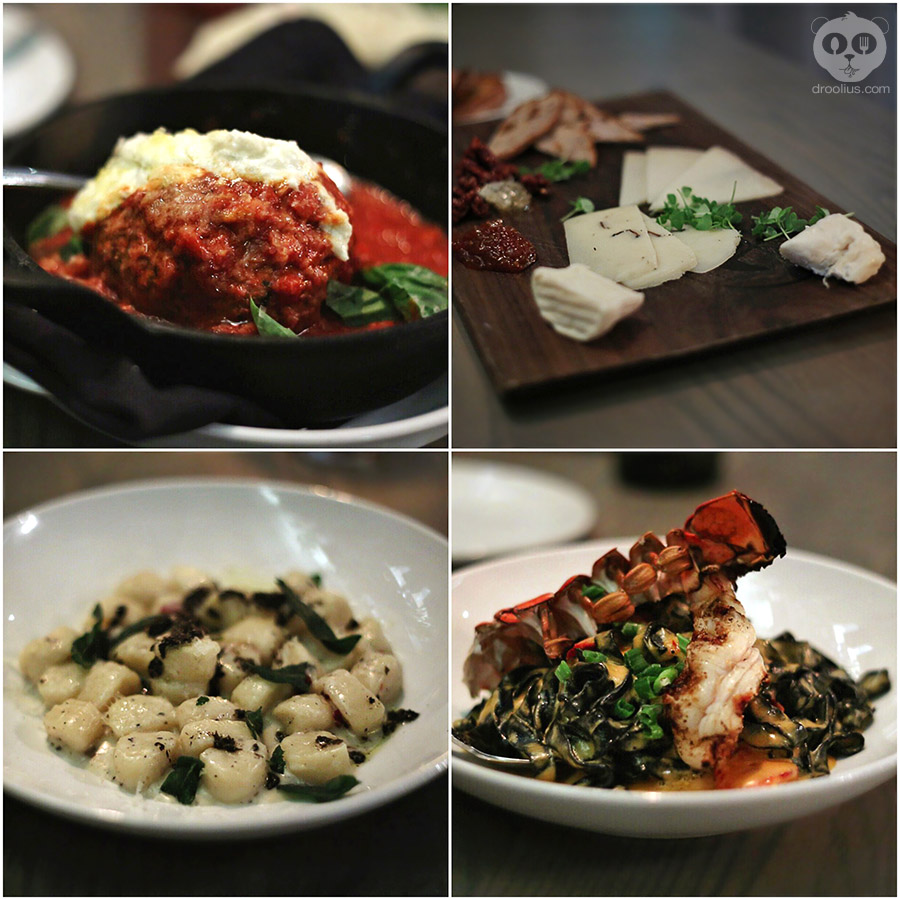 (click image to enlarge)
Wagyu Beef Meatball, Cheese board, Gnocchi, Squid Ink Linguini with lobster at Siena Tavern Miami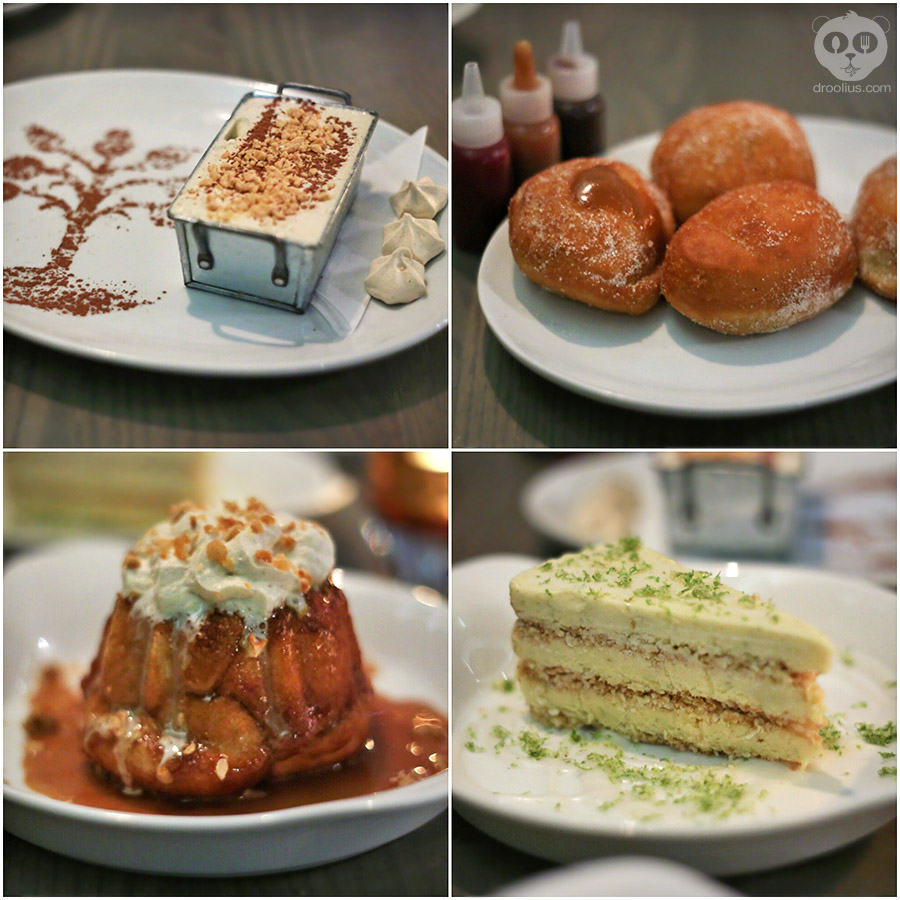 (click image to enlarge)
Desserts:Tiramisu, Bomboloni, Monkey Bread, Tequila Key Lime Icebox Cake at Siena Tavern Miami
• Dinner at Siena Tavern, Miami, FL.
For the final favorite on my "Top 25 for 2014", we go down to Miami's South Beach for the new Siena Tavern. My food partner OD and I went to the original Siena Tavern in Chicago last summer and it was our favorite meal of the trip, also making my "Top 25 of 2013" list, so we could not wait to go back. In a video interview I had with Chef Fabio Viviani back in 2013, he hinted at a Miami restaurant. Less that two years later, he's opened a second Siena Tavern with the DineAmic Group in November of 2014. Obviously we're fans of the restaurant and ordered some of our favorites: Wagyu Beef Meatball, Gnocchi, Squid Ink Linguini with lobster. We also had four of the desserts in celebration of OD's sister's birthday. Another great experience and we can't wait to go back.
---

One of my top food experience of 2014 that I didn't really sit down and eat, but actually participated in by helping prep, plan, cook, and host was the First Kamayan Filipino Feast In Orlando. Our food, cocktails, and dining experience received great feedback. I didn't just want to add it the list by default, but check out the food and event photos HERE.


As always, I'm very thankful for all of the food and culinary travel experiences in 2014. I hope to continue to discover more food and share with you all here. I hope this Top 25 of 2014 inspires you to travel for food and share the experience with others. If you have a suggestion for an awesome place to travel and eat, leave me a comment below. Happy New Year and eat well in 2015!

Words and photos by Julius Mayo Jr.
Content and photos © Droolius.com 2014




See more yearly "Top 25 Food" lists:
Droolius' Top 25 Most Memorable Food in 2012
Droolius' Top 25 Food & Most Memorable Meals in 2013