For the Fourth of July this year I celebrated by eating an American creation, chicken and waffles. Never heard of chicken and waffles as a meal or eaten it before? Google it and you will see that it is a classic combination in Soul Food and has roots in Southern cooking, which has spread out to restaurants all around the United States. Here in Orlando there is the Melissa's Chicken & Waffles food truck, where you can get your classic chicken and waffles with gravy or a custom creation like the Coconut Chicken & Waffle pictured here.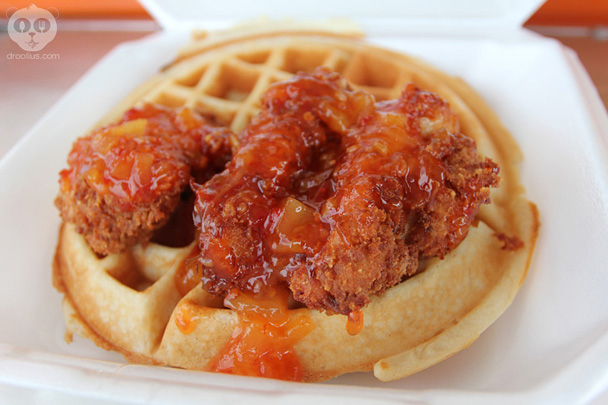 (click image to enlarge)
Coconut Chicken & Waffle with sweet chili pineapple sauce – boneless chicken in homemade coconut batter with coconut flakes, deep fried, topped with sweet chili pineapple sauce served on waffle **contains almonds
This was really a great twist on chicken and waffles. I enjoyed the light flavors of coconut and the textures of coconut flakes that were all fried together. The fried chicken is boneless with a slightly crunchy batter, but not heavy or greasy. The sweet chili sauce reminds me of an Asian chili sauce but has pieces of pineapple which brings a nice sweetness and tones down the chili flake heat and flavor. The combination goes well with the slightly sweet and fluffy waffle. How do you eat this? Well no fork and knife is required because you fold it up like a huge taco and eat it like a big sandwich. Dig right in and the combination of flavors happily hit your taste buds.
Check out Melissa's Chicken & Waffles food truck for more chicken and waffle combinations for savory meals or try some dessert waffles as well. Follow them on Twitter @melissaswaffles for current locations and times.
Melissa's Chicken & Waffles
Twitter @melissaswaffles
Words and photos by Julius Mayo Jr.
All content and photos © Droolius.com 2011