If there is ever a time to get out into Orlando and explore the food, the month of September is the time to do it. Orlando Magical Dining month is currently underway and for a price of $33, diners can get a taste of a three-couse pre fixe menu at several participating restaurants in the Central Florida area. It's a fun way to try out restaurants that you may not frequent as much, making it a great opportunity to discover what else is out there in Orlando's dining world. Also from each meal, $1 goes to support a local charity and this year's Magical Dining benefits the Ronald McDonald House Charities of Central Florida.
(click image to enlarge)
To experience this year's Magical Dining, I joined local media for a dinner at Napa at The Peabody Orlando. It was my first time dining at this restaurant, also visiting this hotel. Very beautiful interior and lobby, makes me wonder why more locals do not frequent the local hotels and resorts to dine more often. Magical Dining Month is that time to explore what we have been missing.
(click image to enlarge)
The menu at Napa is California style cuisine and the ingredients used are mostly organic, or as much as the culinary team can get organic. The California native seafood dish, Cioppino is an entree that is always offered on the menu year round. The other menu items are more seasonal or offered for Magical Dining. I chose the Fall Squash Bisque for my appetizer, the Grilled Beef Filet for entree, and we were offered both desserts to try.
(click image to enlarge)
Fall Squash Bisque with toasted sage marshmallow
The appetizer came out with a toasted marshmallow in the center of the dish, with a sage leaf on top. The server pours the Fall Squash Bisque around the marshmallow, making it a fun presentation. The squash bisque was great and had all of the flavors and spices to make you think of the Fall season.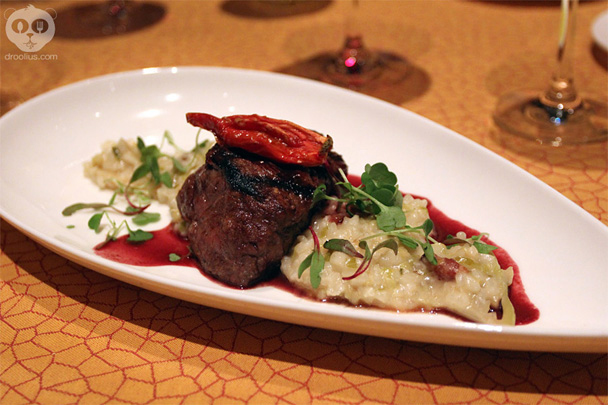 (click image to enlarge)
Grilled Beef Filet with Brussels sprouts & smoked bacon risotto, huckleberry demiglace
The Grilled Beef Filet was tender and full of flavor. Cooked to a proper medium rare, the meat was easy to slice and very enjoyable. The smoked bacon risotto had brussels sprouts shaved into it and was a nicely paired accompaniment.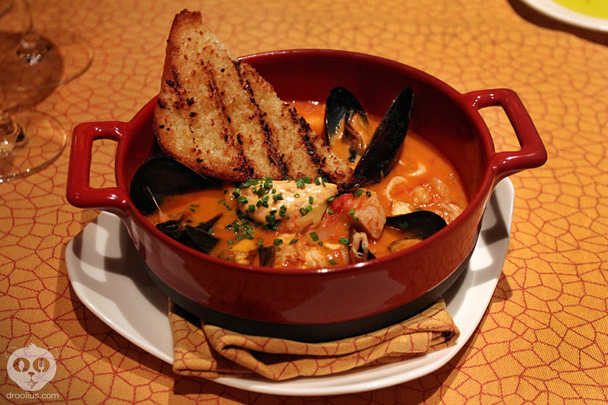 (click image to enlarge)
Cioppino – Mussels, calamari, lump crab, rock shrimp, mahi mahi, fennel, leeks, spicy tomato broth, paprika rouille
I did not get a chance to taste the Cioppino, but it looked good.
(click image to enlarge)
Forest Mushroom & Roasted Shallot Lasagne – Spicy tarragon tomato sauce, fresh mozzarella (Vegetarian)
This dish was the vegetarian dish, but wow did it pack some flavor with a touch of spicy heat. It was rich and hearty, and I would be content in eating this without missing meat. The group was able to try this dish and we were all glad we did.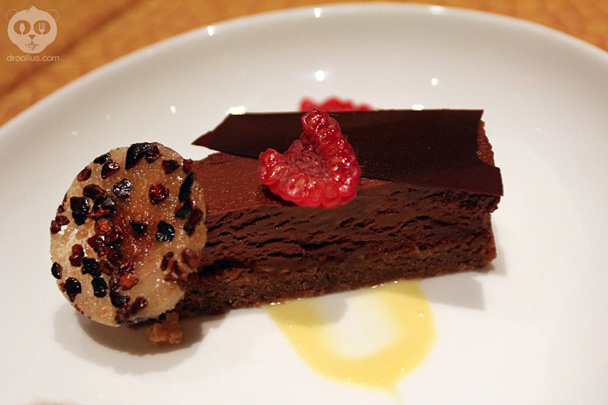 (click image to enlarge)
Nutty Brownie – Dark chocolate mousse cake, cocoa nib tuille, Bailey's anglaise
The Nutty Brownie was more of a soft mousse texture, rather than a baked brownie.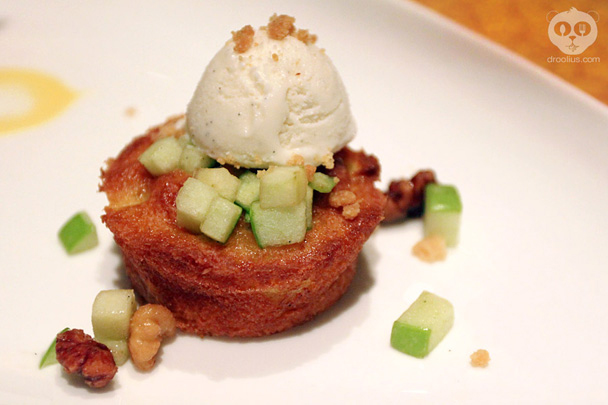 (click image to enlarge)
Warm Apple Crumb Cake – Candied walnuts & vanilla cream
Both desserts were pretty good, but the Warm Apple Crumb Cake was the favorite for Julie and I. The combination of warm crumb cake and cold ice cream really hit the spot for me.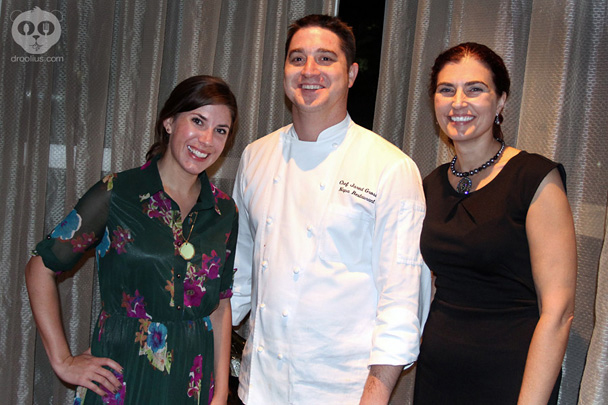 (click image to enlarge)
The representatives from Ronald McDonald House Charities of Central Florida with Napa Resturant's Chef de Cuisine, Jared Gross.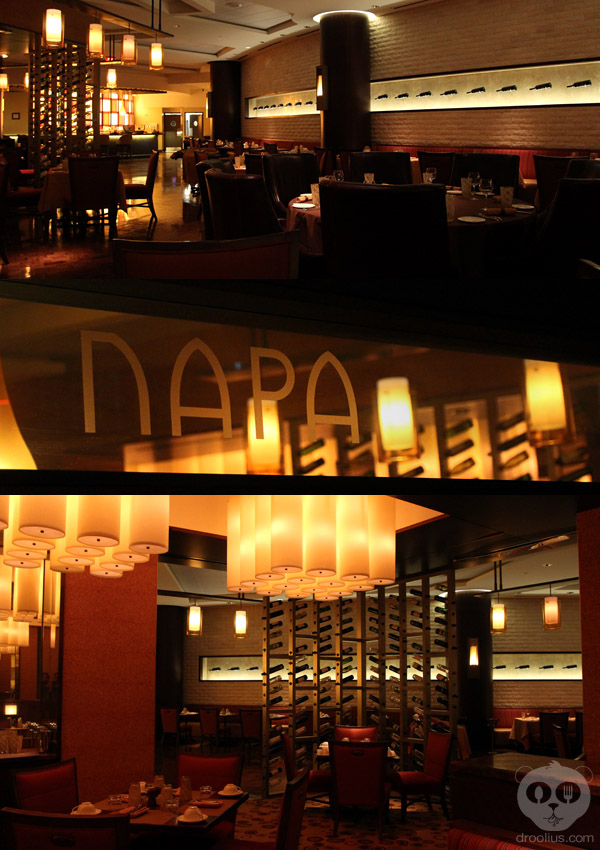 (click image to enlarge)
The interior of Napa is warm and welcoming. It has the theme of wine bottles through out, making it feel like you could be in California rather than Orlando. It could be a nice escape from the normal Orlando dining scene and the restaurant staff is very accommodating.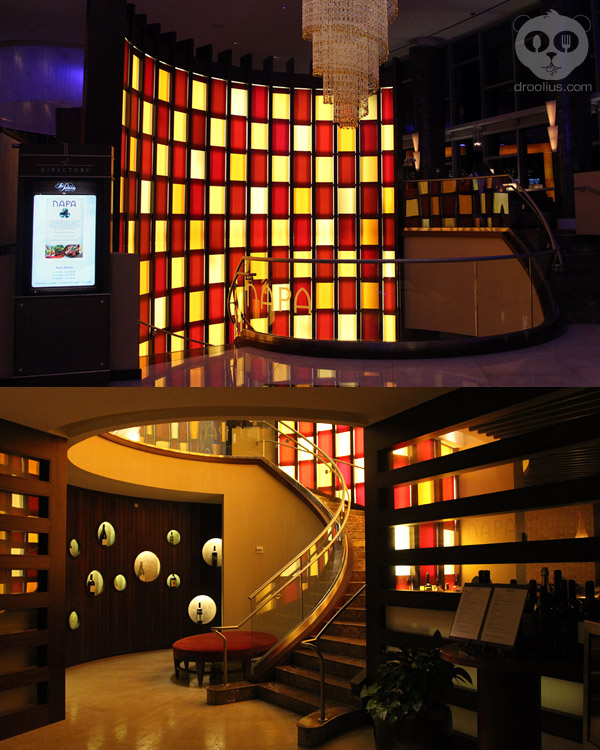 (click image to enlarge)
As I said in the beginning, the hotel and lobby entrance into Napa is beautiful. One thing I should mention now is that The Peabody Orlando has recently been acquired by Hyatt, another hotel company. Not to worry, everything will stay the same for the duration of September and Magical Dining Month. As for Napa, only time will tell if this restaurant concept will stay the same or turn into something else. Napa is a great choice for Magical Dining Month and should be experienced in its current form.
Complimentary valet parking is available for Napa for up to three hours. Make sure to get a stamp from Napa for parking, before you leave.
Napa at The Peabody Orlando
9801 International Drive
Orlando, FL 32819


Orlando Magical Dining Month is produced by VisitOrlando. Make sure to use the hashtag #MagicalDining when sharing photos on Twitter and Instagram.
Find a full list of: Orlando Magical Dining Restaurants
Orlando Magical Dining Month
September 1-30
More information: Magical Dining website

Words and photos by Julius Mayo Jr.
Content and photos © Droolius.com 2013


Disclaimer: I was given the opportunity to attend a media preview dinner for Orlando Magical Dining month. I was not compensated to write this post and all opinions are always my own.