The Korean BBQ Taco Box is now serving a new dessert to beat the summer heat in Orlando. Korean Ice Bingsoo is NOW served on the KBBQ Box food truck as a dessert item, something new for their menu. Ice Bingsoo is a shaved ice dessert that is a very popular in South Korea, especially during the hot and humid summer season.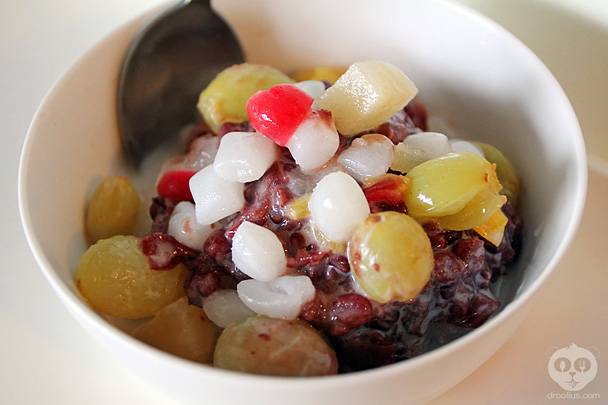 (click image to enlarge)
Korean Ice Bingsoo dessert – shaved ice topped with sweetened condensed milk, mixed fruit, sweet red bean, and small pieces of mochi.
This traditional Korean dessert is really refreshing and not too sweet. It combines a nice balance of sweet flavors and textures on top of ice. It really cools you down and tastes really good. In a way it reminds me of a Filipino dessert called Halo-Halo, and is very similar to other shaved ice desserts in Asia.
I've seen many photos of shaved ice desserts by my Facebook friends in other cities like L.A., NYC, O.C., Atlanta and more. I'm glad to see this has made its way to Orlando, especially on a food truck.
Follow the Korean BBQ Taco Box on Twitter for their current location and tell them Droolius sent you!
Korean BBQ Taco Box
Food Truck – Orlando, FL
Twitter
www.kbbqbox.com
407.844.3990
Words and photos by Julius Mayo Jr.
Content and photos © Droolius.com 2011