The year 2013 was a time of many great food discoveries in various cities. My Top 25 of 2013 is a combination of memorable food and complete meals, not just a specific dish. Many times there were multiple dishes that stood out and hard just to pick one favorite. Last year I wrote my Top 25 Most Memorable Food in 2012 based on a top food or specific dish. This year's top list has more meals experienced while traveling to various cities around North America. It was my return visits to Chicago, Los Angeles and Las Vegas after a hiatus of several years and first time trips to Mexico and Canada. I frequented many restaurants around Florida and had my yearly food trip to NYC. It was difficult to condense everything into a Top 25 list, but here it is.
Note: Photos are in the order of when the food was eaten, not by ranking.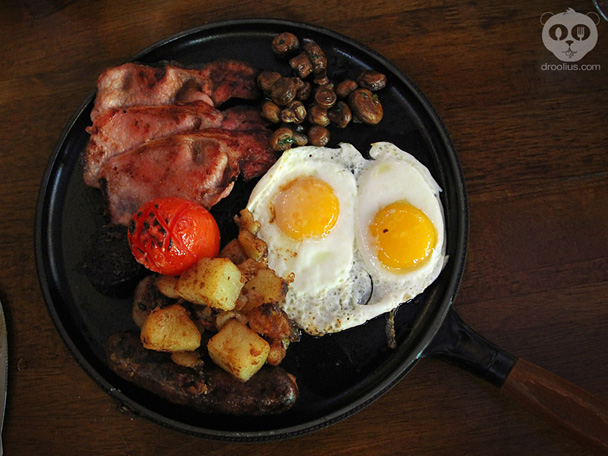 (click image to enlarge)
1. Full Irish Breakfast – with sausage, black & white pudding, bacon, roasted tomato, mushrooms, fried eggs with roasties at Raglan Road Irish Pub & Restaurant, Orlando, FL.
The Sunday brunch menu was introduced in January 2013 and it's now one of my favorite brunch spots in Central Florida.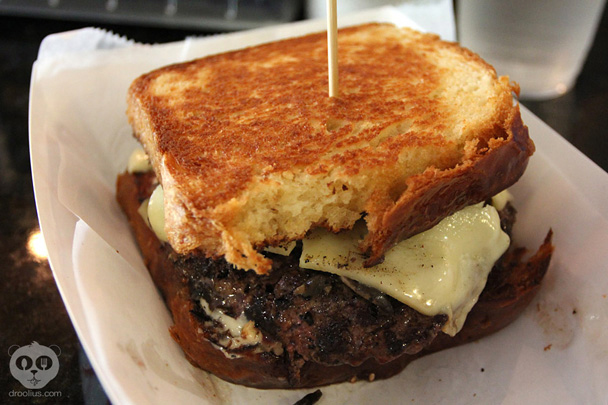 (click image to enlarge)
2. The Emperor – American Kobe Beef Patty Melt, Sautéed Mushrooms, Aged Gruyere, Truffled Aioli at Charm City Burger Company, Deerfield Beach, FL.
One of my favorite burgers in the state of Florida. So much rich flavor in this burger!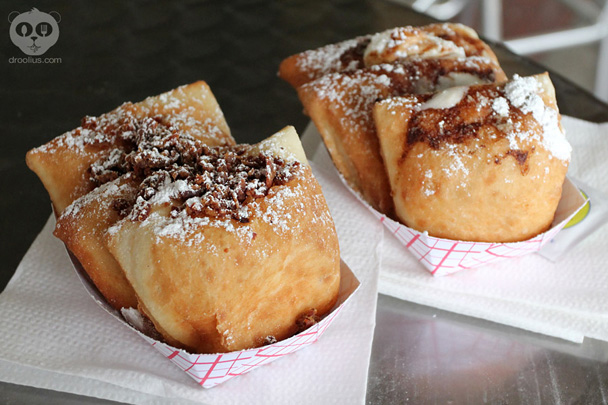 (click image to enlarge)
3. Poor Porker Beignets – "The Poor Porker" bacon, maple syrup, smoked salt, powdered sugar and "The buns" cream cheese frosting, cinnamon, brown sugar.
Available Saturday mornings at The Poor Porker at Lakeland Farmers Market, Lakeland, FL. Look out for a store front location in the future.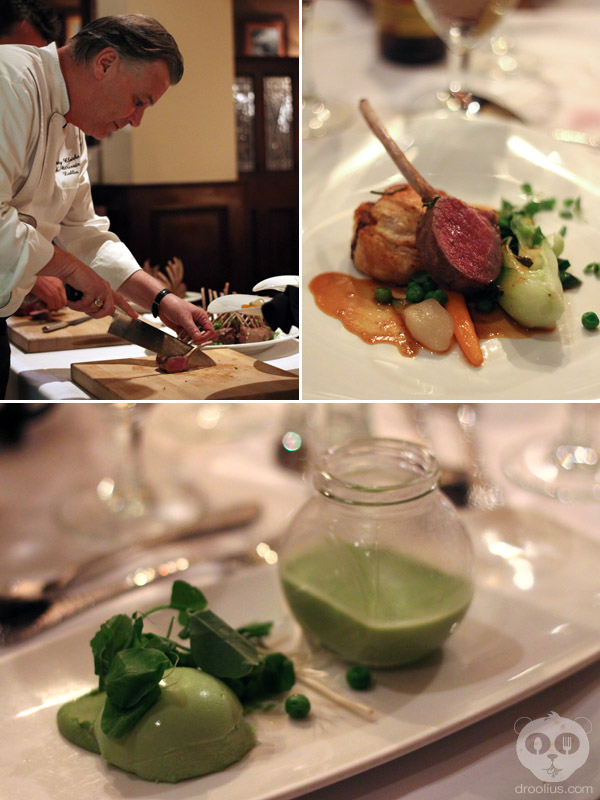 (click image to enlarge)
4. A Tale of Two Chefs Dinner at Raglan Road Irish Pub & Restaurant, Orlando, FL.
A special dinner with guest Michelin star Chef, Derry Clarke from Ireland, and with Raglan Road's Chef Kevin Dundon. The two chefs gave us a taste of true Irish cuisine, showing us that natural flavors lamb and green peas can be elevated with refined techniques in the kitchen. My two favorite courses: Rack of Spring Lamb and Braised Cottage Lamb Pie with farm vegetables, twice cooked roast potato (top, right) and Sweet Pea Soup served with a Pea Panna Cotta (bottom).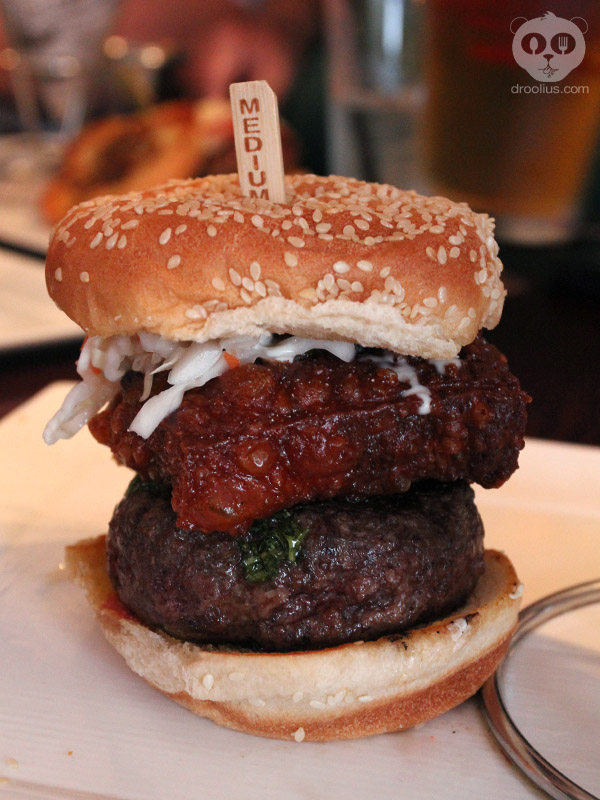 (click image to enlarge)
5. Nica Burger – Angus Beef Patty w/ Chimichurri, queso frito, sweet plantains, spiced coleslaw, jalepeño cream, served with green plantain fries & mojo dip at A&G Burger Joint in Miami, FL.
A properly cooked burger with a big chunk of fried cheese, you can't go wrong with this burger.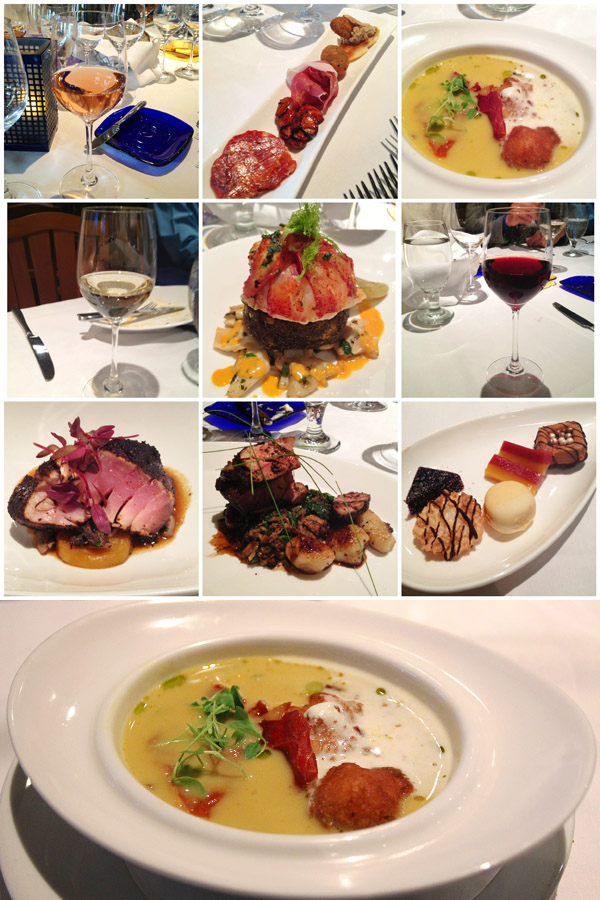 (click image to enlarge)
5. Flying Fish Cafe and Copain Wine Dinner at Flying Fish Cafe at Disney's Boardwalk in Orlando, FL.
This was one of the best wine pairing dinners I have experienced. Chef de Cuisine Tim Keating and team did an excellent job creating food to pair with Copain Wines. My favorite course (bottom photo) was the Roasted Triplesweet Zellwood Corn Bisque with beignets of smoked corn and leeks, Laughing Bird Shrimp and Serrano ham cracklins
(click image to enlarge)
7. Maple Glazed Pineapple & Bacon Donut at FIRECAKES, Chicago, IL.
One of the best donuts I ate in 2013! The pineapple adds a hit of sweet and tang that cuts the richness of the maple and bacon. It's also the perfect size to eat without being too much.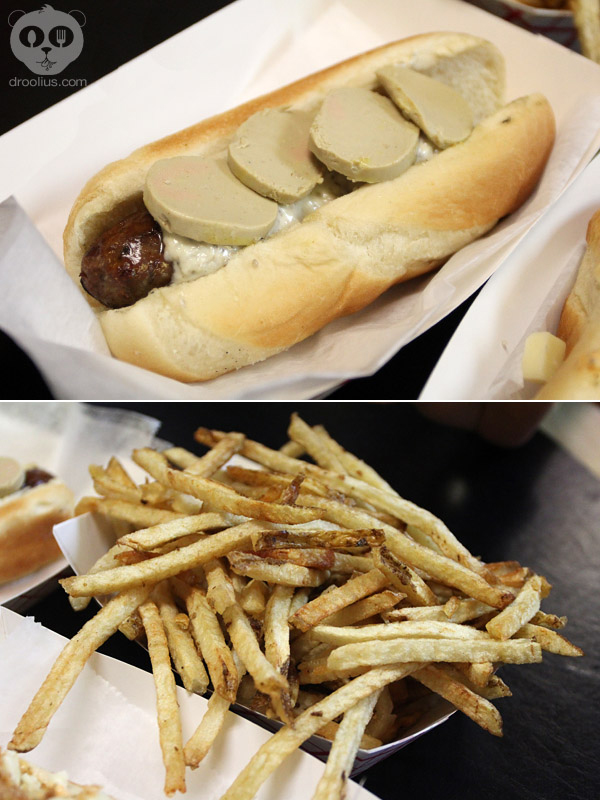 (click image to enlarge)
8. Foie Gras and Sauternes Duck Sausage with Truffle Aioli, Foie Gras Mousse and Fleur de Sel and Duck Fat Fries at Hot Doug's in Chicago, IL.
Finally made it back to Chicago and was reunited with one of my favorite combos, a hot dog with duck sausage topped with foie gras and duck fat fries. Rich and savory gone wild!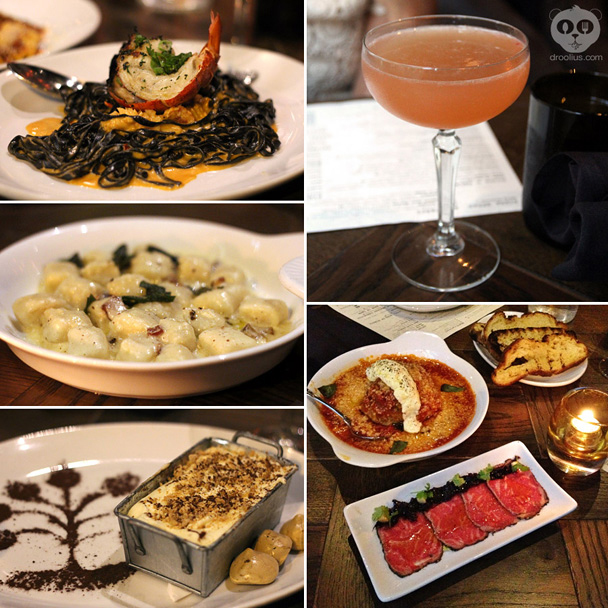 (click image to enlarge)
9. Dinner at Siena Tavern, in Chicago, IL.
The dinner we had at Siena Tavern is one of our favorite meals in 2013. My food partner OD and I both agreed that all of the dishes had really good flavors and exceeded our expectations. Highlights included the Wagyu Beef meatball with roasted tomato sauce, bellwether ricotta, shaved basils and the Squid ink Linguini with grilled lobster tail, spicy lobster cream sauce, shaved green onion. The favorite of our group was the Gnocchi with truffle cream, fried sage, crispy pancetta. This gnocchi has set our standard of what we compare all gnocchi to now. Siena Tavern opened in Feb. 2013 in Chicago and plans to open a location in Miami in 2014. A must try when visiting one of these cities.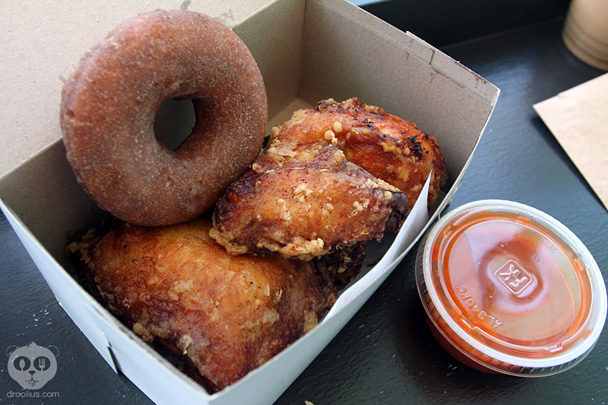 (click image to enlarge)
10. Snack Chicken – 1/2 breast & 1 piece dark fried chicken, dipping sauce, and a mini sugar donut at Paulette's Original Donuts and Chicken in Toronto, Canada.
If you thought chicken & waffles were a great pair, you will love donuts and fried chicken together. Stop by and experience this combo if you're ever in Toronto.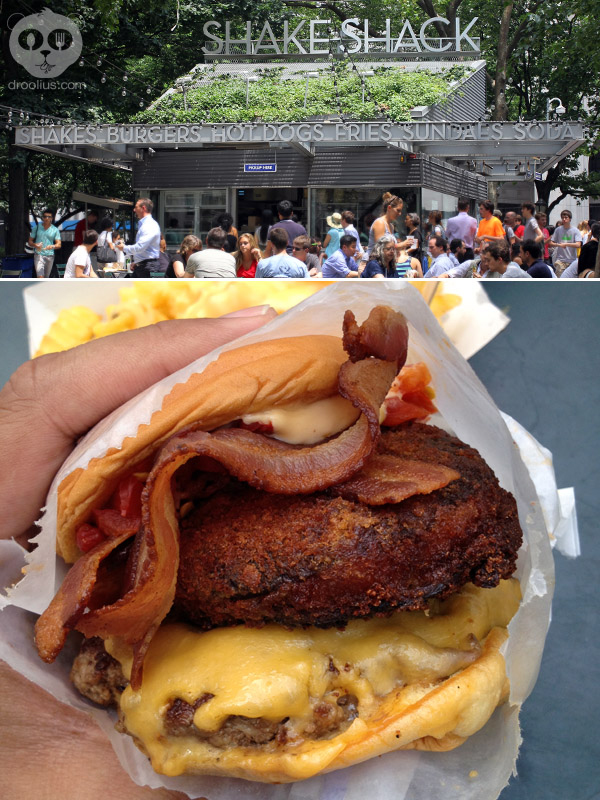 (click image to enlarge)
11. Smoke Shack Stack at the original Shake Shack location at Madison Square Park in New York City, NY.
I combined two of my favorite burgers at Shake Shack and ordered a "custom burger" that is basically made of a Shack Stack (Cheeseburger and a 'Shroom Burger topped with lettuce, tomato and ShackSauce) plus applewood smoked bacon and chopped cherry pepper from a Smoke Shack. You get the best of both worlds.
(click image to enlarge)
12. Flip'D Chicken and Ube Waffle batterless fried chicken, purple yam waffle. compound anchovy-bagoong butter & caramelized macapuno syrup at Maharlika Filipino Moderno in New York City, NY.
I'm a brunch type of person, who loves to eat Filipino food, and really enjoys chicken and waffles. You take all of those preferences and this is a perfect brunch dish for me. This Filipino style chicken and waffles has gotten lots of press in 2013 in food media and I can see why.
(click image to enlarge)
13. Chicken & Waffle ice cream (top) and Porky's Delight (vanilla bean ice cream w/ bacon & bacon brittle, bottom) at Revolution Ice Cream Co. in Brandon, FL.
The family at Rev Ice Cream Co. are creating some of the best ice cream flavors from scratch. Chicken and Waffles is exactly what you taste when you have the Chicken & Waffle ice cream and if you love bacon, the Porky's Delight has actual bacon in it, with more bacon in the bacon brittle topping. These two are my favorites on their unique ice cream menu. Sometimes they make special batches like the Rumchata Ice Cream (not pictured) that combines rum and Horchata to make an ice cream that's only served to those 21 years old and up with about a shot of rum per scoop. A must stop for ice cream lovers.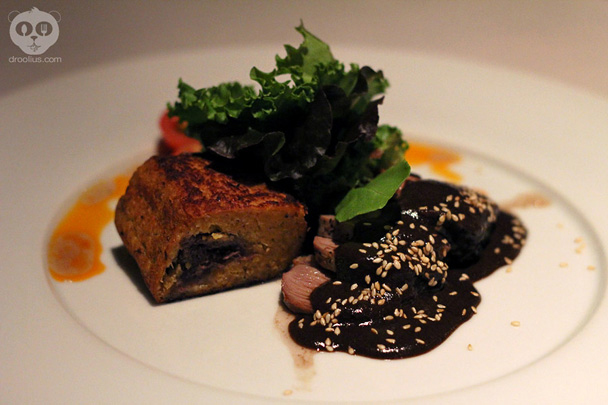 (click image to enlarge)
14. Duck Mole – Duck breast with plantain mashed and mole from Oaxaca at Arrecifes Restaurant at The Westin Los Cabos in Los Cabos, Mexico.
This was my first trip to Mexico and I have always wanted to try a Oaxacan Mole dish. The Duck Mole at Arrecifes Restaurant exceeded my expectations. The Mole sauce had a deep developed flavor that naturally complimented the duck. The chef uses local ingredients and regional recipes from around Mexico on the menu. I enjoyed my stay at The Westin Los Cabos because the resort served authentic Mexican cuisine, not typical "American" resort food.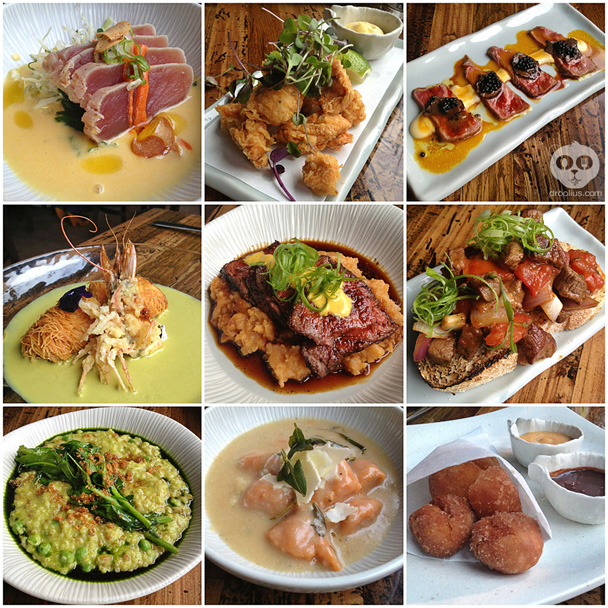 (click image to enlarge)
15. Dinner at Paiche in Los Angeles, CA.
I went to dinner with my cousin here when I was on a layover in L.A. It was close enought to LAX airport that we had time to dine for 1.5 hours and make it back in time for my flight. We enjoyed everything we ordered at Paiche, a fusion of Peruvian and Japanese cuisines. All of the dishes were great, lots of flavor and textures that worked well together. Some favorites were: Wagyu Beef Tiradito, Amaebi (Filo dough wrap, sweet shrimp, jalapeno ponzu dressing), Quinoa con Alverjitas (English Peas & Quinoa Rissotto), Sweet Potato Gnocchi, and Churros. Its worth planning a trip here to taste the menu.
(click image to enlarge)
16. My Birthday Dinner at The Chef's Table at the Edgewater Hotel in downtown Winter Garden, FL.
I had an amazing meal to celebrate my birthday with my food partner OD. We had the 3 Course Dinner ($55 per person) and both opted for the Pan Seared Foie Gras Blueberry-Lavender Gastrique, Bliss Maple Reduction, Toasted Brioche ($5 Supplement) for our first course. My main course (photo above, bad quality because of dark room, but nice intimate dining ambiance) was a Flame-Grilled Pork Chop with Low Country Polenta with House Cured Tasso, Candied Collards, Peach Chutney. Needless to say we will be going back for the Chef's Table again.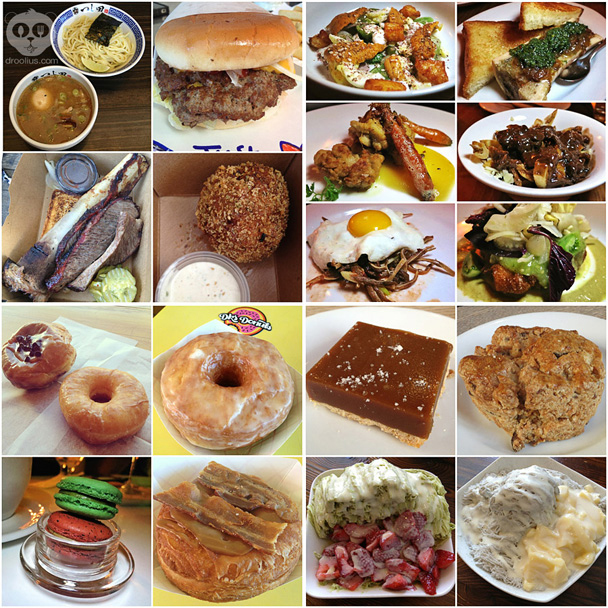 (click image to enlarge)
17. In Los Angeles, CA a friend and I ate at 10 restaurants in 1 day!
I was in L.A. and went on a food adventure with my Instagram buddy, @Limer35. He knows where to go for great food in L.A. so when I asked him to curate a food tour with a few of my requests and his knowledge, he came up with the following restaurant list:
Stan's Donuts
Tsujita LA
Seoul Sausage
Blockheads Shavery
Serious Barbeque Back Lot #Popup
Irv's Burgers
DK's Donuts & Bakery
Huckleberry Cafe & Bakery
Animal Restaurant
Caffe Concerto
We had more restaurant stops on the list, but the combination of L.A. traffic and a few unexpected occurrences slowed us down. I highly recommend trying the list for yourself. Be prepared to be out all day eating. We started at 7am and ended close to midnight. A day well spent eating and discovering food!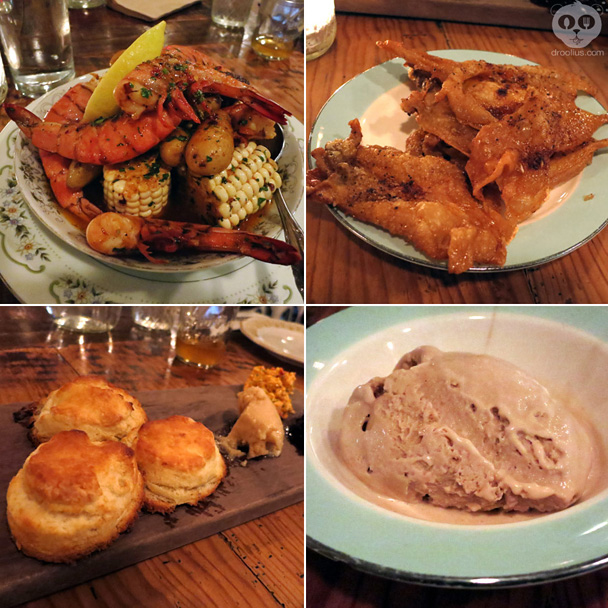 (click image to enlarge)
18. Dinner at Hart & the Hunter in Los Angeles, CA.
I met up for dinner with two of my Florida friends who were living in California. I literally walked passed the Hart & the Hunter with one friend and called my other to meet us there. I heard the name before and glad we stopped in for some Southern style cuisine. We ordered several small plates and some favorites were: Nola-style Shrimp Boil with corn, smoked sausage, potato. Chicken Cracklins with hot pepper vinegar, Butter Biscuits & condiments, Bourbon Ice Cream. Good to find Southern food in L.A.
(click image to enlarge)
19. Tonkotsu Ramen with egg at Shin Sen Gumi Ramen in downtown Los Angeles, CA.
One of my favorite restaurants for Tonkotsu ramen, this was my first trip to their downtown L.A. location. The Hakata style ramen uses thin noodles that swim in a savory Tonkotsu pork broth.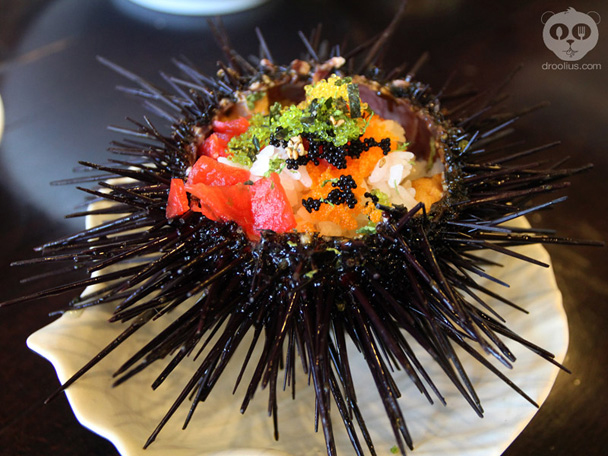 (click image to enlarge)
20. Sea Urchin with rice at Beach Live Fish Restaurant in Buena Park, CA. (L.A. area)
This dish was served in its own shell, sea urchin combined with rice and a few fresh seafood ingredients. What was impressive is that the shell's needles were still moving when it was served and if you scratched the inside wall, the needles would move even more. A great way to show they serve fresh Uni, not to mention quality in product and flavor.
(click image to enlarge)
21. Taste of Waldorf Astoria tasting menu at Bull & Bear Steakhouse located inside of the Waldorf Astoria in Orlando, FL.
A seven course tasting menu that was inspired by dishes from Waldorf Astoria locations from around the world, this was offered during Food & Wine Weekends. Executive Chef, Massimo Falsini of Bull & Bear, executed an excellent multi-course dinner with his team and this was one of my best meals in 2013. OD and I really enjoyed the experience and you can read more about the "Taste of Waldorf Astoria" here.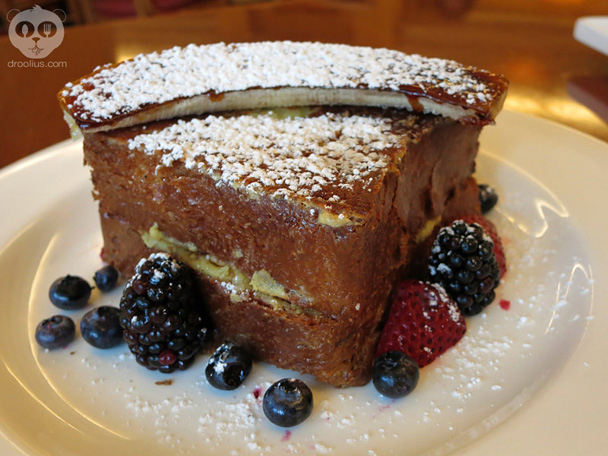 (click image to enlarge)
22. Oscar's French Toast "The French-Man" House made brioche, bourbon vanilla custard, caramelized banana, berries, 100% Vermont maple syrup at Oscar's Restaurant at the Waldorf Astoria in Orlando, FL.
My new favorite french toast! This has everything you want in a french toast dish, and more. The french toast is filled with a flavorful bourbon vanilla custard and the crust on the outside is a texture I really enjoy. I'm not sure if I can find one better after this one.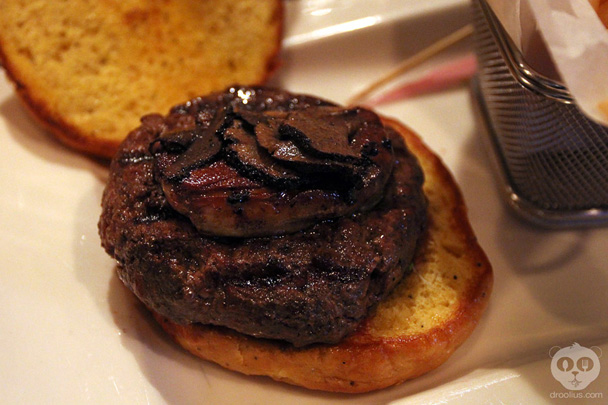 (click image to enlarge)
23. Rossini Burger – Kobe style Wagyu beef (Australian), sautéed Foie Gras, shaved truffles on an onion bun at Burger Bar inside Mandalay Bay resort Las Vegas, NV.
This is the Rossini, a burger I have been waiting 4 years to eat again. It's that good and if I ranked this, it would be #1 on my list for favorite of 2013. This is definitely my favorite burger. Super rich and savory, the Wagyu beef, sautéed Foie Gras, shaved truffle are an indulgence and comes with a Black Perigord Truffle brown sauce and includes a choice of dessert. Well worth the $60 price tag.
(click image to enlarge)
24. Two dinners in one week at Lotus of Siam in Las Vegas, NV.
Thai food so good that I went there twice in one week! While I was in Las Vegas for SEMA and the World Food Championships, I had two different groups of friends in town who wanted to have dinner at Lotus of Siam. It was my first and second trips there and it's definitely some of the best Thai cuisine I've had. A must stop in Las Vegas, located North of the Vegas strip.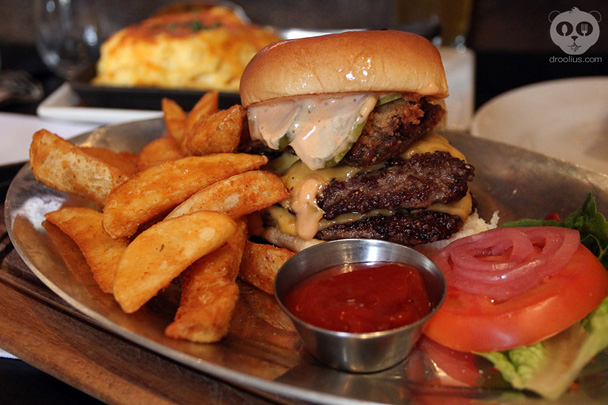 (click image to enlarge)
25. The Swine Burger – short rib, brisket, smoked pork blend, homemade dill pickle, thick-cut house-smoked bacon, American cheese, swine sauce at Swine Southern Table in Coral Gables, FL (Miami area).
Just when I thought I had all the great burgers in 2013, the Swine Burger was introduced to me by my burger connoisseur friend, BurgerBeast. This burger has so many good flavor combinations going on and the homemade Southern style accompaniments work well together.
I'm thankful for all of the food adventures in 2013. These are all great meals and I recommend them for you all to try. I enjoyed sharing it with you all here and on social media. Look for more food and travel posts in 2014 here. If you have any restaurant recommendations, please share in the comments below.

Words and photos by Julius Mayo Jr.
Content and photos © Droolius.com 2013