I have always wanted to combine Red Velvet donuts with bacon for some reason. It's not too much of a stretch. You can find chocolate covered bacon being sold, as well as bacon donuts, and they both seem to be a hit around the U.S. I've tasted both (individually) in the past and I must admit chocolate and bacon pair well together, and so does bacon and donuts. Since Red Velvet donuts are chocolate based, why not top it with candied bacon? It was an idea I just had to do and after doing some research on how to make donuts at home, I decided to go for it.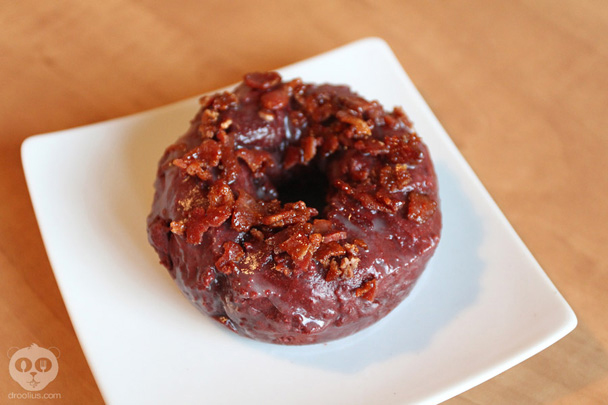 (click image to enlarge)
Baked Red Velvet Donut with Candied Bacon
I actually made these "bacon donuts" for the CFL Food Blogger Bake Sale last weekend, hoping the public would "get it" and enjoy these sweet and savory donuts. Everyone seemed to like the combination and I received positive feedback. I've received several tweets and a few emails about the recipe, so I'm posting it here for you all to try.
(click image to enlarge)
Author: Droolius Baked Red Velvet Donut with Candied Bacon topping
Baked Red Velvet Donuts adapted from Katie's Cucina
Prep time: 30 mins
Cook time donuts: 12-15 mins
Cook time bacon: 30 mins
Total time: 45 mins
Serves: 12
Ingredients for donuts and glaze:
• 2 1/4 cups all-purpose flour, sifted
• 1 tbsp baking powder
• 1 tsp baking soda
• 1/2 tsp salt
• 3/4 cup sugar
• 1 large egg
• 2 tbsp unsalted butter, melted
• 1.5 oz unsweetened chocolate, melted
• 1/2 tbsp vanilla extract
• 1/2 cup buttermilk
• 2 tbsp red food coloring
Instructions for donuts:
1. Preheat the oven to 350F. Spray a donut pan with baking spray (cooking spray ok). Melt the butter and chocolate in separate bowls in the microwave.
2. In a large bowl, combine the flour, baking powder, baking soda, and salt.
3. In another bowl, mix together the sugar and egg. Add the melted butter and melted chocolate to the egg-sugar mixture. Add the vanilla, buttermilk, and red food coloring.
4. Gradually add the dry ingredients to the wet mixture, mixing just until combined. (It is a thick batter)
5. Fill the donut pan with the batter, filling each about 1/2 full in donut pan. Bake in preheated oven for 12-14 minutes.
6. Let donuts cool on cooling rack before glazing and adding topping.
*Note: Must have candied bacon prepared before glazing.
Instructions for vanilla glaze:
In a medium sized bowl, stir together 2 cups confectioners sugar, 1 tablespoon half & half, 1/2 teaspoon vanilla extract and 4 tbsp hot water (not boiling). Stir well together, making sure all ingredients are well incorporated, until sugar is dissolved completely. Use immediately.
*If the glaze starts to harden you can add more hot water.
Ingredients for candied bacon:
• 1/2 package of low sodium bacon
• 2 tbsp unsalted butter
• 2 tbsp sugar
Instructions for candied bacon:
1. Preheat oven to 275F. Line a sheet pan with parchment paper and place the individual strips of bacon so it all fits onto pan. (about 1/2 package will cover 12 donuts)
2. Bake in preheated oven 20-25 mins, until slightly crispy.
3. Take bacon out of oven, place pieces on paper towels to absorb excess grease and let cool.
4. Chop up bacon into small squares.
5. In a pan over medium high heat, melt butter. Once melted add bacon and stir.
6. Add sugar gradually and continue to stir for a few minutes, coating all pieces of bacon.
7. Once coated, remove from heat and let cool.
Topping instructions:
1. Immediately dip donut into glaze, about 3/4 of the way and place on cooling rack.
2. Sprinkle candied bacon on each donut while the glaze is still warm, allow it to cool for a few minutes and bacon will set into glaze.
3. Once cooled, you can add more glaze on top if necessary.
(click image to enlarge)
A few notes:
• It is up to you if you want to prepare the candied bacon first or donuts first. Since you have to let both cool, either one is fine.
• The glaze is made last, before adding topping
• I baked the donuts first, then candied the bacon, combined the glaze, then added topping.
BIG thanks to Katie from Katie's Cucina who gave me tips about baking and answered my many questions about baking these donuts. When I told her my idea for the bake sale, she was totally supportive. Thanks!
(click image to enlarge)
This is only my second recipe on the blog, so hopefully the steps and directions make sense. In the end, enjoy the donuts and let me know how yours turned out in the comments below. Happy baking and happy eating, they go great with coffee!

Words and photos by Julius Mayo Jr.
Content and photos © Droolius.com 2012