I really enjoy seeing artists collaborating with brands, especially in the food world. This collaboration features artist Jeremyville with Shake Shack in a "See You At Shake Shack" t-shirt. The graphic is based on a drawing Jeremyville created while eating and sketching at the original Shake Shack location in New York City's Madison Square Park. The characters are "burger buddies" and shows the artist's passion of skateboarding, Shake Shack's burgers, desserts, and more.
"This is the first of several Shake Shack Creative Community projects slated to drop this year—each project features a different artist."
Shake Shack t-shirts have always been good quality and made of soft material. (I know because I own a couple and love them). Order your t-shirt today before this limited-edition piece of food fashion is sold out. 
Shake Shack x Jeremyville T-shirt is now available exclusively at: https://shop.shakeshack.com/jeremyville-tee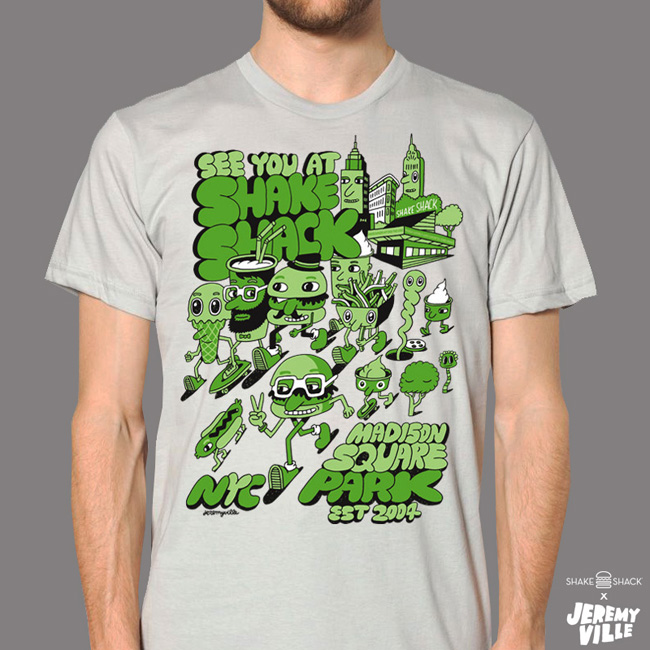 (click image to enlarge)
Shake Shack x Jeremyville's "See You At Shake Shack" t-shirt
(click image to enlarge)
"Jeremyville first discovered Shake Shack in the fall of 2012 when Hurricane Sandy flooded and knocked out power to most of downtown Manhattan. He escaped from his SoHo loft and found himself on the city's Upper West Side. The only fully operational restaurant in the neighborhood was the Shack on the corner of Columbus Avenue and West 77th Street.
With deadlines looming on several projects, he settled in to a table for hours (and days) on end, eating burgers and drawing—just like he did as a boy growing up in Sydney. It was then that he fell in love with all that Shake Shack offers and stands for."
To get the full story behind the Shake Shack x Jeremyville collaboration, visit the company blog at: http://bit.ly/shake-shack-jeremyville
(click image to enlarge)

Fun art work! Shirts available at https://shop.shakeshack.com/jeremyville-tee
Images and content courtesy of Shake Shack


*This is not a sponsored post. I just really like artists collaborations with successful brands, that develop organically, and make sense!