Droolius can cook! Yes I really can, and I've decided to recreate a restaurant inspired dish once a month and post up the recipe and photos. So for this month's recipe I've recreated Canadian Cheddar Cheese Soup, my favorite dish to eat at the Epcot Food & Wine Festival.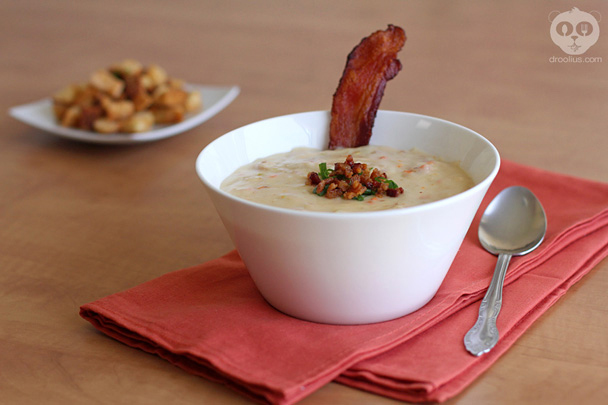 (click image to enlarge)
Every year my favorite #1 dish to eat at the Epcot Food & Wine Festival is the Canadian Cheddar Cheese Soup. This soup is available year round at the Le Cellier Steakhouse which is located at Epcot's World Showcase Canada. I do not make it to Epcot that often so I really crave this soup. So I decided to make it at home, this being my first recipe on this blog.
(click image to enlarge)
From Epcot World Showcase at Canada – Canadian Cheddar Cheese Soup
The recipe for Canadian Cheddar Cheese Soup can be found online, in a few variations. My interpretation will be a little more heartier and combines what I've found and I've adjusted a few things to my liking. This recipe is not difficult per say, it just takes time to source the quality ingredients that may be challenging to find at times, plus having some patience to stir and cook slowly.


Adapted & combined several recipes from food blogs & videos: Google Canadian Cheddar Cheese Soup
Prep Time: 20 minutes
Cook Time: About an hour
Servings: 5-6
Ingredients:
Approximately 1 pound of bacon (½ pound for less hearty) cut into small pieces
4 Tablespoons unsalted butter
1 diced medium red onion (about 1 cup)
1/2 cup diced celery stalks
1/2 cup diced carrots
1 cup all purpose flour
3 cups chicken stock (warm)
4 cups whole milk (warm)
1 pound aged white cheddar cheese (grated or chopped) *I used Boar's Head Canadian Cheddar (over 3 years aged) but Canadian Black Diamond is more often used (5 years aged)
Pinch of salt
Fresh cracked pepper
1 Tablespoon Worchester sauce
5 splashes of hot sauce
1/2 cup room temp Lager beer *I used Molson Canadian Lager, Moosehead Lager is often used
Prepping tips:
1. Dice up all of the vegetables fairly small and the same size so they will cook same amount of time.
2. Cut bacon into small pieces
3. Heat up the chicken stock and milk in its own sauce pan over a low flame, just needs to be warm and not boiling.
(click image to enlarge)
Directions:
1. Cook the bacon in a large soup pot (heavy bottom preferred) over a medium heat and until it starts to brown up on the edges.
2. Add 4 Tablespoons of unsalted butter and continue to stir until melted.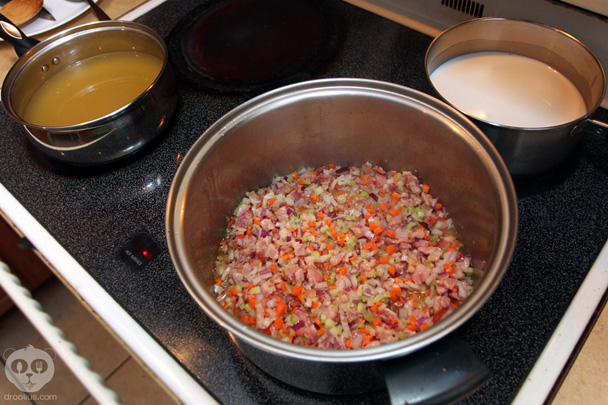 (click image to enlarge)
3. Add diced celery, onions, and carrots and cook until the onions are translucent. This creates a mirepoix of vegetables (onion, carrot and celery) and aromatics for flavor. This may take a while because of the amount of bacon and vegetables in this recipe, but keep stirring. Bacon should crisp up a little more, but when onions are translucent, go to next step and do not burn.
(click image to enlarge)
4. Next you will add the cup of flour, in small batches, and constantly stirring. This creates a roux and is the thickening agent for the soup. Keep stirring (so it will not burn) and adding flour until it is all in and cooked. (top right photo).
5. Stir in warm chicken stock in small batches until all in. Stir constantly and it will look similar to mashed potatoes (seen in bottom right corner of photo).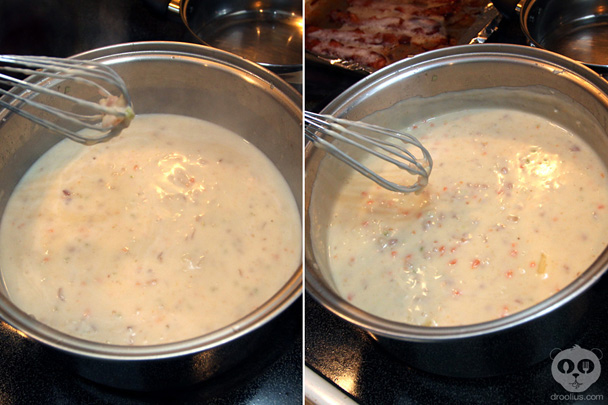 (click image to enlarge)
6. Keep stirring and add in warm milk. (photo left milk added)
7. Slowly add cheddar cheese in small batches, making sure to keep stirring and all cheese is melted before adding more cheese. Once all cheese is stirred in, it will be a smooth and semi thick consistency (photo right)
8. Add in a pinch or two of salt and about a tablespoon of Fresh cracked pepper. Be careful with salt, lots of salt in bacon and cheddar cheese.
9. Over a low heat, sir in Worchester sauce, a few splashes of hot sauce, and 1/2 cup of room temperature beer. You can add up to a cup of beer total if you want the soup to be less thick and have more of a punch.
10. Add your favorite garnish: finely chopped scallions, crumbled bacon, a side of bread or croutons.
(click image to enlarge)
I put a few pieces of thick cut bacon in the oven and baked for about 20 minutes, turning once after about 15 minutes.
I also made some croutons by chopping up bread, adding olive oil, kosher salt and pepper, baking in a small toaster over (seen in below photo in the background).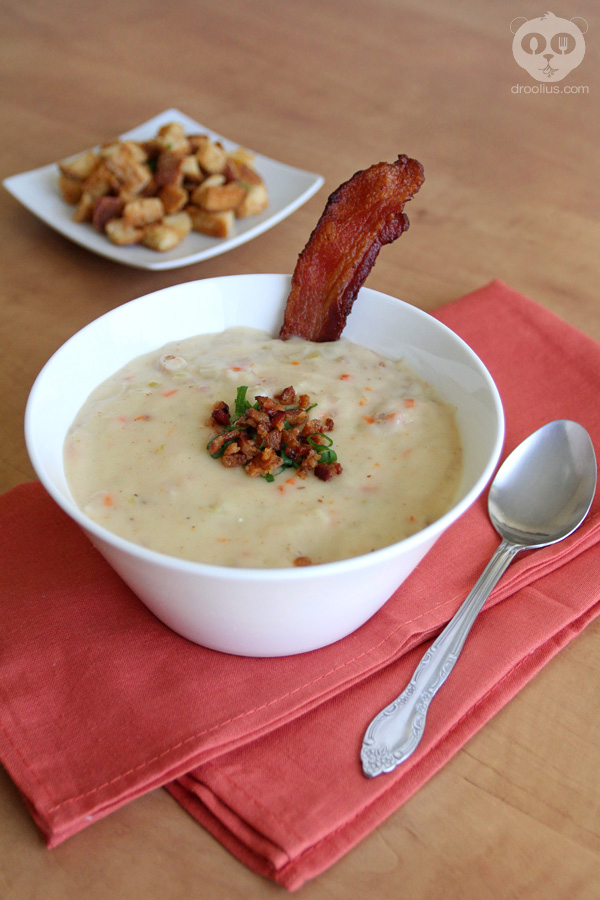 (click image to enlarge)
So this is the final dish, complete with a mini photo shoot. Bacon garnish can be eaten with soup as well. I like bacon so a few pieces dipped in the soup makes a great meal. The soup actually does taste like the Canadian Cheddar Cheese Soup from Epcot and I really enjoyed it.
Hope some readers attempt this recipe, Let me know how it turns out. Also let me know if you have any questions and leave a comment below.

Words and photos by Julius Mayo Jr.
Content and photos © Droolius.com 2012