Today, my friend Chef Fabio Viviani, is featuring my burger recipe on his website and magazine. For those who keep up with this blog, I last saw Fabio in Miami during SOBEWFF where he taught me how to make gnocchi and we filmed an interview. In return I wrote a burger recipe for him, using the ingredients that I like and the way I make my burgers at home.
From Fabio's magazine:



Since Top Chef All Stars, Fabio has been creating some great burger recipes for his web show Chow Ciao!, veggie burgers on The Ellen DeGeneres Show, and recently was recognized for his burger at Siena Tavern in Chicago (his newest restaurant). Fabio is a burger-making machine these days.
So in honor of Fabio and National Hamburger Month, I present the following photos for The Droolius Style Cheeseburger. You can find my recipe on Fabio's website:
http://fabioviviani.com/blog/fabios-friends-julius-mayo-jr-droolius/
(click image to enlarge)
The Droolius Style Cheeseburger – half pound burger with fontina cheese, garlic mayonnaise, thick sliced smoked bacon, baby arugula, topped with a fried egg, on a custom Brioche bun
(click image to enlarge)
The custom Brioche bun was made by Sweet Traditions Bakery in Winter Garden, FL
(Thanks Chef Denny!)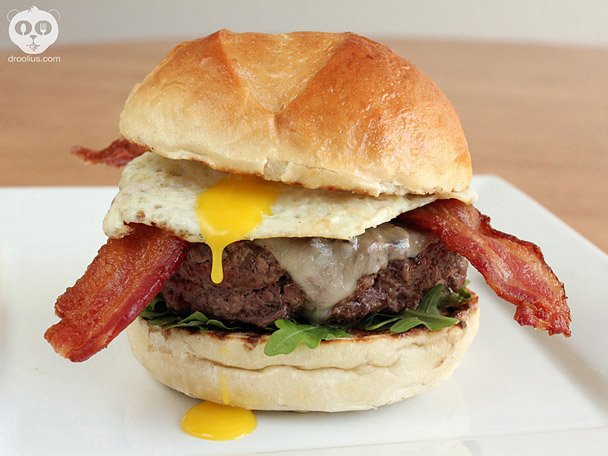 (click image to enlarge)
The infamous Egg Drool shot! You know I had to include this one, everyone loves a little Egg Drool action!
So what type of beef blend did I use for the hamburger?
How long did I cook the burger patty?
How did I make my garlic mayonnaise?
How did I fry my egg so perfectly?
WHAT IS THE RECIPE?


You can find my FULL recipe for this burger, featured on Chef Fabio's website:
http://fabioviviani.com/blog/fabios-friends-julius-mayo-jr-droolius/
(click image to enlarge)
Enjoy the recipe and let Fabio and I know what you think about the burger in the comments below…

Words and photos by Julius Mayo Jr.
Content and photos © Droolius.com 2013