One of my favorite places for sushi in Orlando, FL is Jade Bistro. The fish is always fresh and they use quality ingredients in all their dishes and sushi creations. Today the Photo of the Day Monday is Tuna Kobachi at Jade Bistro. Just one of many Sushi & Sashimi Appetizers that they offer.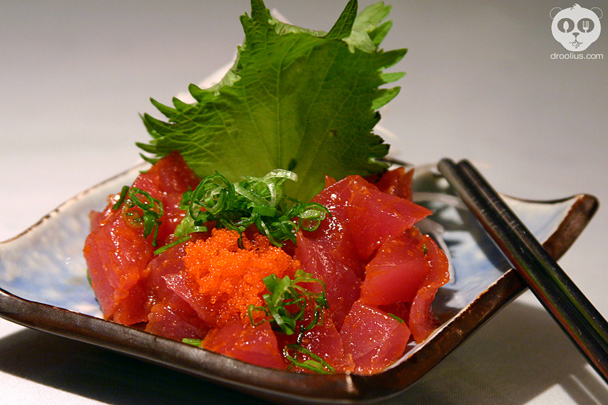 (click image to enlarge)
Tuna Kobachi Diced tuna with spicy sesame oil and pepper sauce (Sriracha)
Fresh red tuna is diced into cubes then put into a combination of spices, spicy sesame oil, and Sriracha. The combination of quality sushi grade tuna and ingredients creates a fresh tasting appetizer with a little bit of heat. If you like to order tuna when you go out for sushi, give this one a try at Jade Bistro. This is one of the appetizers I always order and then I have my favorite sushi rolls, the Jade Roll and Cherry Blossom.
Jade Bistro not only has sushi, but also offers an appetizing Asian Fusion menu, a classic Chinese menu, and an array of appetizers, soups, and salads. I have eaten almost everything on the menu and I will say it is ALL delicious! Stop in for their Lunch Special menu during the week or order a few entrees and sushi rolls with a group of friends or family members for a nice dinner. They offer a good sized menu to satisfy everyone's palate for Asian cuisine. Check out the website for sushi list and their full menu www.jadebistro.com
Droolius will have a full feature on Jade Bistro in the near future. Check back and see what they have to offer…
Jade Bistro
2425 Edgewater Dr.
Orlando, FL 32804
College Park Neighborhood
407-422-7968
www.jadebistro.com
Words and photos by Julius Mayo Jr.