Fork in the Road is one of the newest gourmet food trucks in Orlando, FL. Co-owned and operated by Chef Bryce Balluff, he takes quality ingredients and creates globally inspired dishes to serve from this mobile kitchen. The chef is no stranger to Orlando either, previously the private dining chef at Luma, and worked other local restaurants like The Funky Monkey Wine Company and more.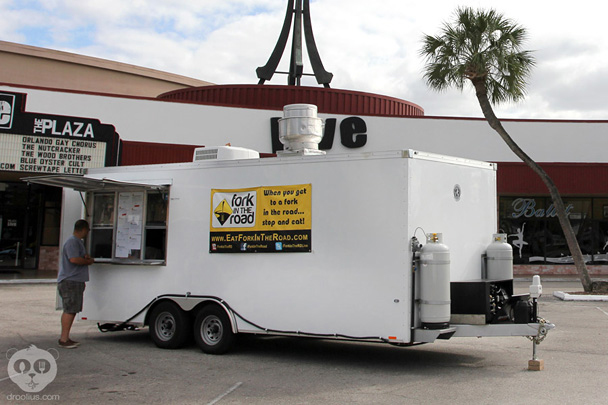 (click image to enlarge)
Chef Bryce hails from the French Culinary Institute and trained at Michelin starred restaurant Per Se in New York. With all of these culinary experiences working in kitchens from NYC to South Florida, he brings those influences into a frequently changing menu with a few signature items that are often offered. My first trip to the Fork In The Road Food Truck featured a 72Hr braised beef short rib and a slow roasted pulled pork, which recently seems to frequent the menu. I ordered both to share with a friend and we enjoyed both plates.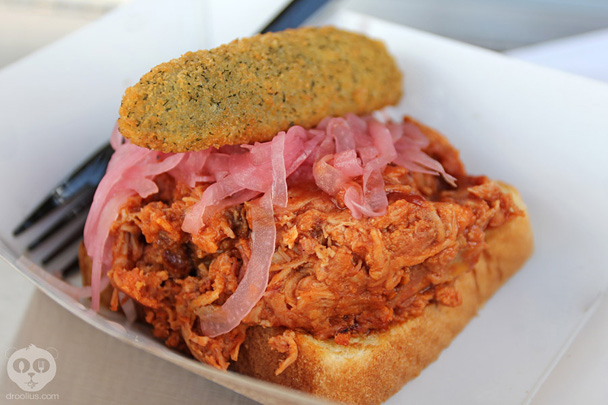 (click image to enlarge)
Pulled Pork – Boston Butt smoked and slow braised, pulled with mango spiked "Q" served on texas toast with pickled red onions and deep fried pickle spear
The pulled pork here is not your typical style found at a local BBQ joint. It's more refined, with a sweetness and tang from the mango spiked "Q" complimented by the pickled onions. It was a good portion of meat and the texas toast absorbed the sauce and flavors to be also enjoyed. We ate it with a fork and knife as an open faced sandwich and had each bite with all of the components together. The deep fried pickle was really good and I was impressed by the flavor from the seasonings.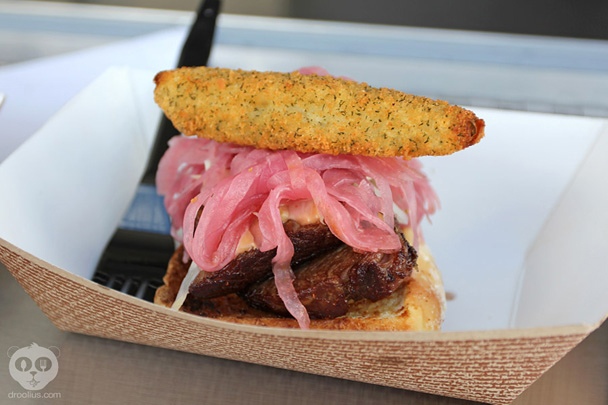 (click image to enlarge)
Short Rib-wich – 72 hour braised angus short rib topped with pickled red onions & fennel slaw, smoked aioli on Texas toast and deep fried pickle spear
This was my favorite of the two we ordered. The 72 hour braised short rib was delicate and pulled apart so easily. It had a rich developed flavor and paired nicely with the smoked aioli. The short rib was complimented by the acidity of pickled onions that cuts the richness of the meat to create a balanced flavor and refreshes the palette. The texas toast in this case almost took away from the delicateness of the short rib in my opinion. Instead of eating it like a open faced sandwich, I preferred to have the toast on the side, for a little texture and added flavor. Regardless of your eating style and preference, I think this is a good menu item to try.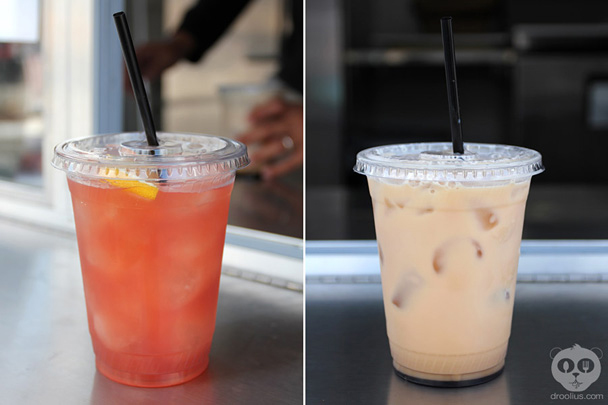 (click image to enlarge)
(left) Raspberry Arnold Palmer – Raspberry iced tea, fresh squeezed Florida Lemon juice, Raw sugar syrup, (right) Egg Cream Dark Chocolate Cookie soda jerk style egg cream
Not only do they make food creations, but they make some of their own custom drinks too. The Raspberry Arnold Palmer was nice and refreshing, even on a cool and sunny Florida day. It was sweetened just right and went well with the meal.
The Egg Cream is an American classic drink that is not often found these days (click link to read more on Wikipedia). They make this drink to order and can be enjoyed during or after your meal. It tasted like a light cream soda with a hint of chocolate. Something unique to try, I'm sure it may bring back some nostalgic memories for some.
Next time I hope there is room for dessert, which the menu offered a Cookie-wich: Seasonal ice cream wedged between two fresh baked seasonal cookies. The one offered this day was a ElvisCookie-wich: fresh baked peanut butter cookies sandwiched around banana-pudding ice cream. Why did I eat so much? Must save room for dessert next time!
The dishes and drinks we tried this trip were just a few of the inspired menu items that Chef Bryce has created. Influenced by his previous restaurant experiences and his French culinary training, the menu will surely evolve and be ever changing. I cannot wait to see what he comes up with next using unique and seasonal ingredients. Can anyone say truffles? Yes, as in the truffles that are rare, expensive and hard to find. Visit and 'Like' the Fork In The Road Facebook Page for recent photos of ingredients and creations. Find their locations on Twitter @ForkInTheRDLive


Check out the Menu offered tonight (Dec.3, 2011) at the Food Truck Heaven Event:
Mac & Cheese Pops Three cheese blend folded in Italian cous cous breaded and fried.
With Lobster.
With Truffle.
Pork Belly Banh Mi Sliders 72hr braised Kurobuta pork belly crisped to order, carrot daikon cucumber and cilantro slaw, with sweet chili aioli on Tribeca French Bread
Short Rib-wich Sliders 72Hr braised Angus beef short rib, pickled red onion and fennel, with Chipotle BBQ Aioli on Tribeca French Bread
Brisket-wich Sliders Slow smoked brisket in blood orange bbq sauce with melted onions on Tribeca French Baguette
Pulled Pork Sliders Slow smoked and pulled Kurobuta pork sholder folded with mango bbq with pickled red onions on Tribeca French Baguette


Fork In The Road
www.forkintherd.com
Twitter @ForkInTheRDLive
Facebook Page


Words and photos by Julius Mayo Jr.
All content and photos © Droolius.com 2011