The Orlando Food Truck scene just keeps getting better with food featuring cuisines from around the world. The new SwedeDISH Food Truck serves authentic Swedish cuisine from traditional recipes. The owners are a very nice Swedish couple, who have been cooking and entertaining for years. After lots of encouragement to open a restaurant from family and friends who love their cooking, they finally decided to open a food truck to serve their popular Swedish dishes.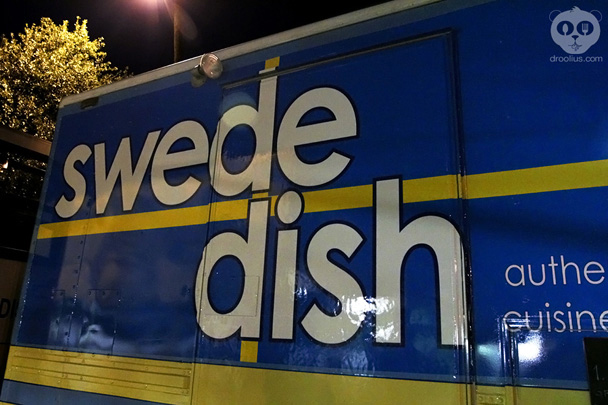 (click image to enlarge)
The grand opening of the SwedeDISH Food Truck was this past Wednesday at the Eat More Produce market in Winter Park, FL. I arrived when it had just gotten dark, so please excuse the night photos. This is a really great looking Food Truck, the paint proudly says SWEDEN. A special note about this truck also, it used to be a NASA Command Center! Yes as in the space shuttle, this now food truck used to house computers, wiring, electronics, everything to handle a space mission. That is pretty awesome if you ask me. The owners gutted the interior themselves and built it on their own. They have a background in race cars, which I'm sure helped them. When you see this truck in person, you will see it is large for a food truck. They make good use of the 19 foot kitchen, the length of a regular food truck.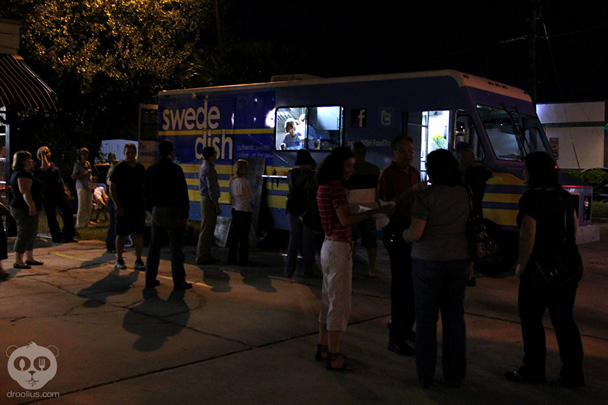 (click image to enlarge)
Grand opening at Eat More Produce Market – a good sized consistent crowd came out
The first thing you may think of when you hear Swedish food may be Swedish meatballs. Yes they have the meatballs, but I've heard they are better. I was not able to try them because they sold out of them! That's a good sign. The Swedish cuisine is more than just meatballs, it is flavorful and savory. Check out the following dishes…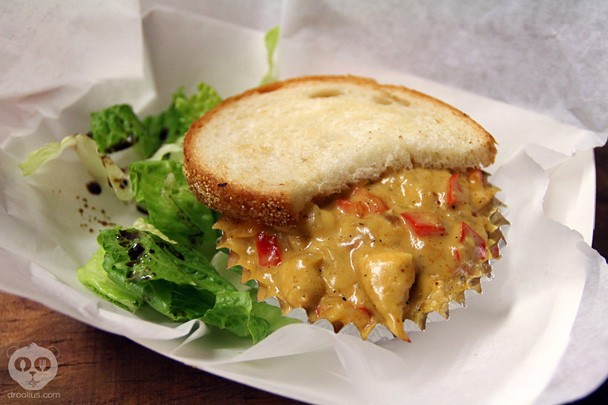 (click image to enlarge)
Kycklingpaj med sallad | Chicken curry in a cup
chicken – breast, onions, red & green peppers and cream) with fresh green salad dressed with a blend of olive oil, balsamic vinegar and Swedish spices "Viveca's specialty"
(click image to enlarge)
Who knew Sweden had a chicken curry? Makes sense for the cold winters and the need for warm comfort food. That is exactly what this dish is, comfort food. Tender chunks of chicken in a creamy curry sauce. It is not spicy like an Indian curry, just really good flavors and spices. The red peppers are tender and have a natural sweetness that comes out in this curry sauce. I really liked this dish and it did surprise me how good it tasted. Definitely a homemade feel to the dish.
(click image to enlarge)
Biff a la Lindstrom | All-beef patty slider, Swedish-style – Resembling an American hamburger but with the sweet taste of beets and the saltiness of capers. "First Created by Chef Henrik Lindstom in 1862"
Since I was solo at this event and wanted to try 2 dishes, I ordered half an order of this Swedish style slider. Not sure if you can normally do this, but I just asked for it. I kind of wished I ordered a full 2 piece slider because this was really good. The juicy meat had a really savory flavor and it tasted so good against the buttery grilled bread. The meat has capers and sweet beets mixed into the patty, then grilled. The normal hit of salt from a caper was mild in flavor and the sweet beets were just enough sweetness to cut the richness of the meat. I can describe this as a savory and balanced flavor. A must try for this truck if you like something close to a burger. Let me say this again, I loved the buttery grilled bread.
(click image to enlarge)
Smorgasbakelse | Swedish sandwich torte – A two layer fillings with fresh tuna salad, mayonnaise, dill and cream cheese with red pepper "First created by Gunnar Sjodal, Ostersund, Sweden in 1961″
I did not try this dish, but my friend Bruno, a food cart owner from Big Brunos Bite's, kindly offered me a photo opportunity. I will have to order one myself next time. The description sounds good.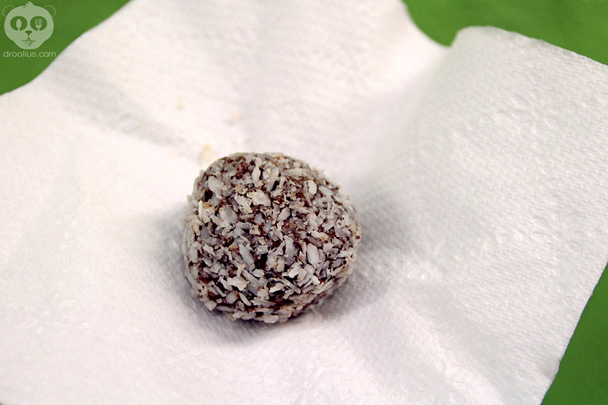 (click image to enlarge)
Chokladbollar – Coconut Covered Chocolate Balls
For dessert I ordered one coconut chocolate ball. I know to order more next time because this was a good closer for the meal. It looks dense and heavy, but it is actually the opposite. Light and delicate, the slightly sweetened chocolate blends so well with the crisp textures and flavors of shaved coconut.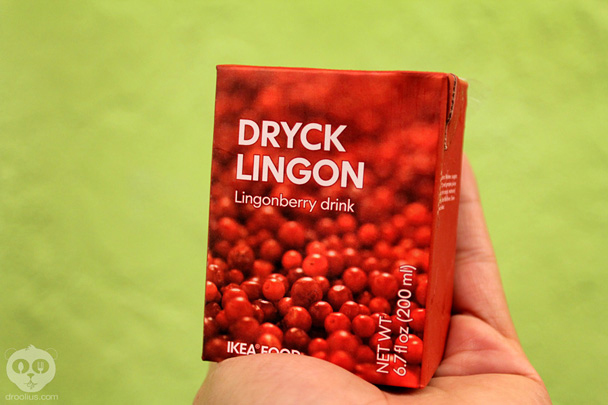 (click image to enlarge)
Lingon dryck – Lingonberry drink
A good tasting fruity berry drink, from IKEA.
A really good first impression from this new food truck in Orlando. I cannot wait to go back, hopefully get the homemade Swedish meatballs with mashed potatoes, cream sauce, pickled gherkins & lingonberry jam before they sell out of them. Regardless it will be a good trip to try some more of their Swedish cuisine. Check out the website listed below for the full menu, and make sure to Like their Facebook Page and follow them on Twitter @SwedeDishTruck for current times and locations.
SwedeDISH Food Truck
407-619-9713
www.swededishfoodtruck.com
Twitter: @SwedeDishTruck
Facebook: www.facebook.com/SwedeDISHFoodTruck

Words and photos by Julius Mayo Jr.
All content and photos © Droolius.com 2011