Today is Friday and do you know what that means in Chicago? Duck Fat Fries at Hot Doug's! Not only duck fat fries, but a whole array of hot dogs and sausages that are craved and sought out by many at this destination for great food in Chicago. Hot Doug's proclaims their restaurant as the "The Sausage Superstore and Encased Meat Emporium" so expect to find delicious sausages standard to any hot dog joint as well as a specialty menu with more gourmet and game meats.
(click image to enlarge)
Hot Doug's offer's the classic Chicago style hot dog and a variety of sausages that are paired well with many toppings and condiments to make all their menu items a delicious hot dog. Hot Doug's also has a menu of speciality sausages that are more on the gourmet side. These items may change weekly or daily, offering many unique and exotic sausages and complimenting condiments for the adventurous eaters out there. You will just have to check out the Specials Menu yourself for the unique items.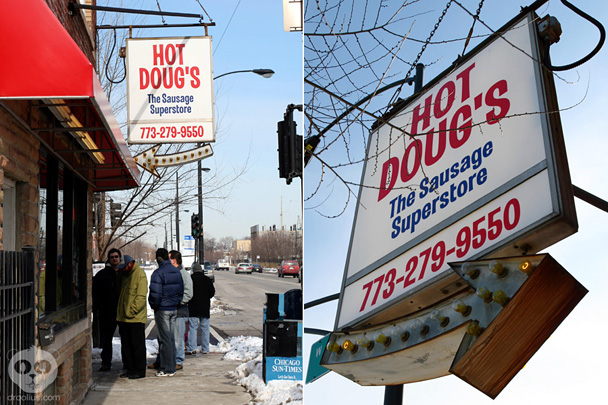 (click image to enlarge)
Not only is Hot Doug's famous for their hot dog menu and duck fat fries, they are famous for the long lines that people may wait for over an hour just to eat this mouthwatering food. My food partner O.D. and I decided to wake up early on a Friday morning and brave the cold to try the famous food that people rave about. We arrived "early" and quickly got in the growing line, waiting in freezing mid 20 degree weather. Armed with our heavy winter gear (we're from Florida) we were prepared to wait an hour plus in the freezing temperatures, but luck was on our side. The line moved every few minutes and we were able to be inside the door within 15 minutes and waited another 15 minutes to order. Not a bad wait time considering the frigid weather and being known for long lines. So we ordered the The Dog, The Keira Knightley, a Foie Gras and Sauternes Duck Sausage and of course, the duck fat fries.
(click image to enlarge)
Duck Fat Fries (Friday & Saturday only)
So delicious and rich in flavor, these may not be the healthiest things to eat but they are SO GOOD. There's a deep savory flavor in these fries and makes my mouth water just thinking of them. The fries do not taste like duck, rather the oil rendered out of the duck fat which the fries are fried in creates has a deeper flavor that makes them so tasty and rich. Well worth the wait on any Friday or Saturday to taste these scrumptious fries.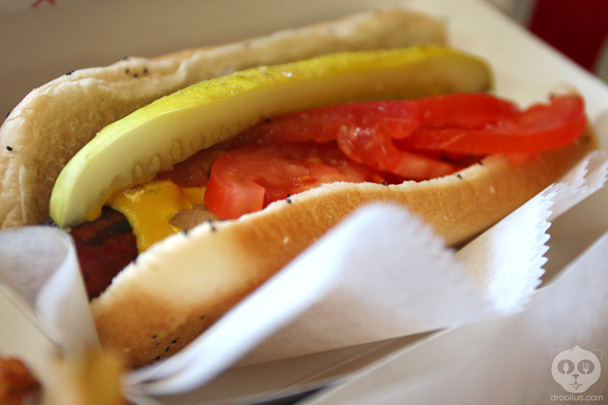 (click image to enlarge)
The Dog Chicago-Style Hot Dog with all the trimmings
The traditional Chicago style hot dog with yellow mustard, onions, dill pickle spear, tomato slices, sweet pickle relish, pickled sport peppers, and a dash of celery salt. We split this one and it was one of the best Chicago style dogs I've eaten. Very balanced in flavor and that's just how a Chicago dog tastes when all these bold condiments come together.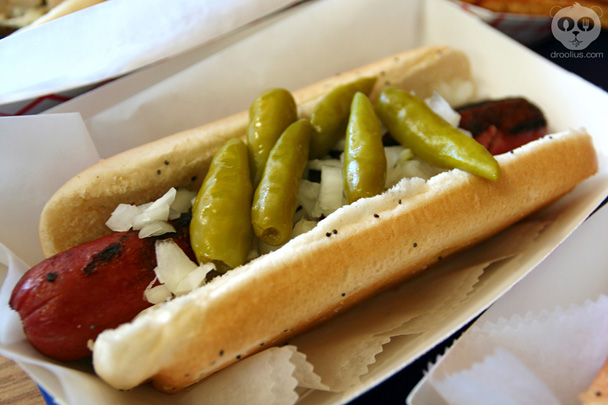 (click image to enlarge)
The Keira Knightley A Fire Dog that the menu describes as "Mighty hot!" (formerly the Jennifer Garner and the Britney Spears)
This is a slightly modified version, my food partner decided only to have onions and pickled sport peppers, and leave out the rest of the trimmings. Expect the classic Chicago style trimmings if you order this spicy dog. Regardless it was tasty and had a nice kick of heat, not too spicy at all so don't be afraid to try it. I'm sure if ordered with all the trimmings it would taste like a spicy version of the Chicago style hot dog, which I like the sound of! Next time I will order one for myself and try this with everything to get the full effect.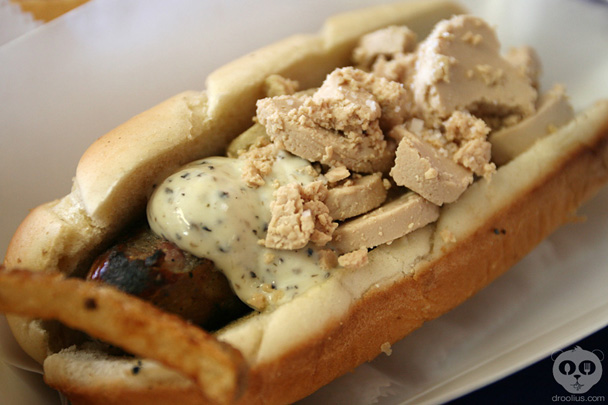 (click image to enlarge)
Foie Gras and Sauternes Duck Sausage with Truffle Aioli, Foie Gras Mousse and Fleur de Sel
This was the hot dog I ordered for myself and wow was it awesome! Overall it was rich, creamy, and savory. A sophisticated gourmet hot dog if you will. The flavors of the foie gras and duck sausage were so savory and paired well with the rich tasting foie gras mousse and truffle aioli. The Fleur de Sel (sea salt) added a touch of brightness that balanced the richness with salt. Pair this with the duck fat fries every few bites and its like rich flavor heaven. Words really cannot explain how good this is and I would wait a few hours in line for this alone.
(click image to enlarge)
Close up of Foie Gras and Sauternes Duck Sausage with Truffle Aioli, Foie Gras Mousse
Basically all the savory types of food I love wrapped up in tube form, for an affordable price. Its a tasty experience and a must try when coming here.
Hot Doug's is definitely worth the wait, snow or heat, rain or shine, weather cannot stop people from gathering at this restaurant. Its a delicious part of Chicago you do not want to miss if you visit or live there. They offer a nice selection of hot dogs that change enough to visit there a few times a year if not monthly. An affordable place to try gourmet treats (cash only), one can easily understand after eating here how it has received many awards, featured by many publications, named a top restaurant in the world by Bon Appetit, and received high Zagat ratings. Hot Doug's has also been featured in the Chicago episode on the ever popular show No Reservations where Anthony Bourdain claims "perfection in a dog". If that's not enough to win a visit, then just remember the duck fat fries and delectable hot dogs. A must stop for food in Chicago!
Hot Doug's
3324 N California Ave
(between Henderson St & Roscoe St)
Chicago, IL 60618
(773) 279-9550
www.hotdougs.com
Mon-Sat 10:30 am – 4 pm
Cash Only
Words and photos by Julius Mayo Jr.