Last weekend I traveled down to Miami to attend The Grind – Miami's Burger Battle. The event was a competition where 30 restaurants created their best burger to be judged by a panel, along with a Fan Favorite award. Basically an all you can eat and drink event, featuring a wide variety of burgers with various ingredients and side dishes. There were also healthy options from restaurants serving vegetarian burgers, so this event was created for a wide audience.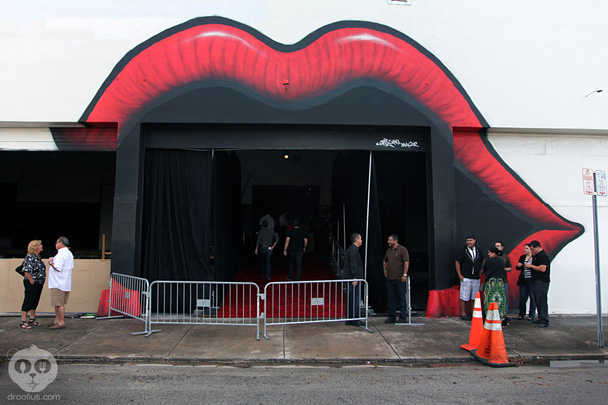 (click image to enlarge)
The venue itself had a great looking entrance. A large mouth swallows you as you walk down the red carpet. Music, lights, and the smell of burgers greets you as you walk in.
(click image to enlarge)
We were able to get in at 6pm at the start of the VIP hour for The Grind. The plan was to shoot every burger and start my quest to finish as much as I could out of 30 burgers. That plan was halted due to the smokey atmosphere and the challenging environment to take photos. So my food partner OD and I just decided to stop at the booths that we really wanted to try and take photos along the way. This worked for a little bit, but the cloud forming inside from the grills slowed us down getting through the venue. We sampled some burgers inside sitting at tables, but we ended up going outside to eat and to also have enough light for photos before it got dark.
I did not get to take a photo of each burger and I'm not really sure how many burgers we sampled. The burgers that we did eat were great. However the technical issue (beyond anyone's control) of the air conditioning unit not working caused the grills to be turned off earlier than expected. So you had about two hours of grilling and eating, when the smoke cleared there were a few booths serving burgers, but the drinks were still flowing. This event was still enjoyable and the crowd made the best of it.
Here's what I was able to capture at the event…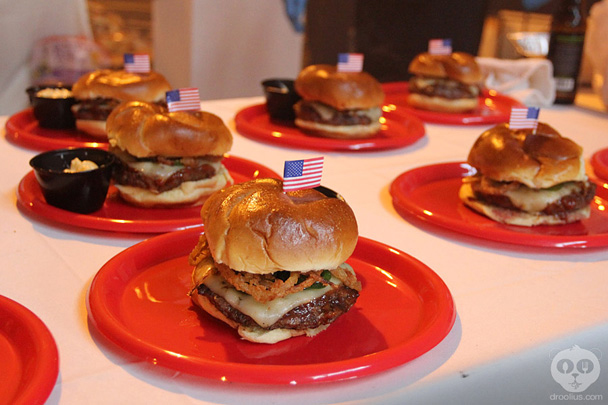 (click image to enlarge)
Flip Burger Bar, North Miami
FIREMAN 10 oz chef's choice of freshly ground steak, topped with pepper jack cheese, homemade chipotle bbq sauce, homemade onion strings, and fresh jalapeno peppers. SIDE: Homemade Mac & Cheese.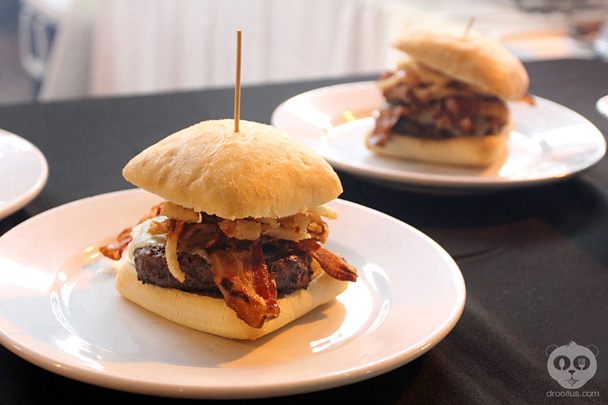 (click image to enlarge)
Smokey Bones Bar & Fire Grill, Fort Lauderdale
SMOKEY BURGER 1/2 lb Angus beef burger topped with slow smoked pulled pork, chipotle BBQ sauce, pepper jack cheese and onion tanglers on a ciabatta bun.
(click image to enlarge)
Quickie's Burgers & Wings, Hollywood
MINI M.O.A.B. (Mother of All Burgers) A not-so-mini inside-out ten ounce Angus cheeseburger, oozing with melted American cheese, and loaded with lettuce, tomatoes, bacon, Quickie's sauce, crispy fried onions, and topped with French fries.
(click image to enlarge)
Some burgers were served as a sliders, while other burgers were served cut into halves or fourths (seen above). This was just enough to get the overall taste of the burger with all of its components. Plus, you could always go back for more.
(click image to enlarge)
Giraffas, North Miami
PICANHA BURGER Lean nuggets of ground sirloin seasoned Brazilian style, grilled, and served with  Chipotle sauce, egg, bacon, ham, fresh lettuce, tomatoes, pickles and super delicious Gouda cheese. SIDE: Quinoa Salad.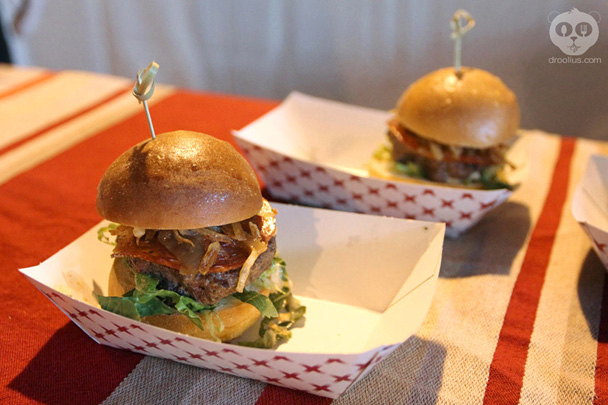 (click image to enlarge)
Bernie's L.A. Café, Miami Beach
BERNIE'S LATIN BURGER 100% Certified Black Angus ground beef, caramelized onions, grilled sliced Chorizo, potato sticks, chopped lettuce w/garlic & cumin aioli, all served on grilled Challah buns.
The grilled sliced Chorizo added some good flavor to this burger.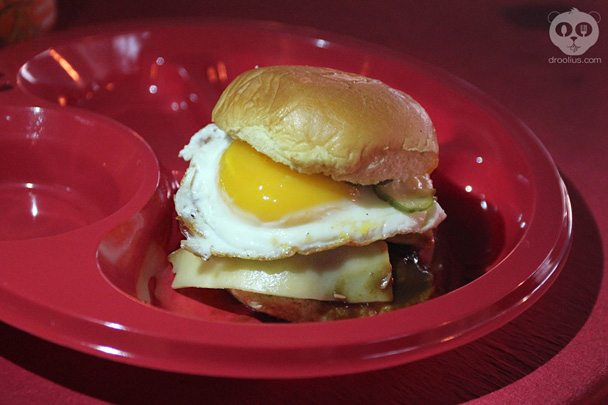 (click image to enlarge)
The Local Craft Food & Drink, Coral Gables
THE LOCAL SLIDER Kobe beef slider, Gruyere cheese, fried egg, caramelized onions, and demi- glace.
(click image to enlarge)
Pincho Factory, Miami
PINCHO BURGER Creekstone Certified Premium Black Angus, topped with lettuce tomatoes, onions, potato sticks, and our signature pink sauce. SIDE: Sweet Potato Tots w/ Apple Butter.

I really enjoyed the blend of spices in this burger and the meat texture was lighter than others. They mentioned that this burger patty was a new blend specific for this event. All I can say is, it works.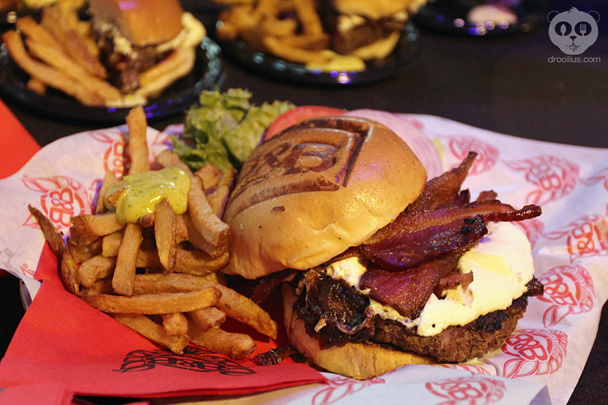 (click image to enlarge)
Burger & Beer Joint, Brickell
MIDNIGHT RIDER Burger & Beer Joint Short rib burger with red onion marmalade, goat cheese, and Duroc pork belly bacon on a brioche bun. SIDE: Duck Fat Fries.
(click image to enlarge)
Burger & Beer Joint's MIDNIGHT RIDER was cut into quarters, served with duck fat fries
This burger had more substance and a meaty texture to it. However, I really didn't taste the duck fat flavor from fries, unlike other duck fat fries I've had in the past.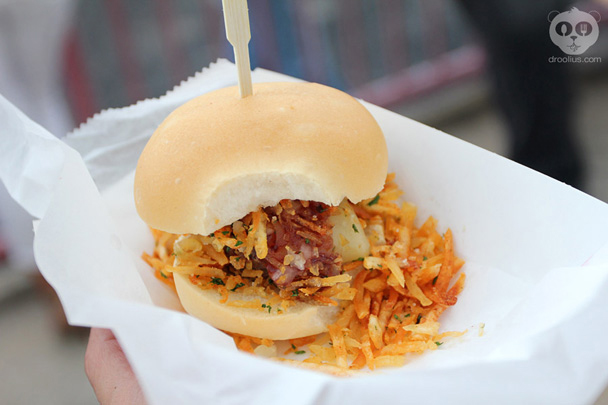 (click image to enlarge)
Islas Canarias' CUBANCUBE, Miami
FREAKIN' FRITA – Spicy chorizo and beef slider seasoned with 3 different spicy peppers topped with white onions, fried hash browns, Swiss cheese, homemade frita sauce, all served on a warm Cuban bun.
I really enjoyed the cuban bun (baked in house) on this burger, along with the textures of the crispy fried hashbrowns.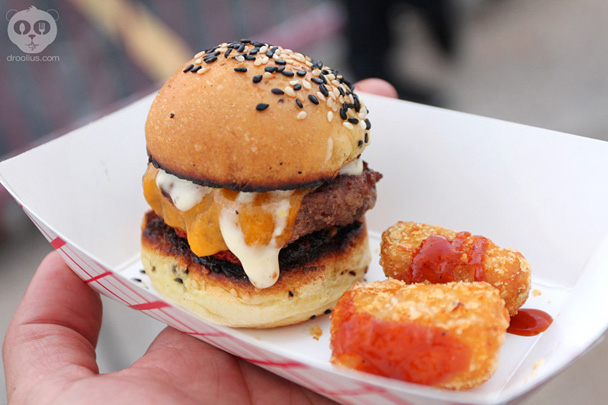 (click image to enlarge)
Charm City Burger Company, Deerfield Beach
THE PIG MAC 3 oz slider with bacon infused cheddar, onion bacon jam, confit, tomato, and baconaisse. SIDE: Pork belly tater tots with piquillo pepper.
The burger overall was rich with porkiness and a gentle sweetness. Not sure if I liked it more because of all of the pork ingredients or the side dish, both were great together.
(click image to enlarge)
Charm City Burger Company SIDE: Pork belly tater tots with piquillo pepper
Yes, you read it correctly: Pork. Belly. Tater tots. You bite into it thinking it is a regular potato tater tot, but to your surprise, its soft, rich, juicy, pork belly! AMAZING! This would be my pick for best side dish.
(click image to enlarge)
Shake Shack, Miami Beach
SHACKBURGER Our signature all-natural, hormone and anti-biotic free, fresh-ground Angus hamburger topped with American cheese, lettuce, tomatoes, and ShackSauce on a buttered, toasted bun.
You can't go wrong with Shake Shack, I usually order this as a double Shackburger. Considering this was an event, the quality was just as good as in their Miami Beach location.
At this time, it was darker inside and the smoked had cleared. It was time to use the camera and flash, but the grills were off and most of the burgers had been served.
(click image to enlarge)
El Rey de las Fritas, Miami
FRITA Ground beef mixed with our family recipe of herbs and spices. Then we make it into a patty, cook it on a flat grill with onions, special sauce, let it simmer, serve in a round Cuban bun with julienne fries.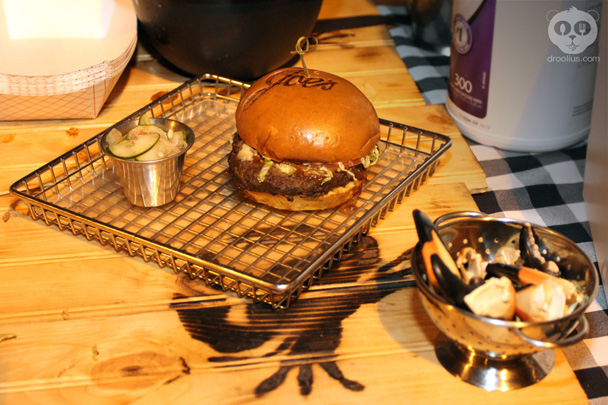 (click image to enlarge)
Joe's Stone Crab, Miami Beach
HOLLER BACK BURGER Burger  with all dat' saucemelt, white cheddar and Blue Moon foam, dusted applewood bacon powder, on a toasted bun. SIDE: Honey Mustard Chips.
(click image to enlarge)
Azucar Ice Cream – Abuela Maria®
Azucar Ice Cream was serving their signature Abuela Maria® ice cream which has guava, cream cheese and Maria Cookies.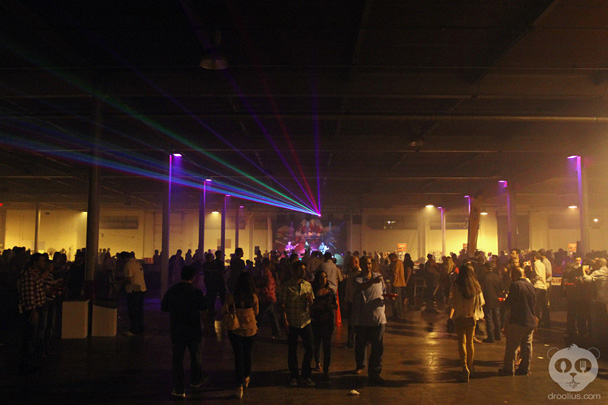 (click image to enlarge)
After most of the smoked cleared, the crowd was exploring the nightclub-like atmosphere, searching restaurant booths still serving burgers, and listing to a live band performances.
(click image to enlarge)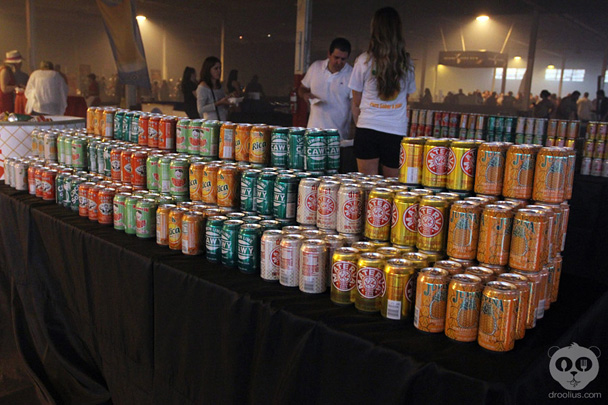 (click image to enlarge)
The Grind featured all you can drink sodas, flavored waters, beers, and alcohol.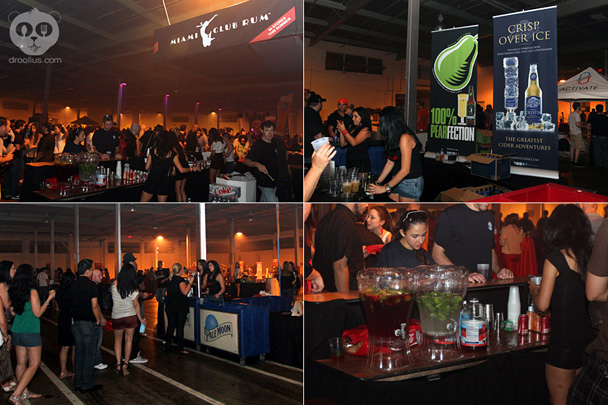 (click image to enlarge)
(click image to enlarge)
(click image to enlarge)
Hey look, it's Burger Beast! THE famous Miami food blogger and one of the eight esteemed Panel of Judges. He sits with one of the coveted trophies.
The trophies for the evening were for the following categories: The Best Burger, Best Side, Mejor Frita, Healthy Burger, and Fan Favorite. Unfortunately all the burgers were not judged due to the grills being turned off early. The only award given that evening was the Fan Favorite, which the crowd had the option of placing their wooden token inside a box to vote for their favorite burger. It was announced that Shake Shack was the clear winner for the Fan Favorite award. Congrats!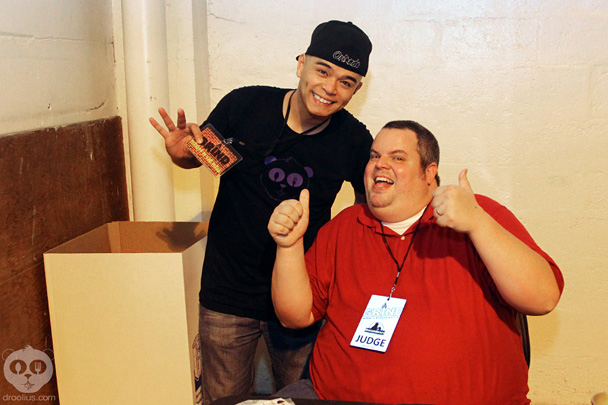 (click image to enlarge)
A photo op with Burgers Beast, this dude is hilarious! Thanks for the invite BB, had a good time!
The Grind Miami event overall was a success in my book. For a first time event, it was well put together. Despite the unforeseeable technical difficulties of the air conditioning unit and the smoke from the grills building up, they had everything else well coordinated. The quality of food served was on point and the beverages and desserts served were great. Thanks to all of the sponsors, event coordinators, judges, and especially the restaurant teams that made great burgers and sides. I hope to see The Grind back next year and I will be back to try ALL of the burgers!
www.TheGrindMiami.com


Words and photos by Julius Mayo Jr.
Content and photos © Droolius.com 2012