It's an exciting time in food, with the focus of eating real food from local farms and farmers' markets. Celebrate Food Revolution Day Orlando this Saturday, May 19th, at the Winter Park Urban Farm. People from around the world will participate in events in their own cities, as part of the Jamie Oliver Foundation's launch for this first time event, Food Revolution Day. The Food Revolution Day Orlando event will have a tour of the Urban Farm, cooking demonstrations, family entertainment, and a food-lovers raffle.
Find out all of the information about Food Revolution Day in Orlando below, provided by Livepretty.com and make sure to RSVP to attend this event.

JAMIE OLIVER FOUNDATION LAUNCHES INAUGURAL FOOD REVOLUTION DAY  
Celebrate Food Revolution Day Orlando with Free Family Urban Farm Tours
Winter Park Harvest Festival, Edible Orlando magazine, Slow Food Orlando and Livepretty.com Combine Efforts in First-Ever Day to Stand Up for Real Food
WHAT: 
The Jamie Oliver Foundation is launching its first-ever Food Revolution Day, a global day of action to inspire, educate, and empower people everywhere to stand up for real food. Thousands of people worldwide will participate in events to raise awareness on preventing diet-related diseases, and to arm people with the knowledge and tools to make healthier food choices.
Here in Orlando, the Winter Park Harvest Festival, Edible Orlando, Slow Food Orlando and Livepretty.com have combined efforts for Food Revolution Day Orlando featuring Family Urban Farm Tours where attendees can:
·       Learn about how the Urban Farm was developed and thrives, and tips and tricks you can use in your own garden.
·       Enjoy a seasonal collard greens cooking demonstration and cook-off featuring top regional foodies and chefs – Dawn Viola, Elisa Scarpa and Sarah Cahill.
·       Bring the family to enjoy children's art & planting activities, and family entertainment provided by Florida Hospital's Healthy 100 and Mission: FIT Possible programs.
·       Enter a food-lovers raffle featuring prizes from Loews Royal Pacific Resort at Universal Orlando, Whole Foods Market Winter Park, the Audubon Park Community Market, Ethos Vegan Kitchen and The Spice & Tea Exchange to support Florida schools through The Jamie Oliver Foundation food education box project.
WHEN:    
Saturday, May 19, 2012,
Tours start at 10 a.m., 11 a.m. and 12 p.m.
WHERE:           
Winter Park Urban Farm
1650 Pine Ave.
Winter Park, FL 32789
Park and play in nearby Phelps Park. Street parking is also available on the north side of Pine and Elm.
COST:           
Free
Raffle tickets available for $3 each the day of the event.
RSVP:             
Space is limited, so please register to attend online at livepretty.com/foodrevorlando
WHY:              
The majority of the world's population is more likely to die from obesity than from hunger. In fact, in America, more people die from diet-related diseases every year than drugs, alcohol and war combined. Food Revolution Day aims to empower people to make healthier food choices that lead to healthier lives. One hundred percent of Food Revolution Day net funds raised will go to support food education projects for both children and adults through the Jamie Oliver Foundation in the U.S., UK and Australia.
 
WHO:            
For more information about Food Revolution Day, visit foodrevolutionday.com.
Food Revolution Day Orlando is hosted by:
The Winter Park Harvest Festival, a project of A Local Folkus, is a day long event focused on connecting the grass-roots with the deep-roots of our local food-shed by celebrating our local farmers, gardeners, entrepreneurs and non-profits. Visit winterparkharvestfestival.com for more information.
Edible Orlando is a quarterly magazine that celebrates the foods, farmers and chefs of Central Florida and its beaches. Visit edibleorlando.com for more information.
Slow Food Orlando is a chapter of Slow Food USA, a non-profit educational organization dedicated to supporting and celebrating the food traditions of North America through programs and activities dedicated to Taste Education, Defending Biodiversity and Building Food Communities. Visit slowfoodusa.org for more information.
LivePretty.com is an Orlando-based lifestyle blog dedicated to family, food, and entertaining, with a special focus on sharing both the extraordinary and everyday moments of our lives. 
MEDIA CONTACT:        
Julia Montgomery Stewart
407-310-4694
julia@livepretty.com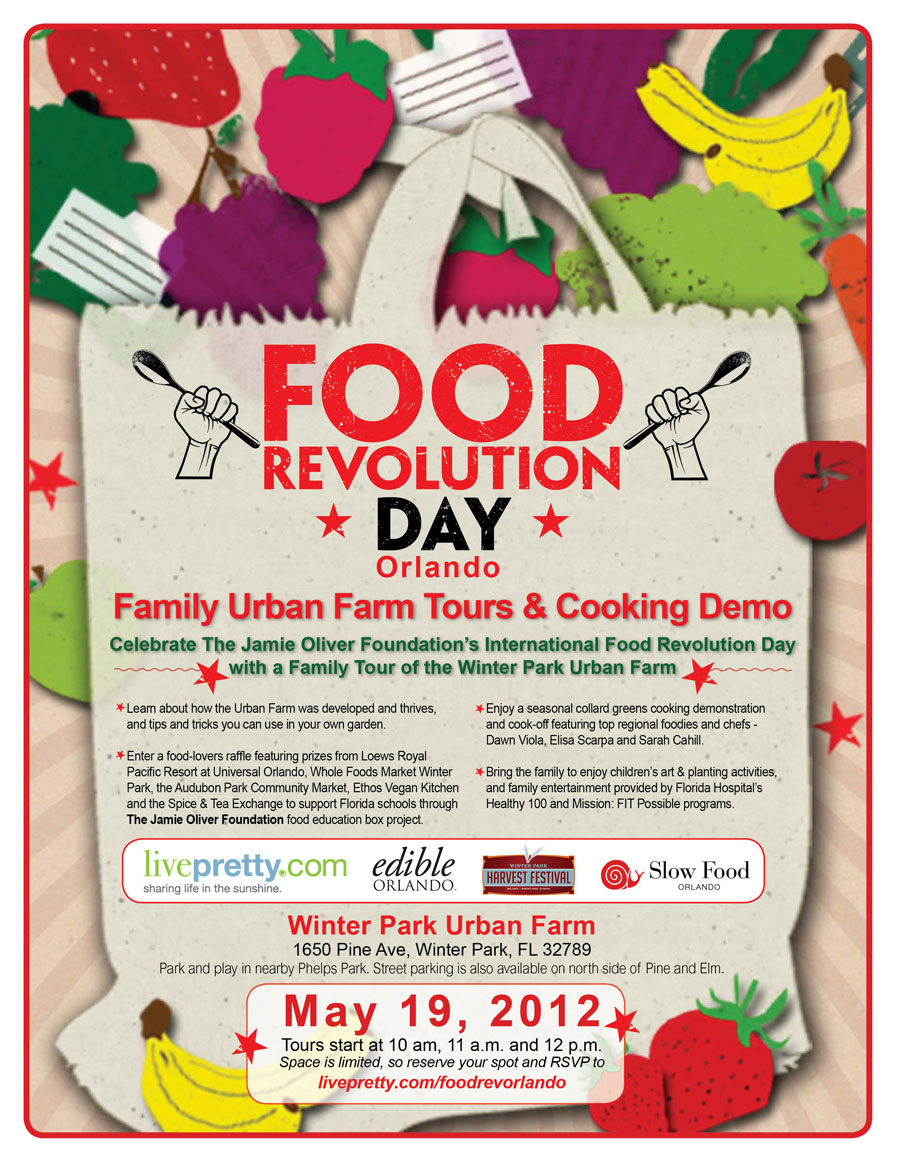 (click image to enlarge)