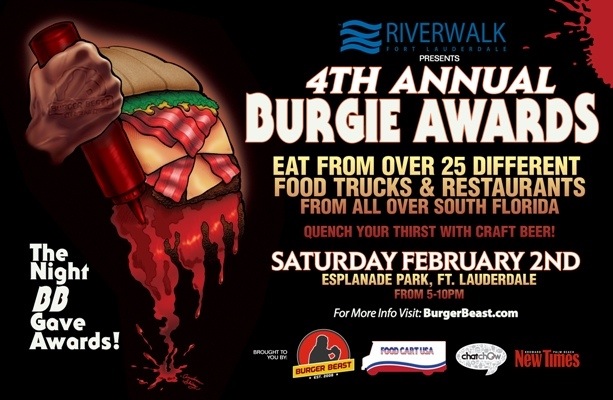 Ft. Lauderdale, FL – In 2009 South Florida Food Blogger Burger Beast wanted to honor the unsung heroes of the South Florida Food Scene with Awards. His "Burgie Awards", the first of their kind were a sensation. SFL Restaurants & Food Trucks have now taken to proudly displaying their "Burgie Awards" year round. Voting for the 2013 Awards has been going on at BurgerBeast.Com since November 4th, 2012 and will end on Wednesday January 9th, 2013.
Riverwalk Ft. Lauderdale is bringing the 2013 Burgies to Esplanade Park in Ft. Lauderdale on Saturday February 2nd. It will be the 1st time the event takes place in Broward County. If you're a food fan then this is the event for you. 5 South Florida Restaurants & over 20 Food Trucks will be on hand selling to the public a variety of great eats. Brown Distributing will have an array of Craft Beers to choose from.
South Florida Restaurants: Azucar Ice Cream Company, Blue Collar, Latin House Burger & Taco Bar, Pastelmania & Pincho Factory.
This will be the last appearance of The Fish Box (one of the pillars of the Food Truck scene) as it will be retired after this event and the return of the über popular Sugar Rush. The Treehouse Truck from Orlando will also be a part of the festivities:
South Florida Food Trucks: B.C. Tacos, BITE Gastrotruck, Che Grill, Cheeseburger Baby, Daddy's Grill, Dim Ssam a Gogo, Dolce Gourmet Cupcakes, El Rey de las Fritas, Fireman Derek's World Famous Pies, The Fish Box, HipPOPs Handcrafted Gelato Bars, Jefe's Original Fish Tacos, Killer Pasta, Marlie's Delights, Mr. Good Stuff, Ms. Cheezious, Mushaboom, Palate Party, Purple People Eatery, The Rolling Stove, Slow Food Truck, Sugar Rush & Treehouse Truck
Chat Chow TV's Lauren Bernat will host the event which culminates at 9PM with the handing out of the 13 Burgie Awards for 2013: Best Burger – Dade County, Best Burger – Broward/Palm Beach County, Best Non-Traditional Burger, Best Food Truck – Dade County, Best Food Truck – Broward/Palm Beach County, Best Frita, Best Restaurant – Dade County, Best Restaurant – Broward/Palm Beach County, Best Dessert, Best Dessert Truck, Best Pizza Joint, Best Sandwich and Best Taco.
The 2013 Burgie Awards are sponsored by Food Cart USA, Chat Chow TV and New Times Broward-Palm Beach.
The Details:
4th Annual Burgie Awards
Date: Saturday February 2nd
Time: 5PM – 10PM
Location: Esplanade Park (400 SW 2nd Street, Fort Lauderdale, FL 33312)
About Burger Beast
Sef Gonzalez, better known as Burger Beast, is a respected South Florida Food Blogger, with national reach, who writes about unique food experiences. Although his blog was originally created to find the best burger in Miami, it now represents a publication with the aim to shine light on the often overlooked, undiscovered, and unappreciated culinary gems of South Florida and other noteworthy destinations.
Burger Beast has also written for New Times Broward-Palm Beach, edible South Florida, The Miami Herald and Ocean Drive Magazine. For more information, please visit http://www.BurgerBeast.com.
You can follow The Burger Beast on Facebook: www.facebook.com/BurgerBeast , Twitter: @BurgerBeast and Instagram: http://www.instagram.com/BurgerBeast
Contact
To learn more about the 2013 Burgie Awards, please contact
Burger Beast
P.O. Box 260664
Miami, Florida 33126
Office: (305) 305-3999
marcela@burgerbeast.com