This past Friday I was really on a bacon kick. It's not often that I will cook bacon at home for breakfast, then eat a donut topped with bacon, and then finish the day with dinner which includes more bacon. If you follow me on Instagram, you saw my plate featuring bacon, with fried eggs cooked in bacon drippings, and sauteed spinach. Then on my Foodspotting, I posted a maple bacon bar (donut) from Donut King. I completed my day with attending a food truck event and ordered a sandwich from the C&S Brisket Bus food truck.
My order started with "Do you have any more bacon?" and "Which sandwich will it go best with?". Luckily the Brisket Bus had a few pieces left of their house-cured bacon to serve on what they recommended, the Pulled BBQ sandwich. After a few minutes passed, out comes this beautiful BBQ Sandwich, with a few slabs of bacon just glistening at me. First I thought, "WOW" (the people behind me said WOW), and I then proceeded with a mini photo shoot to capture today's "Photo of the Day" taken with my iPhone 4s. With a few adjustments in Photoshop, this photo came out better than my shot with the Digital SLR camera I always shoot with.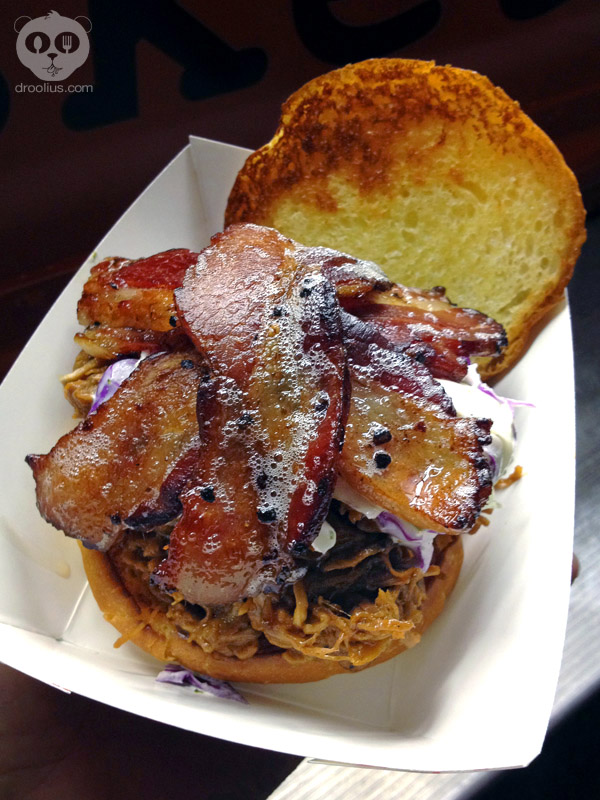 (click image to enlarge)
C&S Brisket Bus – Pulled BBQ sandwich w/ herb garlic cole slaw, topped with house-cured black pepper bourbon bacon, on a toasted Old Hearth Brioche bun.
The pulled BBQ is a 12 hour smoked (cherry wood) brisket, which is moist and full of flavor. It's mixed with the house made BBQ sauce, topped with a herb garlic cole slaw, and all falls between a toasted Old Hearth Brioche bun. That would be enough, but of course I topped it with their special house-cured black pepper bourbon bacon. It all combines into a flavorful BBQ masterpiece with some added savoriness of the bacon. While the bourbon was not a dominant flavor, you did get some natural sweetness from it that went well with the cracked black pepper.
Another great dish from a local food truck and this is why I love the food trucks here in Orlando. They are making some of the best tasting food with quality ingredients. Food trucks are the "mom and pop restaurants" of Orlando and it's always important to support local businesses by dining local.
Follow the links below to get a taste of brisket or bacon from C&S Brisket Bus. Have you tried their bacon lately? They're always creating more unique flavors of bacon. Get some bacon swag…
C&S Brisket Bus
www.brisketbus.com
Facebook www.facebook.com/CSBrisketBus
Twitter @CSBrisketBus

Words and photos by Julius Mayo Jr.
Content and photos © Droolius.com 2012