Today is the start of National Hamburger Month, a time dedicated to celebrating one of America's most iconic food items. I will be featuring a of series burgers throughout the month of May, some from cities around Florida and a few from other states. To kick off this series, I'll start with one of my newest favorite places in Central Florida, That One Spot in Ocoee, FL. A fairly new restaurant to the area, this place is dedicated to burgers and burger-like sandwiches.
(click image to enlarge)
The menu features beef burgers, salads, sides, and more burgers with options like veggie, grilled chicken, turkey and even a herb crusted salmon. One of the side dishes that you must order is the mac & cheese, a recipe that has been handed down from one of the owner's grandmothers. They make a variety of sauces for dipping side items, like fries.
This post is a compilation of several trips to That One Spot. My first trip here was earlier this year and when I first walked in I said, "Wow, this place smells good." The staff said it's most likely from the pecan smoked bacon that they use. That smoky aroma inspired me to order the B.B. Burger.
(click image to enlarge)
B.B. Burger – caramelized onions, creamy horseradish yum yum sauce, cheddar cheese, smokey brisket, pecan smoked bacon.
The burger came out and it was visually stimulating, perfect for a photo. It had several layers of quality ingredients, with a nice char on the burger and its components. The B.B. is a smoky and juicy burger, with lots of flavor from the bacon and brisket. They cooked the burger patty to a proper medium rare, as I requested. I liked this burger so much that went back for another one (quality control) on another day and it was just as good.
(click image to enlarge)
Grandma's Mac & Cheese with bacon and jalapenos.
The mac and cheese was a side dish that (unexpectedly) went well with the burger and is the side dish that I always order now. You can get the mac & cheese as is, but its best with bacon and fresh jalapenos. The bacon gives it a nice smokiness along with a spicy kick from jalapenos. The surprise here is the addition of corn (gradma's secret), which adds a nice touch of sweetness and some texture to the mac & cheese. Surprisingly it all works well together and it's very addicting.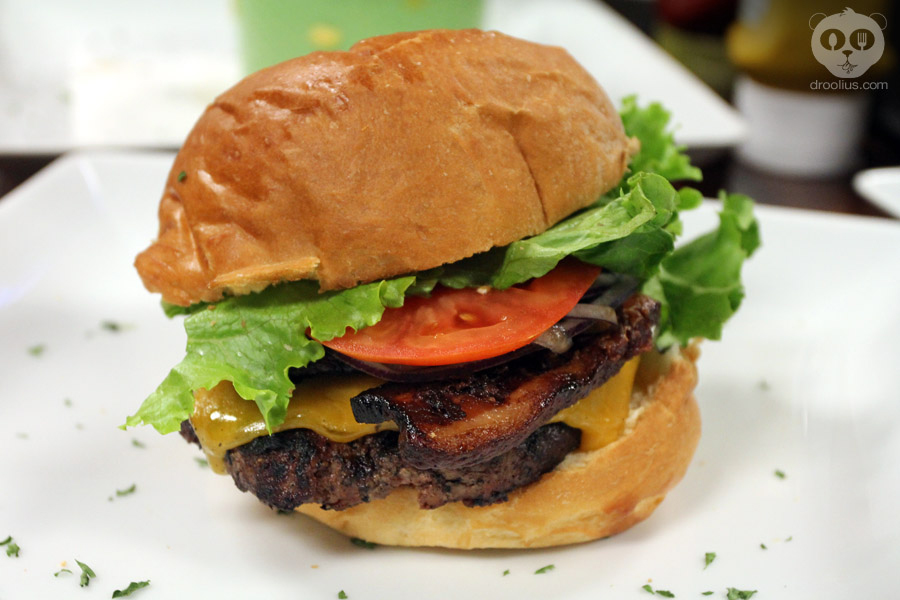 (click image to enlarge)
To test the burgers at That One Spot even further, I ordered a bacon cheeseburger one evening. The staff was surprised I wanted something so simple, but I had to make sure this burger was good on its own without too many toppings. I really enjoyed the burger again and it's flavor proved that I could share the location with friends. Eventually my friend and fellow food blogger BurgerBeast made the trip up from Miami and he really enjoyed the B.B. Burger too. I think he's tried more of a variety of burgers than me now.
(click image to enlarge)
Other side dishes offered are onion rings and fries. You can also request several different sauces that the owners have created for dipping.
(click image to enlarge)
BBQ Burger (substituted grilled chicken for beef patty) sweet & savory BBQ sauce, crunchy dill pickles, fried onion strings, pecan smoked bacon, and melted cheddar cheese
The kitchen staff is flexible and it's possible to make substitutions to your liking. BurgerBeast decided to go with the BBQ Burger one day and replaced the burger patty with grilled chicken. He said he liked it and it was good.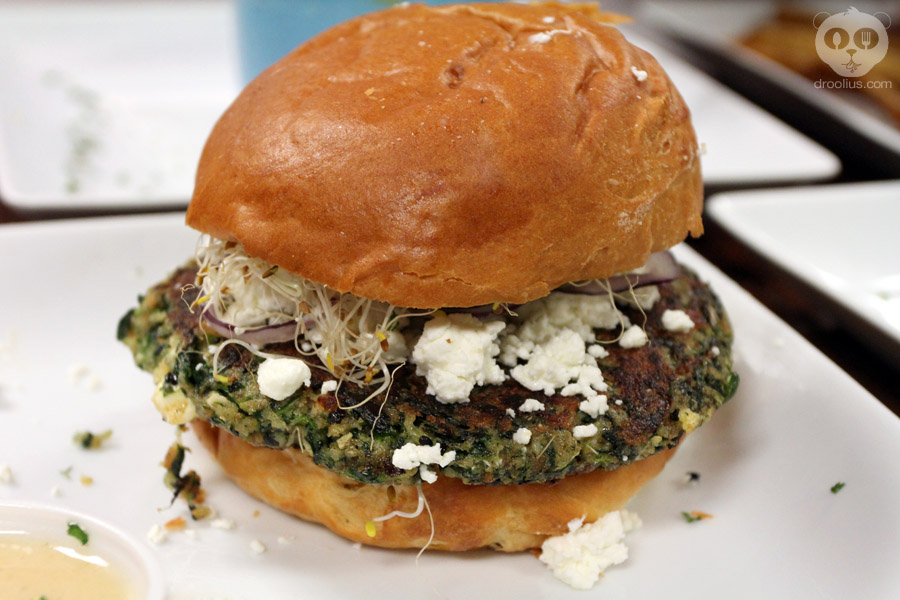 (click image to enlarge)
Greek Spinach Veggie Burger – spinach greek-herb-stuffing patties, herb greek yogurt, feta cheese, sliced roasted red peppers, sprouts, and fresh red inions.
If you're not a meat eater and want to go the vegetarian route, That One Spot has you covered. This veggie burger was ordered by Mrs. BurgerBeast and she loves it. I gave it a try and I have to agree, it's one of the tastiest vegetarian style burgers I've had.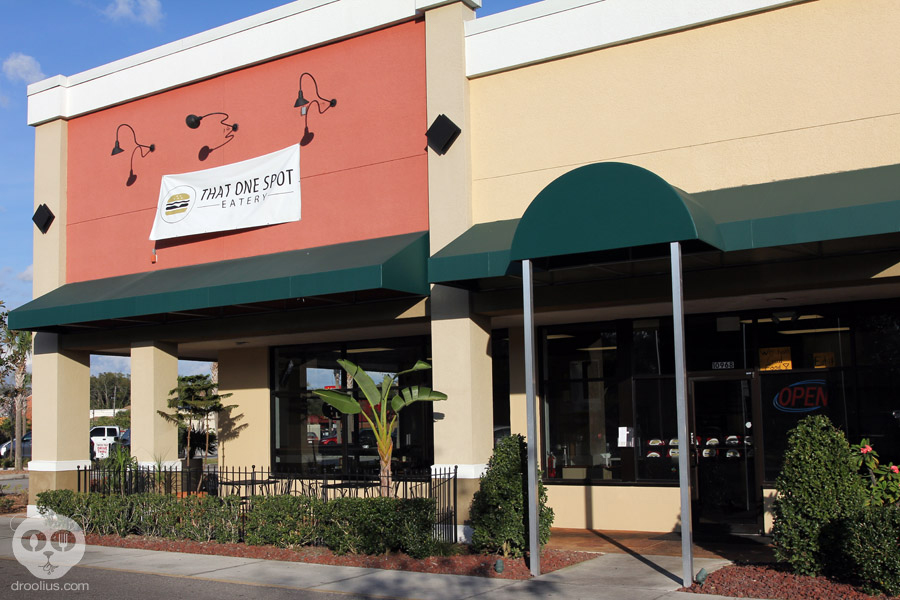 (click image to enlarge)
With the influx of burger joints around town, know that you are getting a quality burger and supporting a local business at That One Spot. They continue to add more burger creations and specials every week. You can stalk their Instagram for their latest creations and follow their Twitter and Facebook page (listed below) to find out when they have something new on the menu. That One Spot is located on the west side of Orlando, at the far right end of the strip mall on Colonial Drive and Maguire Road, next to the well-known Twisty Treat.
That One Spot
10968 West Colonial Dr
Ocoee, Florida 34761
407-877-7575
www.thatonespoteatery.com
Facebook Facebook.com/ThatOneSpot
Twitter @ThatOneSpot


Stay tuned for more burger places in Florida and other cities around the country. I will be sharing some of my favorite burger spots throughout the month of May.
If you love that one spot, let me know your favorite burger in the comments below…

Words and photos by Julius Mayo Jr.
Content and photos © Droolius.com 2013