"BAM!" "Kick it up a notch!" These were my favorite catch phrases by Chef Emeril Lagasse when I used to watch his cooking shows back in the day. I always wanted to be in that studio audience to taste the dishes that he made and to watch him cook. That opportunity came up recently and I was invited to do some social media coverage at Macy's Culinary Council event, for the cookbook release of Emeril's Kicked-Up Sandwiches and a cooking demo by Chef Lagasse himself.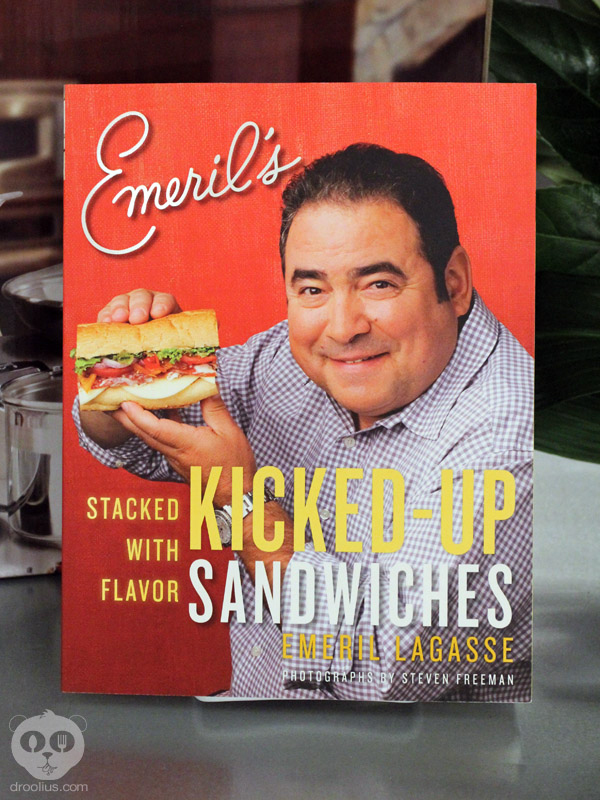 (click image to enlarge)
The book itself impresses me with the range of recipes it has. From savory meat to a number of vegetarian sandwiches, the book features regional and international inspired sandwiches as well. You can pretty much cook your way through it and be able to feed yourself very well, without ever being tired of eating sandwiches.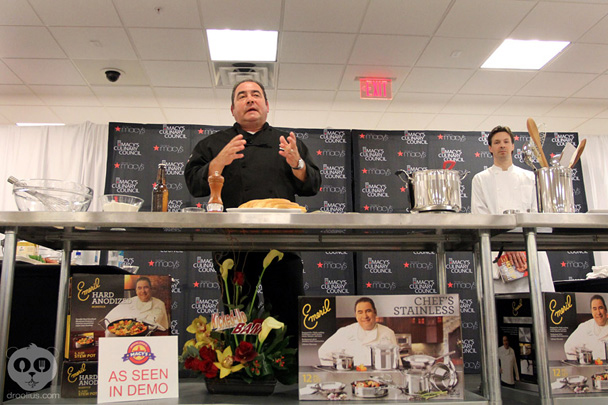 (click image to enlarge)
The event was held at Macy's inside The Mall at Millenia in Orlando, FL. Seeing and hearing Emeril live is just like his TV shows. He's very charismatic, personal, and tells stories that make you feel like you're reminiscing with an old friend. He's very entertaining and has a captivating voice.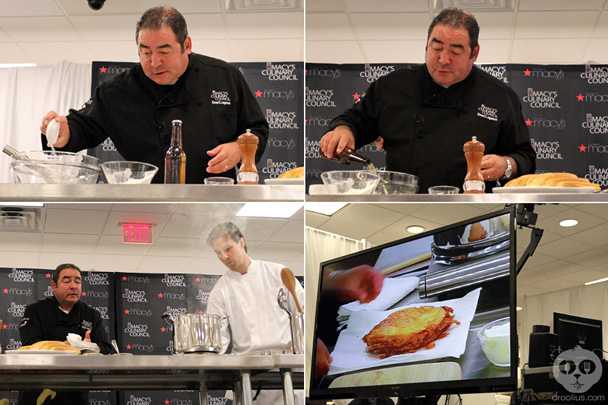 (click image to enlarge)
The first sandwich Emeril made was a Monte Cristo. He says that it's not really available that much anymore and the key to making any sandwich is using quality ingredients. Chef says, "Good ingredients make great food, make great sandwiches…"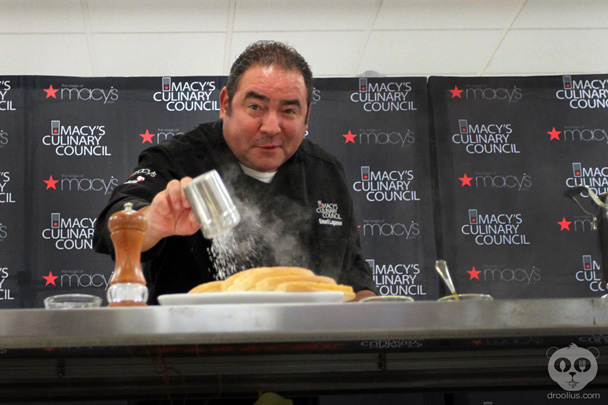 (click image to enlarge)
Here's a photo of Chef Emeril looking into the camera and having fun dusting the Monte Cristo sandwich with powdered sugar. I was waiting for a "BAM!", but it didn't happen. However, the enthusiasm in his voice during the demo was good enough.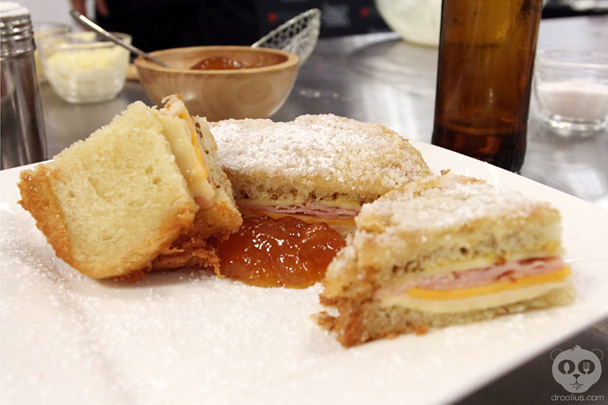 (click image to enlarge)
Emeril's Monte Cristo served with fruit preserves – a recipe found in Kicked-up Sandwiches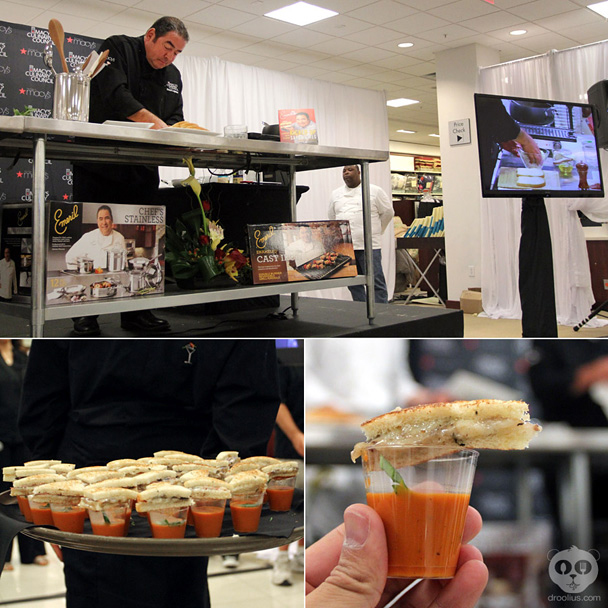 (click image to enlarge)
The next sandwich Emeril made was a Grilled Truffle Cheese Sandwich with Prosciutto and Mushrooms, served with Cream of Tomato Soup. As he was making the sandwich, a tray full of samples came out. I really must say this is probably the best combo of grilled cheese and tomato soup I've ever had. The small sliver of grilled cheese was so savory and the soup had tons of layers and flavors. Side Note — If you watched the season opener of Bravo's Top Chef Season 10 last night, you saw Emeril's test to the chefs was making a soup. This soup would have gotten anyone a chef's coat. — Ok, back to the sandwich….
(click image to enlarge)
This Grilled Truffle Cheese Sandwich with Prosciutto and Mushrooms was packed with so much flavor and the good quality ingredients definitely made the sandwich shine. I still crave this sandwich and soup combo. Luckily we received recipe cards for both and I plan to make it. During the demo, Chef Emeril paused and commented about us food bloggers taking photos by the way we were holding the dish in our hand. He said he's never seen that before and it was a good idea.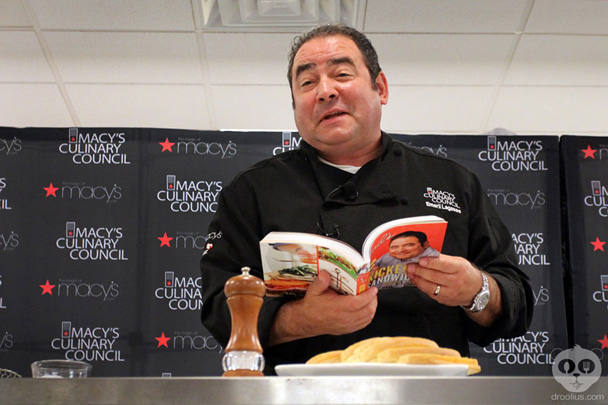 (click image to enlarge)
Emeril gave a chance for the audience to ask questions and many were about his favorite recipes in the book. He briefly went through and described a few, but there were too many to pick just one. I asked about his new show that he's filming in Florida and he said it would be out in January on the Cooking Channel, with a few segments filmed in Orlando.
(click image to enlarge)
After the cooking demo, the audience had an opportunity for a book signing with Emeril. The book was free with the purchase of $75 or more of Emerilware Cookware by All-Clad at Macy's. Emeril was very cordial, personalizing each book, and smiled for a few photos.
So now that you are excited about this book, it is time for a giveaway. There is one copy available to win. To enter please follow the directions on Rafflecopter. Contest ends Friday Novermber 16, 2012 at 12:01am EST.
* Winner will be announced during the day on Friday, November 16, 2012 and will need to be contacted via email and mailed the winning prize.


Words and photos by Julius Mayo Jr.
Content and photos © Droolius.com 2012

Disclaimer: I was compensated for my time and received a copy of Emeril's Kicked-Up Sandwiches for myself and one to give away to a reader. All opinions are my own.