Late night eating in Orlando, FL is some what limited to 24 hour chain restaurants, fast food windows, and a few hot dog carts. When you want something more unique to satisfy that late night craving you go to International Drive to order the Xtravaganza burger at the Brazilian food truck, After Party.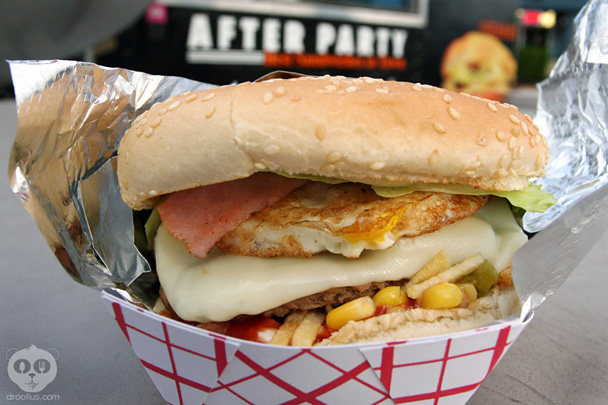 (click image to enlarge)
After Party is a great option instead of the typical late night restaurant for breakfast or late dinner menu. They serve Brazilian burgers and the best one to try is the Xtravanganza. With 16 ingredients making up this amazing burger, it's easy to come here to fill your belly for an early evening dinner or after a late night at the club or bar.
(click image to enlarge)
Located on the busy tourist street of International Drive, the location receives a lot of walk by traffic. I've only been a handful of times while it's still light out, but it's called After Party for a reason. This stationary food truck opens around 7pm till late hours of 3am or so. Sometimes they open earlier or close later, depends on the day. I've been here after a night at the club, well past 2am and the outdoor benches have been packed with people eating and a line waiting to order and receive food. It's so worth the wait though, the Xtravaganza burger with all it's meats and toppings are addicting. If you want the full taste experience, just order the Xtravaganza with everything.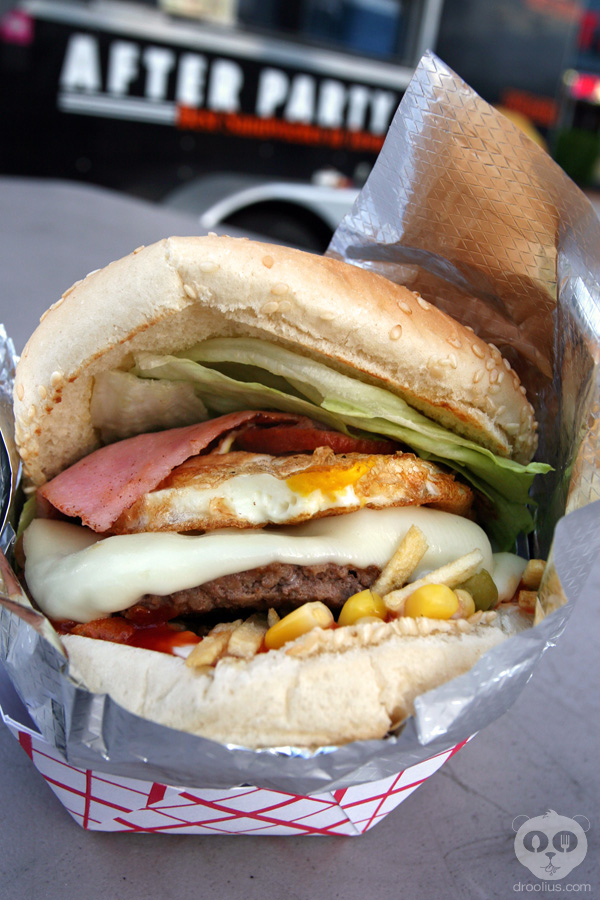 (click image to enlarge)
The Xtravaganza is packed with 16 different items that all come together to form a delicious meal. It has hamburger patty, cheese, bacon, shredded chicken, sausage, egg, ham, lettuce, tomato, onions, garlic, mayo, ketchup, peas, corn, potato sticks. Whoever developed this monstrous sandwich in Brazil must have been bold and have a good flavor palate to put this unique combination together and sell it, but it tastes so good and it works.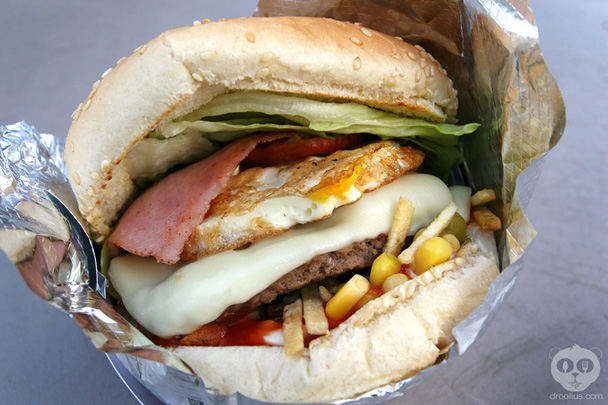 (click image to enlarge)
The hearty sandwich is packed with meaty flavors from the hamburger and chicken, while the bacon, sausage and ham add the notes of salt and savory. The fried egg just adds to the heartiness and gives texture along with the veggies that balance everything out. The potato sticks are a nice touch adding some crispy textures when eating. Not salty or bland, but just the right flavor with all the ingredients together that makes the Xtravaganza a very desirable burger.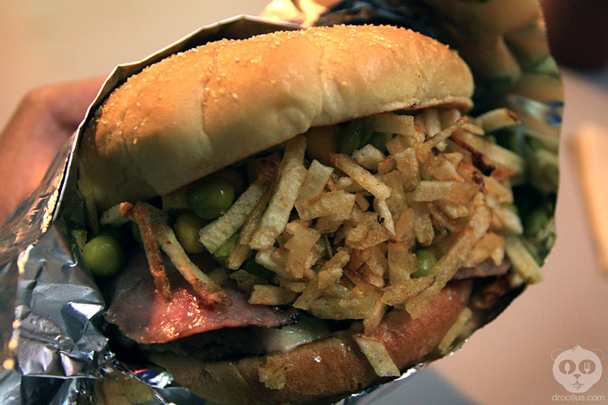 (click image to enlarge)
Xtravaganza burger – one late evening
There are other burgers and sandwiches offered on the menu, but the Xtravaganza is THE must try. With "everything" is the way to order this burger, green peas, corn, and ALL. It just adds to the overall indescribable flavor you do not want to skimp out on. Unless you are allergic to a certain ingredient, you should give it a try with all the trimmings with no hesitations. Trust me, you will enjoy.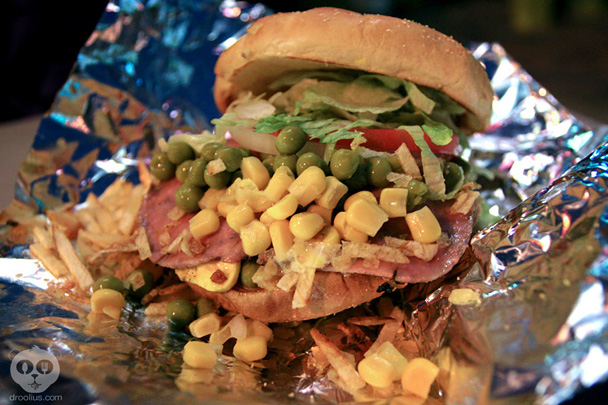 (click image to enlarge)
Xtravaganza burger late evening – set down and ingredients tend to fall out and show themselves
The name After Party definitely suits this great location for late night eats. This food truck has become a favorite to many party goers, locals, and tourists who want to fulfill their late night hunger. Why settle for the typical late night diner food when you can get a taste of Brazil in a burger.
After Party
7200 International Dr
Orlando, FL 32819
(407) 914-9154
Open approximately 7pm – 3am (they open/close around these times)
Words and photos by Julius Mayo Jr.