Art, food, and wine all combined together for a single event at the Grand Bohemian Hotel in downtown Orlando. The event was a Scott Joseph Supper Club dinner where Vibrant Rioja presented the artist, Luis Burgos from Logrono, Spain, along with a few of his paintings on site. The artwork was displayed at the Grand Bohemian Gallery and The Boheme Restaurant. Being passionate about both art and food, I was very excited to attend this event. Plus, I like drinking and learning about wine too!
(click image to enlarge)
The evening started at the Grand Bohemian Gallery, with an opening reception of some wines and viewing the paintings of Luis Burgos. The artist was asked a few questions and his answers were translated, speaking about his art and what inspires him.
The art itself is captivating, where the painted subjects are staring right at the viewer and lures you in. Burgos explained that the subjects can be people who he knows or someone who he has made up and was inspired by his travels. It was very interesting to see the use of bold colors and the way he paints the people. The eyes of each painted person just captured my attention, very impressive.
As guests were viewing the artwork during the reception, a sampling of Rioja wines were available for tasting: Bodegas Muga Blanco, Dinastia Vivanco Rosado, Rioja Madre Graciano, Sierra Cantabria Crianza, Dinastia Vivanco Crianza.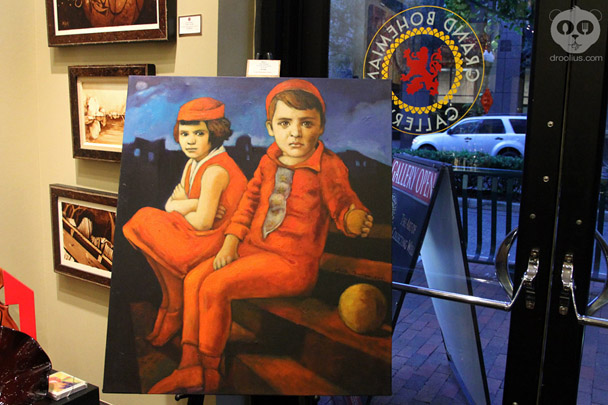 (click image to enlarge)
(click image to enlarge)
(click image to enlarge)
Entering The Boheme restaurant and inside, more artwork by Burgos was on display. For the culinary portion of this event, Executive chef Rene Nyfeler and team developed a five course menu, and each course was paired with a wine selected by Vibrant Rioja. Each dish, along with it's wine pairing, was pleasing to the palate. My favorite dish of the evening was the Grilled Colorado Lamb t-bone.
(click image to enlarge)
First course – Crab Cake with organic arugula, basil oil, remoulade and grilled lemon
Wine Pairing – Marques de Careres Blanco
(click image to enlarge)
Second Course – Tomato & Artichoke Soup
Wine Pairing – 2008 Bodegas Riojanas "Puerta Vieja" Crianza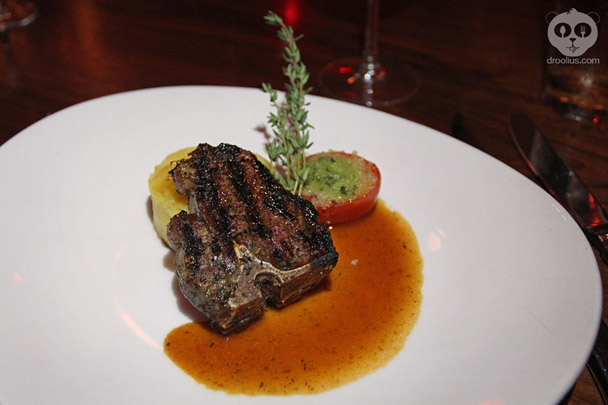 (click image to enlarge)
Third Course – Grilled Colorado Lamb t-bone with gratin dauphinois and wild thyme jus
Wine Pairing – 2008 Bodegas Riojanas " Monte Real" Crianza
(click image to enlarge)
Fourth Course – Steak au Poivre, a traditional black pepper and cognac cream sauce with pomme mousseline and asparagus
Wine Pairing – 2 wines, a comparison between 2004 Bodegas Riojanas "Monte Real" Reserva and Bodegas Riojanas "Vina Albina" Reserva
(click image to enlarge)
Dessert – Apricot Tart with white chocolate, almond and apricot marmalade crust, served with vanilla bean ice cream

Wine Pairing – 2011 Bodegas Riojanas "Vina Albina" Semi Sweet (Dulce)
(click image to enlarge)
This event was the first time Bodegas Riojanas has been tasted in Central Florida, as Stacole Fine Wines just started to import them. The winery representative, Alberto Pena, attended the event and dined at our table. The second, third, fourth, and dessert courses featured the Bodegas Riojanas wines.
Chef Renee and his team did a great job of carrying out the inspiration of Spanish Rioja wines in each dish. One could assume that drinking Spanish wines would call for a menu of Spanish cuisine. However, the five course menu showed that each plate could be complimented by a Rioja style wine, with it's versatility in accentuating a different cuisine. The wines were paired with each dish very well, with each course being accented by either the richness of the wines or some with the delicateness of the wine and bringing out a natural sweetness.
* A photographer's note – due to the low ambient light, I did use some light from a flashlight app on my iPhone. At least it wasn't an on camera flash! More food photography tips here.
(click image to enlarge)
This "Splendors of Spain" event was an enjoyable evening, filled with an appreciation for art, food, and wine. Another step forward for the Orlando dining & events scene. This was my first experience with a Scott Joseph Supper Club dinner and it was a success. The collaborative event with Vibrant Rioja is a memorable one and I hope to see more events offered similar to this one.


Vibrant Rioja www.vibrantrioja.com
Scott Joseph Supper Club scottjosephorlando.com
Grand Bohemian Hotel Orlando
325 South Orange  Avenue
Orlando,  FL 32801 
407.313.9000  
www.grandbohemianhotel.com
Facebook Page
Twitter @GrandBoOrlando

Words and photos by Julius Mayo Jr.
Content and photos © Droolius.com 2012


Disclosure: I was invited to attend this event as media and was not compensated to write about the food, wine, or event. The views and opinions expressed in this post are purely my own.