Ann's Snack Bar is now permanently closed as of December 2022.
Ann's Snack Bar in Atlanta, GA has been said to have the "Best Burger in America". It's the home to "The World Famous Ghetto Burger" and it's known that people have waited hours to get a taste of Miss Ann's burgers. I've read and heard stories about the rules while eating, with the possibility of getting yelled at or even kicked out of the restaurant for speaking too loud or putting your elbows on the counter. People know not to rush Miss Ann when she's cooking and with the limited seating that serves eight stools at a time, be prepared to wait for an open seat and come here with an open schedule. It's all worth it though when you finally sit down, order, and get to eat your burger.
When i was planning my food itinerary for an Atlanta trip this past summer, I was eyeing Ann's Snack Bar as a stop. A conversation with fellow food blogger, Burger Beast, about his burger experience made it a must stop for my trip. He gave me the run down about the rules and mentioned that he was on his best behavior and did not chance being seen taking photos because you may get kicked out for that or being too loud. He said that Miss Ann could retire soon or sell the property, so this was the time to go.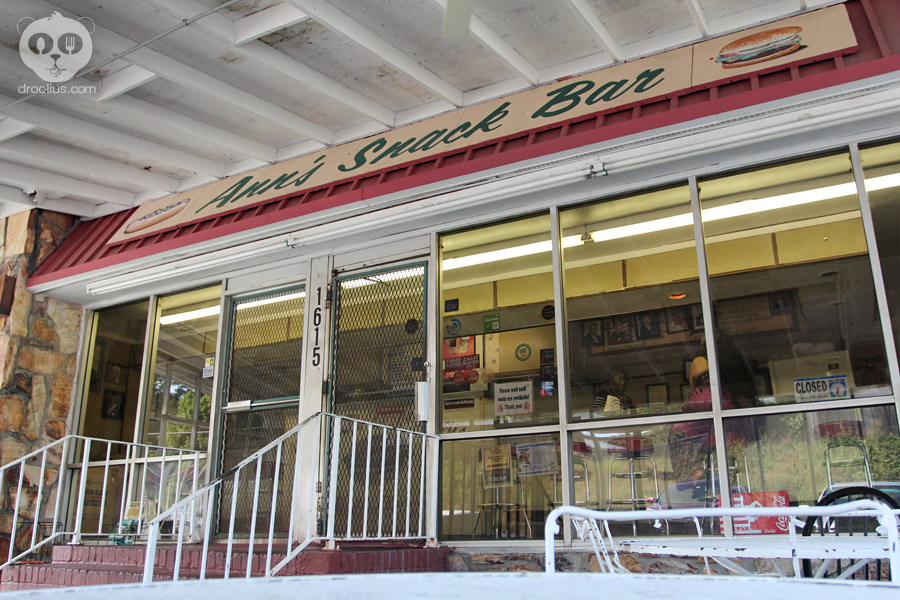 My food partner O.D. and I, along with my sister, @JulieJeweles, went early one morning before Ann's Snack Bar opened so we could beat the lines. We were the only ones waiting for a bit, then others showed up to wait in the patio. After about an hour, we were able to get seated inside, a little after 11:30 am which is when they officially open. We sat down, quickly browsed the menu and placed our orders. We ordered the chili cheese fries to share as a starter and I ordered the Ghetto Burger for myself.
We watched Miss Ann and another lady start the process of making the burgers. First she deep fries bacon (which made me smile) and then she starts to portion fistfuls of meat. The burger patties are hand formed and she cooks all eight orders at one time. She sprinkles seasoning on top of the burgers, a quick sear and a flip, more seasoning on the other side. She slices onions on top of each burger and it's cooked all together on small flat top griddles. The scent of burgers perfumed the air and we were starving.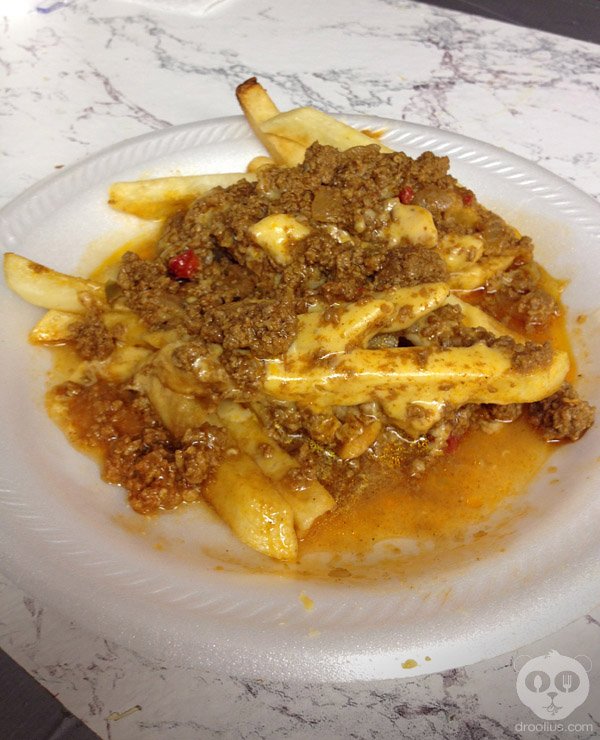 First comes out the Chili Cheese Fries and we devoured them within minutes. The chili was loaded with chuncks of ground beef and with the gooey cheese, it made a good snack. I was sneaking iPhone photos of the fries and O.D. was telling me to stop (multiple times) because she was concerned that we would get kicked out for taking photos. I would catch her leaning on the counter and teasing her she would get us yelled at, so it was like a game to follow the rules. We patiently waited for our burgers and I was determined and ready to take photos when they came out.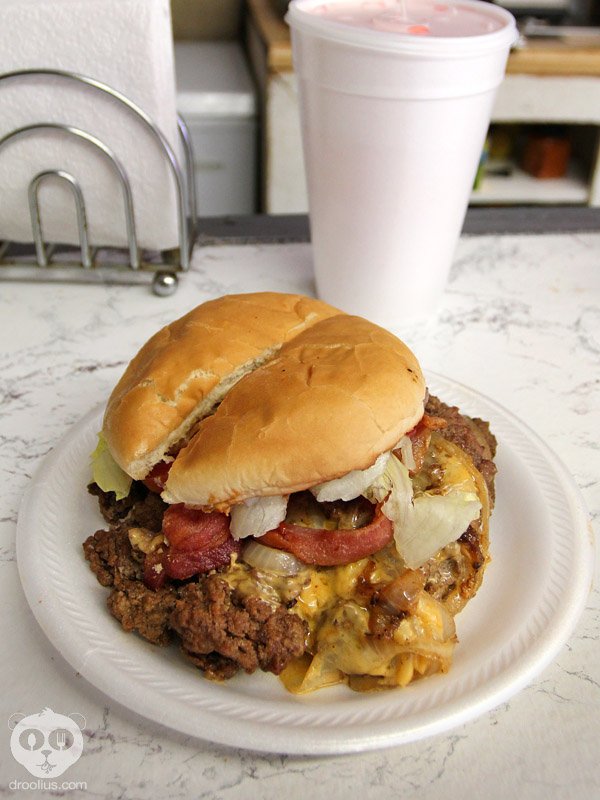 The Ghetto Burger came out and it was massive in size and height, almost the size of the plate. This I had to take a photo of before I ate it. A few iPhone photos in, I really lucked out when Miss Ann stepped out into the patio to check on the line and it was photo shoot time with my burger. Having only a few moments, I managed to get out my DSLR camera (which I normally shoot food with) and got some good shots of the Ghetto Burger. I didn't want to get yelled at, but an amazing burger like this needs to be documented and shared. I later discovered that people do take photos and post them online. Do they ask for permission? I have no idea, but at the time I did not want to ask if photos were allowed. Photos are not listed as a "Do Not" rule, but you never know. (Thanks for the scare, Burger Beast).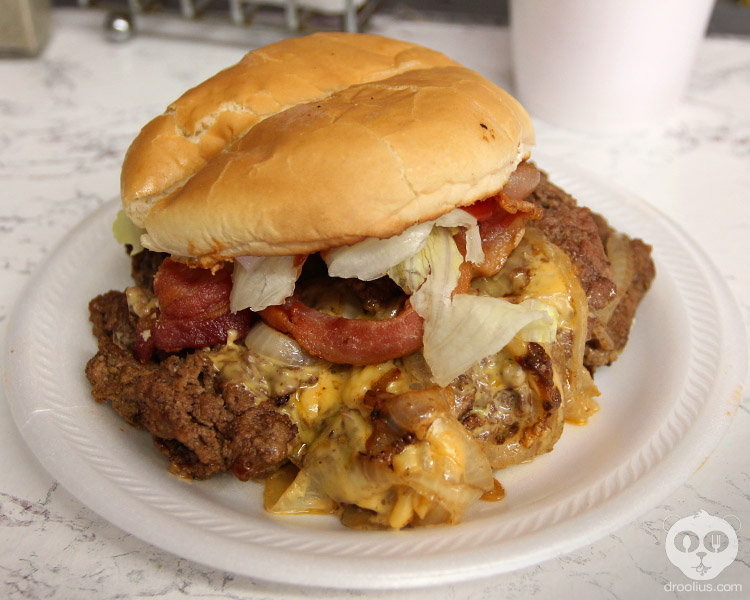 The Ghetto Burger – double chili cheese burger with bacon, onions, lettuce, tomato, ketchup, mustard, mayo
In this closer shot, you can see how huge the Ghetto Burger is with its multiple layers of components. Two burger patties that hang off the bun, makes you wonder how to take your first bite. It was sliced in half so I was able to pick up one side and dig in. It was messy, but I enjoyed it all. The burger was juicy with a very meaty flavor and was beautifully complimented by the deep fried bacon, grilled onions, and cheese. I was concerned that the ketchup and mustard squirted on both buns might take away from the natural taste of the burger, but it all worked together.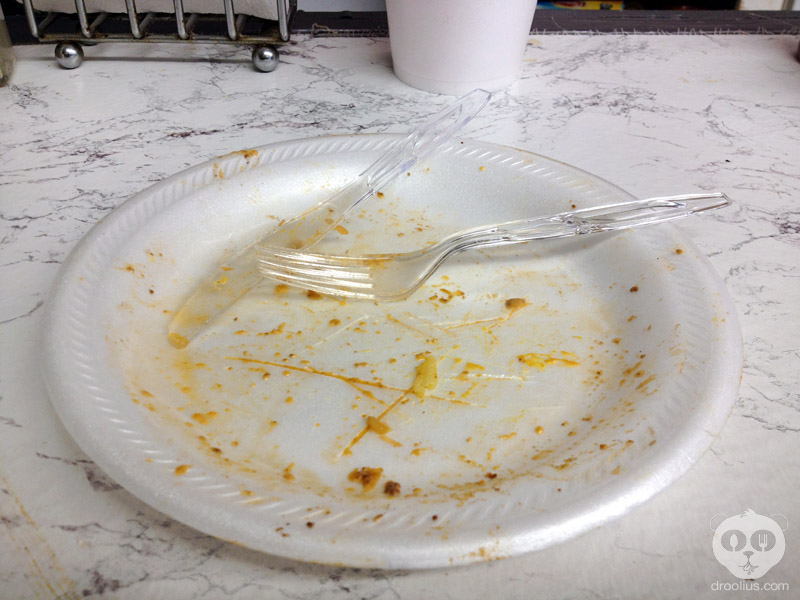 This is photo proof that I conquered the Ghetto Burger! I finished it all and O.D. could not believe that I ate the entire thing in one sitting. After creating a mess with the burger, I did end up using my knife and fork to finish it off.
In the end, O.D. and I were both happy with our burgers that Miss Ann hand crafted. I was able to finish my entire burger, while O.D. and Julie took their left overs to go. Was the Ghetto Burger the best burger that I have eaten? I can't say that it's the best, but it is on my top 5 favorite burgers that I have eaten to date.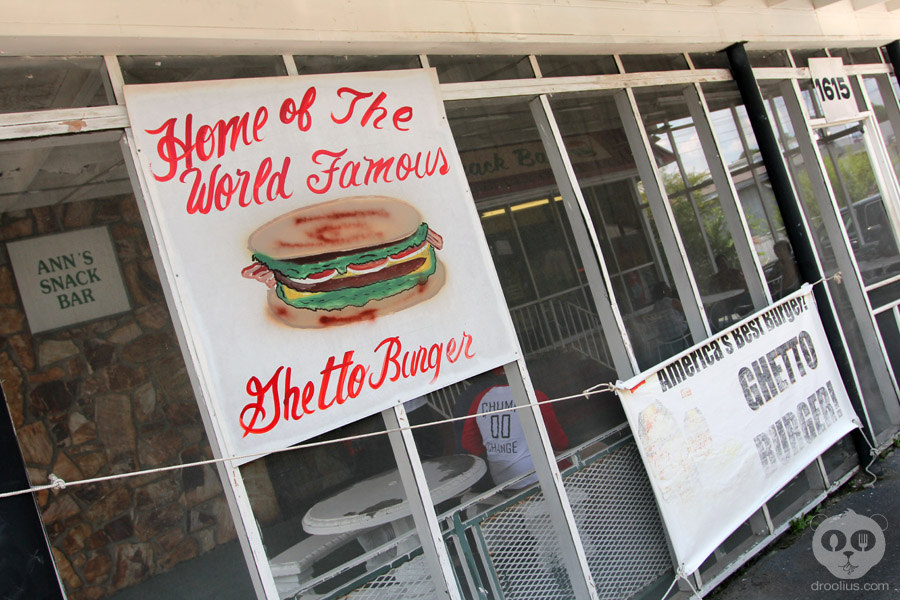 Ann's Snack Bar is now a popular Atlanta food destination and it's best to get there early before they open to avoid waiting hours to get one of the eight coveted stools. It's a very unique experience to dine here, to watch your manners and follow the rules. I've read Miss Ann can be entertaining to talk to, but on our trip there she kept to herself and didn't have much to say that morning. Regardless the food keeps people coming back, especially with the well known Ghetto Burger. In a video interview, Miss Ann says that a customer suggested the name "Ghetto Burger" to the double chili cheese burger she had been already selling for years. When you are in Atlanta and have a good amount of time to sit down and eat, check out the burgers and fries here by Miss Ann and make sure to follow the rules so you don't get kicked out.
Ann's Snack Bar
1615 Memorial Drive Southeast
Atlanta, GA 30317
404-687-9207

Words and photos by Julius Mayo Jr.
Content and photos © Droolius.com 2012