The Coop restaurant opened two weeks ago in Winter Park, FL and specializes in Southern food and freshly made pies. This is the second concept from Chef John Rivers and his team at 4 Rivers Smokehouse. This new restaurant is themed "A Southern Affair" which showcases Southern style dishes throughout the menu, giving options from small bites to signature dishes, along with many sweet desserts. They make a good sweet tea as well, the obvious choice for any Southern meal.
(click image to enlarge)
The restaurant is counter service, with food being plated as one moves through the line, while certain menu items are cooked to order then dropped off to where you are seated. Patrons line up in a cafeteria style line before ordering, which works to an extent but like 4 Rivers Smokehouse, the line can easily go out the door and continue outside. This can be a challenge with the upcoming summer heat or those in a rush, but people seem to line up still for 4 Rivers so it should work here. *Tip: Be prepared to wait in line before ordering.
I have visited The Coop twice now, once for a 'friends and family' private gathering dinner and then again a week after they opened. I wanted to get the experience on both trips before I shared here on the blog. This post has two parts with photos from both experiences.
First trip to The Coop
On my first trip to The Coop I ordered the fried chicken with side dishes, shrimp and grits, and fried green tomatoes. The fried green tomatoes were cooked to order and dropped off at the table after I was seated. Everything else is plated as I went through the line.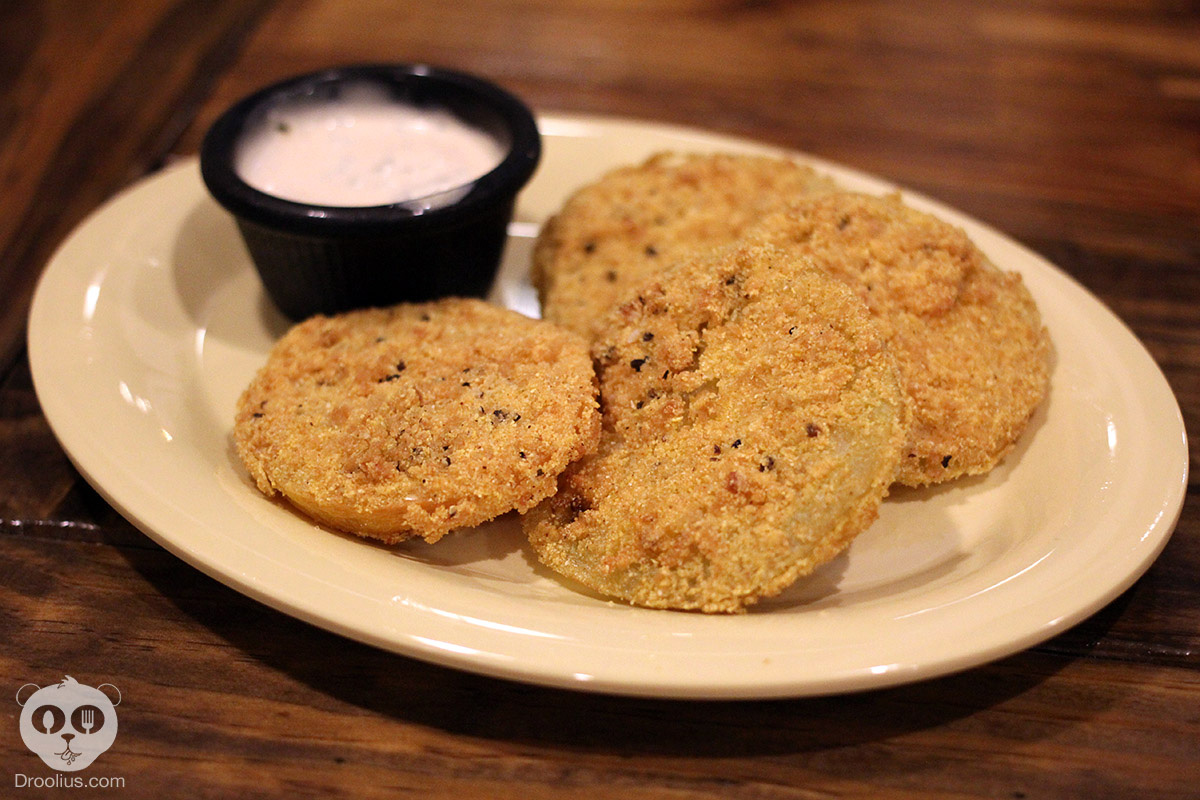 (click image to enlarge)
Nibbles – Fried Green Tomatoes
A good appetizer that is easy to share, each tomato has a light crisp outside with a hot inside, and comes with a tasty sauce to dip. Probably best to let these cool for a minute or two before eating.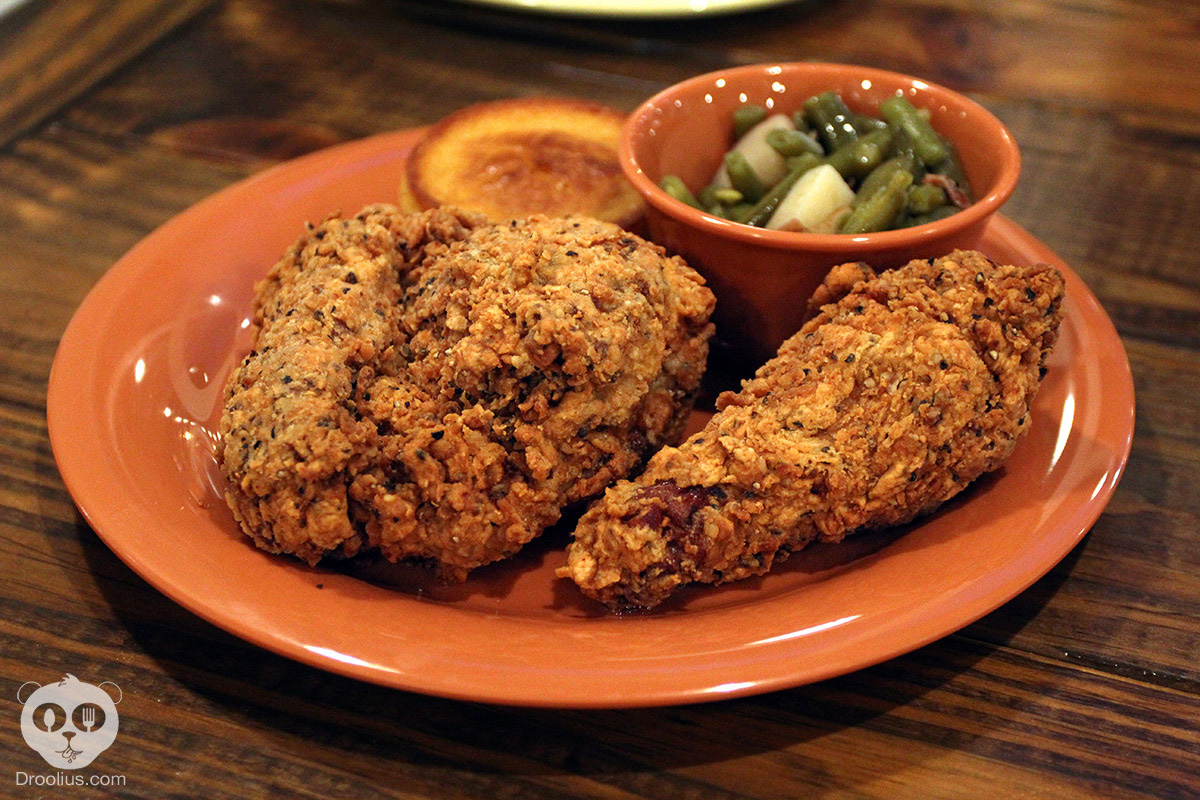 (click image to enlarge)
Chicken + Fixins – 2 Pc. Plenty Plate
When visiting The Coop, you have to try the fried chicken. The fried chicken has a thick batter crust with a peppery flavor. The chicken itself was hot and moist on the inside. It was flavorful and did not need any extra sauce or spice. I was impressed on how the thick batter crust stayed intact and was not greasy.
I really enjoyed the fried chicken here and I've heard it has been somewhat of a debate for the local crowd and food media. I guess it's personal preference, but I actually like the chicken with the thicker crust and peppery flavor. It's different from what is regularly served in the area and The Coop has done a good job in developing this recipe in my opinion.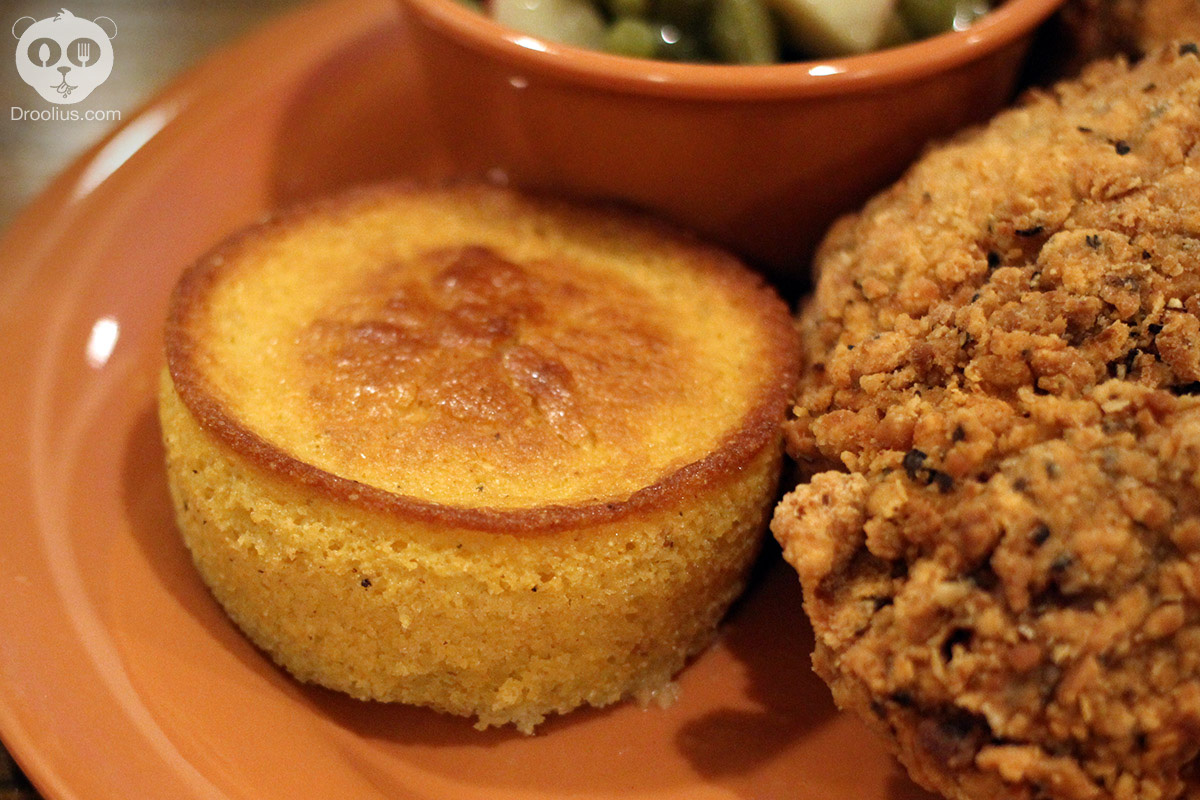 (click image to enlarge)
Fixins – Skillet Cornbread
The Skillet Cornbread is a side that I really liked. Soft and moist on the inside, with crisp edges and good flavor. I could have easily eaten two more.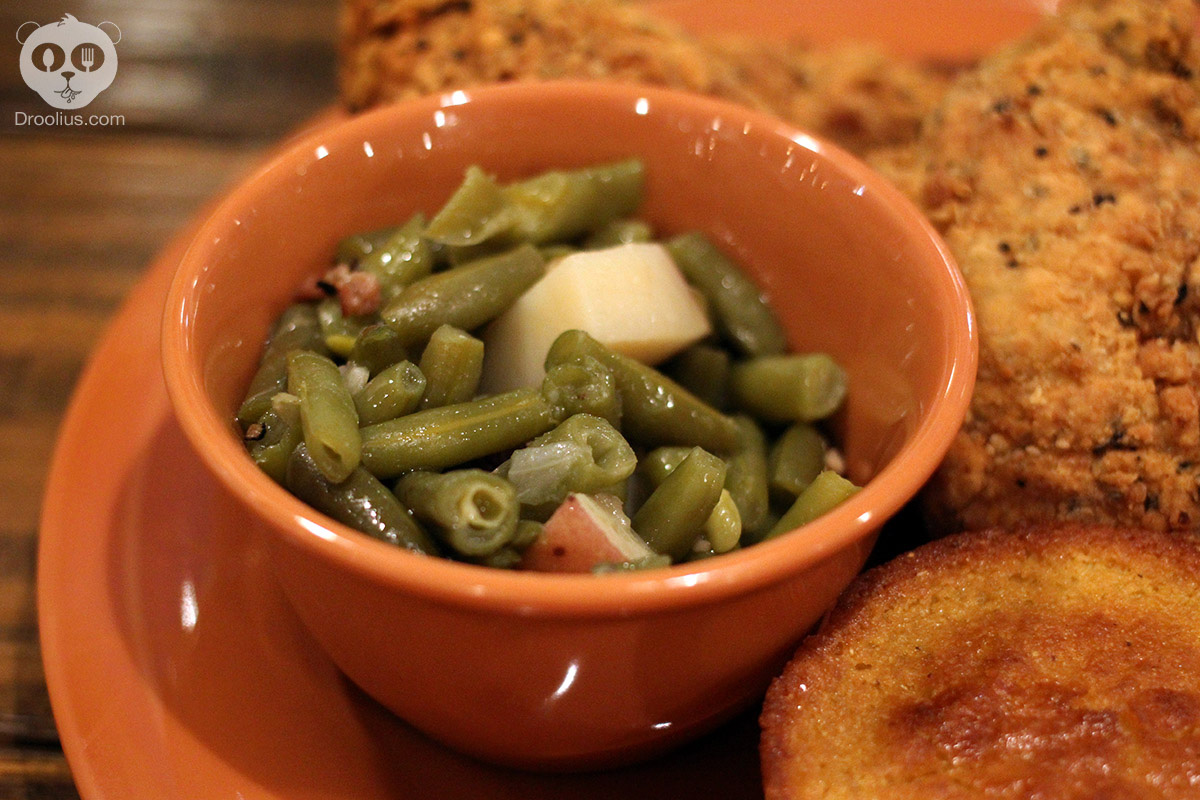 (click image to enlarge)
Fixins – Green Beans & Potatoes
I asked for a side dish recommendation from the person behind the counter and she insisted on the Green Beans & Potatoes. They were cooked properly, but it needed more seasoning. I expected these to be great since they were recommended, but the underseasoned dish needed a little salt and pepper at the table to help them out.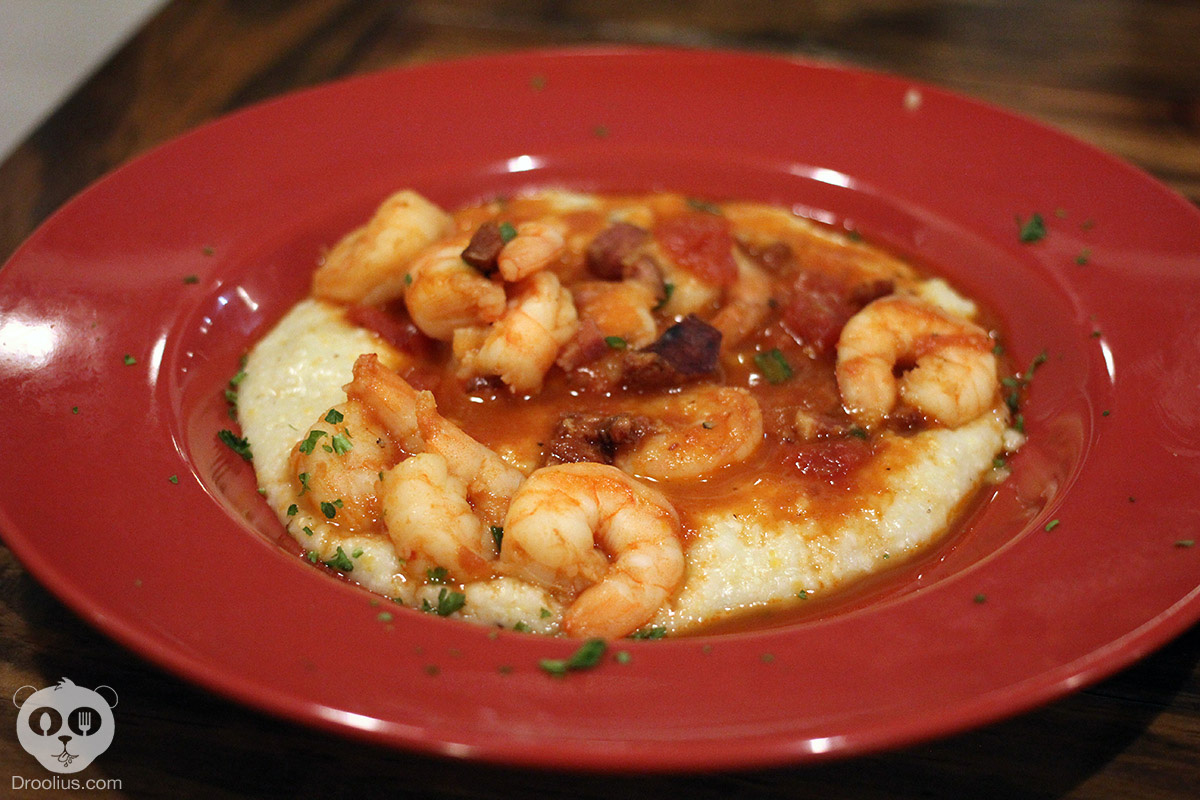 (click image to enlarge)
Signature Dish – Low Country Shrimp and Grits
The Low Country Shrimp & Grits is one of the signature dishes on the menu. It is plated as I was going through the line, which is different from many restaurants that cook this dish 'to order' and then served. The flavor of shrimp is light and carries throughout the sauce. The grits were a nice consistency but it could've used a touch more seasoning. The Andouille Sausage used in the dish was very mellow and I was looking for a bit more flavor from it.
(click image to enlarge)
Dessert – Cinnamon Roll Bread Pudding
This was a sample that was brought out for me to try. The Cinnamon Roll Bread Pudding was way too sweet for me. The person who brought it out to me said it was going to be very sweet and those who have a sweet tooth would love it, but this was a little too sweet for my taste.
(click image to enlarge)
The main dining room has longer tables and gives the opportunity for patrons to sit communal style if other tables are full. There is another room for dining similar to this, along with an outdoor patio with picnic style benches for seating.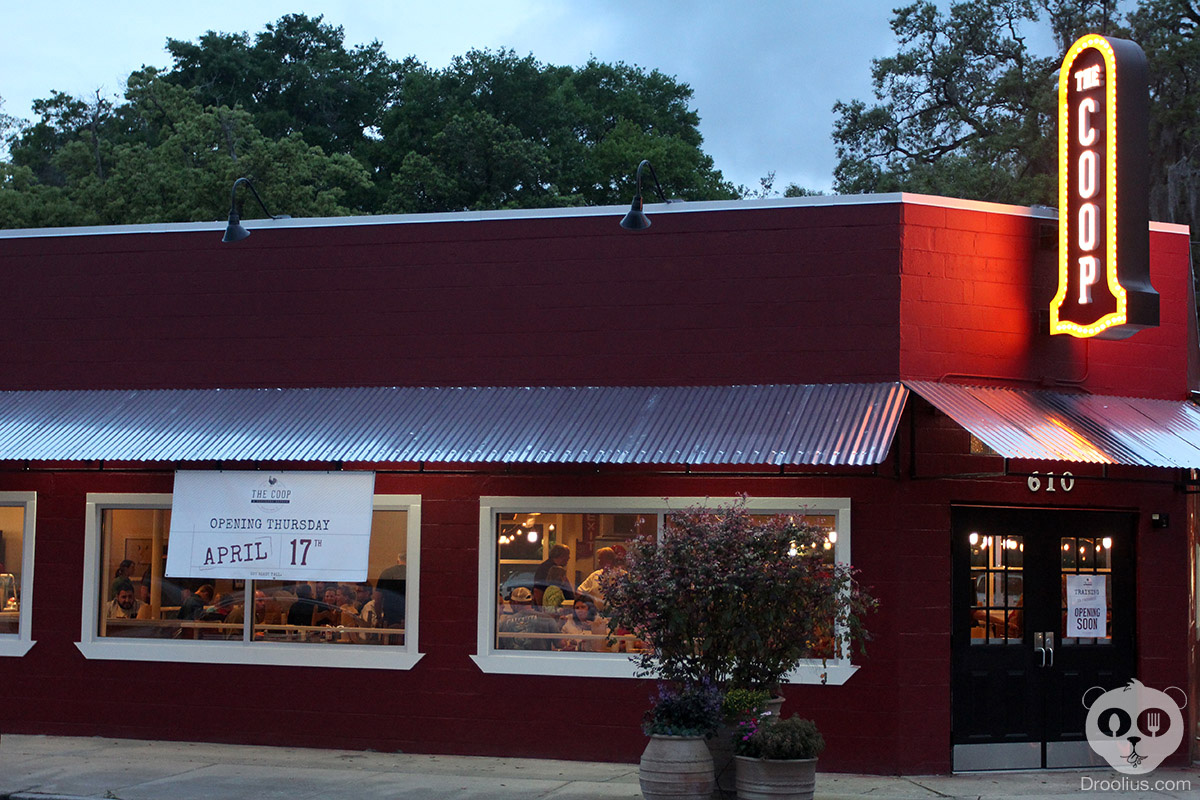 (click image to enlarge)
The opening day to serve the public was April 17, 2014 for The Coop.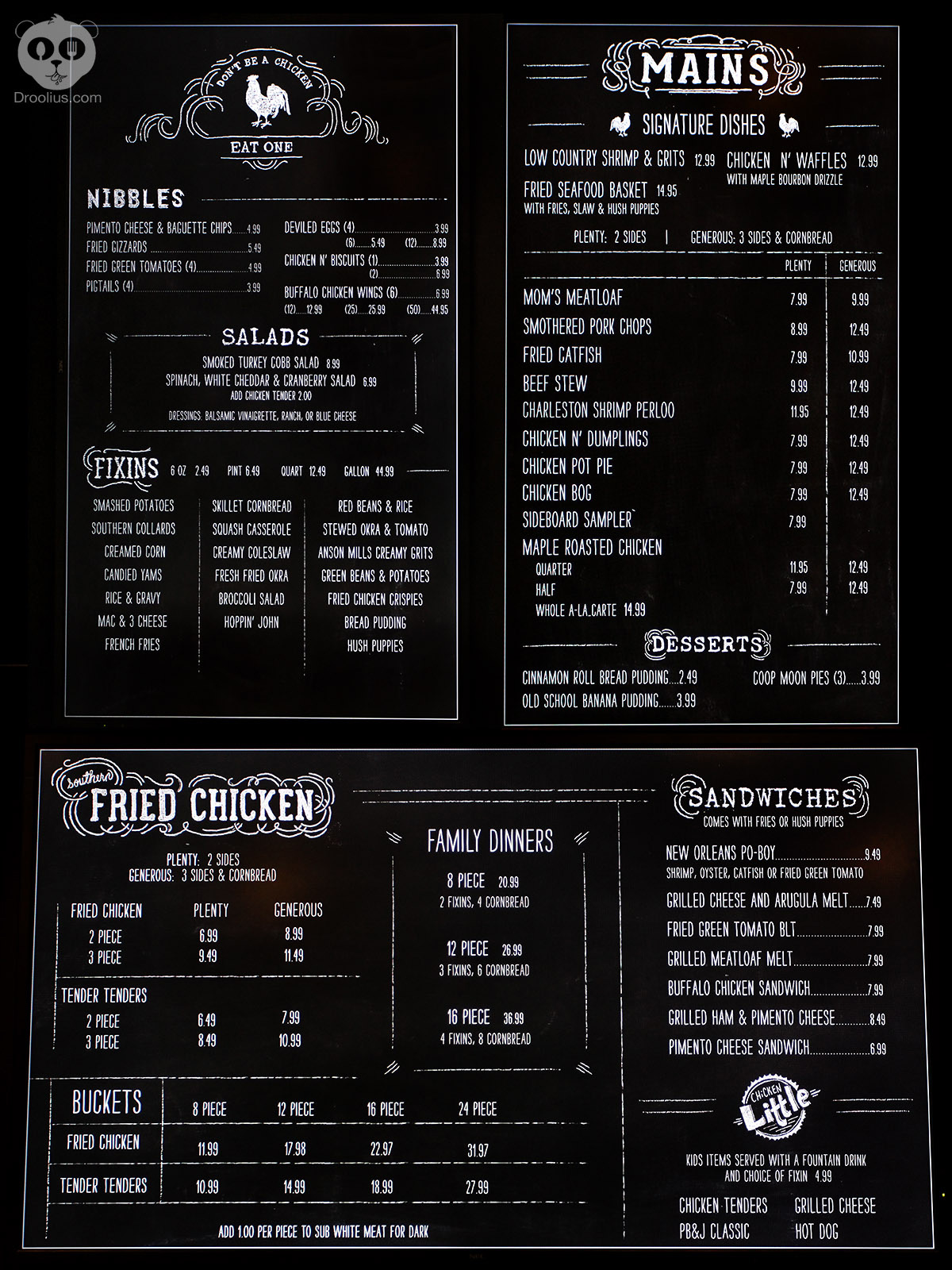 (click image to enlarge)
The full menu is listed on electronic screens that emulate a chalkboard feel. Many more dishes are listed that I want to try so coming here with a group and sharing could be a good way to experience more of the menu.
Second Trip, back to The COOP
I decided to go back to The Coop after they officially opened on my own dime. I wanted to experience the food and service just to see if it was different than a pre-opening event. I arrived around 830 pm and found myself waiting in line just outside of the door. They close at 9 pm nightly, so I assumed I would get to order by then. From the door to ordering it took about 30 minutes, so make sure you have time to wait when going here. I don't think a quick lunch or dinner will exist until the newness of this place wears off a little, if it ever does.
On this second trip, I decided to try some of their smaller dishes and sides. I pigged out by myself on my first trip here, so this time I had to be more reasonable with portions, because normally I'm not.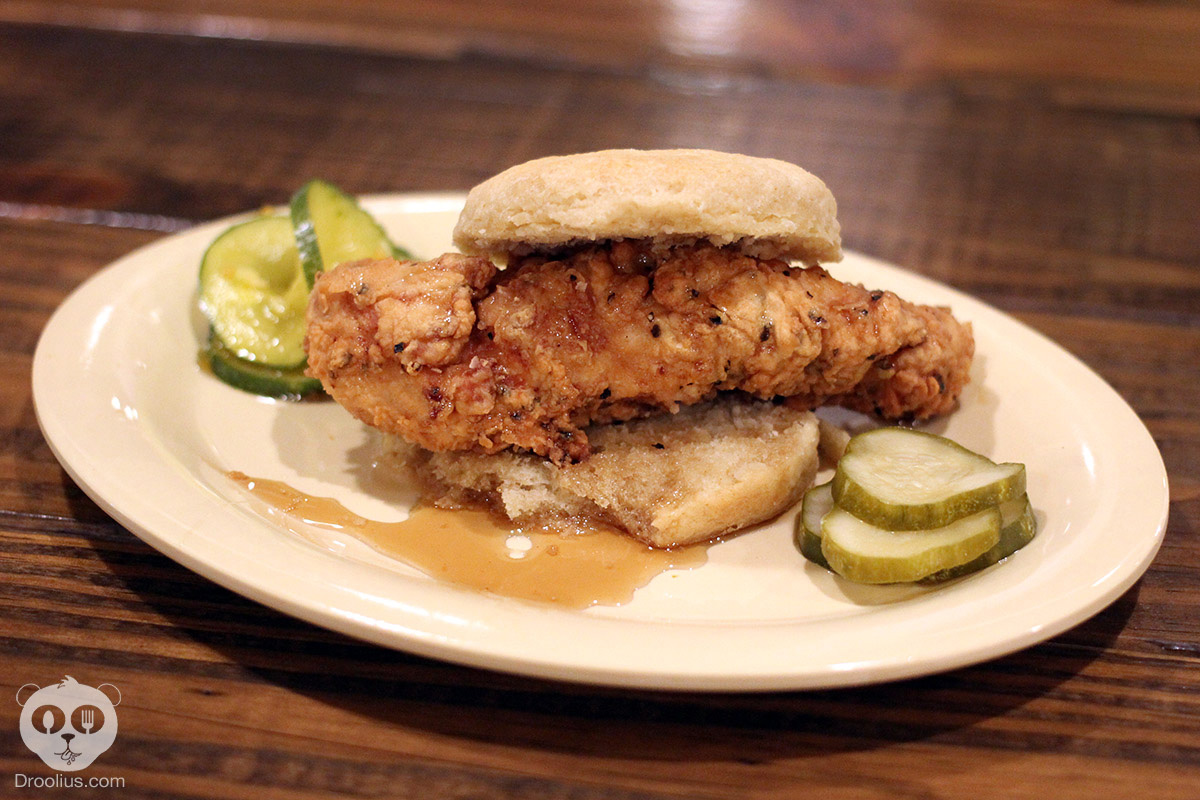 (click image to enlarge)
Nibbles – Chicken N' Biscuits
When I first ordered, I asked for two Chicken N' Biscuits. I expected them to be on the smaller side, but after seeing one plated, I asked to cancel the second order. The fried chicken strip was a decent size, hanging off both ends of the biscuit. Topped with honey, this didn't need any extra sauces. The pickles were a nice touch too, giving a touch of acid and spice. The chicken itself had good flavor and juicy. Not as peppery as the regular fried chicken nor did it have a thick batter crust, but still seasoned good. The biscuit did it's job with this chicken and biscuit "sandwich", holding it together and not crumbling. I'll have to try the biscuit by itself to see how classically Southern it is next time.
(click image to enlarge)
Fixins – Fresh Southern Collards
The Fresh Southern Collards had a slight vinegary taste to the greens themselves and needed more seasoning. The pork component, Andouille Sausage I presume, added more of a texture than actual flavor. When I see collard greens on a menu, I think of what I grew up eating at church potluck luncheons. Southern ladies stewing down the greens with a smoked ham hock that gives it lots of flavor. Maybe I'm just looking for that nostalgic flavor, but the collard greens here just need more seasoning and flavor. I did appreciate the texture of the greens and not being overcooked though.
(click image to enlarge)
Fixins – Creamed Corn
The Creamed Corn was my favorite side dish at The Coop. The creamy sauce and sweet corn combination just works well together. It might be a tad rich for some people, but I could probably eat another serving with my meal.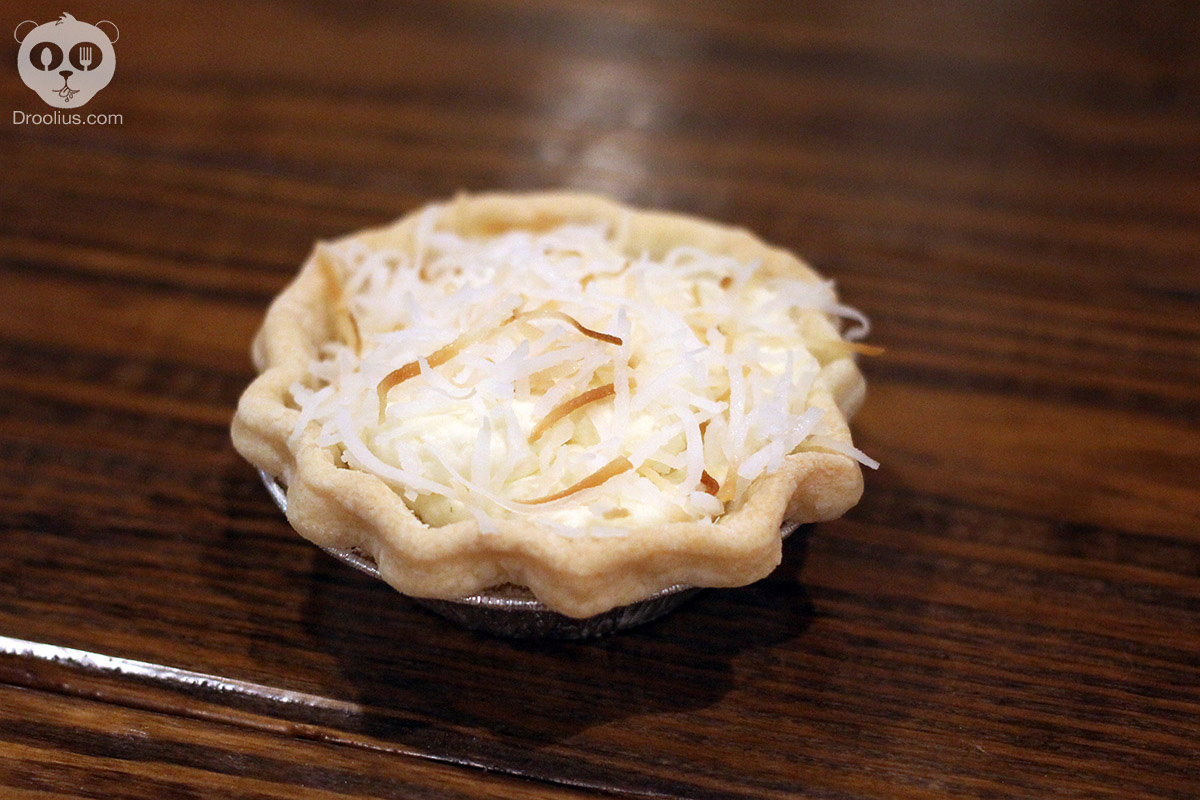 (click image to enlarge)
Dessert – Mini Coconut Cream Pie
I had a little room for dessert and the option of mini pies are great way to offer a little something sweet at the end of the meal. This Mini Coconut Cream Pie was an enjoyable dessert. The filling was not too sweet and the crust was crisp on the outside and still soft on the inside and did not crumble. If you're into desserts with a touch of sweetness, then this one is for you.
(click image to enlarge)
A specialty at The Coop is their freshly made pies, all made in-house. Baked pies such as peach, cherry, blueberry, and lemon are available. In the glass case were Peanut Butter, Bourbon, and French Silk pies waiting to be ordered. I heard the pecan pie was a good one to try with lots of sweetness. Dessert shots are available for smaller portions, pictured below are blueberry and peach. The mini pies are a great way to satisfy your dessert craving without over indulging.
(click image to enlarge)
The Coop is off to a decent start with its menu and food. There are some hits and misses on some of the dishes, but with any new concept, things can be adjusted. The customer service is good and the pricing is fair for the portions. There are more things I look forward to trying like the Oxtail Beef Stew, Mom's Meatloaf, and Fried Catfish & Grits. There's more than just fried chicken here, but I suggest trying it along with the rest of the menu. Make sure to allow some time when planning to dine here, the line will most likely be long, but it moves at a decent pace.
The Coop – A Southern Affair
610 W Morse Blvd
Winter Park, FL 32789
www.asouthernaffair.com

Words and photos by Julius Mayo Jr.
Content and photos © Droolius.com 2014


Disclaimer: For my first visit to The Coop, I was invited the experience a private gathering dinner. I was not compensated to write this post and all opinions are always my own.