Just a little update on the blog, I've been on the road the past few weeks traveling from Chicago to Toronto to NYC. It's been part family vacation, attending a wedding, and of course discovering food. There's lots of great food that I have eaten and I will be sharing those places here in the upcoming weeks. For now, here's some food that I enjoyed and are iconic when visiting those cities.
Chicago: Chicago style hot dog and Italian beef sandwich at Portillo's Hot Dogs downtown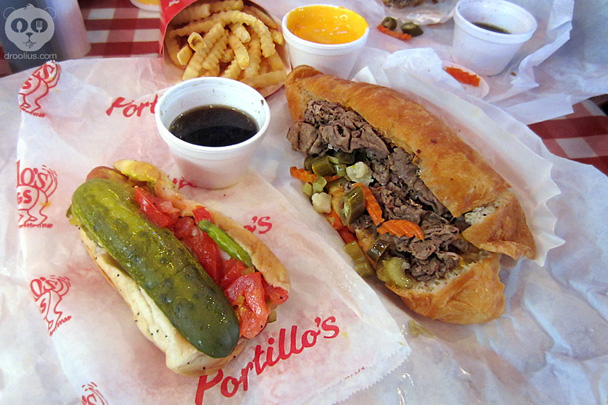 (click image to enlarge)
Portillo's hot dog, Beef-n-Cheddar Coissant (my favorite), Cheese Fries
This is always a favorite stop of mine while visiting Chicago. While it's usually my first and last stop, I only had time to dine here once. The Beef-n-Cheddar Coissant is truly my favorite at Portillo's and you have to get a side of gravy for dipping.
Portillo's Hot Dogs
100 W Ontario St
Chicago, IL 60654
www.portillos.com

Toronto: Poutine at Smoke's Poutinerie
(click image to enlarge)
Traditional Poutine with Smoke's signature gravy
This was my very first trip to Canada and my first time eating Poutine. I ordered the Traditional Poutine that is topped with gravy and I get why Canadians love this dish. It's a hearty helping of fries, cheese curds, and warm brown gravy. It's comfort food and very good. Smoke's Poutinerie had a whole menu with variations of Poutine and I do want to go back for more. Hit them up next time in Toronto or another Canadian city.
Smoke's Poutinerie
218 Adelaide St W
Toronto, ON
www.smokespoutinerie.com

New York City: Lombardi's Pizza
(click image to enlarge)
Original Pizza with pepperoni, mushroom, extra basil
Lombardi's Pizza is a long time staple in the restaurant scene in New York City and a favorite among many locals and tourists. I tagged along with a friend who had a large party of 18 family members, so we ordered several large pizzas to share. This was the Original Pizza with pepperoni, mushroom, extra basil. The pizza had great flavor and the crust was on point. I'm still learning the NYC pizza standards here but this is probably among the best pizzas out here in NYC.
Lombardi's Pizza
32 Spring St
New York, NY 10012
www.firstpizza.com
As always, thanks for stopping the blog and keeping up with my food photos. More to come from Chicago, Toronto, and New York City food spots. Stay tuned…


Words and photos by Julius Mayo Jr.
Content and photos © Droolius.com 2013