This 4th of July weekend, Shake Shack is serving a few specials on their menu. From July 4th – 7th, Shack Corn Dog and Blueberry Pie Oh My concrete will be available at all Shake Shacks (excluding ballparks, airports and international locations).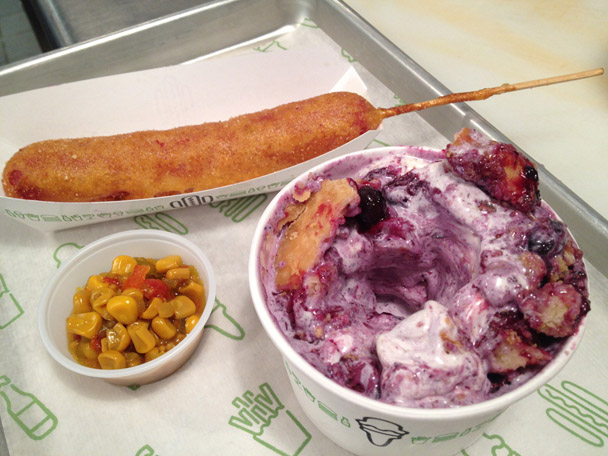 A much-loved Shack favorite that's only available three times a year — Memorial Day, July 4th and Labor Day — our Shack Corn Dog is a Vienna all-beef hot dog dipped in Shack-made corn batter, cooked golden brown and served with Rick's Picks sweet corn relish. $4.50
For a sweet summer treat, we're also serving up a special Blueberry Pie Oh My concrete featuring our rich and creamy vanilla frozen custard blended with a slice of seasonal blueberry pie from local bakeries. Half: $4.25 / Regular: $6.50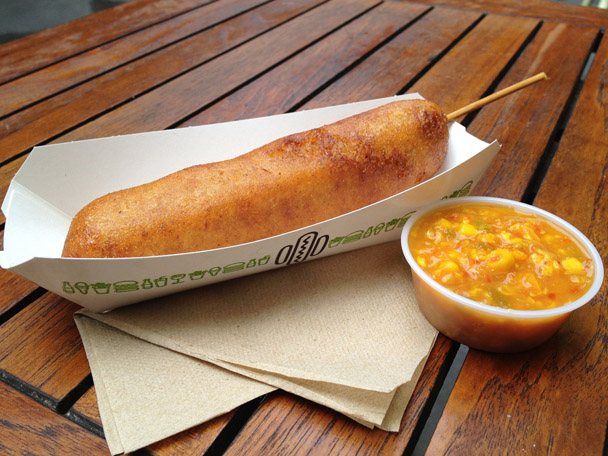 Corn dogs are one of my favorite foods to eat! I hope to make it down to one of the South Florida locations this weekend to get one. If you're lucky enough to have a Shack Shack near by, make sure to order BOTH of these special menu items. Visit www.shakeshack.com for locations and details.
Photos and details courtesy of Shake Shack