Back in July, the Eat St. television crew came down to Orlando to film a couple of Food Trucks for their television show. The first truck to air on Eat St. on Food Network Canada was the Big Wheel Truck, the Orlando Food Truck who promotes "local is lovely". The other two food trucks who filmed for the show, The Crooked Spoon and the Yum Yum Cupcake Truck, are set to air soon in Canada and in the U.S. on the Cooking Channel. The Eat St. show features street food, food trucks, and food carts around North America, showcasing the food, the culture, and customer's favorites of what they love to eat.
(click image to enlarge)
The filming took place in Lake Lily Park in Maitland, FL. Chef Tony Adams and his staff spent the day cooking as the Eat St. cameras were rolling.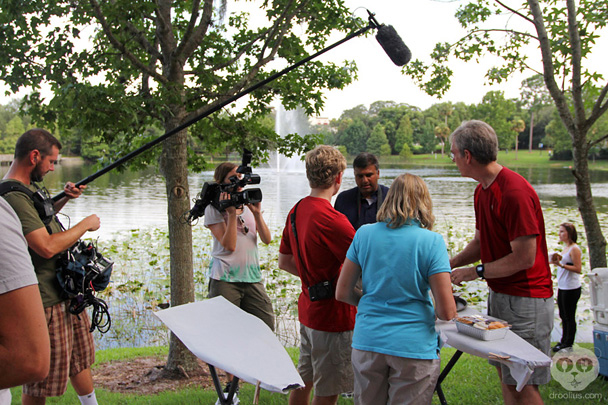 (click image to enlarge)
Later in the day during the Maitland Food Pod, patrons of the Big Wheel Truck were also filmed talking about the food and what they liked so much about this food truck.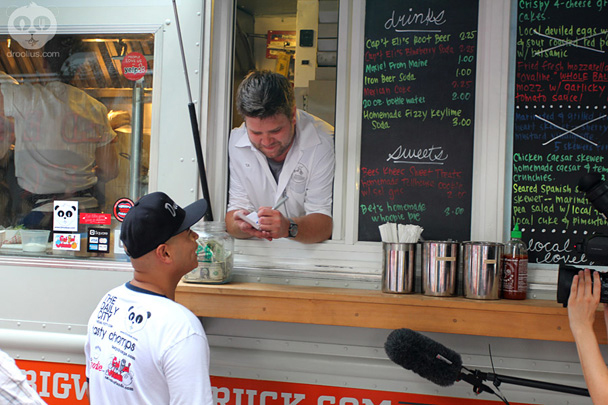 Photo taken by @EatLocalOrlando (click image to enlarge)
A few local media and bloggers, @jby789, @TheDailyCity, and more were also filmed and interviewed. Here I am ordering at Big Wheel while being filmed.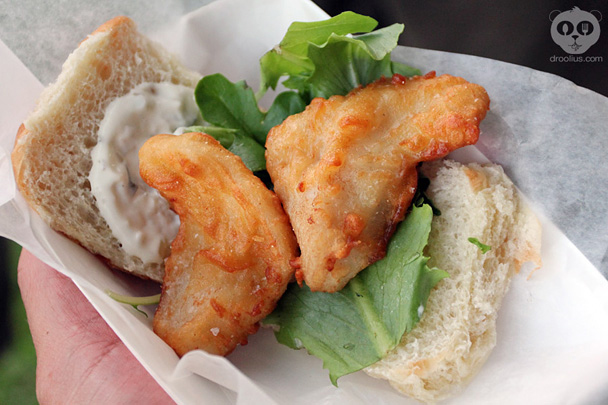 (click image to enlarge)
Local fried Grouper cheek slider w/ housemade tartar, local lettuce
This is what I ordered that day. What did it taste like? It was good of course, but you'll have to watch the show for my description, IF it made it onto the show.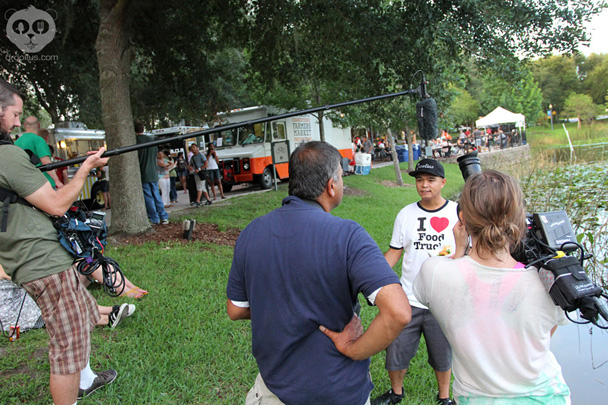 Photo taken by @EatLocalOrlando (click image to enlarge)
Here's another shot during the interview at the Maitland Food Pod. Who knows if my interview makes it onto the show or ends up on the cutting room floor. Regardless it was a fun experience and I'm looking forward to watching the show. It should be entertaining and just the start of more food trucks in Orlando getting some international t.v. exposure.
Here's the show info:


Watch: Big Wheel Truck on Eat St. TV show
When: Tuesday Nov. 29th at 8pm
Where: The Cooking Channel
Brighthouse cable: The Cooking Channel – channel 180, HD channel 1253


Congrats to the Big Wheel Truck and Chef Tony Adams & staff for the segment on Eat St. For more on the Big Wheel Truck, check out the links below and visit the Droolius feature on their first lunch event in Orlando earlier this year March 2011.
Big Wheel Mobile Food Truck
www.bigwheeltruck.com
www.bigwheelprovisions.com
Twitter @BigWheelTruck
Facebook Facebook Big Wheel Mobile Food Truck
Eat St.
Eat St. on Cooking Channel
Eat St. website
Twitter @EatStTweet
Facebook www.facebook.com/EatSt
Words and photos by Julius Mayo Jr.
All content and photos © Droolius.com 2011