Over the weekend I spent my time eating, as usual. The unusual part, however, was that I ate only once a day due to a busy schedule and it was late at night. On Saturday evening I checked the "Find Orlando Food Trucks" Droolius page and saw the food cart @BrunosBites say: "And L.A. Style bacon wrapped hotdogs peppers onions, Florida avocado, and salsa fresca!". That sounded amazing to me, mainly because I have been thinking about L.A. food and I've been missing it. So I went to the Big Bruno's Bites food cart that was set up in the patio of the Red Light Red Light bar, located on Bennett Rd. in Orlando, FL. It was my first visit to this food cart. The menu showed Cheesesteaks, Pork Roll egg & cheese, Hot Dogs, local Bratwurst, or Italian Sausage. Where was the L.A. Style bacon wrapped hotdogs? Oh, they sold out of them!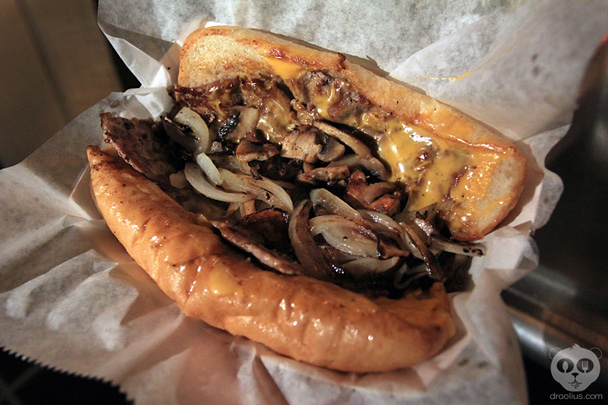 (click image to enlarge)
Big Bruno's Cheesesteak, Jersey style
The next best thing on the menu was the Cheese Steak, Jersey style (there is a difference from Philly Cheesesteaks). The cheesesteak is served with warm cheese whiz and I ordered mine with mushroom and onions. After my first bite, it reminded me of my very first cheesesteak ever, on the boardwalk in Atlantic City when I was a kid. Funny how the sandwich and its flavors sparked that memory, but it did, and I was glad I ordered this cheesesteak. It definitely made up for the bacon wrapped hot dog that was sold out.
I stayed around for a bit, had a good craft beer (Red Light Red Light has a great selection of them), and talked about food with Bruno. He has a great story about cooking and is very knowledgeable about different foods and ingredients. I also met Chico, the Executive Chef of Cocina 214, who is a fan of the Gypsy Steak sandwich. It's Bruno's cheesesteak with these spicy "Gypsy peppers" that are cut up and cooked with the steak. Bruno let me try one pepper while I was eating my cheesesteak, and now I know to order a Gypsy Steak sandwich next time. Try this if you like spicy, it packs a nice little heat.
The conversations continued for a little longer with Bruno and Chico, talking about food in other countries, quality of ingredients, traveling, and more. It was a good time. I'm such a food nerd now, but it is really fun to talk about food.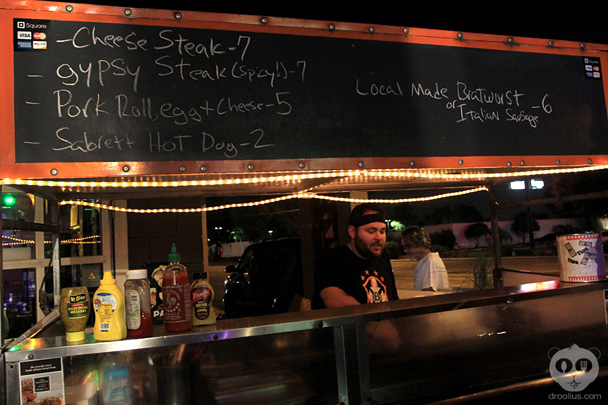 (click image to enlarge)
Big Bruno's Bites Food Cart
Check out Big Bruno's Bites on Twitter @BrunosBites for his next location and times. Try everything on the menu, from hot dogs and cheesesteaks, to daily specials like Banh Mi sandwiches, pizzas, grilled baby octopi and even a Pho soup during the winter time. He also serves Fried Oreos for dessert. I will be back as well, tasting all the food and posting more photos. Check back for a future feature on this diverse food cart.
Big Bruno's Bites
Twitter @BrunosBites
Facebook http://facebook.com/bigbrunosbites
Redlight Redlight Beer Parlour
Twitter @redlightx2
Facebook http://www.facebook.com/redlightredlight
Bookmark the "Find Orlando Food Trucks" Droolius page – Yes this is a food cart and I DO include several food carts on this list. Maybe I should rename it to "Orlando Street Food".
Words and photos by Julius Mayo Jr.
All content and photos © Droolius.com 2011