It's here! Droolius Chicago Part 2 is live on the DrooliusFilms YouTube channel. My food partner, O.D., and I continue our food adventure around Chicago and stop by another tourist spot. To start this episode, we visit the famous Willis Tower (formerly known as the Sears Tower) and walk on to the sky deck. We were walking in the sky, 103 floors above Chicago! Such a great view and fun experience. Check out the following video, there is plenty of food at various locations around Chicago:
Video:

(The video is filmed in HD, so bump up the YouTube quality to 1080P if you have the bandwidth.)
I really enjoy the food in Chicago, it's one of my favorite "food cities". You can find food that has a standing tradition in the area, as well as new restaurants that feature a mix of different cultures and food from various countries. The photos of Chicago food alone get me excited to travel to this major metropolis.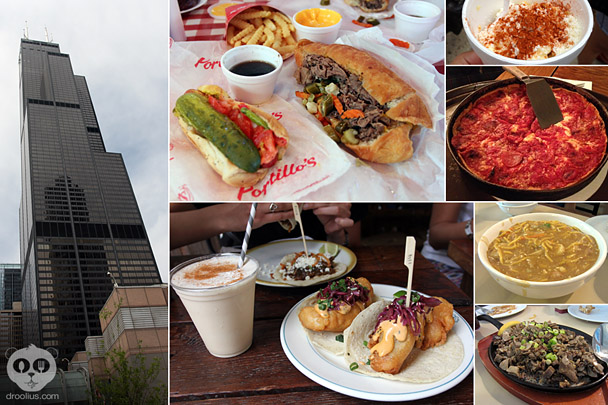 (click image to enlarge)
We continued our food tour by getting a taste of Chicago food classics like Chicago-style deep dish pizza at Lou Malnati's Pizzeria, Italian beef sandwiches and Chicago style hot dogs at Portillo's. The food that Chicago is well known for and all great places to try. We also visited more local food spots around the city and in to the suburbs. We found a street food cart serving Elotes (Mexican corn snack) right outside of a church. The family decided to drive out to Glendale Heights for Hong Ning Restaurant to get a taste of their Filipino and Chinese dishes. There were a few creative remixes to standard Filipino dishes and some new dishes that I tried for the first time. Back in Chicago, we searched for a Horchata milkshake and found it at Antique Tacos where they serve a variety of tacos. The milkshake was perfect on a hot Chicago day and the tacos were all flavorful, with the fried fish taco being my favorite.
There are a few more food and travel stops to share on our Chicago adventure. Stay tuned for #DrooliusChicago video part 3. Thanks for watching!
Also, BIG thanks to O.D. for this great video edit!

Words and photos by Julius Mayo Jr.
Video edit by Odessa "O.D."
Content and photos © Droolius.com 2013