The fifth season of the Eat St. TV show has returned to the Cooking Channel on Thursdays featuring food trucks across North America. Earlier this year, the Eat St. production crew was in town and filmed six Orlando food trucks. You will see the food and trucks of Bem Bōm, Sushi & Seoul On The Roll, SwedeDISH, Treehouse Truck, Cafe Rouge Express, and Curbside Chef in six different episodes of Eat St. There will also be cameos of Orlando locals eating on camera and raving about their favorite food trucks. You can watch Eat St. on Thursdays at 8pm Eastern and 7pm Central on the Cooking Channel in the U.S.
Check out some behind-the-scenes photos, (condensed) episode descriptions, and the trailer below.
Video:
Eat St. Season 5 Trailer
EPISODE DESCRIPTIONS – 501-526
I've condensed the following Eat St. episode guide descriptions to share information about the food trucks of Orlando. The airing dates may change on the Cooking Channel, but you can follow the episode numbers so you can catch these food trucks on TV. The new season debuted last week on July 3, 2014, so episode # 501 has aired and the count down has started to the featured Orlando food trucks.
Eat St – 519 SEOUL FOOD
First up…we're curb side in Orlando, Florida at the Sushi and Seoul On A Roll truck, where signature dishes include the Holy Goat Roll with seared yellow fin tuna, tiger shrimp and goat cheese…
(click image to enlarge)
Eat St – 522 MIAMI MIA
First up…we're cruising to Miami… Next…we roll to Orlando, Florida and climb aboard the Treehouse Truck for blazin' burgers and more! Customers are climbing over themselves for The Hot-Ness, a habanero packed beef burger served with cilantro and sour cream to battle the heat! …
Eat St – 523 MONSTER TRUCKS
First up…we're trucking to Orlando, Florida for globally inspired gourmet cuisine with the Curbside Chef truck. Crowd favourites include a filipino inspired, citrus baked tilapia, served whole with basmati rice. Next…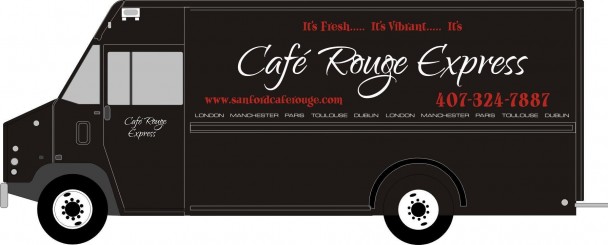 Eat St – 524 HOUSTON, WE HAVE A FOOD TRUCK
First up…we're rocketing to Houston, Texas … Then…we're curbside in Orlando, Florida for ingenious international cuisine at the Cafe Rouge truck! Here you can dine on a British Shepherd's pie made with a slow cooked, red wine infused black angus beef filling, topped with cheesy mashed potatoes…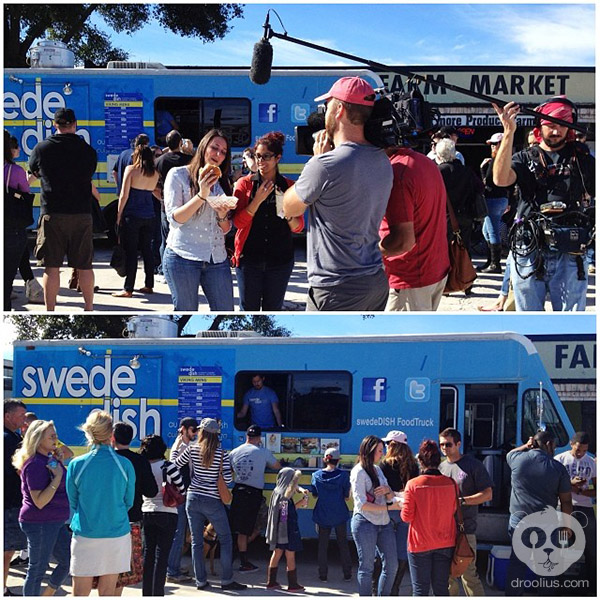 Eat St – 525 SWEDE AS CAN BE
First up…we're bussing to Houston, Texas … And Finally…we cruise to Orlando, Florida for savoury Swedish fare with the Swede Dish truck, serving up big and bold combos like a mashed potato and crab salad hot dog, wrapped up in fresh grilled flat bread.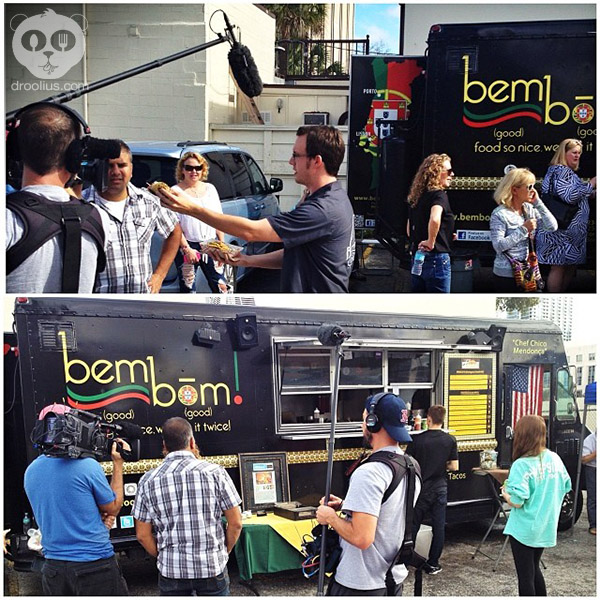 Eat St – 526 FOODIE CALL
First up…we're cruising to Los Angeles, California … And Finally…we roll to Orlando, Florida for unique Portuguese fusion at the Bem Bom truck where you can treat your tastebuds to a savoury, scratch-made lamb burger with housemade jalapeño tomato jam and lemon feta compote.


I will be posting more behind-the-scenes photos from the food truck filming sessions I attended. You can always keep up with Eat St. news on their blog http://eatst.foodnetwork.ca/blog/ and on Facebook www.facebook.com/EatSt


Words and photos by Julius Mayo Jr.
Content and photos © Droolius.com 2014