It's been four years since I've traveled to Las Vegas. While I found a lot of the city to be the same, much has been added on the Vegas strip as far as signs, resorts and casinos. The food is ever changing in this city, as chefs come in with their restaurant concepts and more locally owned restaurants continue to pop up. I spent one week in Las Vegas, attending the SEMA auto show, working as a photographer for the World Food Championships, and eating in restaurants in between. Towards the end of the trip, I found out that Anthony Bourdain was in town filming a live segment called Last Bite for the season finale of his CNN show, Parts Unknown. I stopped by that too and took some behind the scenes photos. You will find those at the end of this post.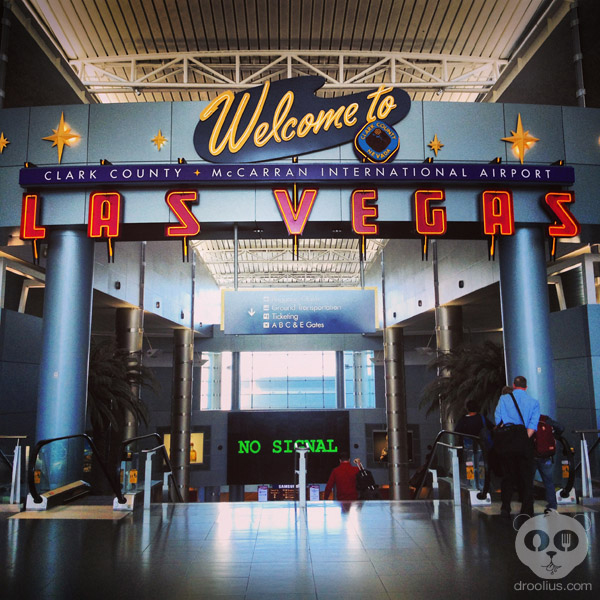 Prior to having a food blog, I used to travel to Las Vegas a few times a year and had a few favorites for food in the area. Coming back this time was nostalgic for me, seeing some of the old places still around, and I found that I was on the hunt for discovering new food in this city. For the most part on this trip, I tried restaurants that I've never been to and many are fairly new to the area. I'm posting the highlights of the food I discovered, many taken with an iPhone 4s or Canon S110 point and shoot camera. As with any trip, I will eventually post more in-depth features on the restaurants along with lots of food photos taken with my DSLR camera. For now, you can check out all of the great food and use this as a guide for your next trip to Las Vegas.



The first stop I made right after the airport was at In-N-Out! This is a must when visiting the West Coast. I ordered the #2 combo, Double Double, strawberry shake (instead of fountain drink), and fries. No time for Animal Style that day because I was on the way to the SEMA show and had to eat fast. Animal style fries are too messy to eat on the go.
In-N-Out Burger 4705 S Maryland Pkwy, Las Vegas, NV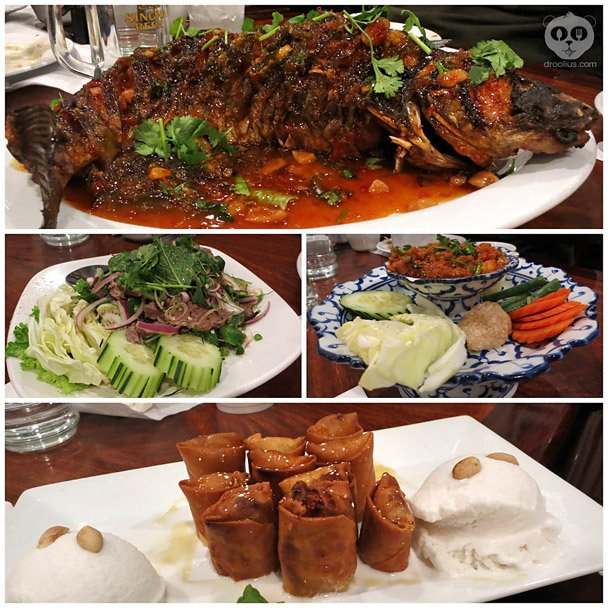 (click image to enlarge)
Thai Food: Deep fried whole fish topped with sweet, sour and spicy sauce, Yum Nuah (Thai Beef Salad), Nam Prik Hed (Mushroom Spicy Dip), Fried bananas with coconut ice cream at Lotus of Siam
I was attending the SEMA show with the guys from my car club, Jade Motorsports. We always go out to eat good food when we travel and I learned how to eat well with these guys. It's no surprise we decided to have dinner at Lotus of Siam, which is said to be one of the best Thai restaurants in the U.S. I'd say it was one of the best Thai meals I've had and we all got to taste a lot. The best way to eat here is family style, to share everything so you can get a taste, then split the check in the end. It works out better that way with a group of 13 hungry people. The photos above are just a tease with a point & shoot camera. I have all of dishes captured on my DSLR camera and will share all 14 dishes in another post.
Lotus of Siam 953 E Sahara Ave A5, Las Vegas, NV 89104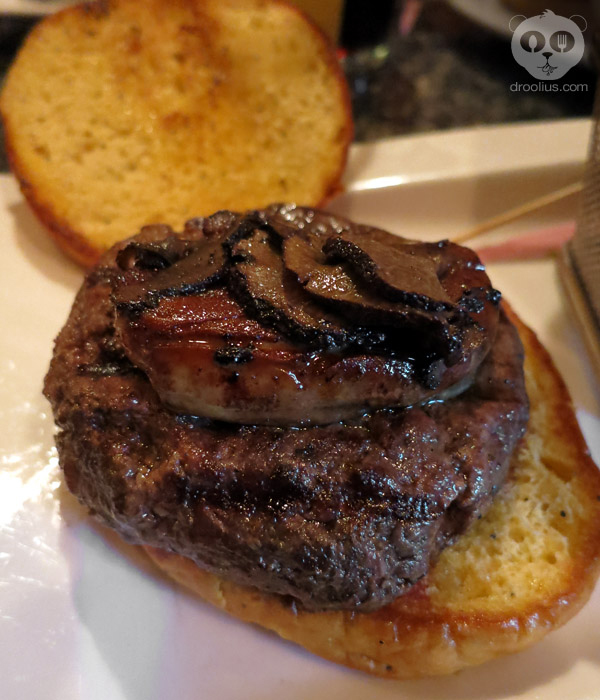 Rossini – Kobe style Wagyu beef (Australian), sautéed Foie Gras, shaved truffles on an onion bun
This is the Rossini, a burger I have been waiting 4 years to eat again. It is that good and I even considered going back for another before I left Vegas. This is definitely my favorite burger! Super rich and savory, the Wagyu beef, sautéed Foie Gras, shaved truffle are an indulgence. It comes with a Black Perigord Truffle brown sauce and includes a choice of dessert. Well worth the $60 price tag.
Burger Bar inside Mandalay Bay resort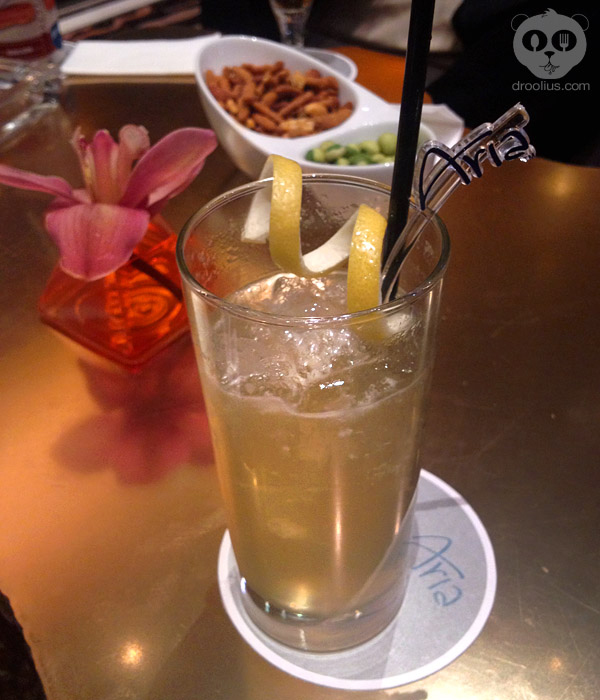 Lobby Bar at Aria French Carousel D'USSÉ VSOP Cognac, St-Germain, fresh lemon juice, Fever-Tree Ginger Beer, Mr. Q Cumber Soda, shaken and served over ice.
I met up for drinks with Florida friends Julie, Jeff and Grace Houck, who were in town for the Pillsbury Bake-Off. It's so much fun to meet up in other cities with fellow food bloggers and writers. We enojoyed some of the signature cocktails and beers at the Lobby Bar and chatted for a bit. Jeff had a list of places to go and he mentioned a Korean BBQ restaurant. We looked it up and it became our next stop…
Lobby Bar inside Aria Resort & Casino Las Vegas, 3730 S Las Vegas Blvd. Las Vegas, NV
All You Can Eat Korean BBQ at Sura BBQ
The four of us drive over to the Chinatown district of Vegas for Sura BBQ. It's a self serve Korean BBQ joint that has numerous kinds of marinated meats and seafood for grilling, side dishes (banchan), a few Korean soups, and even sushi. We grilled up the meat and seafood at our table and enjoyed it all. This is an 'All You Can Eat' spot and I told them I have a 5 plate minimum at buffets I must eat, which is my norm. This evening it was getting late for everyone and I settled for 4 plates, but still felt accomplished. Definitely a fun and tasty dining experience with friends.
Sura BBQ 4480 W Spring Mountain Rd, Las Vegas, NV 89102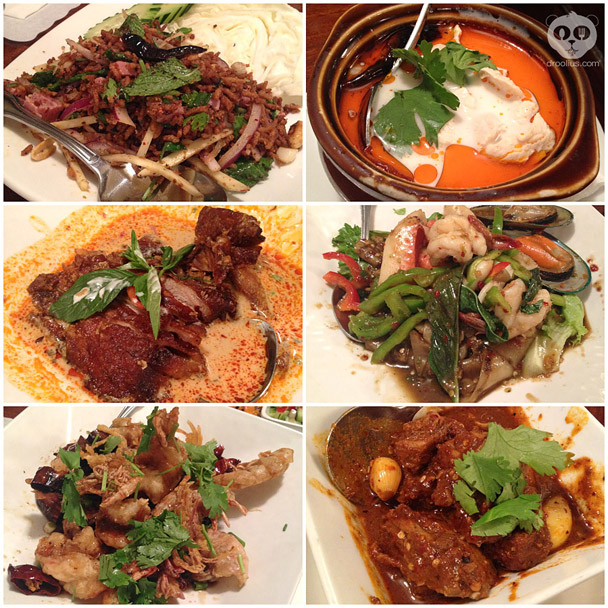 (click image to enlarge)
Crispy rice, Tom Yum Kai, Crispy Duck w/ Panang, Druken Noodle Seafood, Fried Garic Prawn (off menu), Kang Hung Lay (Pork Stew Northern Curry, hot level 8) at Lotus of Siam
Round number two for Lotus of Siam? YES, that's how great this place is. This time I went with a different group of friends including Jeff, Grace, Chef Jon Ashton and friend. I had to order the Panang Duck (again) to share so everyone could get a taste of my favorite. We tried a curry (from Northern Thailand) with spice level 8, that was very spicy and maybe too much for the group, but I was able to finish it off. We shared all of the dishes family style and had another great experience here.
Lotus of Siam 953 E Sahara Ave A5, Las Vegas, NV 89104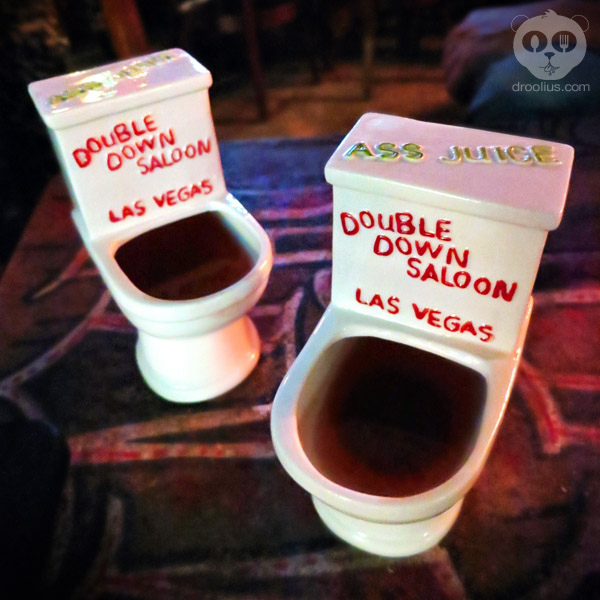 A$$ Juice at Double Down Saloon
During our dinner of Thai food, Jeff mentioned a place on "the list" that we should visit after our meal. A Vegas institution that serves bacon martinis and Ass Juice in mini porcelain toilets. This dive bar is known as the "Happiest Place on Earth" and it's name is the Double Down Saloon. It's the type of place where you "SHUT UP and DRINK", which is painted very large on a wall. All walks of life are here, drinking their drinks, playing pool, having a good time. The Ass Juice, we just had to partake in, tasted like a super sweet hunch punch (the kind we used to make back in college). Possibly a mix of grain alcohol & lots of kool-aid powder, we couldn't really tell you. It was an experience and we lived to tell it. Read Jeff's story here.
Double Down Saloon 4640 Paradise Rd, Las Vegas, NV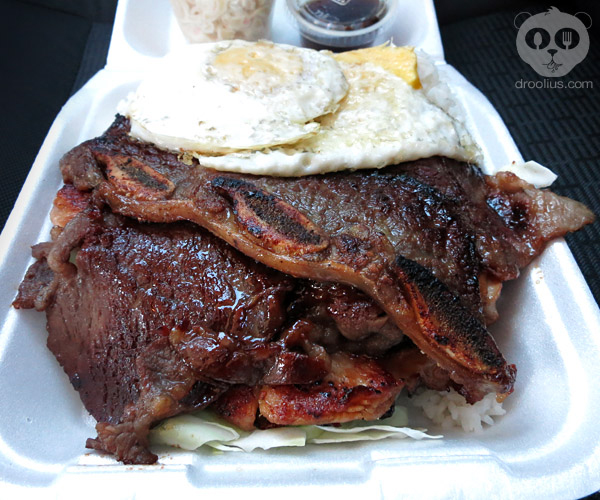 Mix plate of L&L Hawaiian Barbecue beef, chicken, & short ribs over rice + fried eggs at L&L Hawaiian Barbecue
What's better than piles of meat marinated in Hawaiian spices and grilled, served over rice, with a side of macaroni salad and sauce? Maybe adding fried eggs on top because everything is better with a fried egg. This is the traditional Hawaiian style meal you will find at L&L Hawaiian Barbecue and it's great food that fills you up.
L&L Hawaiian Barbecue 4030 S Maryland Pkwy Las Vegas, NV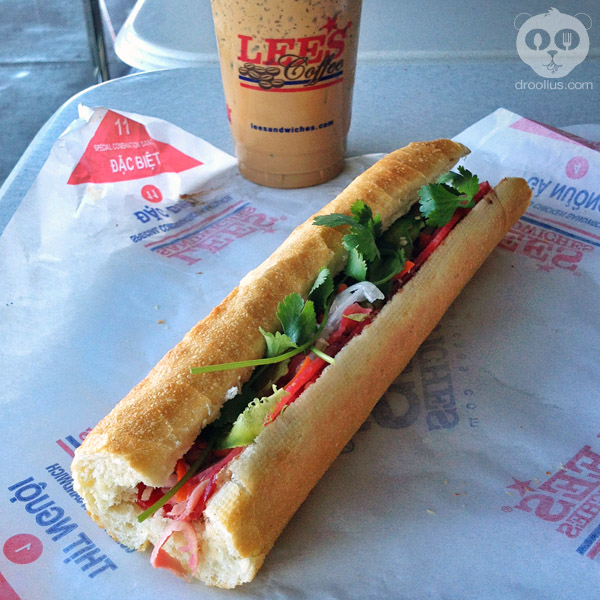 #1 Lee's Combination (Thit Nguoi) Banh Mi sandwich Sliced jambon, headcheese & pate at Lee's Sandwiches
Lee's Sandwiches has been serving traditional Vietnamese banh mi sandwiches since the early 1980's. They know how to make a great banh mi and their baguette is what really makes this sandwich. Stop by for one of their banh mi "Asian sandwiches" and Lee's Coffee (ca phe sua da).
Lee's Sandwiches 3989 Spring Mountain Rd, Las Vegas, NV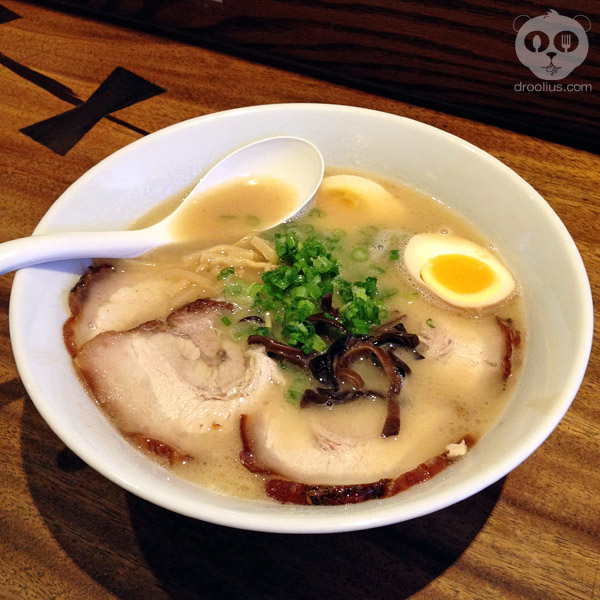 Tonkotsu Ramen + extra Pork Chasu & Nitamago (flavored egg) at Monta Japanese Noodle House
I heard lots of friends say good things about the ramen at Monta. I have to agree, the Tonkotsu ramen was really good and it had a slightly thicker broth compared to other Tonkotsu ramen I've had. They also have variations, a Spicy Tonkotsu and a Kuro Ramen with black garlic oil. I will definitely be back one day to try these.
Monta Japanese Noodle House 5030 Spring Mountain Rd, Las Vegas, NV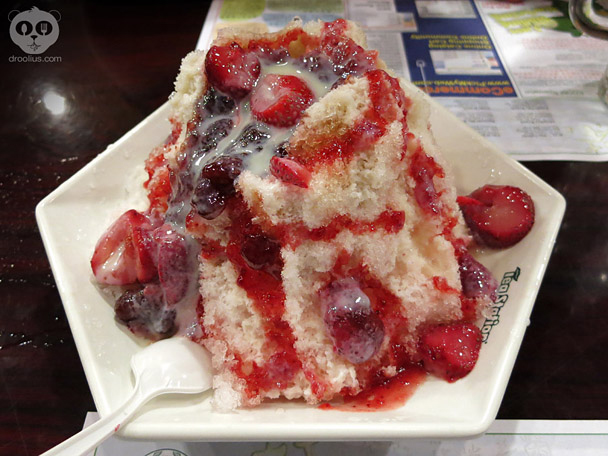 (click image to enlarge)
Strawberry Milk Shaved Ice at Tea Station
For dessert one evening, Droolius contributor Thomas, joined me at Tea Station for boba tea and shaved ice. We ordered a Strawberry Milk Shaved Ice to share and when it came out, a group of girls sitting beside us were laughing. I guess they were in disbelief of the mountain of ice, strawberries and condensed milk that came to our table. We finished most of it, but we had another dessert place to visit.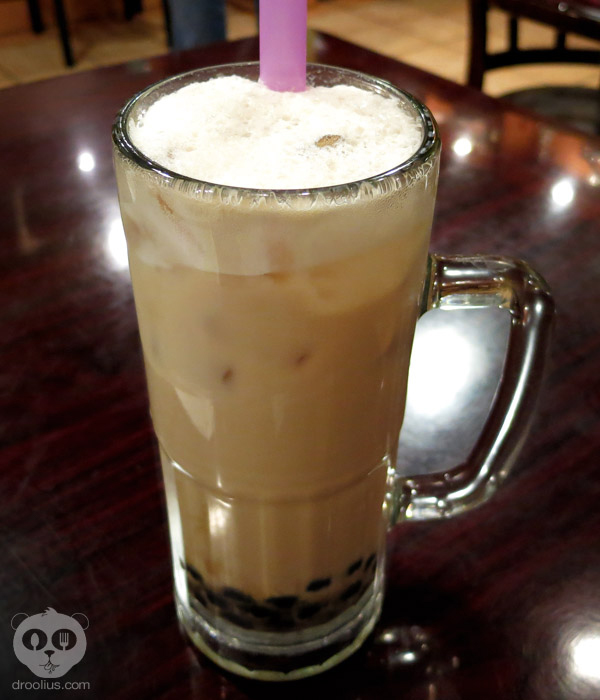 Royal Milk Tea with Boba at Tea Station
Royal Milk Tea (Earl Grey) with boba (tapioca pearls) is one of my favorites to order.
Tea Station 4355 Spring Mountain Rd, Las Vegas, NV



Booboo's taro (remixed) Taro snow, lychee, popping pearls, mango sauce, colorful mochi (instead of gummy bears) at Kuma Snow Cream
A fairly new dessert destination, Kuma Snow Cream is popular with locals, travelers, and national media. The snow cream here is lighter and has more flavor than your typical ice cream or frozen yogurt. You choose your snow cream flavor, add toppings and sauce. They also have a list of "kuma combos" which are chef inspired. I went with the boo boo's taro and remixed it a little (see description above). This is a must stop in Vegas.
Kuma Snow Cream 3735 Spring Mountain Rd #206, Las Vegas, NV
Glazed, apple fritter, coconut, old-fashioned cake donut at Ronald's Donuts
I found out about this place talking to a Vegas local about donuts. Ronald's Donuts is a classic style donut shop, a hole in the wall place located in the Chinatown district. No fancy interior here, just the smell of wonderful donuts. Very nice staff and if you go early you will find an array of flavors. I went in the early afternoon, which is late, and grabbed what I could. The glazed was super good and the apple fritter was probably the best I've had so far. If you enjoy donuts, this is a must stop.
Ronald's Donuts 4600 Spring Mountain Rd, Las Vegas, NV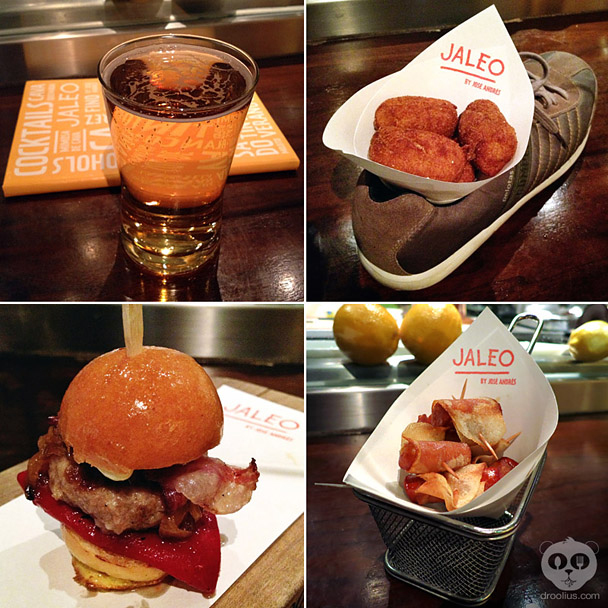 (click image to enlarge)
Estrella Damm Barcelona Lager (beer), Croquetas De Pollo (traditional chicken fritters) served in a shoe, Mini Pepito De Ibérico (Spanish mini burger made from the legendary, acorn-fed, black-footed Ibérico pigs of Spain with ibérico bacon), Chistorra Envuelta En Patata Frita (chorizo wrapped in crispy potato) at Jaleo
A restaurant concept by Chef José Andrés serving Spanish tapas and paellas, this is their only location outside of Washington D.C. The menu has so many interesting small plates to try, it's best to come here with a group and share. I came here solo but probably should have waited to dine with more people. I did try five small plates, which was filling, but there was so much more I wanted to order but didn't because I knew I could not eat it all myself. And yes, that's a shoe the Croquetas De Pollo are served in. More about that later, I will be writing a separate and more in depth post about the food and my experience. This is a great spot if you have a large group who likes to share and try dishes, and they have the space to accommodate.
Jaleo inside of The Cosmopolitan of Las Vegas 3708 S Las Vegas Blvd, Las Vegas, NV
(click image to enlarge)
Loco Kaba Moco – Handmade Hamburger Patty, fried egg & curry over rice, topped w/ Fukujinzuke (pickled radish) at Kaba Curry
Kaba Curry was my last meal on my Las Vegas food adventure. A locally owned restaurant with recipes that started by creating dishes at home. A friend that I've known for a while started this concept with his wife and it has turned into a successful Japanese Curry House located in Vegas' Chinatown. They have created their own blend of spices and turned it into a Japanese style curry, bold in flavor with different spice levels available. You choose your base dish, spice level, sides and toppings. I went with one of the house specialties, the Loco Kaba Moco. A play on the Hawaiian Dish, Loco Moco, this adds curry in place of gravy. I really enjoyed this dish and they have so much more to try on the menu. Definitely a new experience to enjoy and try. More photos and story to come in another post.
Kaba Curry 5115 Spring Mountain Road Unit 234, Las Vegas, NV
World Food Championships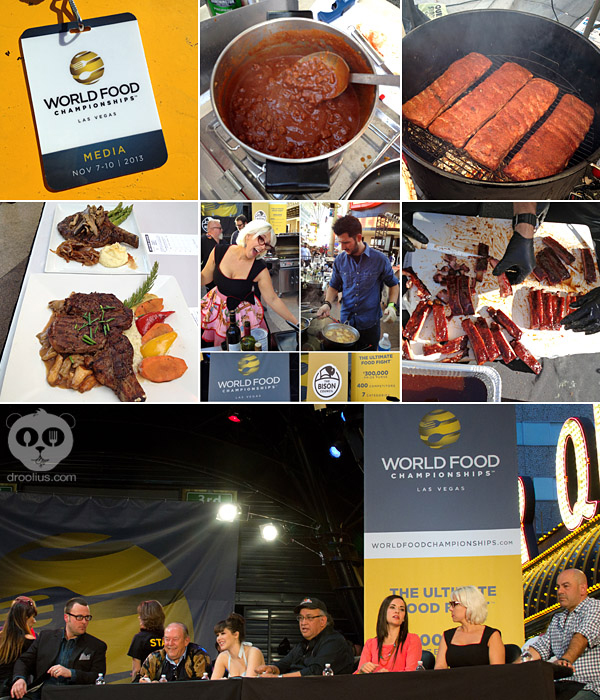 Part of the reason why I went to Las Vegas was for the World Food Championships, Food Fight on Fremont Street. An event in it's second year, cooks and chefs from around the world are invited to compete in a World Championship with categories in BBQ, chili, burgers, sandwiches, bacon, dessert, and a recipe championship. Winners of each category won $10,000 and the World Champion in the end won $50,000. Lots of passionate competitors for some serious prizes. I spent three days photographing the chili and BBQ events, getting to know participants and sampling food along the way. There were many food celebrities and chefs judging all of the food. I had the honor of meeting and chatting with some of the judges, Simon Majumdar, Whitney Miller, Ben Vaughn, Claire Sinclair, and event host Jeffrey Saad. I also saw some friends, Ray "Dr. BBQ" Lampe was there judging food; and two of my chef friends, Emily Ellyn from Orlando and Giorgio Rapicavoli from Miami, who competed in the "Flip the Bird" bison cook-off. There's so much to write about this event, I'll save it for another post. The entire event was being filmed for an upcoming show series about the World Food Championships, so keep an eye out for the show on A&E in Spring 2014.
www.worldfoodchampionships.com
Anthony Bourdain – Parts Unknown, Last Bite
Atomic Liquors 917 Fremont St, Las Vegas, NV 89101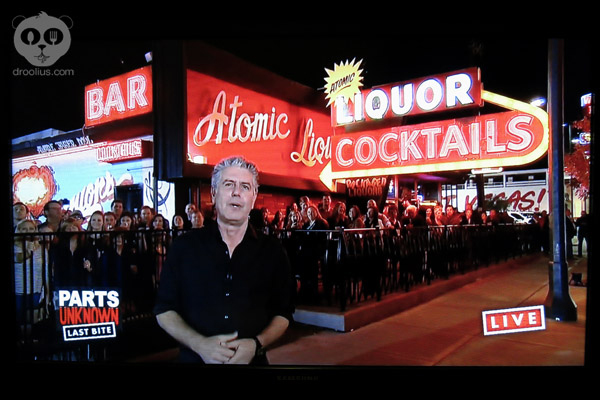 On the evening of the season 2 finale of Anthony Bourdain's CNN show, Parts Unknown, he was in town filming a live retrospective segment called Last Bite. Bourdain was joined by chefs Marcus Samuelsson and Roy Choi, actor Wendell Pierce, comedian Bonnie McFarlane, and news anchor Don Lemon to discuss a few topics that appeared in season 2, including food sustainability and guns in America. Brief clips were shown from various episodes and the entertaining discussions followed.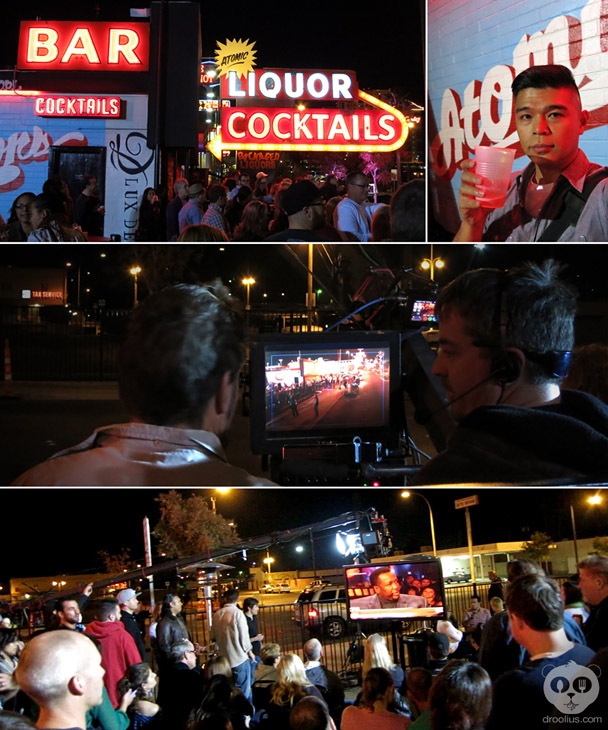 (click image to enlarge)
Behind the scenes outside: 2 flatscreen TVs, a bar serving alcohol and beer, 2 food trucks (not pictured). To watch inside Atomic Liquors during the filming, you had to have a RSVP and be on "the list". I had neither, so I just hung out with the crowd outside where they were having a watch party. CNN had a camera crane filming the overall scene, before and after commercial breaks. I took an obligatory selfie in front of the Atomic Liquors mural because "if there's no photo, it didn't happen." I was there, and it was a good time chatting with locals about food and local businesses.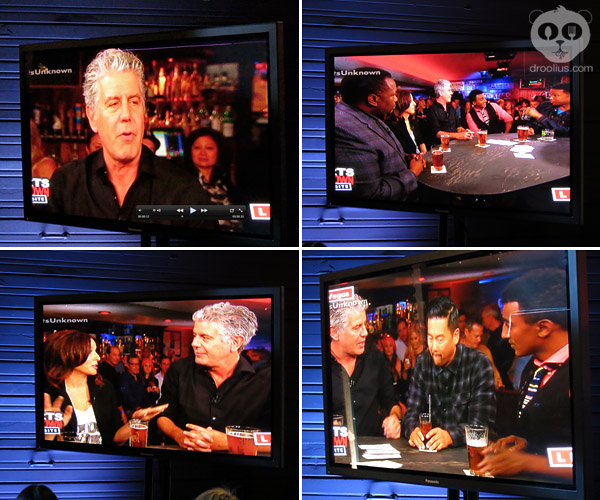 The view we had outside on the TVs at the watch party while they were filming inside Atomic Liquors.



After the filming, Anthony greets people on his way out of the dive bar. One lucky fan gets an autograph and everyone else gets a friendly smile from Bourdain. He is followed by his wife, Ottavia, and they briskly walked to their transportation vehicle. He waves to the outside crowd and everyone cheers. As he passed me, I thought about taking a selfie photo with him photobombing in the background, but I decided not to because that's too hipster (although that would have been cool, maybe).
(click image to enlarge)
I watched the replay on CNN a week later and looked for myself in the crowd. See the yellow arrow pointing at the guy throwing a peace sign, holding a beer in the air, and mouth wide open yelling at the camera? Yup that is me. I made it on to CNN, and sort of with Anthony Bourdain. Reading through some social media, looks like he was actually filming a Las Vegas episode for season 3 of Parts Unknown that week. I'm looking forward to watching that future episode.


In the end, this Las Vegas trip for 2013 was quite eventful. I attended some fun events, ate a lot of great food, and I find myself only wanting more of the Vegas food scene. So many places I missed out on eating, including a canceled reservation to Bouchon (because I ate too much that day), and even more restaurants I found after the trip. This means I need to go back to Vegas to eat again, but without letting a few years go by before my next visit.

Words and photos by Julius Mayo Jr.
Content and photos © Droolius.com 2013