Back in November 2013 I got a chance to work as a photographer for the World Food Championships in Las Vegas. The event is a cooking competition where chefs and home cooks compete against each other in various food categories. This was all filmed and the show will be debuting tonight at 10pm, the "World Food Championships" reality series on A+E Networks' new FYI network (formerly BIO). You'll see some familiar food television chefs,cooks, and personalities hosting each segment. I can't give too much away, but you may see some local Central Florida food talent competing in some of the categories (and possibly me snapping photos in the background).
(click image to enlarge)
The World Food Championships took place in downtown Las Vegas in the Fremont Street District. A section was dedicated to cooking competitors creating their dishes to turn in and a stage was used for cooking demonstrations and to announce winners.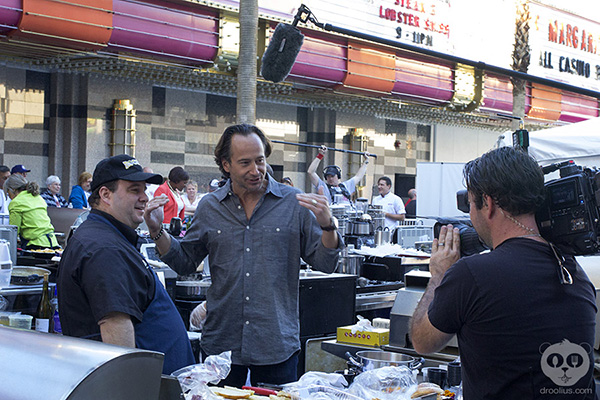 (click image to enlarge)
The live-event competition had 300 competitors from around the world battling for the title of "World Food Champion" and in individual categories of in BBQ, chili, burgers, sandwiches, bacon, dessert, and a recipe championship. Winners of each category won $10,000 and the World Champion in the end won $50,000.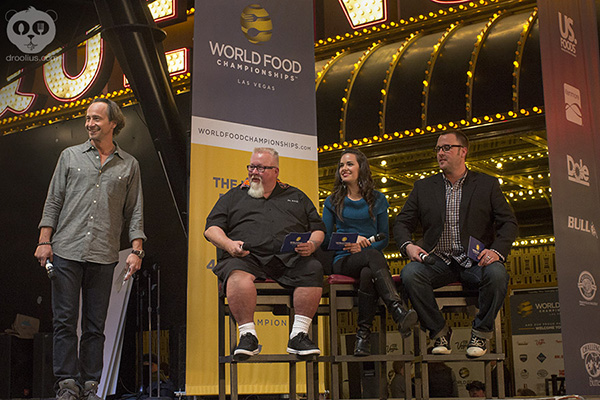 (click image to enlarge)
Many food celebrities and chefs were at the event judging all of the food. Fellow Floridian Ray "Dr. BBQ" Lampe was there judging food and you'll see him on tonight's "Burger Championship" round. I had the honor of meeting and chatting with some of the judges, Simon Majumdar and Whitney Miller, and event hosts Ben Vaughn and Jeffrey Saad. You'll see these folks throughout each episode.
(click image to enlarge)
One familiar face to Central Florida viewers will be Orlando-based chef, Emily Ellyn, who puts in her Retro Rad thoughts about the dishes. You'll see her too on the judging panel too in a few of the episodes.

I'm not sure of the order of the episodes, but I was assigned to the chili and BBQ competitions and those will be in episodes to follow. I'm really looking forward to watching the chefs and cooks of chili and BBQ cook on t.v. They were so passionate about their food and the food I sampled was really great. I'll try to share some photos of the food and more of the competition (if I get permission) in the upcoming weeks during the "World Food Championships" series.
Make sure to tune in on Thursdays at 10pm for new episodes on FYI network, in Orlando that is Brighthouse channel 147 and HD 1240. The current FYI network schedule looks like they will be replaying the first Burger episode several time in the upcoming week.


Read more about World Food Championships: www.worldfoodchampionships.com
More on FYI network: http://www.fyi.tv/shows/world-food-championships

Words and photos by Julius Mayo Jr.
Content and photos © Droolius.com 2013/2014


Read more about my Las Vegas trip: Droolius Travels – Las Vegas: Restaurants, SEMA, World Food Championships, Bars, & Anthony Bourdain