The Twisted Cuban Mobile Food Truck is one of the newer food trucks in Central Florida. Based in Deland, FL this food truck is taking authentic Cuban Cuisine and putting their own creative twist on it, while serving it in their own unique way at special events and food truck gatherings.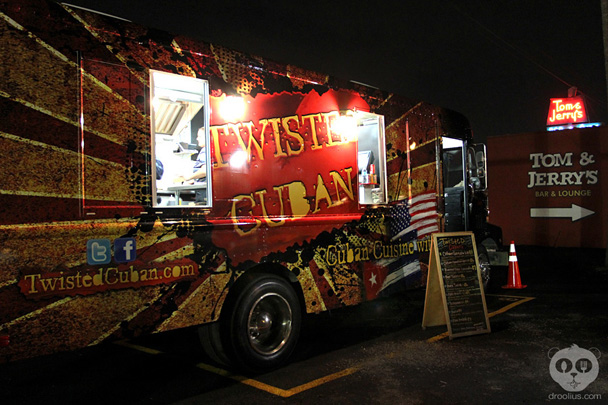 (click image to enlarge)
The first time I saw the Twisted Cuban food truck, I was at a food truck event and the loud colors really caught my attention. I spotted them again while attending the Grand Opening of the Winter Park Food Truck Stop. This location will be a weekly stop for this food truck, including lunch and dinner times. Check their Facebook or Twitter (links below) for a schedule.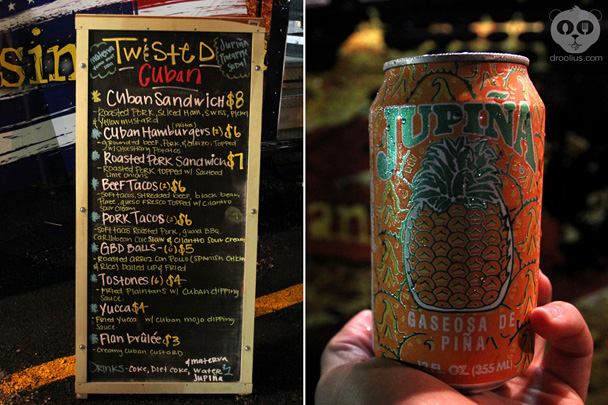 (click image to enlarge)
The menu showcases Cuban food favorites like a Cuban Sandwich, tostones, and yucca. They start getting creative with their Roasted Pork Sandwich and Cuban Hamburger, and get twisted with their GDB Balls, Beef or Pork tacos, and for dessert a Flan Brulée. They also have a variety of drinks like the one above, Jupiña Pineapple Soda. The soda was enjoyable with a light pineapple flavor and not too sweet.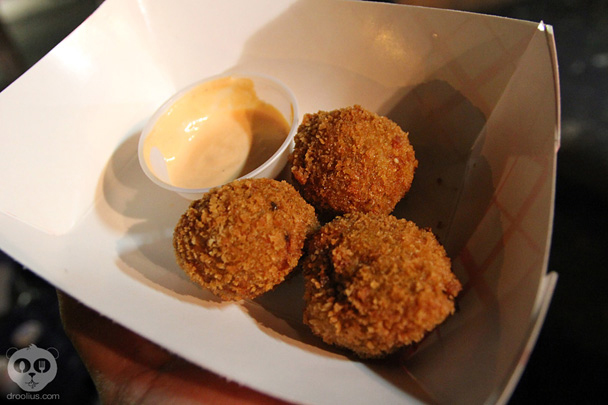 (click image to enlarge)
GBD Balls – roasted arroz con pollo (spanish chicken & rice) balled up & fried Golden Brown & Delicious
Anyone who reads this blog, knows that I love deep fried food. This amazing creation is no exception. A play on the fried Italian rice ball, these GBD Balls (6 per order) have a real tasty homemade arroz con pollo inside and are served piping hot. I was impressed with the flavor and moistness of these cuban style fried rice balls. Great eaten alone or with the housemade dipping sauce (forgot the name and ingredients, but it's good).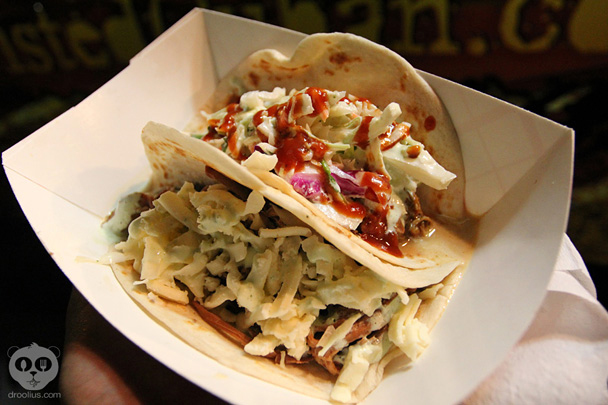 (click image to enlarge)
Pork Taco (top) & Beef Taco (bottom)
Cuban food does not include tacos, yet these are a great example of how food trucks are taking a note from different cultures and creating their own fusion twist. These tacos take meats that have been slow cooked in Cuban seasonings and are served in a soft tortilla, the perfect serving vessel for street food. Add toppings that accent the traditional flavors and you have good tasting fusion.
Pork Taco – soft tacos, roasted pork, guava BBQ sauce, Caribbean coleslaw, and cilanto sour cream
Beef Taco – soft tacos, shredded beef, black bean puree, queso fresco, and cilantro sour cream
(click image to enlarge)
The Pork Taco (left) is a slow roasted pork that is full of flavor and really moist from the drippings added before putting into the taco. Topped with a guava BBQ sauce that gives it a nice sweetness and tang, the Caribbean coleslaw adds a light flavor and texture, while the cilanto sour cream adds some creaminess with a hint of cilantro. It all works well together when all of the ingredients combine into one bite.
The Beef Taco (right) is a slow roasted beef that has a flavor similar to Ropa Vieja. Like the Pork taco, the ingredients really combine well together to give a good flavor. The beef is shredded and moist topped with its drippings. The black bean puree and queso fresco gives a richer note and cilanto sour cream adds a refreshing touch of flavor.
The Twisted Cuban MFT does a great job of highlighting authentic Cuban flavors in their own unique creations. Everything I have tasted so far, I have enjoyed with the familiar Cuban flavor I recognize. I look forward to trying the Cuban Sandwich and some of the other menu items. I do not want to over hype the food, but I did enjoy it, so you will just have to try the food at Twisted Cuban and tell me what you think. If you have a favorite on the truck, let me know that too. Hit me up on the Droolius Facebook, Twitter, or leave a comment below…
p.s. I heard they will be installing their coffee machines soon, so get ready for a Cortadito or cafe con leche. I'm ready!
Twisted Cuban MFT
www.TwistedCuban.com
Twitter @TwistedCubanMFT
Facebook Page

Words and photos by Julius Mayo Jr.
All content and photos © Droolius.com 2011