Barbecue restaurants in Central Florida vary in different styles and techniques. Some have Southern roots while other restaurants stem from Texas BBQ traditions. Uncle Kenny's BBQ is based on a Midwestern style BBQ and the business was started by two college friends from Missouri (Kansas City, MS being the world's barbecue capital). Fast forward years later, the two friends opened Uncle Kenny's BBQ while also participating in BBQ competitions sanctioned under the Florida Barbeque Association (FBA) and Kansas City Barbeque Society (KCBS).
Uncle Kenny's BBQ previously operated in Winter Garden, FL out of a Maryland Fried Chicken location on West Colonial Drive, sharing the space to cook and serve their food. I say "previously operated" because since the beginning of 2012 they ceased operations in Winter Garden in order to focus on opening their own restaurant in Clermont, FL in February 2012 (details at bottom of the post). The food photos below are from the previous Winter Garden location which they were operating out of for the past few years and it's where I first got to try their award winning barbecue and sauces. You can view all of their BBQ competition results [HERE] and you will find they repeatedly rank high in BBQ chicken, brisket, ribs, and pork. Uncle Kenny's top honors goes to their Uncle Kenny's Original Sauce which is ranked 1st in the U.S. and ranked 14th In The World. Those are very impressive numbers and I have to say the BBQ sauces (not pictured unfortunately) were very good and tasty.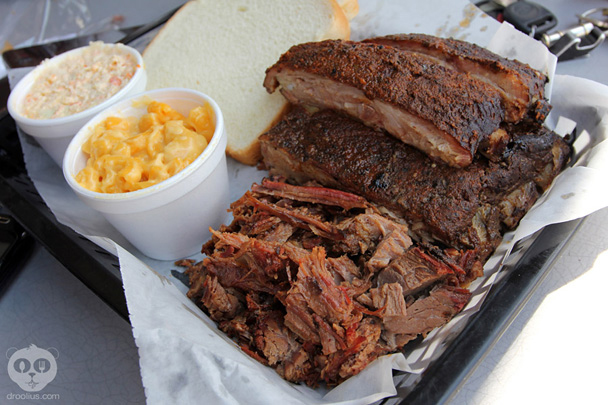 (click image to enlarge)
2 meat combo w/ sides: Ribs, chopped brisket, cole slaw, mac & cheese
Barbecue Meat Combos are the way to go when trying a restaurant for the first time. Here at Uncle Kenny's I ordered the ribs and brisket because in my experience it is harder to find good tasting and tender ribs in Central Florida and not many places serve brisket.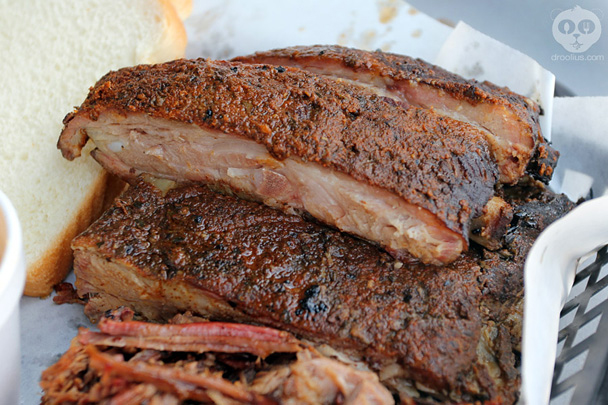 (click image to enlarge)
Uncle Kenny's BBQ ribs
The ribs were moist and pulled off the bone with a gentle tug. I learned recently that competition BBQ does not necessarily mean "fall off the bone when picking up the rib". These were quite tender and the bone easily pulled away. The dry rub on the ribs provided a good flavor along with its smokiness. They were great alone or with the sauces to add a kick of flavor. I enjoyed the Uncle Kenny's Original Sauce and Uncle Kenny's Spicy Sauce. They actually sells their rubs and sauces on their website for those who want to try grilling at home.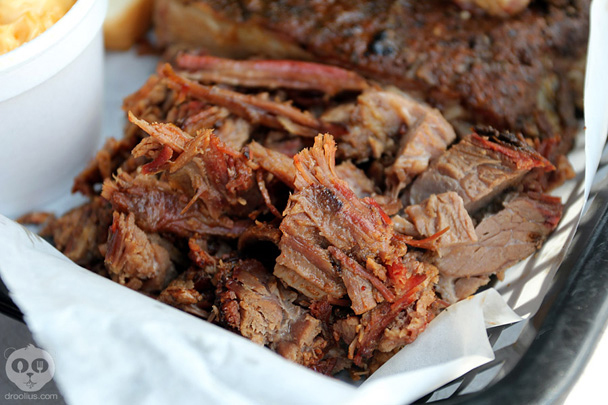 (click image to enlarge)
Uncle Kenny's Brisket
The brisket is served chopped and I read that this is how their customers like it. They do offer sliced brisket upon request, which is how I plan to order it next time I visit their new location. The brisket itself was flavorful and tender. Tasted great with all of their sauces too.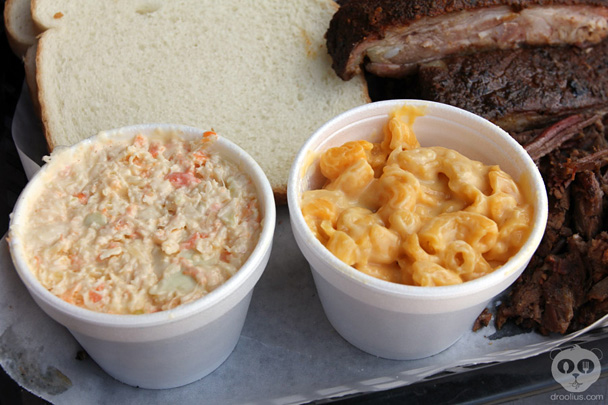 (click image to enlarge)
Side dishes Cole Slaw & Mac & Cheese
The cole slaw and mac & cheese were standard in their flavor, no more, no less. They plan to add more items to their new restaurant's menu so we'll see if there are any changes with the sides. One new addition is a pulled pork egg roll which one of the owners told me about on a recent phone call. Sounds interesting, I am willing to try it.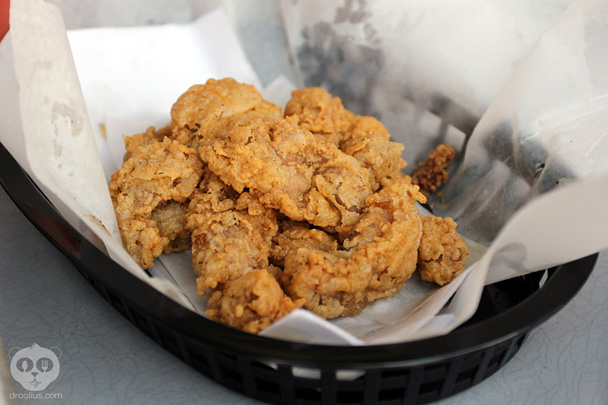 (click image to enlarge)
Appetizer or side dish Fried Gizzards
My friends ordered this as an appetizer but it could easily be a side dish as well. For the more adventurous eaters it is actually pretty good. As to some people gizzards may be a childhood delicacy, but for me it is adventurous. At least you know they are available and most likely be served at the new location.
The overall meal and barbecue experience was pretty good. I can say that the ribs I liked more than most BBQ restaurants in Orlando so that should say something. The brisket is pretty good too and I look forward to tasting more of their BBQ menu like pulled pork and chicken, all which are award winning in BBQ competition standards.
Uncle Kenny's BBQ is opening their new restaurant to Clermont, FL near the Citrus Tower. The new location will seat 50+ people with an open kitchen for viewing patrons. The set date for the Grand Opening is February 10, 2012 and they are competing in two BBQ competitions on the two previous weekends. To find more information on Uncle Kenny's new location check out their website link below and Like them on Facebook to see updates/photos on the new restaurant.

Uncle Kenny's BBQ – *new location Grand Opening on Feb. 10, 2012
157 N Highway 27
Clermont FL 34711
www.unclekennysbbq.com
Facebook page
Twitter @UncleKennysBBQ


Words and photos by Julius Mayo Jr.
Content and photos © Droolius.com 2012