Taste of The Nation Orlando is back again this weekend on Saturday, August 9 and I wanted to share my experience from back in 2012. Consider this a Throwback Thursday post on my first Taste of the Nation from two years ago. The event is a culinary celebration and fundraising event, with ticket sales and silent auctions supporting Share Our Strength's efforts to end childhood hunger. There are a number of restaurants who participate from around Central Florida and their chefs are on hand plating dishes. It's fun to watch them in action as you wait in line to get a taste of their dish for the evening. An array of appetizers, entrees and desserts are available to sample, along with craft beers and wines.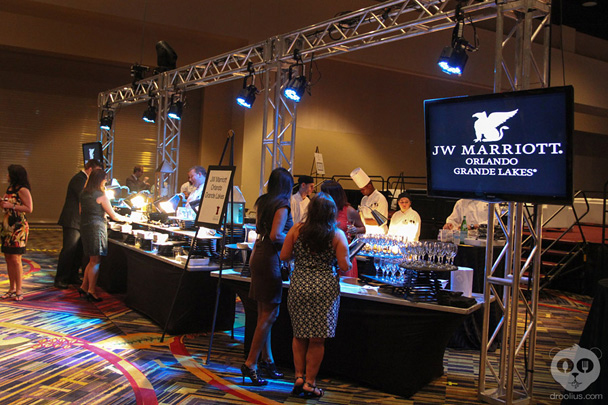 (click image to enlarge)
Since Taste of The Nation 2012 was my first event, I was not sure of what to expect. So I am sharing some photos here of what I have experienced for food and these are some of the returning restaurants serving at this year's event. Use it as a preview of what could potentially be served, but they usually change up their dishes every year.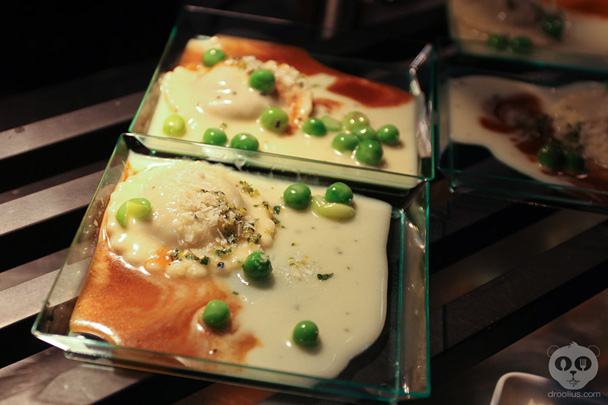 (click image to enlarge)
Orlando World Center Marriott
Ravioli of Braised Beef Short Rib, white sauce, peas
(click image to enlarge)
The hosting venue, Orlando World Center Marriott, was serving a Tomahawk steak back in 2012. Let's just say I was very happy to see this being served and I may have went back a few times for this dish.
(click image to enlarge)
Orlando World Center Marriott
Caramelized Tomahawk steak, Ranch Beans, Fried Onions, Fried Rosemary.
(click image to enlarge)
K Restaurant and Wine Bar
Seared Hudson Valley Foie Gras, Fried Rosemary Waffle, Bacon Chutney, Blueberry Marmalade
My favorite dish of 2012, chef Kevin Fonzo and his team really made an amazing bite of food. I recently posted this photo again on my Instagram and named it one of the best things I've eaten in Orlando.
(click image to enlarge)
Sushi Pop

WHITE TIGER – Kampyo, Escolar, Cucumber, Sweet Chili, Topped with Salmon, Shallot – Ginger Sauce, Daikon Sprouts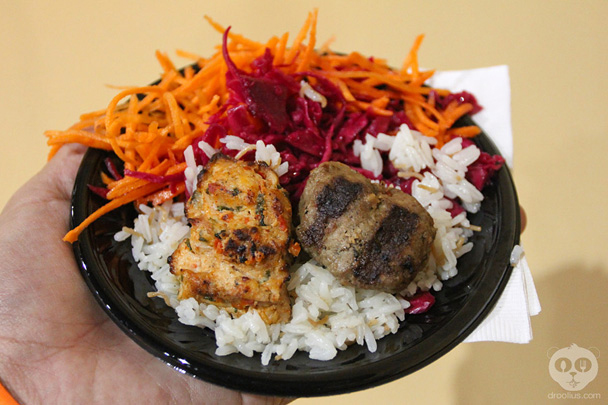 (click image to enlarge)
Bosphorous Turkish Cuisine
CHICKEN ADANA and LAMB AND VEAL KOFTE with Jasmine Rice, Pickled Red Cabbage, Sliced Onion, Carrots and Chef's House-made Dressing
(click image to enlarge)
Taverna Opa
Baklava – Walnuts, Cinnamon, Cloves and Honey
There are a selection of desserts, so one tip I can give you is either save room for dessert OR start with dessert.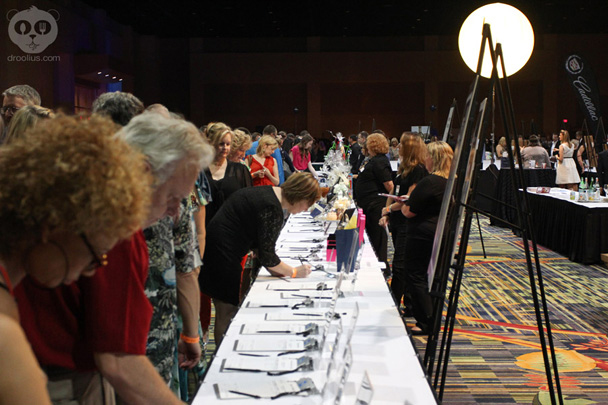 (click image to enlarge)
We are all at Taste of the Nation Orlando to support the Share Our Strength organization to help end childhood hunger. If you are capable, consider participating in the silent auction which further helps Share Our Strength; local beneficiaries: Coalition for the Homeless of Central Florida and Second Harvest Food Bank of Central Florida; and Statewide Beneficiaries:
Florida Impact.
Tips for Taste of the Nation Orlando
1. Prioritize and get in line – Look over the list and find the restaurants you want to visit the most and go there. Most likely there will be a line and it is worth the wait because they could have a line the entire night and then run out of their dish before you get there.
2. Eat while you are waiting for your next dish – If there is something you want to try on the way to your next dish without a line, grab that dish and continue to the next line and eat. (this is for those trying to tackle the entire event)
3. Sharing is caring – to get a taste of everything with out getting full too fast, try sharing each dish to literally get a taste and go back for another if you enjoy it that much.
4. Save room for dessert – you can try to save room for dessert or just start with dessert. Dessert lines are usually empty in the beginning and the lines start after everyone has had their full of savory dishes.
5. Sit down, enjoy the food, music, and people – I usually get caught up trying to taste every dish, but it's always good to sit down to eat and enjoy yourself. Visit with friends and do a little networking. Sharing the food experience with others makes it memorable.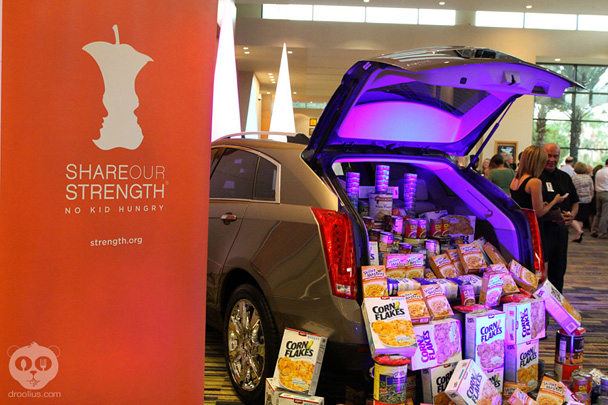 (click image to enlarge)
I hope my revisit to Taste of the Nation Orlando 2012 has helped give an inside look to this event for a great cause. I'm looking forward to this year's Taste of the Nation Orlando to see what the chefs and restaurants have in store for the event. If the photos have piqued your interest and you need more information, visit: ce.strength.org/events/taste-nation-orlando
TASTE OF THE NATION ORLANDO 2014
WHEN:
Saturday, August 9, 2014
6:45 p.m. – 10:00 p.m.
WHERE:
Orlando World Center Marriott 8701 World Center Dr., Orlando
TICKETS:
$150 each
ATTIRE:
Cocktail / Semi-Formal
Tickets available at: ce.strength.org/events/taste-nation-orlando

Words and photos by Julius Mayo Jr.
All content and photos © Droolius.com 2012-2014

Disclaimer: I was invited to attend Taste of the Nation as media. I am not compensated to write this post and all opinions are always my own.