A few months ago I was searching around for a French bakery or pastry shop around the Orlando area who sold macarons. A search on Google pointed to a dessert shop in Sarasota, FL called
Le Macaron in Saint Armands Circle. I'm familiar with that area, but I just found it strange how there are a number of French restaurants, bistros, cafes, and bakeries here in Central Florida and yet no one made or sold macarons. Making macarons of course is an art form in itself, so making the trip to Sarasota was worth the hike to get a taste of these delectable treats.
(click image to enlarge)
Entering Le Macaron in Sarasota's Saint Armands Circle, you find a boutique style dessert shop with accents of magenta on the walls with aluminum round tables and pink acrylic chairs for sitting. The space is modern and decorated nicely. The glass case showcases their specialty macarons, along with chocolates by Norman Love and a station for gelato.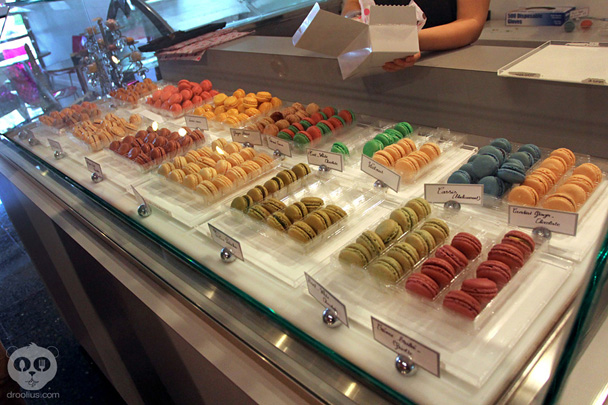 (click image to enlarge)
There were 16 macaron flavors available and I was tempted to try most of them. Since this was my first visit where I actually ordered my own macarons, I opted for a box of 20. Previously I was gifted by and shared macarons with guest blogger @iEatsByJEWELeS from desserts shops from up North. You can read the macaron posts [Here] and [Here].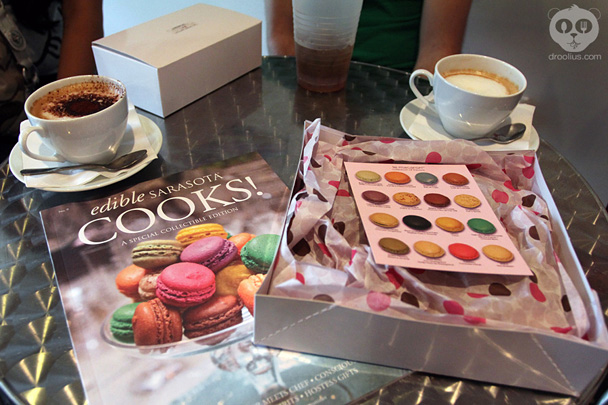 (click image to enlarge)
Le Macaron in Sarasota was recently featured in the Edible Sarasota Magazine with a front cover shot. Our group sat down with a few boxes of macarons and we spent some time tasting the treats and sipping on coffee. Food partner OD ordered a capuccino and I got a latte.
(click image to enlarge)
Here's the box of 20 macarons. No I did not eat all of them by myself, rather I shared them and brought some home. The box contained sweet flavors like Caramel Salted Butter, Mint with white chocolate, Madagascar Black Vanilla to a very unique Basil and White Chocolate. The Basil macaron I did like with its pronounced basil flavor, but I'm not sure if everyone will appreciate it's uniqueness and flavor profile. I enjoyed it and I think its a good one to try for anyone. Highlights were also the Cassis Black Currant (blue macaron) with its tart/sweet filling and my favorite the Colombian Coffee. The Colombian Coffee had a rich coffee flavor with the perfect sweetness.
(click image to enlarge)
Crunchy Piedmont Praline – this was the first macaron I ate and it was great. The outer shell is crisp, with a soft filling, and a balance of sweetness and Praline flavor.
Macarons I have had thus far from other dessert shops have been a little flatter and larger like a cookie. The macarons at Le Macaron have a delicate crisp outer shell with a very soft and chewy inside. They are slightly smaller in circumference but a little taller and puffier, which is the traditional way they are made in France. The owner is French and the pastry chef who developed the recipe was trained in France. So that would make these macarons truly authentic and the recipe is specific to work in this area (more on that later).
(click image to enlarge)
Each macaron has its own flavor profile and varies in sweetness. I enjoyed each one with a sip of my latte.
While ordering the box of macarons, I met the friendly owner who helped me pick out some flavors. I mentioned I was visiting from Orlando and she informed me they had just opened a location in Winter Park a few weeks ago. Well I was surprised and was glad to find out they have expanded to Central Florida and also a location in Miami. If you are in Southwest Florida and want a comfortable place to enjoy some sweet treats, I recommend going to Le Macaron in Sarasota.
Le Macaron
382 St. Armands Circle
Sarasota, FL 34236
www.lemacaron-us.com
Sarasota Facebook page


Next stop: Le Macaron in Winter Park, FL
Continuing the quest for macarons, I drove back the next day to Central Florida and stopped by the new Winter Park location on Park Avenue. Although it is down a hallway and not visible from the street, I think it is a cozy escape from the hustle and bustle of pedestrian traffic on Park Avenue.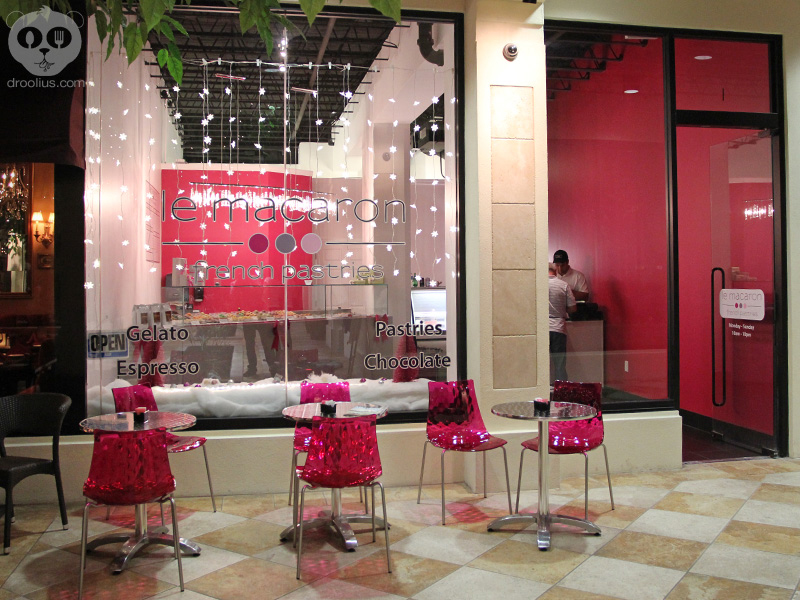 (click image to enlarge)
Keeping with the company's theme and ambiance, the hues of pink and magenta are similar at this Winter Park location to the original Sarasota store. A few tables just outside of the shop provides a comfy seating area (which is next door to the seating area of Paris Bistro). This location being tucked away down a hallway can be beneficial during hot summer days and being able to enjoy your dessert without direct sun light.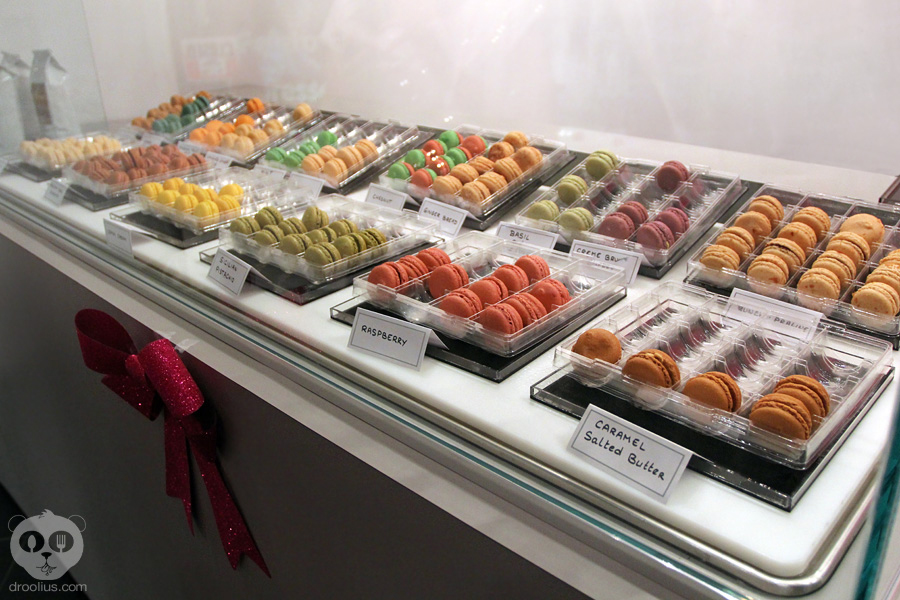 (click image to enlarge)
The same 16 flavors were offered and the same prices as well. I found out that the owner of this location is the son of the Sarasota owner. He moved to Central Florida from France 2 months ago and is keeping busy with this new store. He gave me some in depth knowledge about macarons in general and about Le Macaron's recipe. Macarons are made from ground almonds and soft meringue, filled with a creamy filling. The humid and warm weather of Florida actually affects the meringue, so the recipe from France was slightly modified to work in this area. The Le Macaron recipe was developed by his brother-in-law who studied how to make macarons in France. So the art of making these treats has been perfected in house, by way of French pastry training. That must be the reason why several people (online) have claimed these macarons to be just as good, if not better, than the ones found in their country of origin.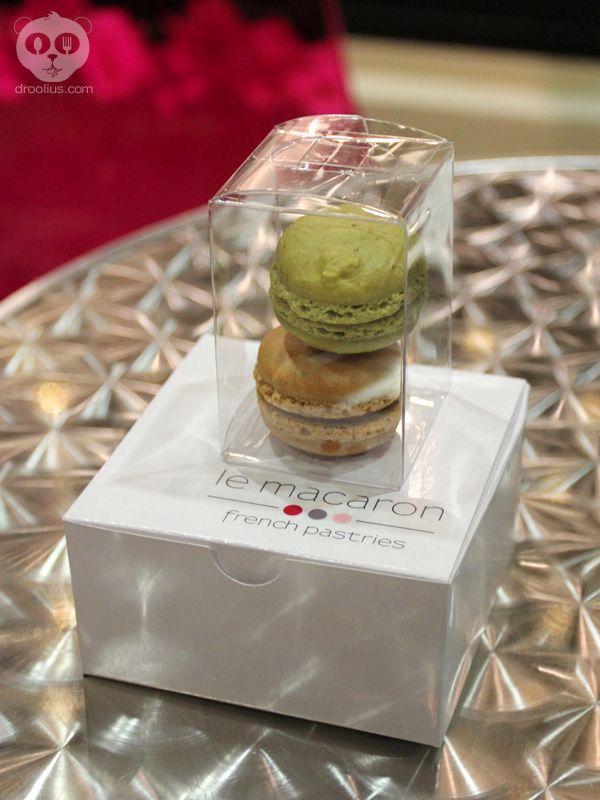 (click image to enlarge)
Available in a duo or a box of 6 macarons, its a nice little gift to give anyone or enjoy yourself.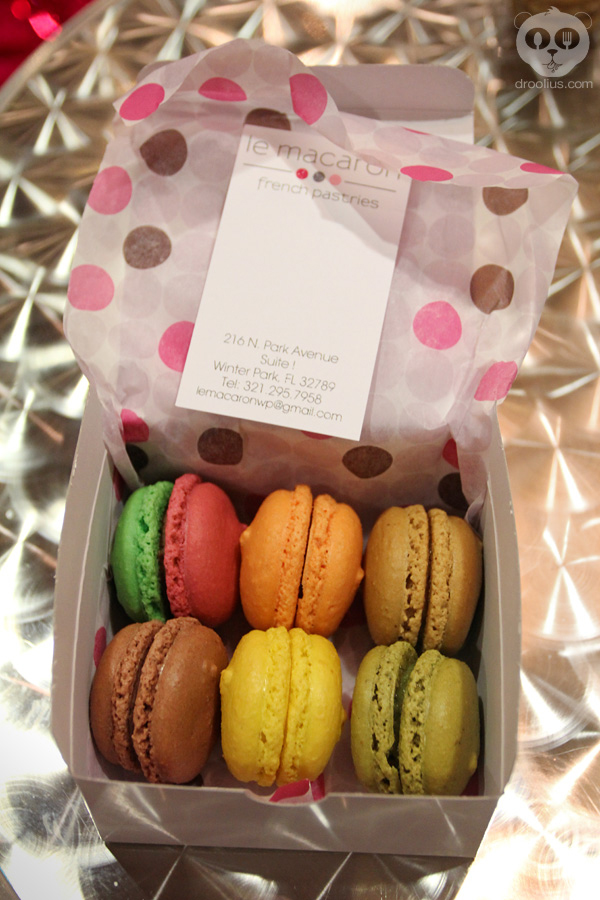 (click image to enlarge)
Chestnut, Passion Fruit, Colombian Coffee, Belgian Dark Chocolate, Lemon, Sicilian Pistachio
I took these 6 home and ate them the next day. They were all still good a day later, keeping a crisp outer shell and maintaining a delicate center. The lemon was surprisingly nice and refreshing, and of course the Colombian Coffee was my favorite.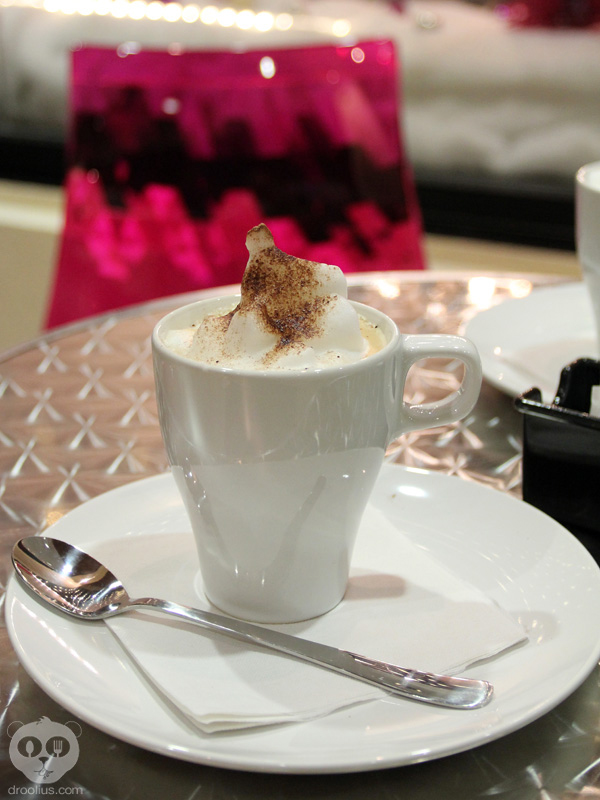 (click image to enlarge)
Cappuccino – this was a smooth and enjoyable without sugar. It pairs well with macarons or enjoyed by itself (I drank most of it before I ordered the pastries). I liked this one slightly better than the latte in Sarasota, but both feature a good bean roast.
(click image to enlarge)
Madagascar Black Vanilla, Creme Brulee Cherry, Colombian Coffee
If you plan to eat the macarons right away, they simply put them in a small clear plastic bag. All three were good, nice balance of sweetness to named flavors, but I think you know which one was my favorite.
(click image to enlarge)
The shop features a selection of chocolates by Norman Love, which I heard are very popular. Also based in Southwest Florida, these mini pieces of chocolate art with beautiful colors will have to wait for another trip. I did sample a few of the gelatos and I ended up ordering a small Lemon Merengue gelato. Make sure to sample some flavors, you may end up ordering a gelato with your macarons.
(click image to enlarge)
My first visit to Le Macaron in Winter Park was in the evening, which are the photos above. Found tucked away down a hall way with 2 long Koi fish ponds, its a pretty atmosphere. From Park Avenue they do have a sign directing you to their location, but if you spot the Paris Bistro sign above, then you know you're walking down the correct hallway.
This is a great addition for desserts to Winter Park and Central Florida. With a few other French restaurants and bakeries, let's see who else will start selling macarons in the area. The local market is filled with so many cupcake and frozen yogurt shops, macarons may be the next trend if you can get the recipe right. Macaron shops are popping up in all the major cities, along with a macaron food truck in the Northeast. The owner informed me there are many different styles of macarons, from large to small, with many different flavor combinations. I actually found I enjoy tea flavors such as green tea or Earl Grey flavors. While there is no wrong way per say to make a macaron, it's always good to taste the classic version first. Visit Le Macaron to get a taste of an authentic French version and see which macarons you like best.
Le Macaron
216 Park Ave.
Winter Park, FL 32789
www.lemacaron-us.com
Winter Park Facebook page

Words and photos by Julius Mayo Jr.
Content and photos © Droolius.com 2012