Barbecue is a food that I enjoy to eat and I have learned to appreciate. I've eaten my fair share of BBQ around Florida and in other states. Growing up in a rural part of Florida, you are exposed to many types of bar-b-que from backyard grilled BBQ served at homes to smoked BBQ meals at the rodeo. I've eaten at places claiming "best BBQ" but at times have left me wondering where's the seasoned tender pieces of meat or falling off the bone type of ribs? Well at Keller's Bar-B-Q in Orlando, there is no question that they serve quality delicious smoked BBQ that I enjoy. With three locations in Central Florida, I can say it's real barbecue that serves people who love smokey tender meats with good BBQ sauce.
(click image to enlarge)
When going to bar-b-que restaurants I like to try a sampling of meats and sides. This trip to Keller's I ordered the Dinner Platter THREE MEAT COMBO – A large portion of Beef and pulled Pork with Ribs and 3 sides – green beans, cole slaw, fries.
I quickly learned going to Keller's that food is consistent in quality and has that smokey BBQ flavor which is well seasoned and always tender. I usually go to the University location of Keller's which is down the road from the University of Central Florida. I only wish they had this place back when I was attending UCF, I would have probably gone here at least once a week and spent my college budget here instead of the grocery store.
(click image to enlarge)
Pulled pork is my usual choice when I go to BBQ restaurants. I ordered a sampling of meats and the pulled pork pictured above was served on the side, due to the main plate being overcrowded with meats and sides. The pulled pork at Keller's is super tender and moist, packed with flavor. Dipped in some bbq sauce and placed on some garlic toast, it makes an awesome bbq sandwich.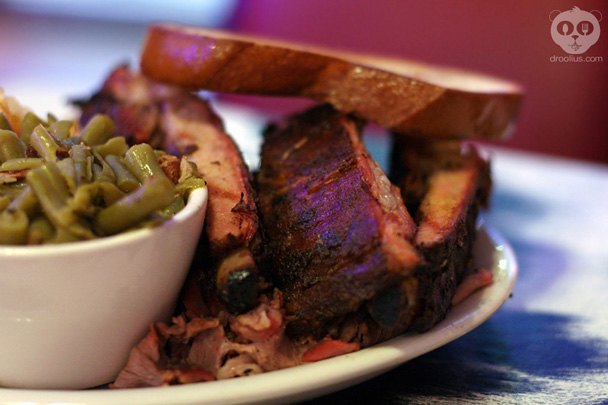 (click image to enlarge)
The smoked Ribs are exceptionally great here. They are very tender and the meat falls right off the bone. You would think this is the norm but there are bbq places here in Central Florida that serve ribs that the meat needs to be ripped off the bone. Keller's does it right and their ribs are smoked till the meat can be pulled easily from the bone, full of flavor and never dry.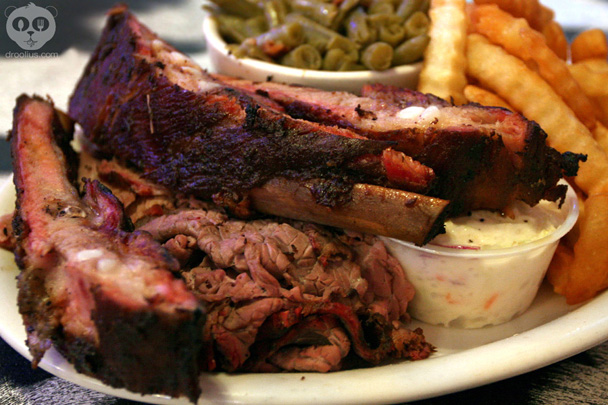 (click image to enlarge)
The Three Meat Combo dinner plate is abundant with meats and sides. The sliced beef is tender like all the other meats and very tasty. The side of home-style cole slaw is crisp, light and not too heavy with mayonnaise which is a good thing. Ribs of course are tender and delicious.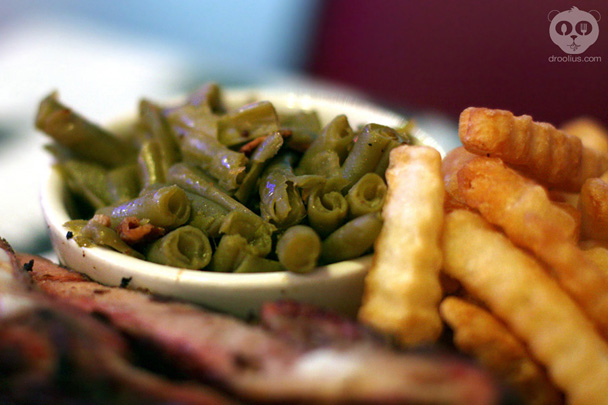 (click image to enlarge)
The side order of green beans tastes great and is properly seasoned. Not over cooked or mushy, the green beans are fork tender and has pieces of pork which gives nice flavor. Fries are always good ordered extra crispy for the tender inside and crunchy outside.
(click image to enlarge)
Keller's Real Smoked Bar-B-Q has become my "go-to" spot for barbecue. I've taken local friends and out-of-town visitors and they have all enjoyed it. Affordable with decent service its a convenient restaurant for a quick meal or a relaxed lunch or dinner. In my experiences here the meats served are always tender, flavorful and juicy, which is why I'm a repeat customer. Keller's proclaims "…REAL SMOKED BAR-B-Q done by our traditional smokin' process…" which I have to agree with and I say its real barbecue made the right way.
Keller's Real Smoked Bar-B-Q
(UNIVERSITY location)
7756 University Blvd., Suite 104
Winter Park, FL 32792
407-388-1222
www.kellersbbq.com
Words and photos by Julius Mayo Jr.