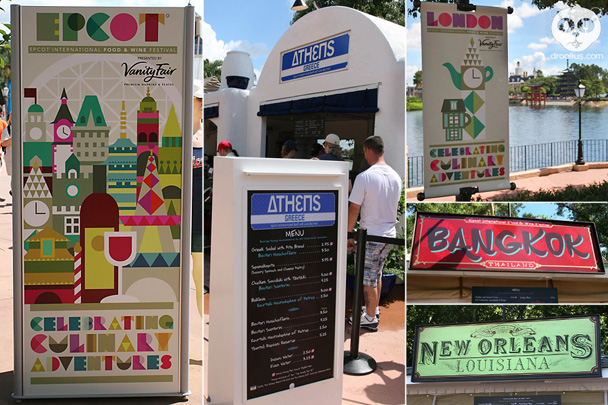 This is the continuation of the 2009 Epcot International Food & Wine festival coverage. Pictured here are more of the festival's food along with wine and beer images. There's so much to eat and drink that even going on 2 different days last year was a challenge to taste everything, but we attempted to and took many food photos in the process.
The previous blog post 2010 Intro & Droolius' Top 10 Food of 2009 featured just our Top 10 food picks, while this post serves as a mini guide to more food with the beer and wine photos.
The festival has many types of food, wine, and beer being offered each year and while some countries and food remain consistent, changes are made in the line up on which countries they have kiosks for. This year for 2010, the Food & Wine festival adds Belgium, South Korea & a station for Charcuterie and Cheese to the line up, while India, Austria, New Orleans & Thailand did not make it back. Some of these countries not returning this year had some good offerings and are pictured below.
Spain
(click image to enlarge)

Taste of Spain (Serrano Ham, Chorizo, Manchego, olives, tomato bread)
I really liked this appetizer, the Serrano Ham was flavorful and not too salty. The chorizo had some great taste with a little kick of spice and was smooth without any rough bits for a sausage. Olives were of good quality and the manchego cheese was soft, creamy, and delicate in flavor. Tomato bread was just a filler I think but overall the entire appetizer was enjoyable.
(click image to enlarge)

Red Snapper Escabeche
This was a nicely cooked piece of fish, flaky inside and nice crust on the outside, not overcooked. It was a delicately seasoned piece of fish and paired well with the accompanying salad.
Morocco
Morocco's Sangria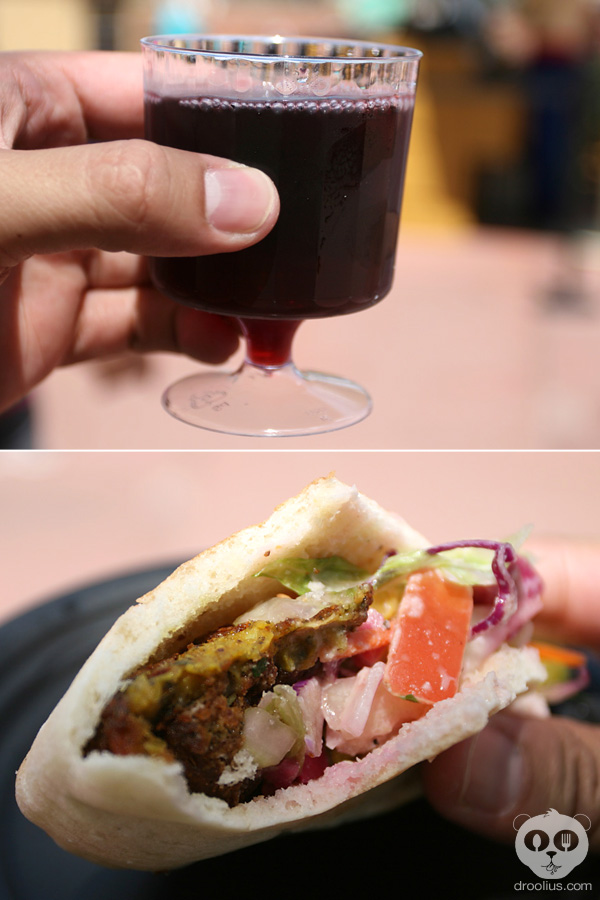 Morocco's Falafel Pita Pocket
Falafel Pita Pocket was average in flavor, nothing spectacular considering other falafels I've had before. I am a fan of falafel and you'll see my upcoming quests to find good falafel in the area. The pita was a little bland, would have been better grilled with some butter.
Morocco did offer some great beverages. The Sangria (above) was cold, refreshing, and smooth in flavor. It didn't have fruits at the bottom of the cup like the typical Latin style, just plain Sangria wine that went down enjoyably. Another drink that we all bought a few cups of was the Iced Mint Tea, not pictured because it looks like a cup of ice tea if you can imagine. But the mint flavor iced tea was great and super refreshing. Again the heat takes a toll on you when you consume alcoholic beverages and the mint iced tea was really a refresher.
Germany
Germany was all about the beverages for us and we sampled some beer and wine.
(click image to enlarge)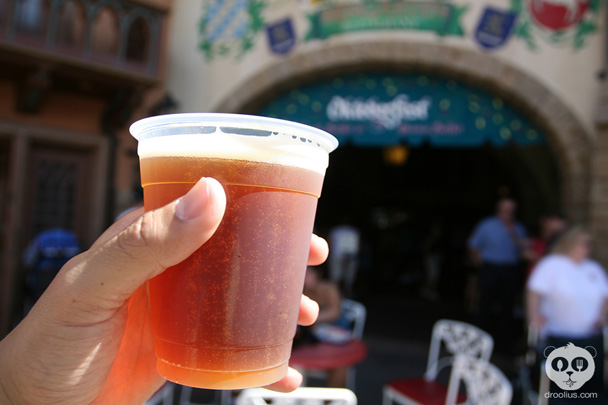 Beck's Oktoberfest
This beer was cold and refreshing in the heat. Had a nice flavor and could be liked by both light and dark beer drinkers.
(click image to enlarge)

Schloss Reinhartshausen – Old Vines Riesling
This Riesling was a good blend of sweet white wine and tasted balanced, not too sweet or dry
Italy
(click image to enlarge)

Italy's Polpettine& Fantinel Prosecco
Polpettine (left) veal meatballs w/ tomato sauce and grissini. The dish itself was not a stand out like I hoped. I was expecting more flavor wise but seemed like an average meatball and red sauce dish.

Fantinel Prosecco (right) a little sweet and bubbly. Almost like a champagne but on the sweeter side.
India
(click image to enlarge)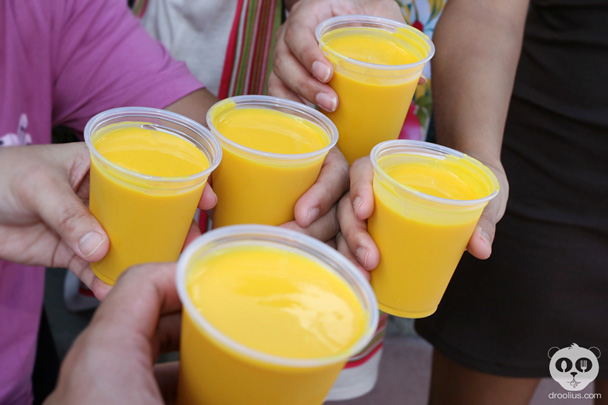 Chilled Mango Lassi
India did not make it back for 2010 but this Chilled Mango Lassi was one of my favorite items and would have been TOP 10 drink if I had such a list. The Mango Lassi pictured above was the ultimate cool down and refresher of the day. We went twice each trip just to have this delicious frozen treat. The mango flavor was fresh and yogurt made it creamy and with a touch of tartness. Too bad its not here this year but hope to see it back in the future.
India offered a really good vegetarian dish and it tasted really good and was well seasoned with Indian spices. You really got the good flavors and spices that could make a vegetarian dish taste well. It was a lentil and curry dish over a crepe like bread. No pictures bc I ate it when it was already dark but looked good if you saw it.
Ireland
(click image to enlarge)

Lobster and Scallop Fisherman's Pie
Ireland always had a decent line going and people raving about the Fisherman's Pie. I myself did not think it was that great and even friends with me thought it wasn't spectacular, and that's coming from a seafood lover themselves.
Bunratty Meade Honey Wine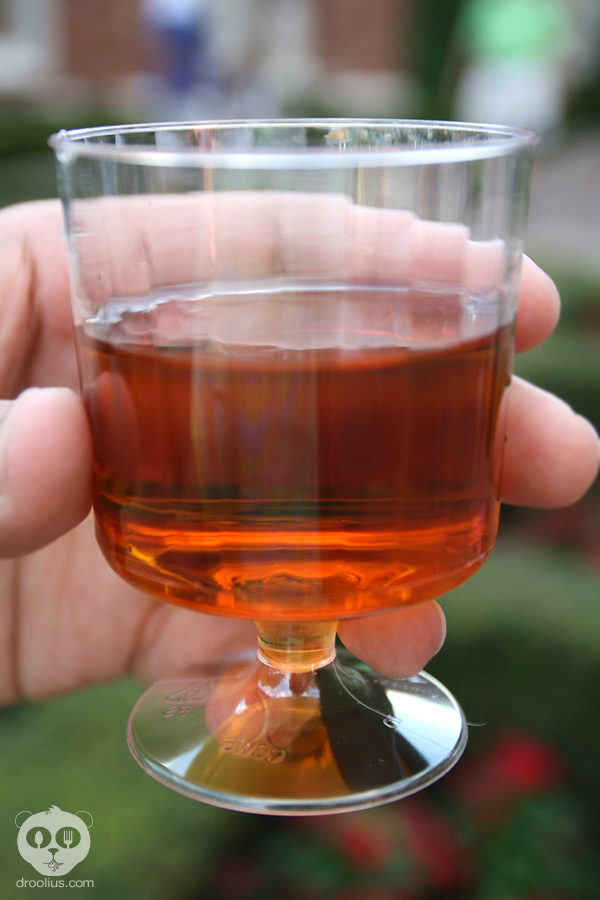 Bunratty Meade Honey Wine
This was a nice super sweet delight. The Meade here was very sweet, a tad acidic, and made a great dessert wine. If you're not a fan of real sweet wines then this may not be for you. Fortunately I do like sweet and it definitely had the sweet kick that I did not expect and the acidic note from the honey.
Austria
(click image to enlarge)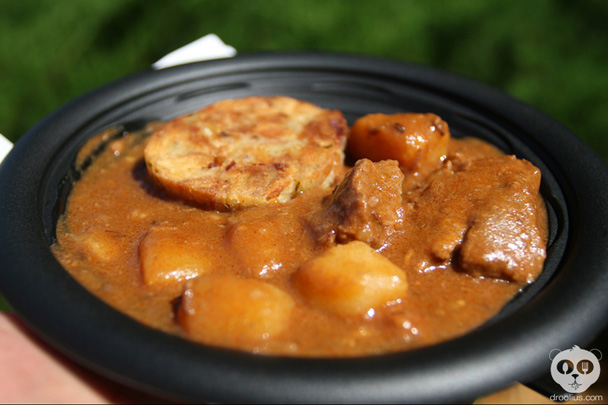 Paprika Beef Stew with Bacon Dumpling
This dish tasted a little different from the name's description. At first glance it looks like it would pack a lot of flavor with a rich looking sauce, however beef was only decent and I didn't taste any bacon in that dumpling and it was more like hash brown. Maybe that's just how the food is supposed to be, I'll have to visit an Austrian restaurant and find out.
Chile
(click image to enlarge)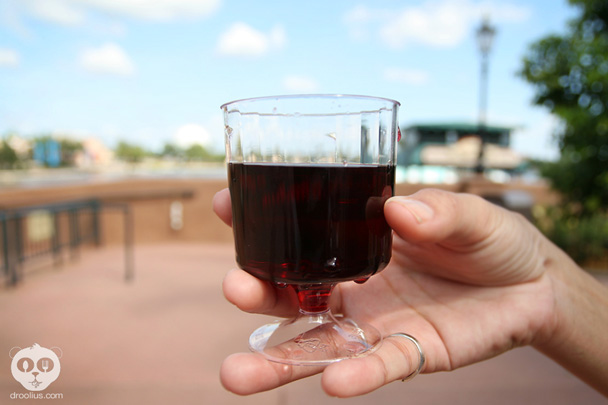 Marques Cabernet Sauvignon
This was a nice bold wine that paired well with the cheese Arepa on our Top 10 food of 2009
Beer
(click image to enlarge)

Moosehead Beer (left) & Sam Adams Cream Stout (right)
Canada's Moosehead Beer
This was a cold and tasty beer, one of the ingredients to the #1 spot in the Droolius Top 10 2009 choice – Canadian Cheddar Cheese Soup
U.S. Sam Adams Cream Stout
I closed out one of my evenings at Food and Wine festival with this dark Stout. It was smooth and easy to drink for a dark beer but had that small bite of a stout. Definitely one of my favorite beers of the day and will go back for another one this year.
(click image to enlarge)
So this was our continued mini guide to some of the food, wine, and beer of 2009. We would like to drink and eat all of the festival, but that may take a third day and a bigger budget. The important thing is to try new types of food and enjoy what you like. Tasting a beer or wine and paring it with the suggested food at the kiosks may even teach you something new about food and heighten the experience of eating in general.
Looking forward to eating, drinking and taking photos at the The 15th Annual Epcot International Food and Wine Festival "Celebrating 15 Years of Delicious Discoveries" October 1 – November 14, 2010
More info about this event visit Disney's information site:
http://www.wdwinfo.com/wdwinfo/guides/epcot/events/
Epcot – World Showcase
Walt Disney World Resort
Orlando, FL
Words and photos by Julius Mayo Jr.