Visit Orlando's Magical Dining Month is coming up and this year has more than 75 restaurants participating from around Central Florida. This special month of dining gives an opportunity to try different restaurants with a 3-course pre fixe menu at $33 per diner and has a special preview week starting on August 25, 2014. The Magical Dining Month will continue from September 1-30 and will also have additional deals for "stay & dine" packages. A full list of restaurants can be found at: www.visitorlando.com/magicaldining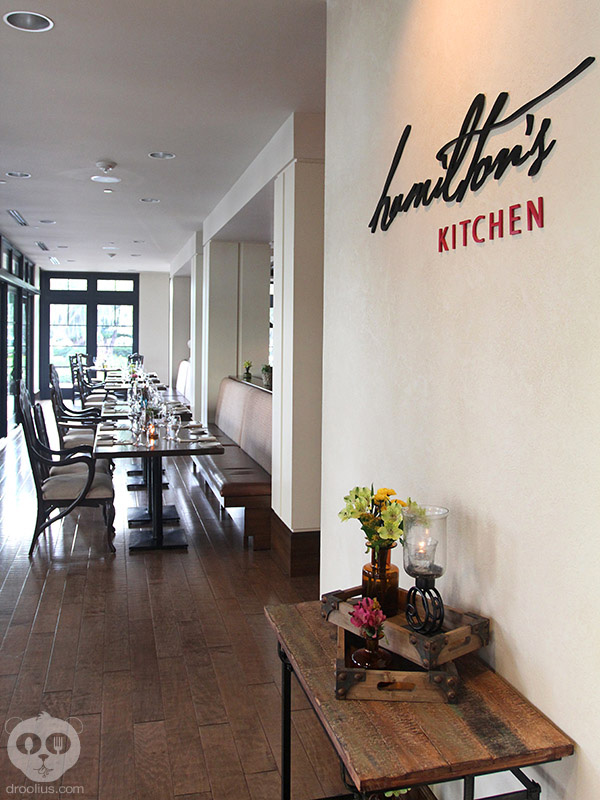 (click image to enlarge)
This year's Magical Dining Month has the most restaurants yet and also has an extra week of dining as a bonus. A mix of locally owned and chain restaurants are participating, along with a number of restaurants located inside hotels and resorts. In the past, I've chosen to attend Magical Dining media preview dinners at resort restaurants so I can learn more about them and they seem to be a good choice when experiencing a new dining option. Recently I attended a Visit Orlando media preview for Hamilton's Kitchen at The Alfond Inn in Winter Park and I really enjoyed it.
Hamilton's Kitchen features Florida-inspired cooking with the use of locally sourced ingredients. The kitchen is led by new Executive Chef, Marc Kusche, who has a career coming from several Four Seasons Resorts and cooking around the U.S., Europe, and the Caribbean. Chef Marc seems like a good fit for The Alfond Inn, a boutique hotel that has recently achieved AAA Four Diamond Status. I chatted with Chef Marc after dinner and he told me about use of local and seasonal ingredients in the daily menu and specialty dinners. More about that later.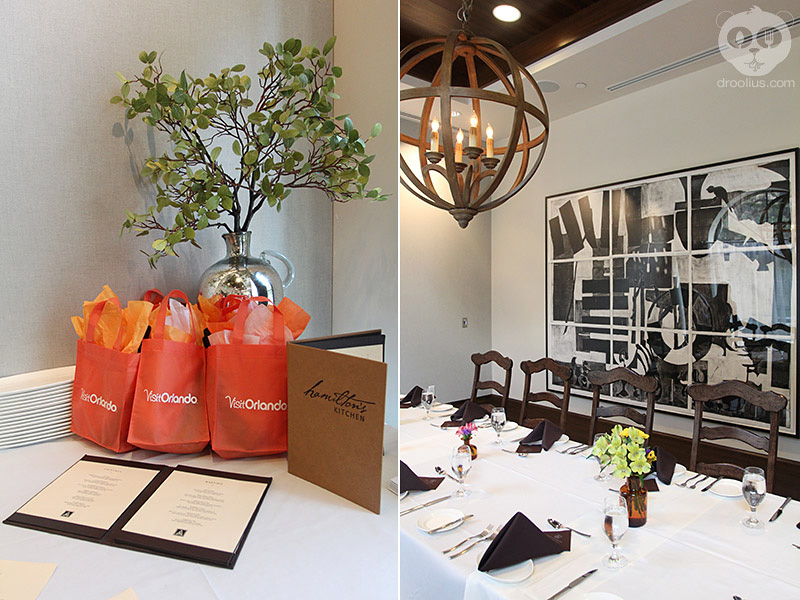 (click image to enlarge)
For their Magical Dining menu, Hamilton's Kitchen is giving guests a choice of one dish per course, deciding between options of two appetizers, three entrees, and three desserts. For our group media dinner, we dined in the private dining room (up to 24 guests) and were served each dish "family style" to get a taste of each. Obviously, each course will be plated for the individual diner during the Magical Dining experience. Photos of each menu item are only a preview for each dish, along with its descriptions.
(click image to enlarge)
Cheddar Jalapeño Biscuits
We started out with Cheddar Jalapeño Biscuits to snack on. These were great! I had two of these and could have easily eaten two more.
Choice of Appetizers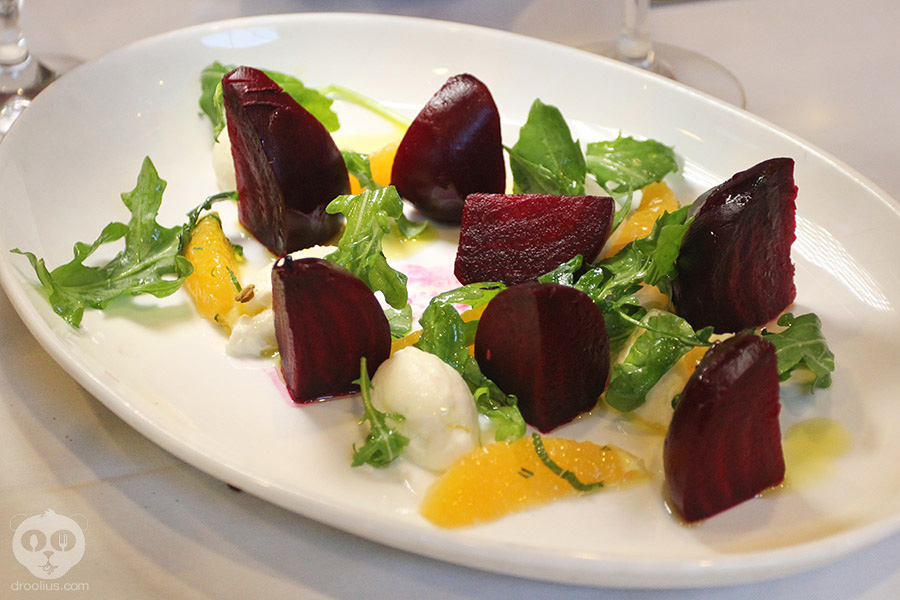 (click image to enlarge)
Fall Beet Salad – Local honey glazed beets, house made ricotta, orange segments, fresh mint
The salad had earthy flavors from the beets and the soft ricotta, with a touch of sweetness from local honey. The orange segments with mint gave a refreshing balance to the salad.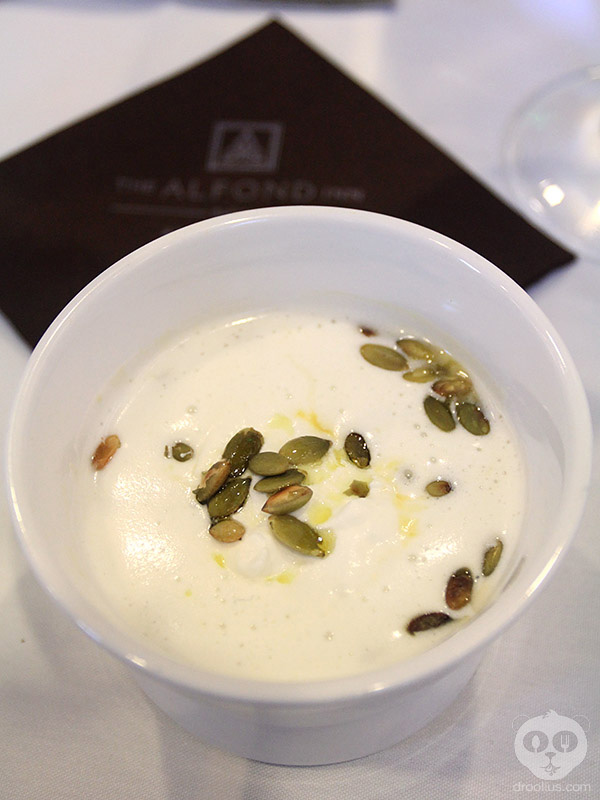 (click image to enlarge)
Slow Roasted Pumpkin Soup – Caramelized pumpkin, almond foam, pumpkin seed oil
This soup is pure comfort food and perfect for the introduction into the Fall season. Savory flavors of pumpkin had a touch of caramelized sweetness. The pumpkin seeds added a nice texture for crunch, with almond foam for a delicate flavor to round out the dish.
Choice of Entrèes
(click image to enlarge)
Pan Seared Salmon – Three bean cassoule, basil crust, citrus beurre blanc
This dish had a good mild salmon flavor that was accented nicely with the basil crust and citrus beurre blanc sauce. It was one of the favorites from our group and my dining partner, OD, was surprised that she found a Salmon dish she liked. If you want more seafood in your diet and are exploring new flavors, this is one to try.
(click image to enlarge)
"Alfond Inn" Spiced Rub Coulotte Steak – Creamy parsnip-potato puree, sweet corn asparagus ragout, Barolo sauce
The "Alfond Inn" Spiced Rub seasons the Coulotte Steak, which is a tender cut of meat. The creamy parsnip-potato puree and sweet corn asparagus ragout are great compliments to the steak and are good enough to be eaten by themselves. Barolo sauce is great on the steak, of course, and serves as the gravy for the parsnip-potato puree.
(click image to enlarge)
Wild Mushroom Ravioli – Basil sauce, local cherry tomato confit, shaved parmesan
The pasta has a good texture and is made in house. A good combination of flavors of the Wild Mushroom Ravioli with Basil sauce, soft and juicy cherry tomatoes, and shaved parmesan.
Choice of Desserts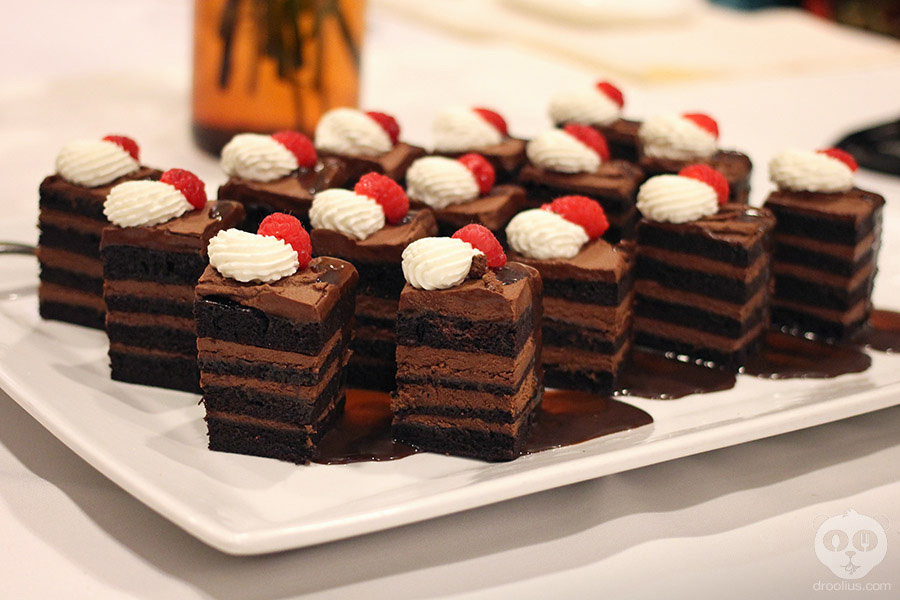 (click image to enlarge)
Chocolate Delight – Caramel & raspberry coulis
If you love chocolate, this dessert is for you. I'm sure you'll get an ample size for the dessert serving, this is only a sample portion for us to try.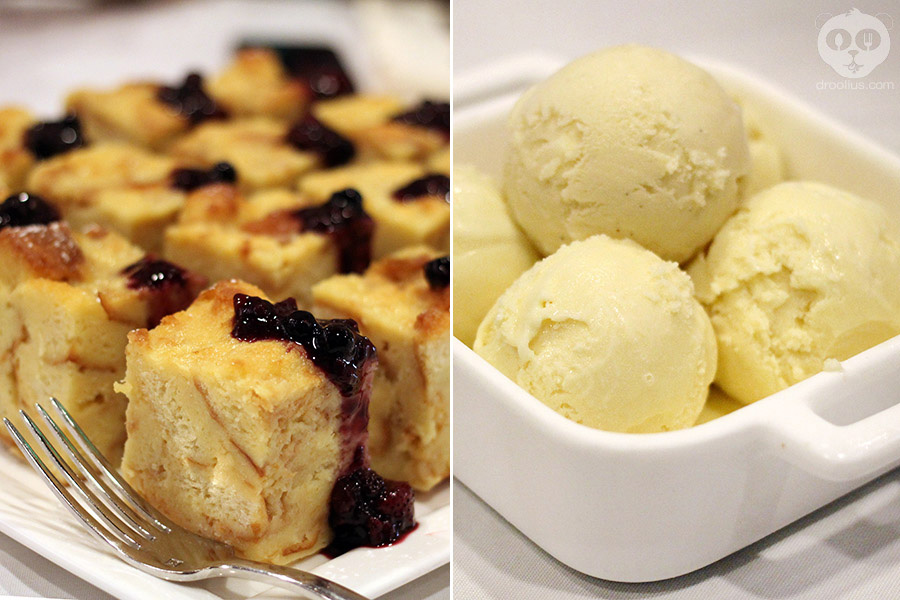 (click image to enlarge)
Grandma's Bread & Butter Pudding – Heavens to Betsy berry compote, served with vanilla ice cream
The lightly sweetened bread and butter pudding is served warm and topped with a tangy and sweet berry compote. Served with vanilla ice cream, the warm and cold combo just goes well together.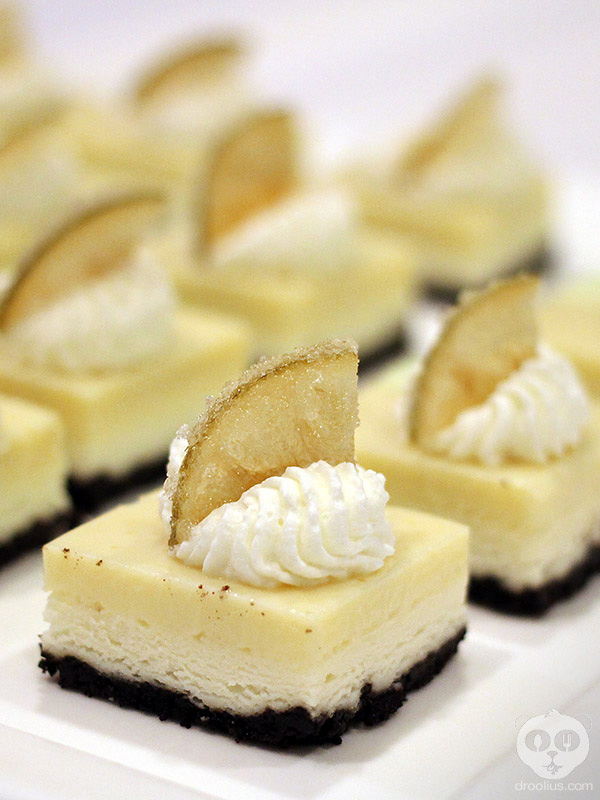 (click image to enlarge)
"Hamilton's" Key Lim Cheese Cake – Key lime sauce angalise with Oreo crust
This was my favorite dessert. Not only does the "Hamilton's" Key Lime Cheese Cake have a balanced sweetness and key lime flavor, but the Oreo crust just adds a dimension of flavor you would not expect and works really well together.
(click image to enlarge)
Seen in front of the open kitchen, honey drips straight from honeycomb and used at Hamilton's Kitchen.
Hamilton's Kitchen is a great way to discover a new meal at one of Central Florida's many resort restaurants, with this one being different and located in Winter Park. A great opportunity to try a restaurant located inside this stylish boutique hotel, The Alfond Inn is fun to visit and explore itself. Hamilton's Kitchen serves breakfast, lunch, dinner, and a Sunday brunch. Since I'm now familiar with this restaurant, I will be back for their brunch menu with a Build Your Own Bloody Mary bar and to try more of their Florida-inspired menu highlighting local ingredients. Chef Marc also mentions they will have Chef's Table dinners available (5 courses including wine pairings) for $125 per person and tasting menus with small plates for $45 later this year. For more information, check out their website.
Hamilton's Kitchen at The Alfond Inn
300 East New England Avenue
Winter Park, FL 32789
Phone: (407) 998-8089
website

While Visit Orlando's Magical Dining Month gives diners a chance to dine at a deal of $33 for a three-course menu, $1 is donated from every meal to benefit the Foundation for Foster Children. The Foundation for Foster Children supports local foster youth by providing intensive tutoring, typical childhood experiences and volunteer mentors who assist foster children transition into adulthood successfully. In 2013, nearly $75,000 was raised from Visit Orlando's Magical Dining Month and benefitted Ronald McDonald House Charities of Central Florida, the designated charity last year.
Find a full list of: Visit Orlando's Magical Dining Restaurants
Magical Dining Month
Preview week: August 25-31
Magical Dining Month: September 1-30
More information: www.visitorlando.com/magicaldining

Words and photos by Julius Mayo Jr.
Content and photos © Droolius.com 2014


Disclaimer: I was given the opportunity to attend a media preview dinner for Orlando Magical Dining month. I was not compensated to write this post and all opinions are always my own.