Today is the opening of the much anticipated Pig Floyd's Urban Barbakoa restaurant in the Mills/50 District of Orlando, FL. The barbecue here is described as "Traditionally inspired, internationally influenced flavors" and that is exactly what the menu is. The barbecue has influences from around the world, from different cuisine ranging from Latin America, the Caribbean, Asia, American BBQ, and more.
(click image to enlarge)
Barbakoa means barbecue in Spanish, which is the cultural background of the owner, Thomas Ward. If you're not familiar with Thomas, he originally opened the food truck concept of TreeHouse Truck and after making it successful, he sold it to its current owners. He then had a stint in Puerto Rico in the restaurant business and eventually came back to Orlando to open Pig Floyd's. The kitchen is run by Chef Jason Carlucci, who worked on the TreeHouse Truck back in the day and has experience in several restaurants in the North East and in Florida. Chef Jason has brought Ward's concept of urban barbakoa to life at Pig Floyd's. The menu offers plates of smoked BBQ meats, sandwiches, tacos, salads, sides, house made sauces, desserts, and options for vegetarians and those with gluten free needs.
Before the opening, I got a chance to stop in twice to check out Pig Floyd's menu in progress. The meats were all smoked until tender with a gentle smokey flavor and could all be enjoyed on their own. The tacos and sandwiches all had unique combinations of flavors, with sauces giving a punch of flavor and pickled vegetables balancing it all out. I'm posting some of the dishes just as a preview and the current menus are at the end of this post.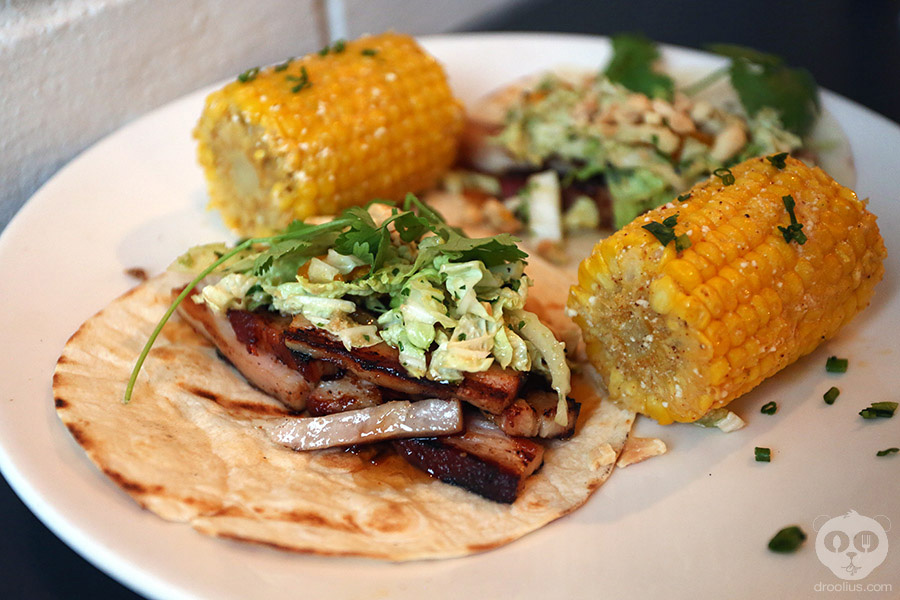 (click image to enlarge)
Pork Belly Tacos – Oakwood Smoked & Grilled Pork Belly, Asian Dragon Sauce, Citrus Peanut Slaw served on warm tortilla + side of Grilled Corn on the Cob with chili, lime, Cotija Cheese
Pork Belly Tacos were one of my favorites!
(click image to enlarge)
Barbakoa Banh Mi – Oak wood smoked pulled-pork, Lucky Dragon Sauce, Ginger-Garlic Aioli, pickled vegetables, on a fresh sub roll + side of Fried Platains (ripe & sweet)
(click image to enlarge)
Oakwood Smoked St. Louis Ribs> + side of Cuban Black Beans & Rice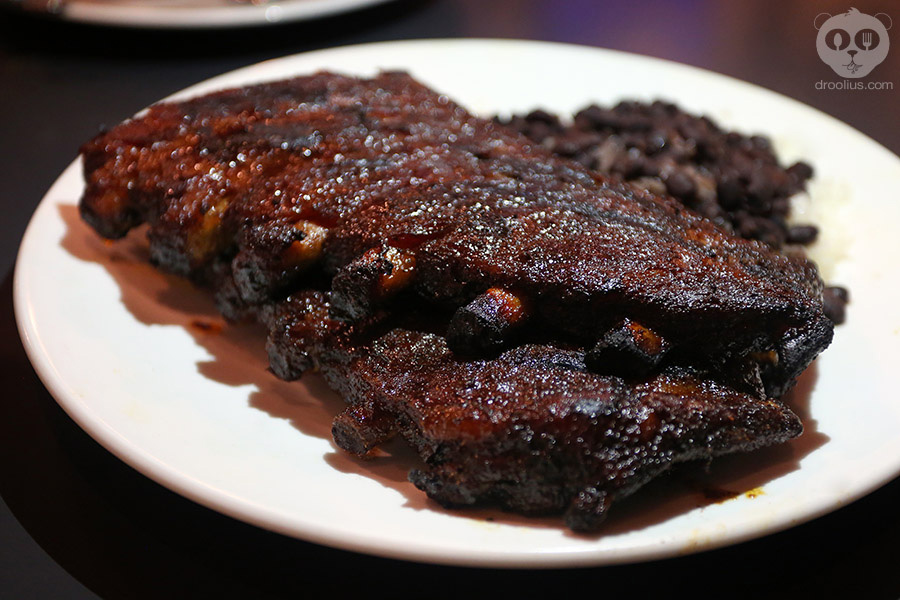 (click image to enlarge)
Racks on racks of Oakwood Smoked St. Louis Ribs
These are BBQ competition style ribs, with a gentle pull off the bone, and has a nice sweetness to them. St. Louis refers to the cut of ribs these are. All I can say is that I really enjoy these ribs and they are now one of my favorites in Central Florida. I really hope they can execute these the same way everyday (and they plan to) because these will be a hit.
(click image to enlarge)
Shrimp & Sausage Tacos – Spice rubbed shrimp, North African Chicken Sausage, Madarin Orange Sambal, Greek yogurt, mint and toasted almonds on warm tortilla + side of French Fries
(click image to enlarge)
Butter Chicken Tacos – spiced Chicken Tikka, Pepitas, jalapenos, cilantro, greek yogurt and Jasmine rice served on warm tortilla + side of Fried Yuca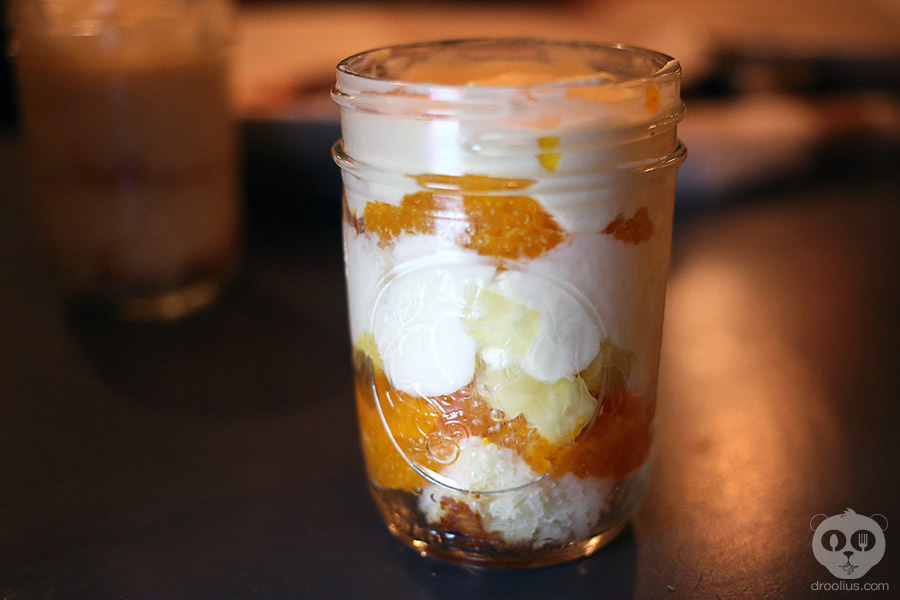 (click image to enlarge)
Pig Pickin' Parfait – Homemade vanilla cake, fresh pineapple, mandarin oranges, Diplomat Cream topped with toasted pecans.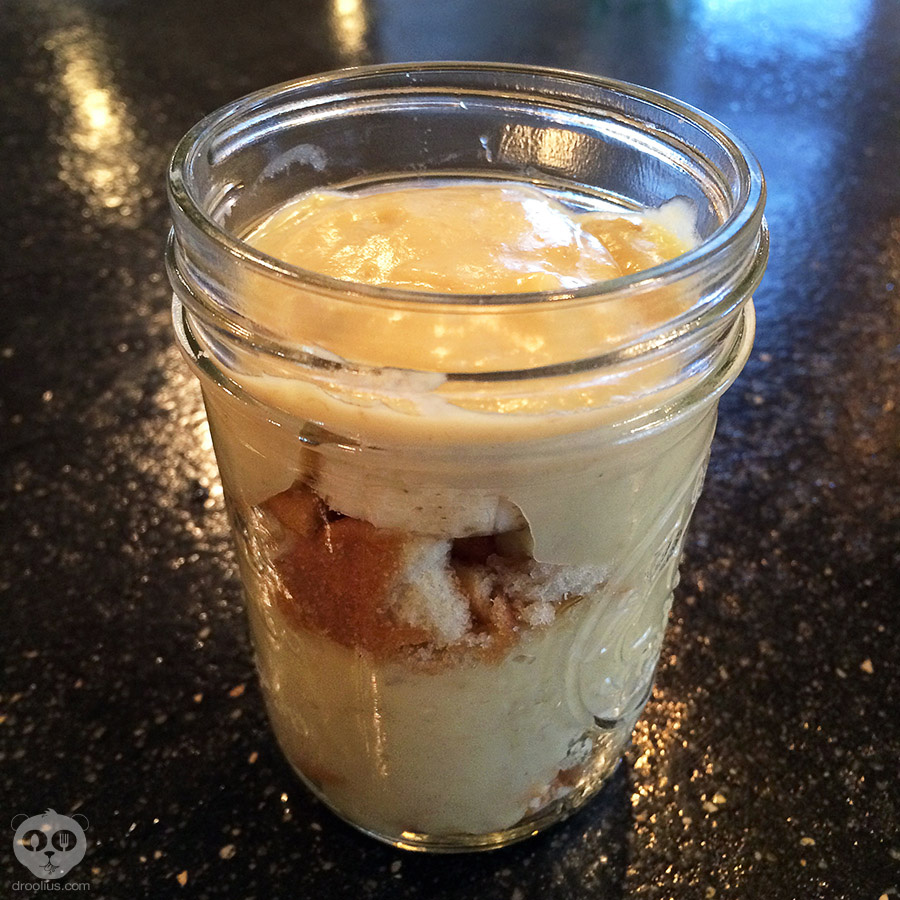 (click image to enlarge)
'Cuban' Banana Pudding – Homemade cinnamon & lemon custard, bananas, and 'Nilla Wafers topped with whipped cream
This is a play on the Spanish dessert, Natilla. This version adds bananas and Nilla wafers, making it like a turned up version of banana pudding. I really enjoyed the custard which has a balanced sweetness and the addition of bananas and Nilla wafers makes it taste so good.
(click image to enlarge)
Today Pig Floyd's Urban Barbakoa finally opens to the public at 4pm, but it's more of a soft opening. The social media followers of Pig Floyd's have been asking for weeks when they will be open and have been very supportive, according to the owner. This is only a preview of the menu here, so you'll have to go in for yourself to get a taste of Pig Floyd's. While some of the dishes above may vary a little in plating from the final menu, I can honestly say that everything I tasted had good enjoyable flavors and I cannot wait to go in to try more of the menu.


Pig Floyd's Menu:
(click image to enlarge)
(click image to enlarge)

So what looks good to you on the menu? Did any of the photos get you excited to order something or make you drool? Leave a comment below and let me know…

Pig Floyd's Urban Barbakoa
1326 N Mills Ave
Orlando, Florida 32803
407.921.1696
www.pigfloyds.com
Facebook Page facebook.com/pigfloyds
Twitter @PigFloyds 

Words and photos by Julius Mayo Jr.
Content and photos © Droolius.com 2014


Disclaimer: I was invited to taste and preview the menu. I was not compensated to write this post and all opinions are always my own.