I went to a few restaurants in the past week and ordered, "Tuna on white, no crust". It may sound like a strange request, but I was asking for this sandwich in honor of the late actor, humanitarian, and all-around car guy, Paul Walker. It was a line from the movie The Fast and the Furious where his character Brian O'Connor orders "the tuna" in a memorable scene and introduces key characters into the Fast & Furious franchise. It's one of those scenes I remember watching in the movie theater, excited to see the cars that my friends and I worked on. Our car culture, our lifestyle, our passion for cars was now on the "big screen" and Paul Walker was the ambassador to all of this. 
(click image to enlarge)
Before my life as a food photographer and blogger, my industry and life revolved around cars. I attended and photographed automotive lifestyle and racing events. Cars and traveling was my world from the late 1990's to the late 2000's, and food was always there. I posted photos of cars and food back in the Myspace days, but never really thought about the correlation until now and where it would take me. In the first Fast & the Furious movie, there are several scenes where people gather together and eat. Food and car culture just go naturally together and to watch it in a movie in back in 2001 was really cool for us car guys. The scene where Paul Walker's character, Brian orders "the tuna", is the first food and cars scene in the movie:
[Brian comes into a restaurant]
Mia: Tuna on white. No crust, right?
Brian: I don't know. How is it?
Mia: Every day for the last three weeks you've been coming in here and you've been asking me how the tuna is. Now, it was crappy yesterday, it was crappy the day before and guess what? It hasn't changed.
Brian: I'll have the tuna.
Mia: No crust?
Brian: No crust.
This scene is what inspired this blog post and my quest to find a "tuna on white, no crust" sandwich.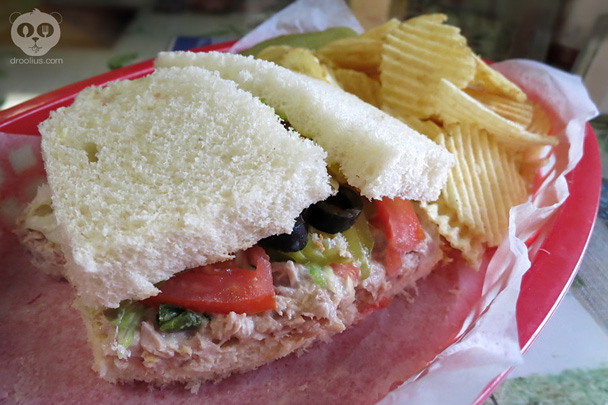 (click image to enlarge)
With so many ways people are remembering and honoring Paul Walker in the past 12 days, my way is to order "tuna on white, no crust". It sounds like a simple request, but I did get some strange looks and a denial of this request. In the photo above, a restaurant (which shall not be named) employee who took my order and made my sandwich, straight up told me she would not cut off the crust. She would give me a knife and I could do it myself. Say what!? After seeing the tuna being spread on the bread, it did remind me of the Fast & Furious tuna scene because it did look a little crappy with the tuna and mayonnaise barely mixed. So I added the vegetables when she asked, "what toppings?" I cut off my own crust and took the photo. Not exactly the "tuna on white, no crust" I was expecting, but it was only my first attempt.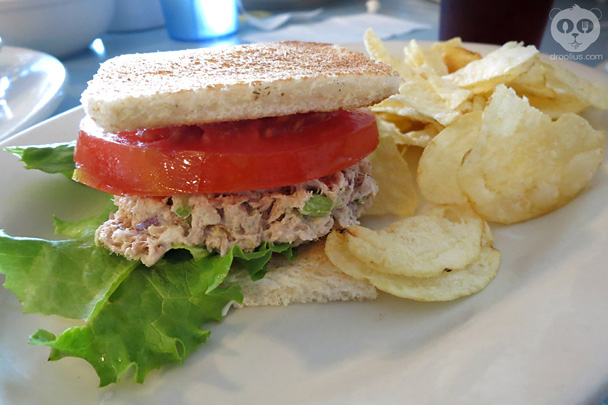 (click image to enlarge)
Tuna sandwich, no crust
Wheeler's Cafe 13 S Monroe Ave, Arcadia, Florida 34266
My second time ordering "tuna on white, no crust" was at Wheeler's Cafe in Arcadia, FL. I was in my hometown and thought surely this small mom-and-pop cafe would honor my request. The lady server obliged, but not without saying "Awww, you want us to cut off the crust off your sandwich?" Speaking to me like I was a little kid who needed the crust cut off. I laughed and let her know it was for a photo. It was cool though and when it came out, she laughed because the vegetables were bigger than the bread. It automatically came with the lettuce and tomato, but I did say yes when she asked if I wanted it toasted. It was a decent tasting tuna sandwich and I was just happy they were willing to fulfill my order. My second attempt at ordering "tuna on white, no crust" was semi-successful, but I needed to try the order again.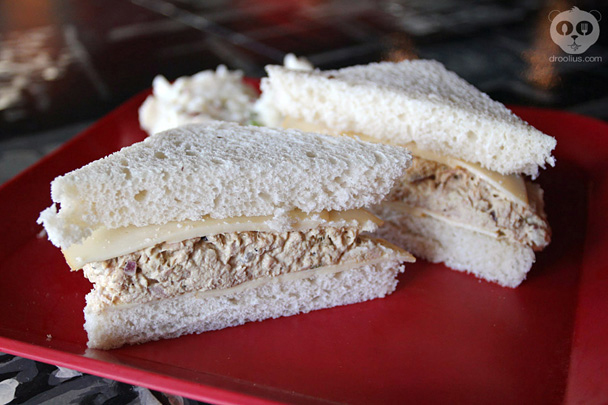 (click image to enlarge)
Tuna on white, no crust – tuna mixed with capers, celery, red onions, and gouda cheese on white bread, no crust
Pom Pom's Teahouse & Sandwicheria 67 N Bumby Ave, Orlando, FL 32803
This past weekend I decided to order "tuna on white, no crust" again. I was at Pom Pom's Teahouse & Sandwicheria in Orlando, FL and saw they had a tuna melt on the menu. I asked if they could make a "tuna on white, no crust" and without hesitation the server said, "yes". He gave me an option of cheese and I chose Gouda. The sandwich came out and this was exactly what I was looking for. An actual "tuna on white, no crust" and it tasted good! The tuna mixed with capers, celery, and red onions were a good combination of flavors along with the Gouda cheese. The white bread they used was perfect for the "no crust" request, giving enough surface area to hold all of the ingredients of the sandwich together. Finally, a successful attempt at ordering "tuna on white, no crust" and I was happy.


Paul Walker and I on the set of 2 Fast 2 Furious:
(click image to enlarge)
When the second movie 2 Fast 2 Furious came around for filming in Florida, I had an opportunity to go down to Miami with my car club, Jade Motorsports to participate in filming with our cars and our team as background extras. I have a scene in the movie where I'm standing beside Ludacris (Tej in the movie) and after Paul Walker jumps the bridge and does a power slide, he stops in front of us and we all cheered in the crowd. It was a fun experience to work on set, and off camera Paul Walker was a really cool guy with everyone. He took photos with people, talked to us background extras, and even took time to play the video game Halo at one of our cars with some of the guys. He was a friendly person and genuine with everyone. Paul was a car guy just like us and outside of the movies, he participated as a driver in racing events. 
When the news hit social media on the evening of November 30, 2013 that Paul Walker had passed away in a car crash, it really affected many people and they were very vocal about it online. Movie fans, car enthusiasts, industry friends that worked and raced with him were all devastated to say the least. Walker was hosting a charity event for the Philippines Typhoon Haiyan victims and left the event with his friend Rodas who was driving a 2005 Porsche Carrera GT, which later crashed and took both of their lives. You can google the details because I'm not here to post them. The fact is that after his passing, Paul Walker has been remembered by many people, sharing stories about his acts of kindness to strangers and his work of his organization, Reach Out World Wide. ROWW is "a network of professionals with first responder skill-sets who augment local expertise when natural disasters strike in order to accelerate relief efforts" according to their website. Please donate on the website if you would like to help support the cause and help those in need suffering from natural disasters: www.roww.org
In honor of Paul Walker, I will continue to order a "Tuna on white, no crust" sandwich and hopefully the restaurants are willing to fulfill the request. If you decide to order the same, be prepared to get some awkward looks, or you may just end up cutting off your own crust like I did on my first experience. If you find a good "tuna on white, no crust" at a restaurant, share the location in the comments below. It would be great to share this experience with others and order a good tuna sandwich in remembrance of Paul Walker.

Words and photos by Julius Mayo Jr.
Content and photos © Droolius.com 2013