Get ready to eat Filipino food at Kamayan: A Filipino Feast, a special dining event on September 22 in Orlando, FL. Kamayan is the Filipino traditional style of eating with your hands at a communal table, lined with banana leaves and the food is the center piece. The Kamayan feast will be prepared by Filipino chefs and cooks including the talented culinary team at Kappo at East End Market, Francis Biondi (FOX's MasterChef Season 5 Top 15 Finalist), Jonjie Sibayan (chef/owner of PAO Truck/PAO Cafe in Tampa), and more. I'm proud to say that I am also participating in this event, doing some kitchen work and will be one of the front of the house hosting at the event.
This first time Kamayan dinner is the first of it's kind in Orlando (from what I know of) and is a collaboration of people who love to share Filipino food and want to share the experience and culture. Please join us on Monday, September 22 at the East End Market for a variety of food, drinks, and cocktails. The feast will be paired with Filipino-inspired craft cocktails and crafted by Rene of Hanson's Shoe Repair, a speakeasy bar in Orlando. Everything will be inclusive for one ticket price and can be purchased HERE.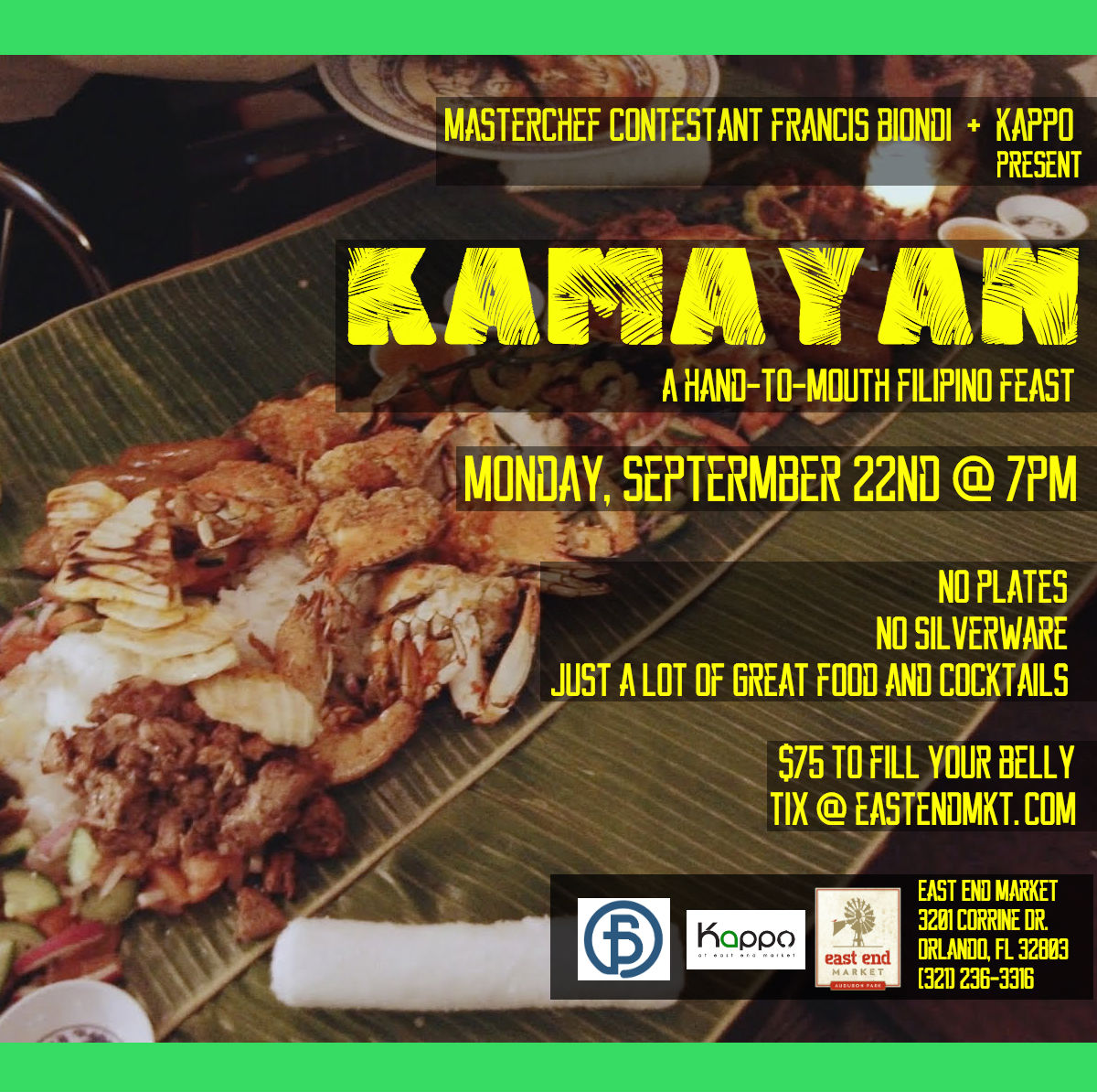 Photo courtesy of Francis B (click image to enlarge)
The Kamayan Feast Menu will be a surprise, but I can tease you with the following hints:
– Longanisa, Lumpia, and lots of rice…
– Pork on pork, and more pork…
– Whole fried fish
– Halo Halo & more Filipino desserts
– Food, beer, food, drinks, and much more…
Come with an empty stomach and be ready to eat lots of Filipino food. NO allergy substitutions available.
Kamayan: A Filipino Feast
WHEN: Monday, September 22, 2014 at 7pm
WHERE: East End Market 3201 Corrine Drive, Orlando, FL 32803
DRESS: A communal family feast, dress casually and comfortably.
TICKETS: Click HERE to buy your ticket and please invite your friends!

You do not have to be Filipino to eat Kamayan and we encourage ALL who is interested to come out and dine with us. Everyone is welcome to join in and explore the world of Filipino cuisine. The art of Kamayan makes this a truly unique event and WE will help guide you on how to eat and show you how natural it is to eat with just your hands by themselves.

See you all there and get ready to eat Filipino food, Kamayan style!