Earlier this year, I got a chance to travel up to Northern Virginia to visit family who lives right outside of Washington D.C. Since the food scene is well developed in D.C., it was time for a trip into the city to explore some restaurants and let some of my local food blogger friends show me what's good in the area. I turned to fellow food blogger Lisa of A Whisk & A Mile, who also happens to be a fellow Foodspotting Ambassador, for Washington D.C. I follow the food she has spotted and I've seen so many dishes I want to try. Luckily one of the dishes that I saw on her Foodspotting page was on the brunch menu for one of the restaurants she recommended. Sunday brunch at Birch and Barley was our first stop of the day.
Birch and Barley
The dishes on the menu at Birch and Barley are modern American, covering different styles and many regions of the U.S. Looking over the brunch menu, Lisa and I ordered a few Southern style dishes of chicken and waffles with a side of cheddar grits. There was so much more on the menu that I wanted to try, but since we had dinner plans later that day with another blogger friend, we had to save room.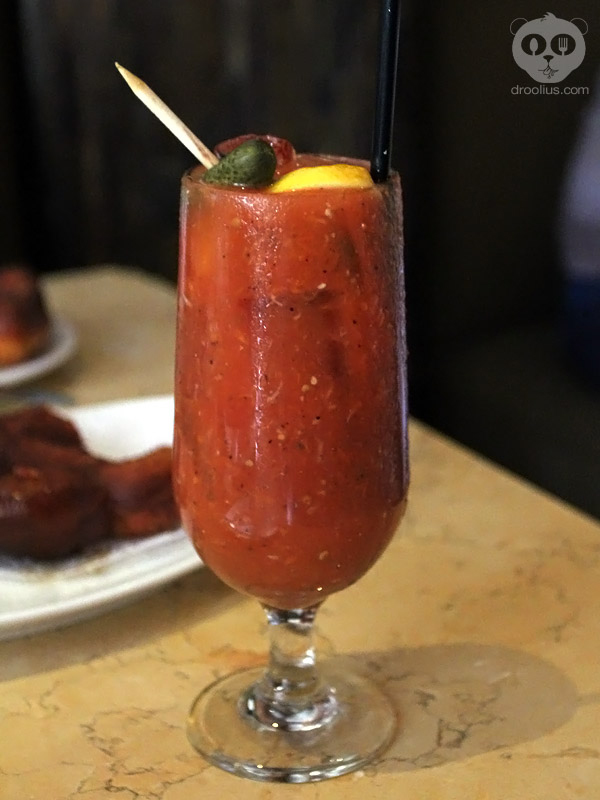 (click image to enlarge)
Muddy Blarry – Birch and Barley's Bloody Mary with choice Of: Ketel Vodka, Roasted Tomato Puree, Horseradish, Celery Seed, Lemon, Tabasco, Pepper
I started out with a bloody mary, or what Birch and Barley calls their Muddy Blarry. It had a good texture and spice that I enjoy in a bloody mary.
(click image to enlarge)
Freshly Fried Donuts – Toffee-Bacon, Lemon-Poppy Glazed, Bittersweet Chocolate
These donuts are THE reason why I wanted to come here in the first place. All three were great, but of course the Toffee-Bacon was my favorite. We shared these donuts, but I could easily finish an order on my own.
(click image to enlarge)
Stone Ground White Grits with Grafton Cheddar
Talking about food and Florida, we had to get an order of the grits to share. Creamy, cheesy, and properly cooked grits are always good to find up North.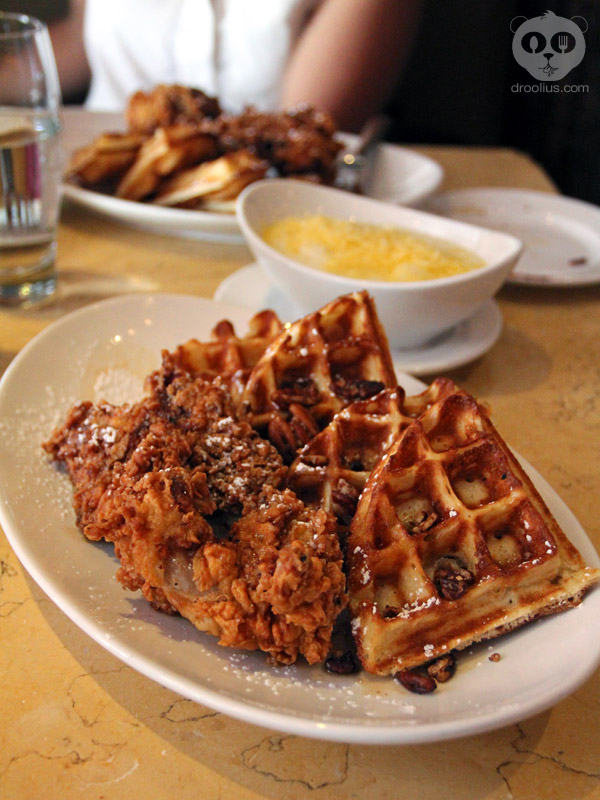 (click image to enlarge)
Fried Chicken & Waffles Belgian Waffle, Buttered Pecans, Maple-Chicken Jus
The chicken and waffles were well executed here. Crispy fried chicken and waffles that were fluffy on the inside and a crisp outside. Buttered pecans gave a hearty accent of texture and that Maple-Chicken jus brought everything together. A delightful dish of savory and sweet flavors.
After we were finished, we realized we could have just split one plate because we ordered the exact same thing. It was a good sized portion and very shareable, so one may just want to split the order to be able to try something else on the menu. Regardless it was great and one of the better plates of Chicken and Waffles that I've had. Next trip up to D.C. I'd like to come back for their dinner menu which looks really good too.
Birch and Barley
1337 14th St. NW  
Washington, DC 20005
202-567-2576
birchandbarley.com
Facebook.com/birchbarleydc
Twitter @BirchBarleyDC
ChurchKey
Upstairs from Birch and Barley is ChurchKey, a space that features more than 500 beers from various countries around the world. They also offer a food menu at this bar that features food from the same Birch and Barley kitchen. That day, the brunch menu was featuring chicken and waffles as well. I'm not sure how much the menus between the two establishments differ, but ChurchKey is serving bar food that is turned up a few notches.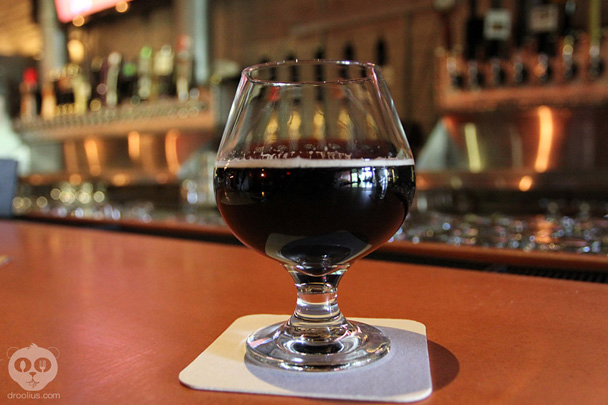 (click image to enlarge)
Below Decks by Heavy Seas Brewing
Speaking of beer, I sampled a few on tap and decided to go with a cask ale from a local brewery, Below Decks by Heavy Seas Brewing in Baltimore, MD.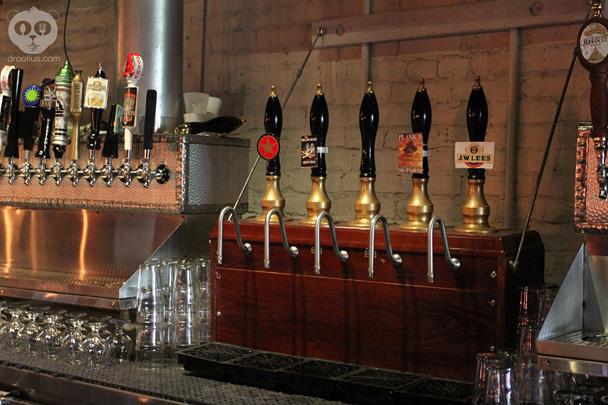 (click image to enlarge)
Authentic Cask Ales are offered as a specialty, along with a number of draft beers and bottled beers. The space is large with plenty of seats to have a beer and some food.
ChurchKey
1337 14th St. NW  
Washington, DC 20005
202-567-2576
www.churchkeydc.com
Facebook.com/churchkeydc
Twitter @ChurchKeyDC

After the beer, we walked towards our next food destination to meet another food blogger friend. We had some time to wander, but not much because we had to get in line early to avoid a long wait. The line was for ramen and it forms outside of the door of Toki Underground, before they open at 5pm. Lisa says she's tried to make reservations online, but has not been successful. So we were totally taking a chance to grab 4 seats for dinner.
Toki Underground
We got to Toki Underground by 4:30 p.m. and met up with Julie of Table For Two Blog and Jason. It's the first time I've seen Julie since Food Blog Forum Orlando, so it was nice to meet with Julie and Jason in their area. It was basically a food blogger reunion, geeking out over food and talking about cameras. We all use the Canon 60D so it was fun chatting about lenses and photography. The plan worked and we were able to get seated when they opened at 5 p.m. Toki Underground is small with limited seating, so long lines and waiting for seats to open up is normal here.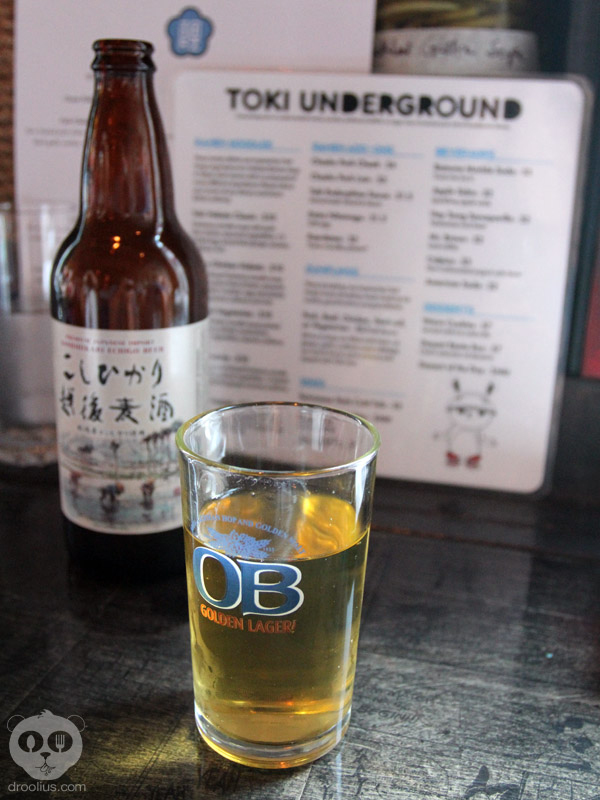 (click image to enlarge)
Koshihikari Echigo – Japanese Beer
I started off with a Japanese Beer, Koshihikari Echigo. It was a little warm that day while walking around, so this was refreshing to drink.
(click image to enlarge)
Dumplings – filled with fresh cut ginger, garlic, scallions, napa cabbage, our secret house spice mixture, and topped with Toki tare.
The dumplings had a tasty filling, with a nice seared bottom crust and was properly steamed. The menu offers the choice of Pork, Beef, Chicken, Seafood, or Vegetarian so there's something for everyone.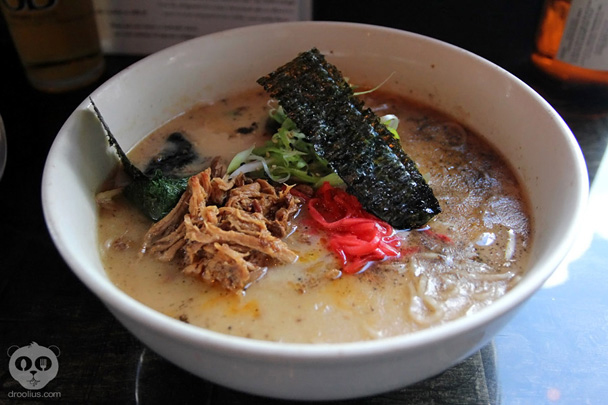 (click image to enlarge)
Toki Classic – Tonkotsu triple stock with chasu pulled pork, seasonal vegetables, soft egg, red pickled ginger, sesame, scallions, nori
This was how the bowl of Toki Classic ramen came out. Steaming broth, chasu pulled pork and pickled ginger floating on top of noodles, topped with a piece of nori (seaweed). The egg was submerged so I had to take another shot with it visible.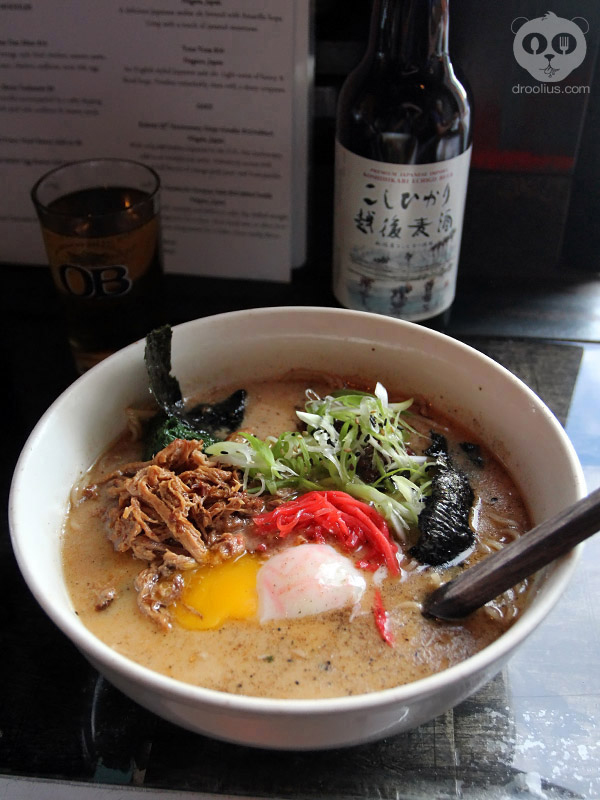 (click image to enlarge)
This was the shot I had to get, the ramen broth with the egg, poked open to see some "egg drool" action. I propped up the egg with the giant spoon and watched the egg yolk ooze out.
(click image to enlarge)
A closer look at the broth, you can see the milky texture of the Hakata style tonkotsu broth. The giant spoon was perfect for slurping up the rich and savory broth.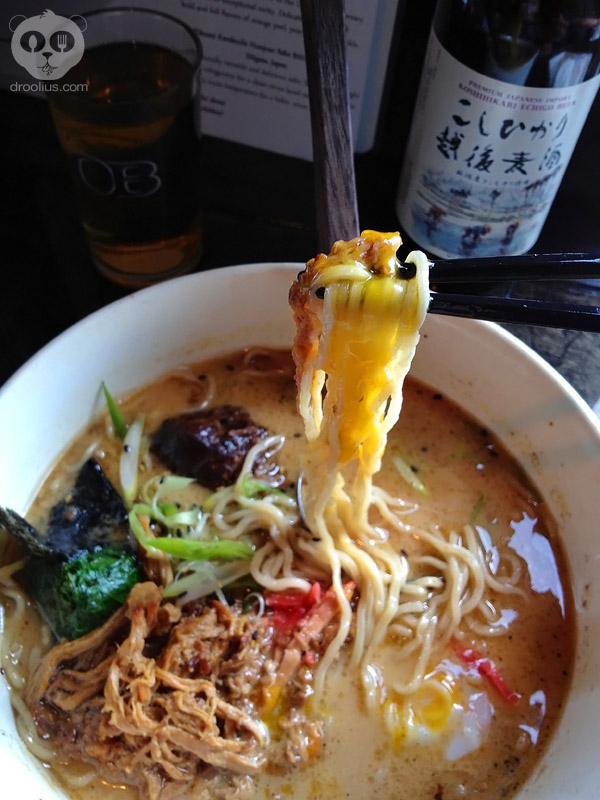 (click image to enlarge)
This is the "money shot" where some noodles and chasu pulled pork are dipped in the perfectly cooked soft egg. It was the perfect bite, chased with a spoonful of tonkotsu broth. (I'm drooling just looking at this photo!) What makes this photo even better is that it was taken with my iPhone 4s, which takes great photos with enough light. Sitting in front of the window was the perfect lighting situation for this shot.
The Toki Classic was one of the best bowls of ramen that I have eaten this year. The broth was rich, savory, and packed so much flavor. The noodles were cooked enough to have some texture but still soft and enjoyable. The chasu pulled pork was something new to have with ramen and I enjoyed the change up to the standard pork belly often found. Overall the balance of everything together really worked well.
The menu says that "these ramen dishes are inspired by Chef Yang's experience at a Hakata Ramen shop in Taipei. Each ramen dish is composed of many different ingredients." So Toki Underground is actually a Taiwanese ramen joint that shares the same roots of Hakata style tonkotsu ramen from Japan. The mix of cultural cooking traditions has put Toki Underground on the map for making some great bowls of ramen. I definitely recommend trying the ramen here to anyone visiting or living in the Washington D.C. area. Get there early to avoid the lines, when we left the wait was about an hour and a half with the line down the stairs and out the door.
Toki Underground
1234 H Street NE
Washington, DC 20002
202-388-3086
www.tokiunderground.com
Facebook.com/TokiUnderground
Twitter @TokiUnderground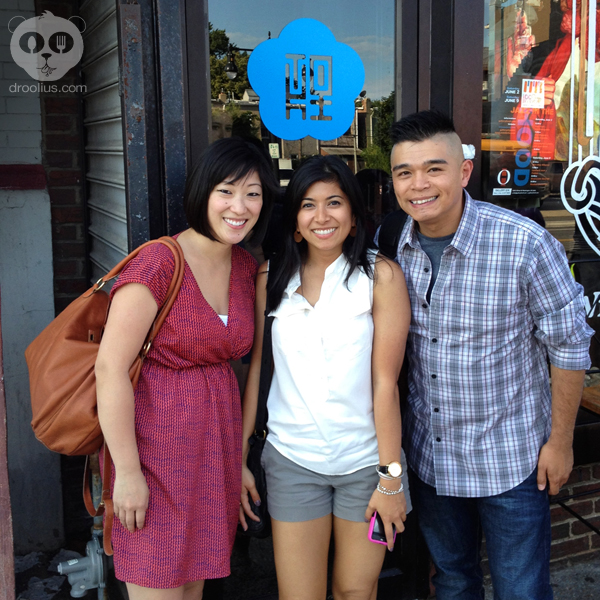 (click image to enlarge)
Food Bloggers in D.C. – Julie, Lisa, and I.
Fun times meeting up and eating with food blogger friends in Washington D.C. You can see the Toki sign on the door behind us, which is what you need to look for when finding Toki Underground. Otherwise just look for the line outside of the door, in front of a bar.
The Washington D.C. area has so many good places to eat and I'm glad I had a good day of eating with my food friends. There's a few more upcoming blog posts about D.C. and Northern Virginia food, so be on the look out for them in the future.

Words and photos by Julius Mayo Jr.
Content and photos © Droolius.com 2012