Hanson, the popular music band from the 90's, has created their own Mmmhops Pale Ale beer and debuted it at this year's 2014 Epcot Food & Wine Festival. The craft beer is named after their hit song, "MMMBop" and is brewed at their Hanson Brothers Beer Company in Tulsa, Oklahoma. This is the first time Mmmhops is available in Florida and the craft beer can be found at the Epcot's Festival Center. Hanson recently presented Mmmhops at a beverage seminar at the Festival Center to an excited crowd of fans.
(click image to enlarge)
The beverage seminar was a talk on how the brothers came up with the beer idea and how they designed this beer to be an introduction to drinking a hoppy beer. The goal was to make it a drinkable full bodied beer with a hoppy flavor, but not go overboard with a hoppy bitter flavor. They were very knowledgable talking about craft beers and brewing, dropping some beer knowledge to the crowd, while keeping it entertaining for the fans. An autographed beer signed by Hanson was available for purchase with a quick meet and greet, plus a photo opportunity.
Afterwards I got a chance to interview the band about their Mmmhops beer and we talked about craft beers, what food to pair with Mmmhops, and discovering craft beer and food while traveling. These guys are super chill and were great to interview. Watch the video interview directly below…
Video:
Please excuse the loud waterfall sound in the background
Link to video on YouTube: http://youtu.be/BtdJ5p-0bBY

Later that evening, Hanson performed at Epcot's Eat to the Beat Concert Series:
(click image to enlarge)
Hanson performing songs from the past to new songs on stage.
(click image to enlarge)
Isaac Hanson on guitar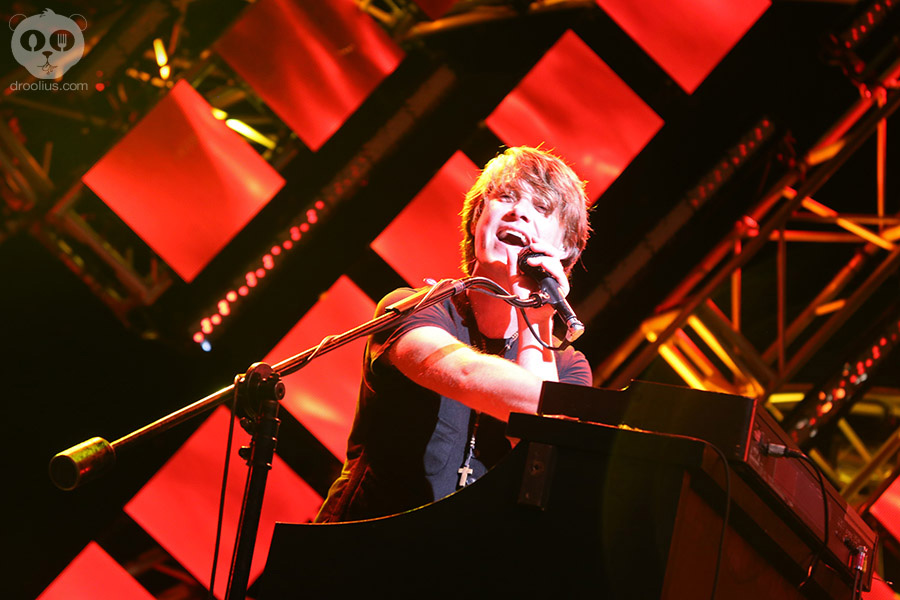 (click image to enlarge)
Taylor Hanson on keyboard and piano.
(click image to enlarge)
Zac Hanson on drums.
After watching Hanson perform, I must admit they are a talented group of singers, performers, and musicians. Their fans have so much energy to sing and dance to every song. According to Hanson, this is Hanson's forth or fifth year performing at Epcot Food & Wine Festival.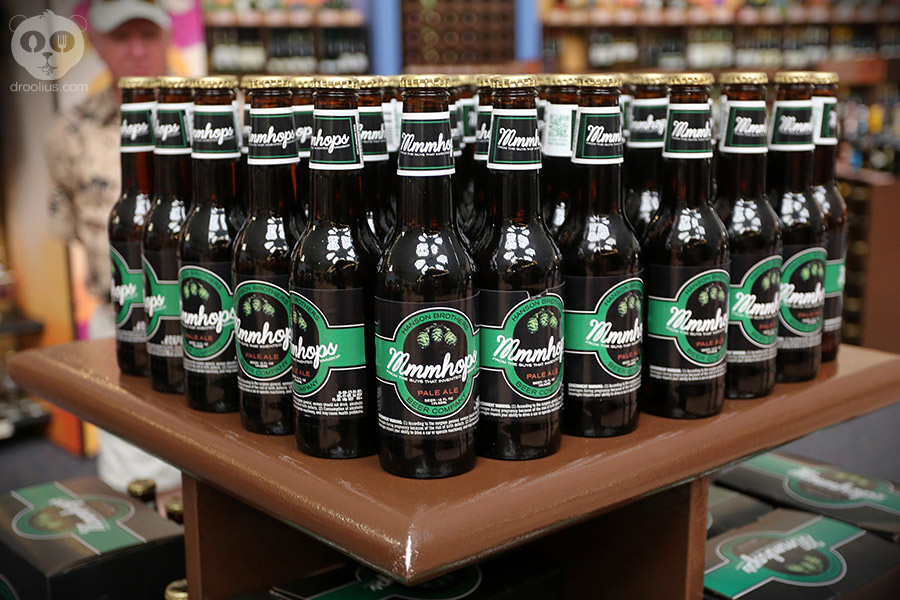 (click image to enlarge)
I actually tried the Mmmhops beer during a media event a few weeks ago and it's as the band describes it, an introductory hoppy beer and full-bodied Pale Ale. It was paired with the Florida Grass Fed-Beef Slider with Pimento Cheese (from Hops & Barley marketplace) and the beer went really well with the flavors of the slider. Mmmhops with a burger would be a great combination together.
Hanson is definitely serious about their craft beer and Mmmhops sounds like it's only the beginning for Hanson Brothers Beer Company. They mentioned in the interview that they are hoping to see more craft beer presence at the festival, which you definitely can see this year with an entire room dedicated to craft beers at Epcot Food & Wine. Hopefully the festival will have Mmmhops served at one of the marketplaces in the future. (update below where to find Mmmhops at World Showcase).
*MMMhops Pale Ale is available throughout the festival this year at the Fife & Drum Tavern, a permanent kiosk in front of the American Adventure Pavilion. Grab a Mmmhops beer and walk on over to the Hops & Barley marketplace to pair it with the Florida Grass Fed-Beef Slider with Pimento Cheese. Let me know what you think of the pairing in the comments section below.
Mmmhops beer is currently available at the Epcot's Festival Center and select locations in the Midwest. Since the brewery is based in Oklahoma, that Midwest area of the U.S. is where the concentration of distribution is right now. Hanson mentioned that Mmmhops would be available later this year in select locations around Florida. You can always buy the beer online on the website www.mmmhops.com.

Find out more about Epcot Food & Wine Festival: droolius.com/tag/epcot-food-wine-festival/
Epcot International Food & Wine Festival continues until November 10, 2014.

Words and photos by Julius Mayo Jr.
Content and photos © Droolius.com 2014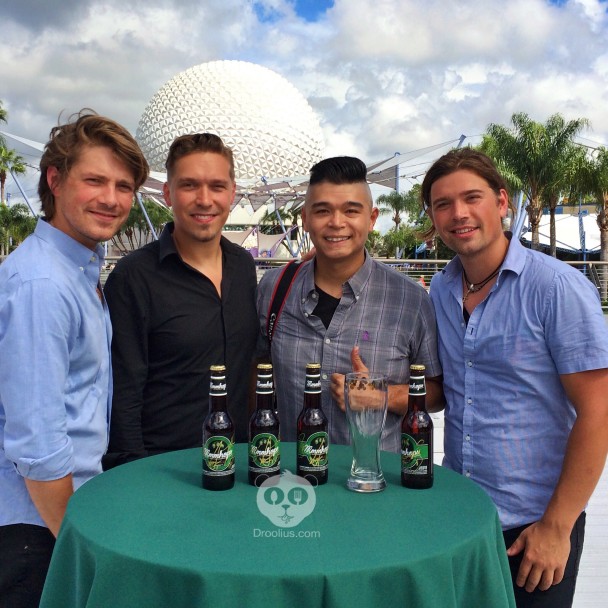 Droolius with Hanson (photo op with the band).

Disclaimer: I was invited as media to interview Hanson. I was not compensated to write this post and all opinions are always my own.