Food trucks are popping up all over Orlando, both on the radar and off. It's exciting to watch a food truck business develop as you see photos and follow updates on Twitter, Facebook, and other Social Media outlets. It is also just as exciting when you drive around your city and you discover a food truck while you are driving down the road, that you never knew existed. This is what happened to me when I was driving this past Sunday evening down International Drive and I spotted a brightly colored food truck parked in a parking lot. All I read was Arepas and thought "I love arepas and I have not had dinner yet…" So I did a U-turn and decided it was time to eat.
Arepas El Cacao is the food truck I spotted off International Drive, parked in the Orlando Crossings shopping center parking lot (cross street Grand National Drive). The attractive blue truck caught my eye, along with the pictured arepa and drinks on the truck's side. I asked a few questions about the menu and the truck itself, and was told the truck has been active for 3 weeks. I wondered why I had not heard of it yet, but it's always fun to discover something new on the fly. I was just excited to see someone serving arepas in Orlando in food truck fashion.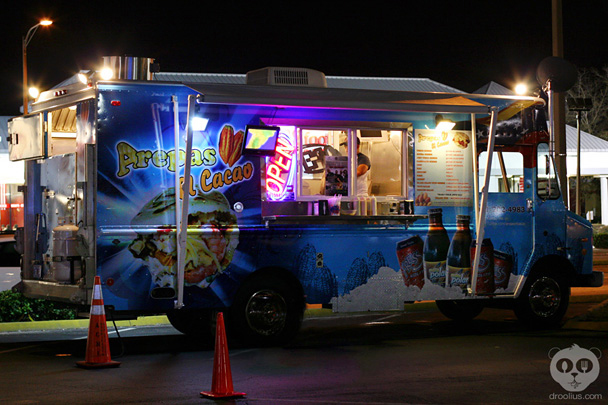 (click image to enlarge)
Arepas have been featured on Droolius before (here) and this food truck serves up the same style arepas from Venezuela. An Arepa is a flat bread made of cornmeal, which can be grilled, baked, or fried and can be filled with cheese and/or meats, creating a meal or a large snack depending on the filling. The Arepas El Cacao food truck has a whole menu of meats and cheeses to create your own combination of ingredients. It combines into a warm and appetizing sandwich-like item that fills your stomach.
(click image to enlarge)
Arepa combination with everything: Beef, pork, shrimp, chicken, chicken salad, topped with white cheese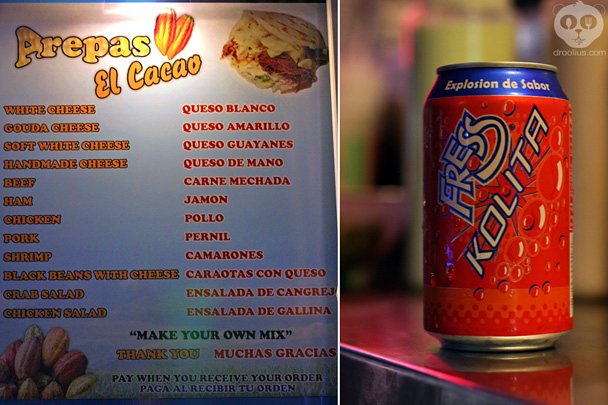 (click image to enlarge)
As the menu says, you "Make Your Own Mix" by choosing from the items listed. I usually stick to cheese, beef or pork and even combine all three at times, but I wanted to see what the guy serving recommended. He said "try the Arepa combination with everything" and began to list "everything" so I just agreed with the order. This can be a good thing or a very adventurous and potentially scary thing. I just decided to brave it and eat what was served because everything listed sounded good. I also ordered a Fres Kolita soda which was red in color and tasted something familiarly sweet. I don't want to say so you just have to try it because it is good.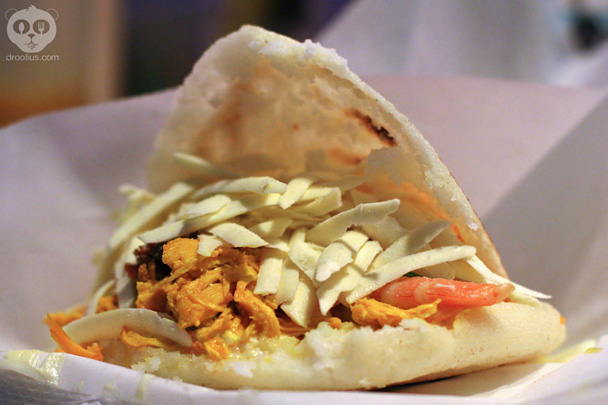 (click image to enlarge)
Only a few minutes passed and I was handed the Arepa combination with everything: Beef, pork, shrimp, chicken, chicken salad, topped with white cheese. What I first noticed was this arepa came out steaming and smelled wonderful. I started to snap some photos and noticed the shrimp. I don't normally order shrimp because I grew up being allergic to it, but if they say this is good then I am willing to try. The beef and pork smelled really good so I wasn't too worried about the shrimp, and since I love cheese then I knew I would enjoy.
(click image to enlarge)
With the arepa in one hand, I took a few more photos then started putting on the sauces.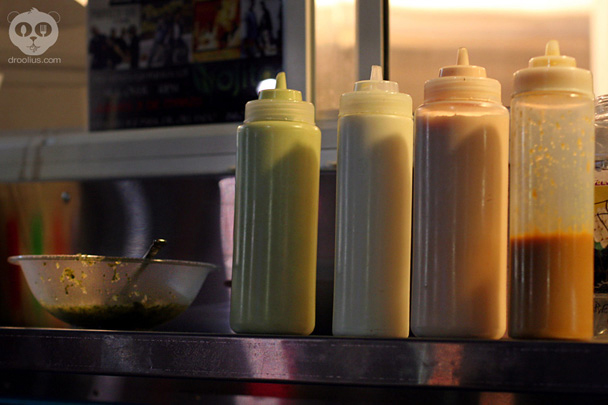 (click image to enlarge)
Sauces: Mojito or chimichurri (in bowl), green (mayo, green pepper & cilantro), white (garlic), rosada (mayo & ketchup), and spicy
(click image to enlarge)
I basically piled on ALL of the sauces, especially garlic and chimichurri, two of my favorite flavors. I started to devour the arepa and all of the meats. First I noticed that the arepa itself was grilled on the outside with a nice crisp and still warm and moist on the inside. I have had arepas before that were dried out and flaky, hard to bite into, NOT this one. This arepa had a good texture that was easy to bite into and held up to the juicy meats. When I say juicy I mean the flavorful meat juices are flowing and I do not want to waste them. Caution, if you eat this in a car, put a pile of napkins or a bowl of rice in your lap to catch the juices. Your clothing will thank you and you will have another tasty meal for later.
All the meats, cheese, and sauces combined into a flavorful experience. After the first layer of sauces I got to taste the meats on there own, all were good, even the shrimp. It was like eating a warm comfort sandwich with delicately seasoned meats that were all tasty. I finished off the arepa pouring garlic sauce in almost every bite because it's that good and only adds to the overall flavor.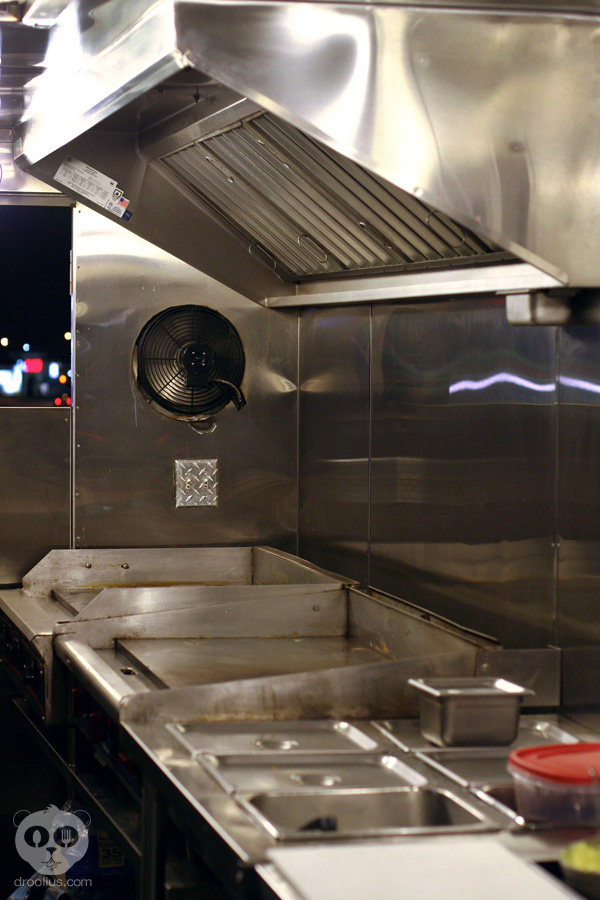 (click image to enlarge)
After finishing my food, I thanked them and began taking photos of the truck from afar. I saw one of the guys wave me back and told me to go to front of the truck. He invited me in and I was surprised. I never been inside a food truck and was excited to see the inner workings. What you find is basically a brand new kitchen, better than most apartments. It was very clean inside, with a counter to assemble arepas, while each food item was separated and kept warm and covered. There are also two little refrigerators below the counter to keep drinks and ingredients cold.
(click image to enlarge)
The two flat tops are used to grill the arepas to a crisp and steamy masterpiece, before adding the fillings.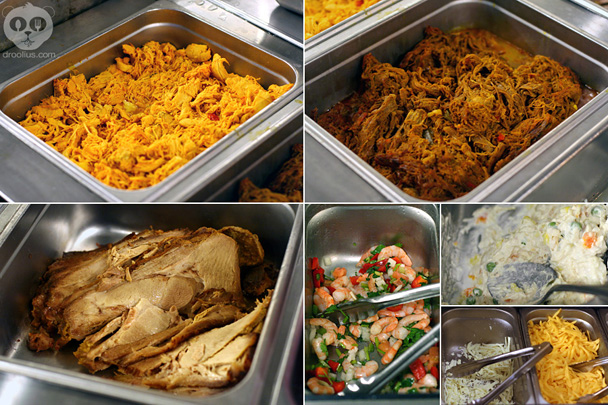 (click image to enlarge)
Top: chicken, shredded beef
Bottom: slices of pork, shrimp, potato salad, white cheese from Venezuela, Gouda cheese
These are all the items that make up the arepa combo with everything. It was all neatly organized and the food looked appetizing and fresh.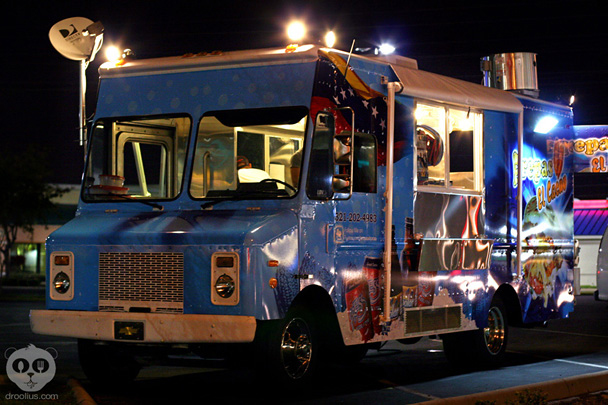 (click image to enlarge)
The tour of the inside of the Arepas El Cacao food truck was a fun and unexpected learning experience. The pictures should break any preconceived notions of uncleanliness and the freshness of food. These food trucks are the new kitchens on wheels that serve great food to the masses. Everyone should enjoy with an open mind and appetite.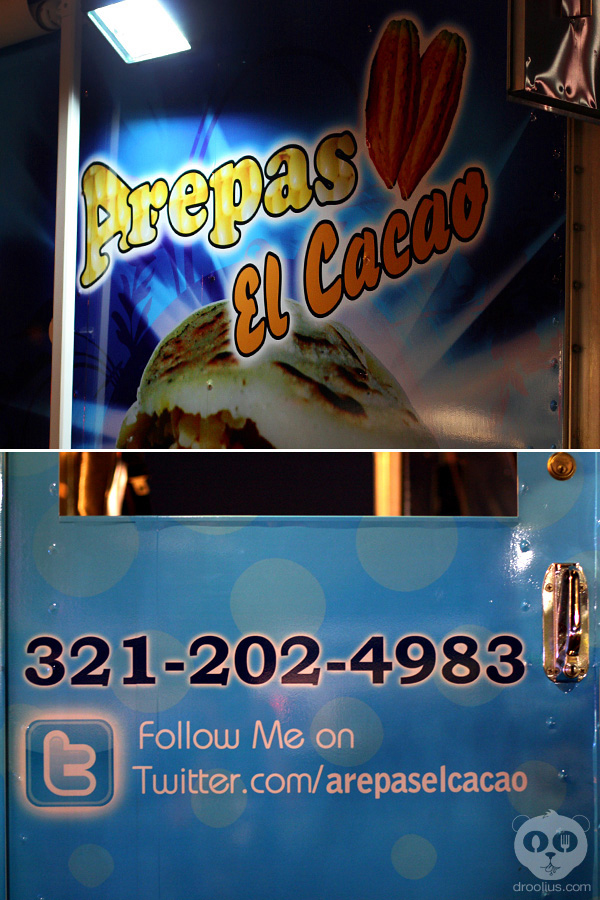 (click image to enlarge)
The guys told me the truck was built in 3 months, which seems to be about average from what other food trucks have explained. The owner, who was not present at the time, manages the Twitter account @ArepasElCacao so follow them for updates. Arepas El Cacao is currently located at the corner of International Drive & Grand National Drive (beside Del Taco) and are open 6 p.m. to 4 a.m. everyday. I am happy to say it is a great addition to the late night dining here in Orlando.
With so many possible combinations and flavors, the Arepas El Cacao food truck is a great way to taste and experience a Venezuelan style arepa. If you have never had an arepa, it is worth a try, especially at this location. I hope this food truck, along with all of the others around Orlando, will continue to serve great food and have the support of locals and tourists alike.
Arepas El Cacao
International Drive & Grand National Drive
(Stationary Location in Orlando Crossings parking lot, beside Del Taco)
Orlando, FL
321.202.4983
Words and photos by Julius Mayo Jr.
All content and photos © Droolius.com 2011