In Orlando or visiting Walt Disney World Resort and need an inexpensive meal outside the theme parks? How about some meatball sliders? No need to break the bank to eat well when you can dine at Meatball Bar inside the Portobello restaurant at Downtown Disney.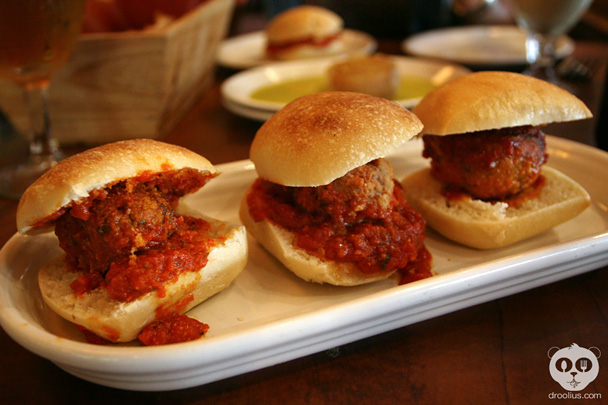 (click image to enlarge)
In the center of the Portobello restaurant you can sit at the bar or grab a high top table and order these delicious meatball sliders. Its open seating in the bar area so walk into Portobello and go straight to the Meatball bar and look for open chairs. In the evening it may be busy and a short wait, but it beats waiting for a table with a long wait in the general dining room.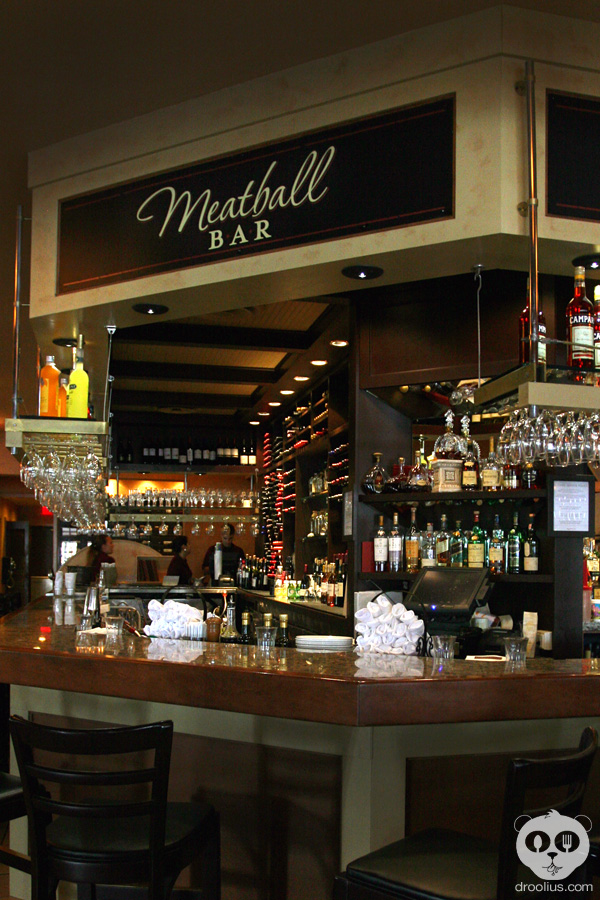 (click image to enlarge)
The Meatball Bar serves more than just meatballs, so a bar menu offering a little variety is available to those wanting more. We came here for the meatball sliders and beer, so no menu needed for our table. After ordering they brought out some bread with a unique spread…
(click image to enlarge)
Roasted garlic with olive oil was a super tasty spread they provided for the bread. If you love garlic its really delicious to eat with bread! Ask for this at the bar because my first trip here I had no idea it was available one busy evening. But on a slow afternoon it was brought out automatically.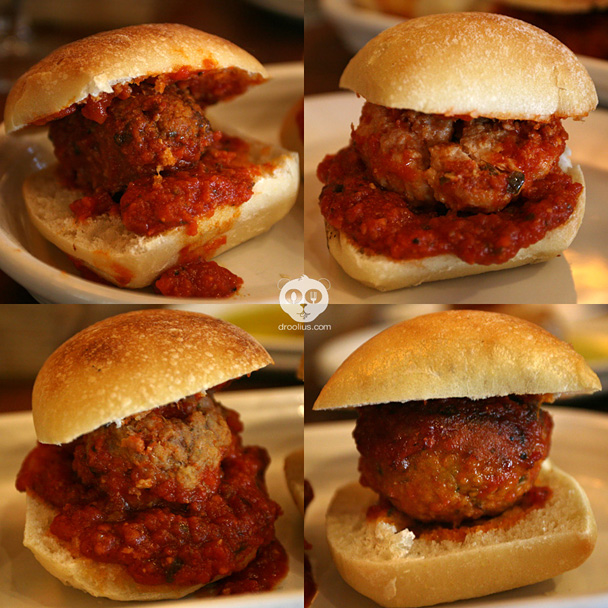 (click image to enlarge)
Meatball Sliders (in no particular order)
A slider is usually a mini hamburger offered at many restaurants as a bite size appetizer. Here at Meatball Bar they serve a decent sized meatball with tomato-basil sauce on a mini Hoagie roll. The meatball sliders are offered in four types of meatballs: beef & veal with parsley, spicy pork, chicken with sage, salmon with tarragon. All four have their own distinct taste and very subtle in flavor. Don't expect bold flavors with the descriptions of each meatball. Just a lightly seasoned tender and moist meatball. The spicy pork was out favorite!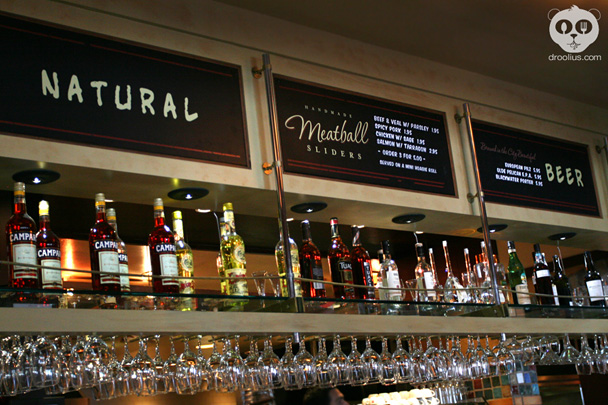 (click image to enlarge)
The meatball sliders are only available at the bar and the menu is listed above. These are very affordable at $1.95 per meatball slider, Salmon slider is $2.95. You can also get an even better deal
with order 3 sliders for $5.00. You can't beat that, especially being at Disney.
(click image to enlarge)
Order a few meatball sliders, its a fun snack or meal for both kids and adults. Everyone can enjoy the tender meatball and crisp hoagie roll. We enjoyed tasting all four meatball sliders and they are easy to share.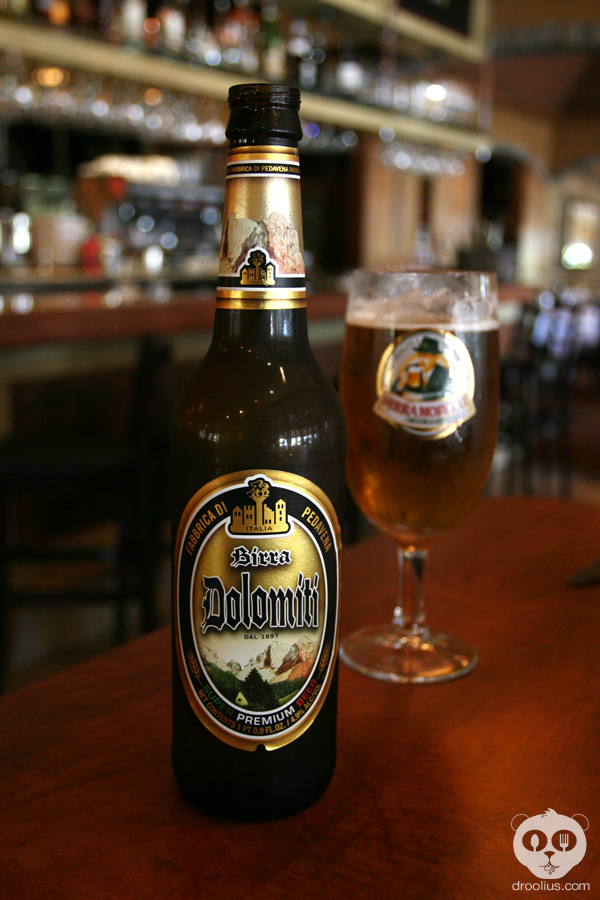 (click image to enlarge)
During this particular meal I tried an Italian Beer, Birra Dolomiti. It contrasted well with the heartier meatballs, the pork and the beef & veal, giving it an extra kick of flavor. The Meatball Bar also features locally brewed beer from Orlando Brewing. First trip here I had Orlando Brewing's Blackwater Porter, a heavy stout with a slight chocolate note and paired nicely with the meatball sliders as well. The only downer here at this bar is that they do not have any beers on tap.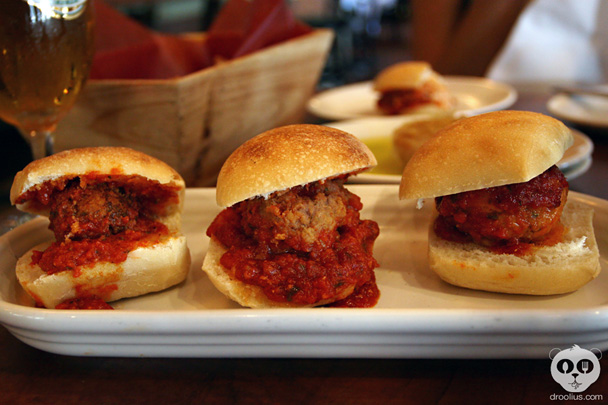 (click image to enlarge)
The Meatball Bar at Portobello is a great place to have an affordable tasty meal. Order a few sliders, have a beer, and relax from all the walking at the Disney parks. If you're a local of Orlando, come in and enjoy as I did, its a nice atmosphere and a great way to start or end an evening.
Meatball Bar
(inside Portobello Restaurant)
1650 Buena Vista Dr
Orlando, FL 32885
(407) 934-8888
www.portobellorestaurant.com
Located in Downtown Disney
Words and photos by Julius Mayo Jr.