Chef Andy Bates from the United Kingdom visited Orlando and collaborated to create a "British Invasion" Pop Up Dinner with Al Ruiz of local food truck, Sushi & Seoul on the Roll. Chef Bates prepared a few proper English treats that evening to give us a taste of good British pub food. The ticketed pop-up dinner took place back in November at Redlight Redlight Beer Parlour in Orlando's Audubon Park Garden District.
Andy Bates is a celebrity chef for Food Network UK and is the host of Andy Bates Street Feasts, a show discovering street food and the stories behind the food. The connection of Chef Bates and Al of Sushi & Seoul food truck comes from an episode they filmed together for the show, Andy Bates American Street Feasts, for Food Network UK. They have been pals ever since and joined forces to put together this special event on Andy's return visit to Orlando.
(click image to enlarge)
The "British Invasion" menu – 1/2 Scotch Egg, Cheese & Onion Pie and a Rare Roast Beef Yorkshire Pudding with arugula, horseradish cream and onion rings.
The crowd at Redlight Redlight got a taste of British style pub food, all made from scratch by Chef Andy and with the assistance of Al Ruiz and company. All of this food, plus a pint of beer, for $20. It was an insanely good deal for this quantity and quality of food. I never knew that British pub food could have so many good flavors and of course it would take a British chef to execute it properly.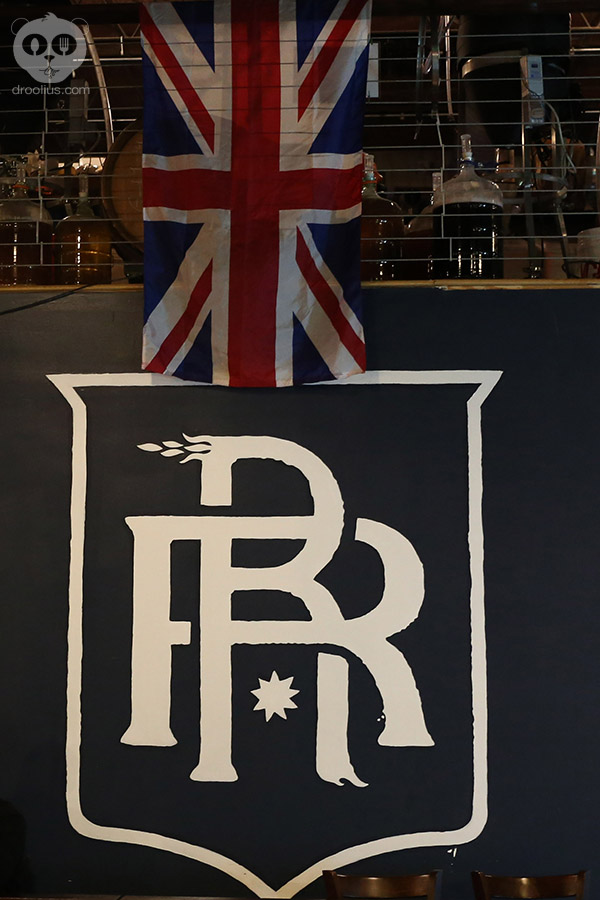 (click image to enlarge)
The British invaded Redlight Redlight Beer Parlour for a fun evening.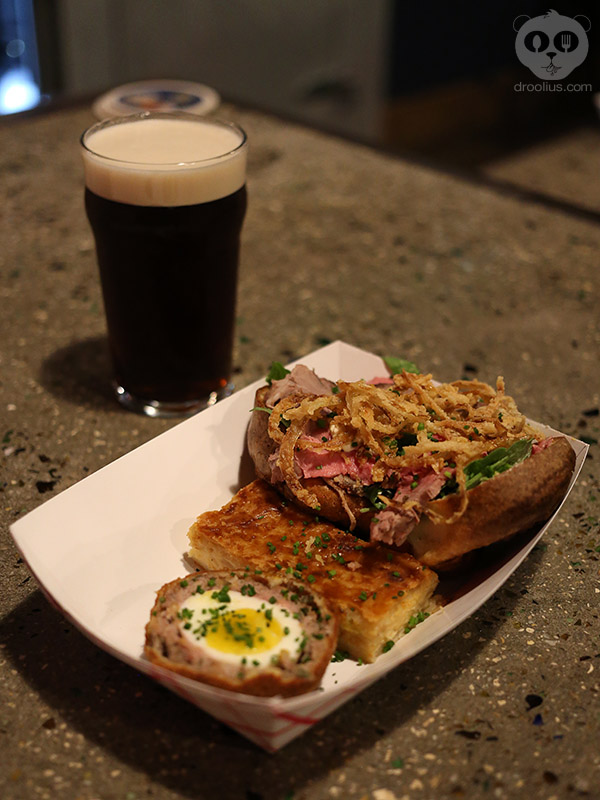 (click image to enlarge)
The hefty plate of food also came with a specially brewed English-style Mild Ale for this event at Redlight Redlight. The beer paired well with the Scotch Egg, Cheese & Onion Pie, and the Roast Beef Yorkshire Pudding. The pub fare kept with English tradition and was served at room temperature.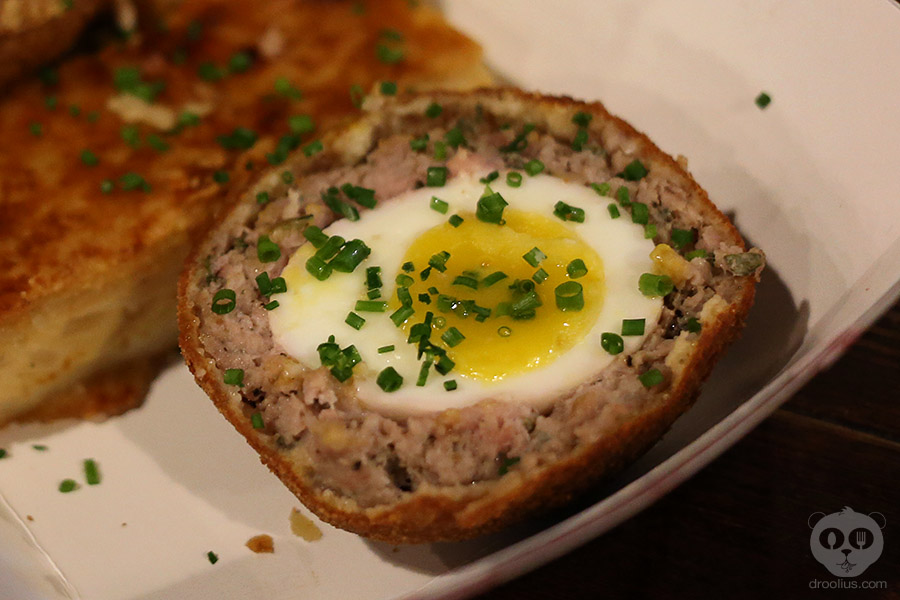 (click image to enlarge)
All of the food was great and what I really enjoyed the most was the Scotch Egg of this British trio. I've had Scotch Eggs before, but nothing with this much flavor or this large in size. It had all of the right flavors and textures to make it memorable and will be the standard I compare any other Scotch Egg to. I liked it so much that I even bought an additional whole Scotch Egg that evening and was able to finish half at the bar, then brought home the other half for the next morning. The Scotch Egg for breakfast was excellent as well.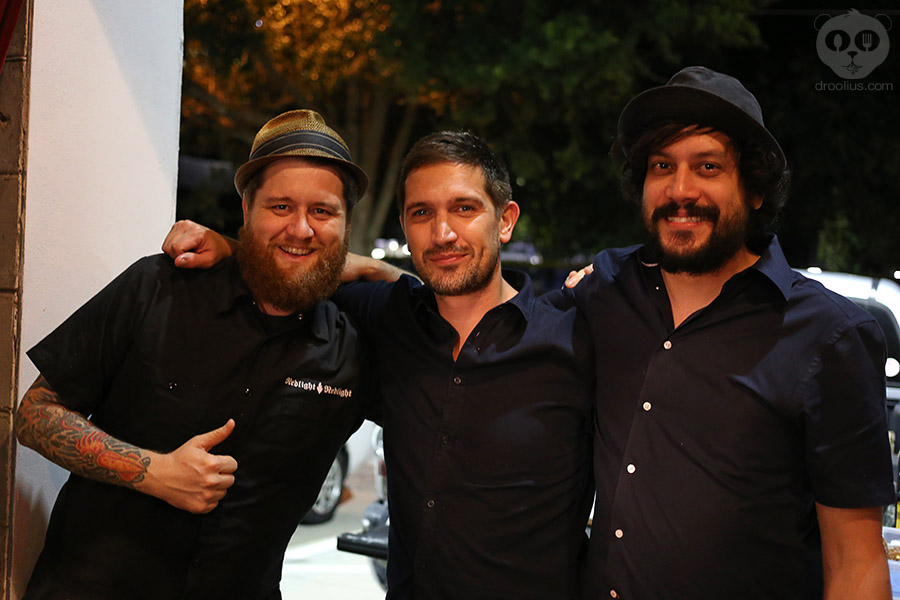 (click image to enlarge)
The guys who made it happen: Brent Hernandez of Redlight Redlight, U.K. Chef Andy Bates, Al Ruiz of Sushi & Seoul on the Roll.
It was a great event and I'm happy to see a chef from overseas do a pop-up collaboration dinner in Orlando. Chef Bates said he really likes Orlando, reminds him a bit of Austin, TX (which is a good thing) and really enjoys the food and people here. Come back any time, chef!
You can follow Chef Andy Bates on Twitter @AndyBatesChef and see his website www.andybateschef.com for his recipes and TV show projects.
Drink local: Redlight Redlight Beer Parlour www.redlightredlightbeerparlour.com
Eat local: Sushi & Seoul on the Roll www.facebook.com/sushiAndSeoul

Words and photos by Julius Mayo Jr.
Content and photos © Droolius.com 2014