I'm a big fan of art and obviously anything food. I really enjoy seeing when those two worlds combine, so I interviewed a team of two local Orlando artists, Nakanari and Soujohn of Maihiro Team, who have collaborated with the Papabubble LA candy company to create a unique hard candy featuring their art. The candy features the "Spiki Ninja", one of Maihiro's characters that is an original design by Nakanari. The Spiki Ninja is in each piece of candy with the flavor of Lychee fruit.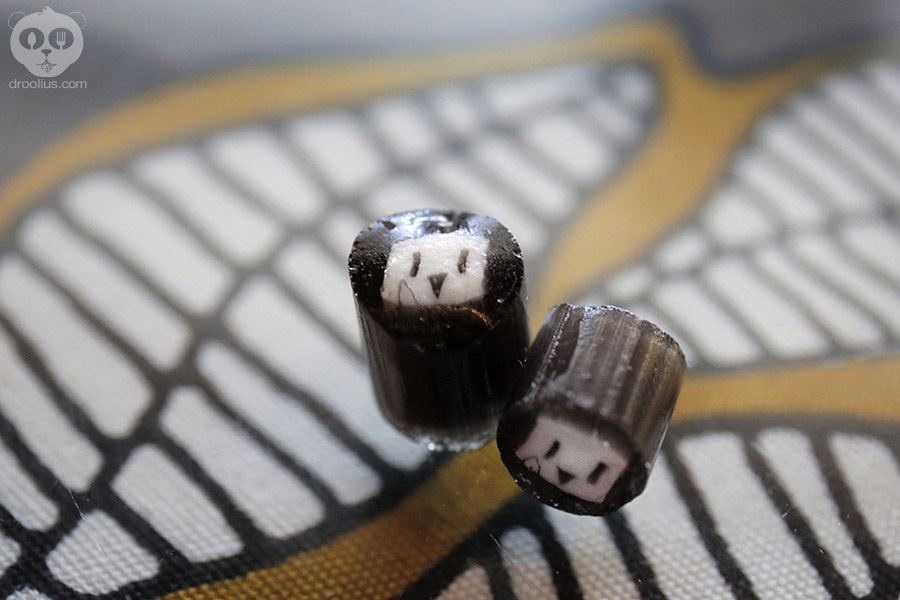 (click image to enlarge)
Lychee flavored Papabubble candy with Spiki design by Maihiro Team – Order HERE

Creating the candy itself is an art and incorporating the Spiki Ninja into the candy is done well. The hand-crafted candy does taste like Lychee and not overly sweet. The visual and taste in these hard candies is truly a double dose of art.
Watch the video below to see what drives the Maihiro Team to create, how food and art inspire each other, and learn more about the artist themselves…
Video:
Artists Nakanari and Soujohn of Maihiro Team
On how food influences art:
"The beautiful part is, every chef has the view as artists… the way they final execution of food, giving the feeling and the visions, and taste…" – Nakanari
"So much of food is based like, on the smell and the taste… it sort of takes you back to certain memories… I'm a huge fan of artwork, you know, that's like based off of someone's past… So much artwork is usually based on… nostalgia… things from your childhood." – Soujohn
(click image to enlarge)
The artisanal candy at Papabubble uses traditional methods of creating authentic hand-made hard candy. It takes skills to make this candy taste like natural Lychee fruit and to infuse art into each piece of candy. Much respect to the Maihiro Team and Papabubble for this awesome art and food collaboration! Make sure to order your signature hard candy in the link below.

Buy the candy on Maihiro's website: shop.maihiro.net/product/signature-hard-candy

More about Maihiro www.maihiro.net
Twitter @MaihiroTeam
Instagram @MaihiroTeam
Facebook facebook.com/maihiro
PapaBubble LA www.papabubblela.com
Huge thank you to TomimotoFilms for filming and editing video!
Words and photos by Julius Mayo Jr.
Video and photo by Thomas Babiarz of TomimotoFilms
Content and photos © Droolius.com 2015


P.S. This is not a sponsored post and I do not receive any compensation for candy sales. Please support these artists with the link above.